이민정책을 논의하던 트럼프는 "왜 거지 소굴에서 온 사람들을 받아야 하냐"고 말했다
11일(현지시각) 백악관 집무실(오벌 오피스)에서 의원들과 만남을 가진 도널드 트럼프 미국 대통령은 아이티와 아프리카 국가들을 '거지 소굴(shithole)'이라고 부르며 이 지역 출신 이민자들을 보호하는 조치를 되살리자는 의견에 화를 냈다.
트럼프는 "왜 거지 소굴에서 온 사람들을 여기에 받아야 하느냐?"고 말했다고 워싱턴포스트가 관계자를 인용해 전했다. 이어 트럼프 대통령은 미국이 노르웨이 같은 곳에서 오는 이민자들을 더 받아들여야 한다고 말한 것으로 전해진다.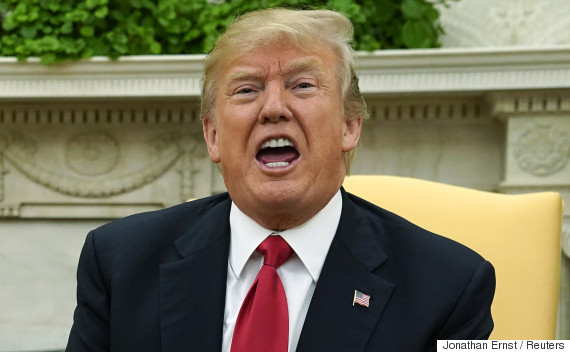 트럼프의 이 발언이 알려지자 진보 단체들과 바바라 리(캘리포니아-민주당), 보니 왓슨 콜먼(뉴저지-민주당), 짐 맥거번(매사추세츠-민주당), 캐런 베이스(캘리포니아-민주당) 등 하원의원들은 트럼프의 '인종차별적 태도'를 비난했다.
미국주재 아이티 대사 폴 알티도어는 미국 정부 관계자를 정식으로 소환해 대통령의 발언에 대한 해명을 요구하는 한편 이 발언을 "맹렬하게" 규탄한다고 말했다고 NBC뉴스 통신원이 전했다.
I just talked to Haiti's Ambassador to the United States Paul Altidor who said he and the Haitian government "vehemently condemn" President Trump's comments which they believe are "based on stereotypes." "Either the president has been misinformed or he is miseducated."

— Yamiche Alcindor (@Yamiche) January 12, 2018
이에 따르면 알티도어 대사는 "대통령이 잘못된 정보를 받았거나 잘못된 교육을 받았거나 둘 중 하나"라고 말했다고 한다.
이같은 비판에도 불구하고 백악관은 트럼프 대통령의 발언을 옹호하고 나섰다. 라지 샤 백악관 부대변인은 CBS뉴스에 "워싱턴 정치인들 중에는 외국을 위해 싸우기로 선택한 사람들이 있지만, 트럼프 대통령은 늘 미국인들을 위해 싸울 것"이라고 말했다.
"트럼프 대통령은 우리 사회에 기여하고 우리 경제를 성장시키고 우리 위대한 나라에 녹아들 수 있는 사람들을 받아들여 우리 나라를 더 강하게 만들 항구적인 해법을 모색할 것"이라고 그는 덧붙였다. "트럼프 대통령은 열심히 일하는 미국인들의 삶을 위협하며, 합법적인 방법으로 미국에서 더 나은 삶을 추구하는 이민자들을 약화시키는 그런 일시적이고 미약하고 위험한 임시방편들을 늘 거부할 것이다".
그러나 그는 '거지 소굴'이라는 발언을 직접 언급하지는 않았다.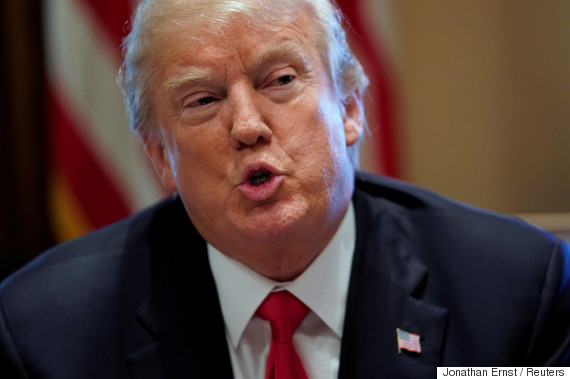 트럼프는 어렸을 때 미국에 들어온 불법체류자들을 보호하는 일명 '드리머스(Dreamers)' 제도를 놓고 의원들과 협상 중이다. 트럼프는 '다카(DACA)' 프로그램을 없애 이들 상당수가 강제 출국에서 보호받지 못하게 만들었다. 현재 트럼프는 드리머스를 돕는 조건으로 멕시코 국경 장벽을 포함한 여러 국경 관리를 강화하자는 협상안을 제시한 상태다. 특히 유색인종들에게 큰 영향을 미칠 합법 이민 규제도 주장한다.
이날 협상 도중 일부 의원들은 임시 보호 지위로 미국에 머물고 있는 아이티, 엘살바도르, 여러 아프리카 국가 출신 이민자들에게 비자를 발급할 것을 제안했다. 트럼프 정부는 이미 아이티, 엘 살바도르, 니카라과인들에게서 임시 보호 지위를 박탈했다. 현재 미국에 살고 있는 사람들 중 20만 명 이상이 몇 달 안에 출국하거나 강제 출국을 당해야 한다는 의미다.
트럼프는 이 제안을 듣고 '거지 소굴 나라들'이라고 비웃었다고 한다.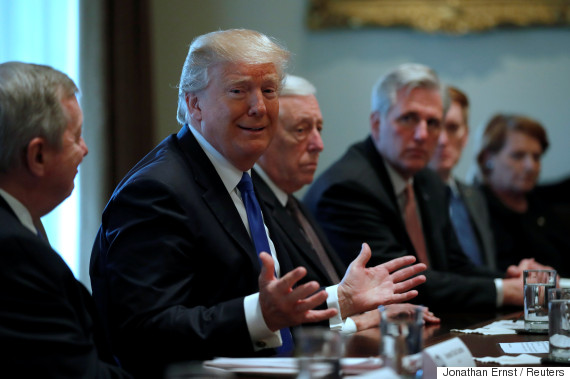 미국의 대표적인 흑인 인권단체 NAACP는 성명을 내고 "우리 나라가 미래로 나아가려고 하는 상황에서 우리 대통령은 점점 더 깊은 인종주의와 제노포비아의 토끼굴로 빠져들어가고 있다"고 비판했다. "전 세계의 도덕적 리더라는 미국의 지위는 이와 같은 저속하고 무감각하고 걸러지지 않은 인종주의에 의해 철저히 손상되고 있다."
블랙코커스(연방의회 흑인 의원 모임) 회장인 세드릭 리치몬드(민주당, 루이지애나) 하원의원은 트럼프의 발언이 "인종 문제에 대한 그의 둔감성과 무지한 시각을 확신시켜 준다"고 비판했다.
그는 성명에서 "이것은 즉 대통령의 '미국을 다시 위대하게'라는 구호가 (실제로는) '미국을 다시 하얗게'의 코드가 아니냐는 우리의 매일같은 우려를 더 강하게 한다"고 덧붙였다.
하원의원 콜먼 역시 이런 지적에 가세하며 트럼프 대통령을 "비겁한 인종차별주의자"로 지칭했다.
"도널드 트럼프는 미국 대통령이 될 자격이 없는 비겁한 인종차별주의자다. 트럼프, 그리고 그에게 책임을 묻지 않는 모든 사람들은 부끄러운 줄 알라." 콜먼의 트윗이다.
'휴먼라이츠퍼스트'의 회장 겸 CEO 엘리사 마시미노는 트럼프의 이 발언이 "역겹고 수치스럽다"고 말했다.
그는 "미국 대통령이 고국의 폭력과 박해를 피해 떠나온 사람들에 대해 이런 식으로 말한다는 것은 수치스러운 일"이라고 지적했다. "의회는 백악관에서 나오는 이러한 증오, 인종차별, 분열적 이야기에 굴복해서는 안 된다. 박해받는 사람들을 보호하겠다는 우리의 자세를 의회가 굳건히 지켜야 한다."
* 이 글은 허프포스트US의 Trump Slams Protections For Immigrants From 'Shithole' Countries를 번역, 편집한 것입니다.


WASHINGTON, DC - DECEMBER 22: U.S. President Donald Trump talks with journalists after signing tax reform legislation into law in the Oval Office December 22, 2017 in Washington, DC. Trump praised Republican leaders in Congress for all their work on the biggest tax overhaul in decades. (Photo by Chip Somodevilla/Getty Images)

WASHINGTON, DC - DECEMBER 22: U.S. President Donald Trump talks with journalists after signing tax reform legislation into law in the Oval Office December 22, 2017 in Washington, DC. Trump praised Republican leaders in Congress for all their work on the biggest tax overhaul in decades. (Photo by Chip Somodevilla/Getty Images)

WASHINGTON, DC - DECEMBER 22: U.S. President Donald Trump talks with journalists after signing tax reform legislation into law in the Oval Office December 22, 2017 in Washington, DC. Trump praised Republican leaders in Congress for all their work on the biggest tax overhaul in decades. (Photo by Chip Somodevilla/Getty Images)

WASHINGTON, DC - DECEMBER 22: U.S. President Donald Trump talks with journalists after signing tax reform legislation into law in the Oval Office December 22, 2017 in Washington, DC. Trump praised Republican leaders in Congress for all their work on the biggest tax overhaul in decades. (Photo by Chip Somodevilla/Getty Images)

US President Donald Trump waits to sign a continuing resolution bill and a tax reform bill in the Oval Office of the White House December 22, 2017 in Washington, DC. / AFP PHOTO / Brendan Smialowski (Photo credit should read BRENDAN SMIALOWSKI/AFP/Getty Images)

US President Donald Trump speaks after signing a tax reform bill in the Oval Office of the White House December 22, 2017 in Washington, DC. / AFP PHOTO / Brendan Smialowski (Photo credit should read BRENDAN SMIALOWSKI/AFP/Getty Images)

US President Donald Trump speaks after signing a tax reform bill in the Oval Office of the White House December 22, 2017 in Washington, DC. / AFP PHOTO / Brendan Smialowski (Photo credit should read BRENDAN SMIALOWSKI/AFP/Getty Images)

US President Donald Trump speaks after signing a tax reform bill in the Oval Office of the White House December 22, 2017 in Washington, DC. / AFP PHOTO / Brendan Smialowski (Photo credit should read BRENDAN SMIALOWSKI/AFP/Getty Images)

US President Donald Trump speaks after signing a tax reform bill in the Oval Office of the White House December 22, 2017 in Washington, DC. / AFP PHOTO / Brendan Smialowski (Photo credit should read BRENDAN SMIALOWSKI/AFP/Getty Images)

U.S. President Donald Trump speaks to members of the media before signing a tax-overhaul bill into law in the Oval Office of the White House in Washington, D.C., U.S., on Friday, Dec. 22, 2017. This week House Republicans passed the most extensive rewrite of the U.S. tax code in more than 30 years, hours after the Senate passed the legislation, handing Trump his first major legislative victory providing a permanent tax cut for corporations and shorter-term relief for individuals. Photographer: Mike Theiler/Pool via Bloomberg

WASHINGTON, DC - DECEMBER 22: President Donald Trump signs the Tax Cut and Reform Bill, a $1.5 trillion tax overhaul package, into law in the Oval Office at the White House in Washington, DC on Friday, Dec. 22, 2017. (Photo by Jabin Botsford/The Washington Post via Getty Images)

US President Donald J. Trump speaks to the media before participating in a video teleconference calls with military members on Christmas Eve in Palm Beach, Florida on December 24, 2017. / AFP PHOTO / Nicholas Kamm (Photo credit should read NICHOLAS KAMM/AFP/Getty Images)

US President Donald J. Trump speaks to the media as he participates in a video teleconference call with military members on Christmas Eve in Palm Beach, Florida on December 24, 2017. / AFP PHOTO / Nicholas Kamm (Photo credit should read NICHOLAS KAMM/AFP/Getty Images)

US President Donald J. Trump participates in a video teleconference call with military members on Christmas Eve in Palm Beach, Florida on December 24, 2017. / AFP PHOTO / Nicholas Kamm (Photo credit should read NICHOLAS KAMM/AFP/Getty Images)

US President Donald J. Trump speaks on the phoneat his Mar-a-Lago resort in Palm Beach, Florida on December 24, 2017. / AFP PHOTO / Nicholas Kamm (Photo credit should read NICHOLAS KAMM/AFP/Getty Images)

WASHINGTON, DC - JANUARY 04: (AFP OUT) U.S. President Donald Trump speaks during a meeting in the Roosevelt Room of the White House January 4, 2018 in Washington, DC. President Trump met with Republican members of the Senate to discuss immigration. (Photo by Alex Wong/Getty Images)

WASHINGTON, DC - JANUARY 04: (AFP OUT) U.S. President Donald Trump (L) speaks as Homeland Security Secretary Kirstjen Nielsen (R) listens during a meeting in the Roosevelt Room of the White House January 4, 2018 in Washington, DC. President Trump met with Republican members of the Senate to discuss immigration. (Photo by Alex Wong/Getty Images)

WASHINGTON, DC - JANUARY 04: (AFP OUT) U.S. President Donald Trump speaks during a meeting in the Roosevelt Room of the White House January 4, 2018 in Washington, DC. President Trump met with Republican members of the Senate to discuss immigration. (Photo by Alex Wong/Getty Images)

WASHINGTON, DC - JANUARY 4: President Donald Trump listens during a meeting about immigration with Republican Senators in the Roosevelt Room at the White House in Washington, DC on Thursday, Jan. 04, 2018. (Photo by Jabin Botsford/The Washington Post via Getty Images)

WASHINGTON, DC - JANUARY 4: President Donald Trump listens during a meeting about immigration with Republican Senators in the Roosevelt Room at the White House in Washington, DC on Thursday, Jan. 04, 2018. (Photo by Jabin Botsford/The Washington Post via Getty Images)

US President Donald Trump speaks during a retreat with Republican lawmakers at Camp David in Thurmont, Maryland, January 6, 2018. / AFP PHOTO / SAUL LOEB (Photo credit should read SAUL LOEB/AFP/Getty Images)

US President Donald Trump speaks during a retreat with Republican lawmakers at Camp David in Thurmont, Maryland, January 6, 2018. / AFP PHOTO / SAUL LOEB (Photo credit should read SAUL LOEB/AFP/Getty Images)

US President Donald Trump speaks during a retreat with Republican lawmakers at Camp David in Thurmont, Maryland, January 6, 2018. / AFP PHOTO / SAUL LOEB (Photo credit should read SAUL LOEB/AFP/Getty Images)

US President Donald Trump speaks during a retreat with Republican lawmakers at Camp David in Thurmont, Maryland, January 6, 2018. / AFP PHOTO / SAUL LOEB (Photo credit should read SAUL LOEB/AFP/Getty Images)

US President Donald Trump speaks during a retreat with Republican lawmakers at Camp David in Thurmont, Maryland, January 6, 2018. / AFP PHOTO / SAUL LOEB (Photo credit should read SAUL LOEB/AFP/Getty Images)

THURMONT, MD - JANUARY 6: (AFP OUT) U.S. President Donald Trump speaks to the press after holding meetings at Camp David on January 6, 2018 in Thurmont, Maryland. President Trump met with staff, members of his Cabinet and Republican members of Congress to discuss the Republican legislative agenda for 2018. (Photo by Chris Kleponis-Pool/Getty Images)

US President Donald Trump speaks during a retreat with Republican lawmakers and members of his Cabinet at Camp David in Thurmont, Maryland, January 6, 2018. / AFP PHOTO / SAUL LOEB (Photo credit should read SAUL LOEB/AFP/Getty Images)

TOPSHOT - US President Donald Trump speaks during a retreat with Republican lawmakers at Camp David in Thurmont, Maryland, January 6, 2018. / AFP PHOTO / SAUL LOEB (Photo credit should read SAUL LOEB/AFP/Getty Images)

TOPSHOT - US President Donald Trump speaks during a retreat with Republican lawmakers at Camp David in Thurmont, Maryland, January 6, 2018. / AFP PHOTO / SAUL LOEB (Photo credit should read SAUL LOEB/AFP/Getty Images)

US President Donald Trump, alongside Secretary of Defense Jim Mattis (C) and Secretary of State Rex Tillerson (L), speaks during a retreat with Republican lawmakers and members of his Cabinet at Camp David in Thurmont, Maryland, January 6, 2018. / AFP PHOTO / SAUL LOEB (Photo credit should read SAUL LOEB/AFP/Getty Images)

US President Donald Trump, alongside Secretary of Defense Jim Mattis, speaks during a retreat with Republican lawmakers and members of his Cabinet at Camp David in Thurmont, Maryland, January 6, 2018. / AFP PHOTO / SAUL LOEB (Photo credit should read SAUL LOEB/AFP/Getty Images)

THURMONT, MD - JANUARY 6: U.S. President Donald Trump speaks to the press after holding meetings at Camp David on January 6, 2018 in Thurmont, Maryland. President Trump met with staff, members of his Cabinet and Republican members of Congress to discuss the Republican legislative agenda for 2018. (Photo by Chris Kleponis-Pool/Getty Images)

THURMONT, MD - JANUARY 6: U.S. President Donald Trump listens as Republican leadership takes turns speaking to the media at Camp David on January 6, 2018 in Thurmont, Maryland. President Trump met with staff, members of his Cabinet and Republican members of Congress to discuss the Republican legislative agenda for 2018. (Photo by Chris Kleponis-Pool/Getty Images)

THURMONT, MD - JANUARY 6: (AFP OUT) U.S. Secretary of State Rex Tillerson and U.S. President Donald Trump listen as Republicans take turns speaking to the media at Camp David on January 6, 2018 in Thurmont, Maryland. President Trump met with staff, members of his Cabinet and Republican members of Congress to discuss the Republican legislative agenda for 2018. (Photo by Chris Kleponis-Pool/Getty Images)

U.S. President Donald Trump listens to a question during a press conference with cabinet members and Republican leadership at Camp David in Thurmont, Maryland, U.S., on Saturday, Jan. 6, 2018. Donald Trump said hes a 'very stable genius,' a day after a new book about the president's first year in the White House -- dismissed by Trump as 'fiction' -- claimed that many of his top aides and confidants consider him unfit to hold office. Photographer: Chris Kleponis/Pool via Bloomberg

Rex Tillerson, U.S. Secretary of State, left, listens during a press conference with U.S. President Donald Trump and Republican leadership at Camp David in Thurmont, Maryland, U.S., on Saturday, Jan. 6, 2018. Donald Trump said hes a 'very stable genius,' a day after a new book about the president's first year in the White House -- dismissed by Trump as 'fiction' -- claimed that many of his top aides and confidants consider him unfit to hold office. Photographer: Chris Kleponis/Pool via Bloomberg

WASHINGTON, DC - JANUARY 7: (AFP OUT) U.S. President Donald Trump returns to the White House following a weekend trip with Republican leadership and members of his cabinet at Camp David, on January 7, 2018 in Washington, D.C. (Photo by Kevin Dietsch-Pool/Getty Images)

WASHINGTON, DC - DECEMBER 22: White House Chief of Staff John Kelly stands behind journalists as U.S. President Donald Trump signs the tax reform bill into law in the Oval Office December 22, 2017 in Washington, DC. Trump praised Republican leaders in Congress for all their work on the biggest tax overhaul in decades. (Photo by Chip Somodevilla/Getty Images)