플로리다에 눈이 오자 사람들이 기뻐하고 있다
미국 동부를 강타할 것으로 예보된 "겨울 허리케인"에 앞서 플로리다에 대설이 내렸다. 남부 맨 아래에 위치한 '선샤인 주(Sunshine State)'에선 정말로 드문 일이다.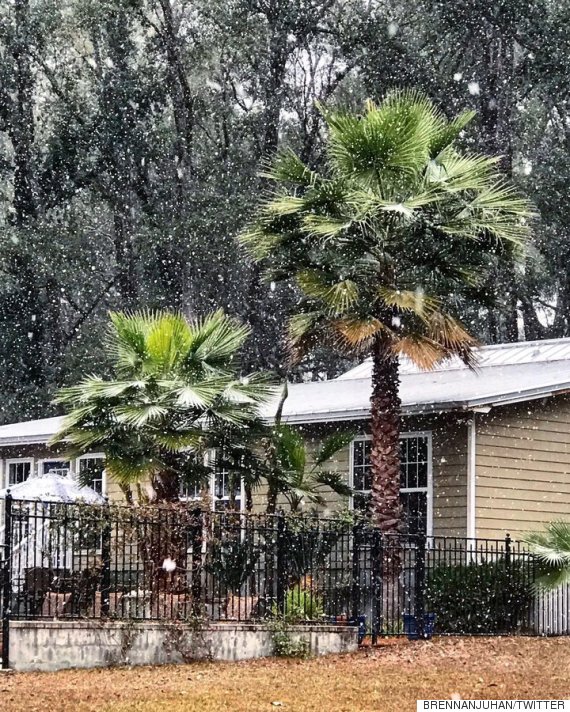 믿기 어렵겠지만, 위는 플로리다의 한 동네다. 플로리다 북부에 있는 주도 탤러해시 근교에 사는 주민들이 이 희귀한 상황을 트위터에 공유했다.
기뻐서 어쩔 줄 모르는 플로리다인들을 아래서 보자.
Just a boy, his dog and his backyard...and some snow. #Tallahassee #TLHWinterStorm pic.twitter.com/G3JeqfVLFT

— Nick Dombek (@ndombek13) January 3, 2018
캡션: 아이와 개와 뒷마당과... 눈.
Waking up to snow in Florida today has been the highlight of my year so far! Yay snow! ❄️☃️#snowinFL pic.twitter.com/a5mBWwp9g3

— Jessica Katz (@jessflnative) January 3, 2018
캡션: 아침에 일어나 밖을 보니 눈이 내리고 있다. 올해의 최고 순간이다. 눈, 너무 좋아!
#Snow in Jefferson County #Florida from this morning's #WinterStorm @NWSTallahassee pic.twitter.com/PcH6Z5ahh6

— MYounger (@MYounger) January 3, 2018
캡션: 제퍼슨카운티에 눈이 내리고 있음. 플로리다의 아침 풍경.
#Snow in Jefferson County #Florida from this morning's #WinterStorm @NWSTallahassee pic.twitter.com/PcH6Z5ahh6

— MYounger (@MYounger) January 3, 2018
캡션: 선샤인 주에 눈이라? 정말이다. 남부가 얼음으로 변하면서 탤러해시에 눈이 내린다.
oh hey yanno it's just ya girl taking photos in the snow. in florida. #tallahassee #SnowInFlorida #snowday #FloridaSnow #florida #what pic.twitter.com/mQYCUQ5N0Z

— L (@ladylululara) January 3, 2018
캡션: 눈 오는 날 사진 찍는 멋쟁이.
Sleet/Snow in Northern Florida today! #Tallahassee pic.twitter.com/PBdqW5BqbU

— Jennifer Barrass (@JenBarrass) January 3, 2018
캡션: 북플로리다에 눈/진눈깨비가 내렸다.
Us Florida folks don't see snow much. #SnowInFlorida #Tallahassee pic.twitter.com/yPVhLvathJ

— Victoria Pearson PhD (@VirusExplorer) January 3, 2018
캡션: 플로리다인들은 눈을 자주 접하지 못하기 때문에...
My friend in the background has never experienced snow. 😂 #Tallahassee #Florida @NWSTallahassee ❄️ pic.twitter.com/lqKfsJv8iK

— Iris Elijah (@IrisElijah) January 3, 2018
캡션: 옆에 있는 친구에겐 난생 처음 보는 눈이다.
Snow in Florida ❄️ #SnowInFlorida pic.twitter.com/3QZUrEeKOF

— NBC2 (@NBC2) January 3, 2018
캡션: 플로리다에 눈이 내린다.
Video of Florida SNOW Wednesday morning from my friend at FSU. #flwx #Tallahassee #FSU pic.twitter.com/7CHUPrkQwK

— Amy Sweezey (@amysweezey) January 3, 2018
캡션: FSU에 다니는 친구가 보내온 눈 영상.
#Snow in Florida!! ❄️❄️❄️❄️ pic.twitter.com/flRZi24Drm

— LyLy (@lyannethegreat) January 3, 2018
캡션: 플로리다에 눈이라니!
Yay! Snow in Tallahassee Florida! #TLHWinterStorm pic.twitter.com/em7Tp8g3mm

— Vivian (@viviankoonz) January 3, 2018
캡션: 너무 좋아! 플로리다 탤러해시에 눈이 내리고 있다!
So a #SnowDay in #Florida. We know hurricanes. Snow? Not sure what to do here. How do you luge? pic.twitter.com/7f9DME2BL7

— The J Alex Kelly (@thejalexkelly) January 3, 2018
캡션: 플로리다에 눈이 내린다. 허리케인엔 적응이 됐는데, 눈이라고? 어떻게 해야 할지 모르겠다. 루지라도 타야 하나?
아래 슬라이드는 옆으로 밀면 된다.
This streamlined, modern take on mukluk boots is made from taupe-coloured leather and has a durable, rubberized block sole. $159. Available at Zara.com.

Canadian brand, Cougar has been making warm winter boots for more than 60 years. The company's 39068 Original is a fashion favourite. It has a temperature rating of -30 C, and is guaranteed waterproof. $230. Available at cougarboots.com and gravitypope.com.

Navigating mountain-like snow drifts will be a cinch with these knee-high boots from Aldo. $140. Available at aldo.com.

Sorel's footwear is synonymous with high-quality, warm and functional winter wear. This Canadian brand's Classic Caribou boot is a cold weather classic, perfect for heavy snow falls thanks to its waterproof construction and felt constructed inner boot. $200. Available at sorelfootwear.ca.

Sleek and sophisticated, Timberland's Woodhaven boot not only looks good, but it's guaranteed to keep your feet high and dry. The leather exterior is treated to be waterproof, and also has an internal waterproof and breathable membrane. $200. Available at timberland.com.

DAV's Plus Calgary Pebble boot features faux leather boot, which can be worn up or folded down. Its waterproof rubber exterior gives it a rain boot-like appearance, and the faux fur lining keeps your feet warm. $115. Available at thebay.com.

There's a reason UGGs have never gone away — those Aussies sure know how to make a warm boot! The Amie boot is designed to repel stains and water, and has a warm and comfortable sheepskin sock liner. $270. Available at theseptember.com.

Hiking in the snow isn't easy, but these TOMS boots will make winter trekking a breeze. Made from rawhide suede and grey wool, it's designed to be waterproof, and has a rubber, lug sole with deep treads for secure winter walking. $170. Available at toms.ca and retailers across Canada.

Lovers of the athleisure trend will want to snap up Nike's Lupinek Flyknit sneaker boot. Made with water-resistant leather, it looks like a fly sneaker but has all the features of a winter boot: outdoor traction, cushioning and warmth. $330. Available at Nike.com.

There are not many boots that can boast heat-reflecting footbeds embedded in their soles — but Keen can. Plush and waterproof, these boots will definitely keep your toes warm and toasty this winter. $200. Available at keenfootwear.com.

Comfortable and waterproof with a mid-height shaft, the Merrell Sylva boot makes a great all-around winter shoe. $260. Available at mec.ca.

Warm and waterproof with a stylish knit-like upper, North Face's Brighton boot makes for a great casual weekend wear. $229.99. Available at thenorthface.com.

La Canadienne's Ariel boot is shearling-lined, and designed in a sleek and sophisticated style. $495. Available at lacanadienneshoes.com.

Sorel's Cozy Carnival boot conjures up images of snowy nights on a winter cabin retreat, thanks to its fleece lining and waterproof composition. $159.99. Available at sportchek.ca.

Made from waterproof leather and equipped with thinsulate insulation, Kodiak's Surrey II boot has an irresistible rugged, yet refined look. $210. Available at kodiakboots.com.

The knee-high, lace-up design of Pajar's Grip Zip boot is bold and beautiful. Waterproof leather and nylon securely encases the foot and leg, while its construction guarantees a temperature rating of -30 C. $240. Available at shoeme.ca.

High-fashion lovers will instantly fall under the spell of Burberry's Windmere boot. Its luxe, water-resistant leather, coupled with the British brand's signature stripes, make for an irresistible winter boot combination. $836.47. Available at nordstrom.com.

Baffin's Iceland boot is appropriately named and designed with its waterproof exterior, thick rubber sole and temperature rating of -40 C. $189.99. Available at baffin.com.

Mukluks have a long tradition among Canada's Indigenous people, protecting them from the harshest of conditions. This pair, by Manitoba Mukluk, is handcrafted by Indigenous artists, treated to be waterproof and has a temperature rating of -32 C. $300. Available at gravitypope.com.

Stuart Weitzman's Bearwear is another beautiful high-fashion boot. Not only it is easy on the eyes, but it's designed to withstand the cold; it's water-resistant, has a warm faux fur insole and is equipped with a non-slip outer sole, making it not only fabulous looking, but also functional. $555. Available at saksfifthavenue.com.

*허프포스트US의 글을 번역, 편집한 것입니다.