트럼프가 '예루살렘 선언 규탄' 찬성하면 지원금을 끊겠다고 유엔 회원국을 위협하다
도널드 트럼프 미국 대통령이 20일(현지시각) 유엔 총회에 상정되어 있는 미국 '예루살렘 선언(예루살렘 수도 인정)' 무효화 결의안에 찬성표를 던지는 국가들에게는 재정 지원을 삭감할 것이라고 경고했다.
트럼프 대통령은 이날 백악관 기자들과 만난 자리에서 "그들은 우리에게 수억, 수십억달러를 가져가는데 우리에 맞서 표를 던진다. 글쎄, 투표를 지켜보자. 우리에게 반대표를 던질 테면 그렇게 하라고 하라. 우리는 (돈을) 엄청 아끼게 될 것이다. 신경 안 쓴다"고 말했다.
193개 회원국은 21일 아랍 및 무슬림 국가들의 요청에 따라 유엔 긴급 총회를 소집해 트럼프 대통령의 '예루살렘 선언' 효력을 인정하지 않는 내용의 결의안을 표결할 예정이다. 이 결의안은 18일 유엔 안전보장이사회에서 15개 회원국 중 미국이 거부권을 행사해 통과가 무산됐던 그 결의안과 사실상 같은 내용이다.
당시 안보리에서 나머지 14개 국가는 이집트가 제안한 결의안에 찬성표를 던졌다. 미국이나 트럼프의 이름이 직접 언급되지는 않지만 "예루살렘의 지위에 대한 최근 결정에 깊은 유감"을 표한다는 내용이 포함됐다.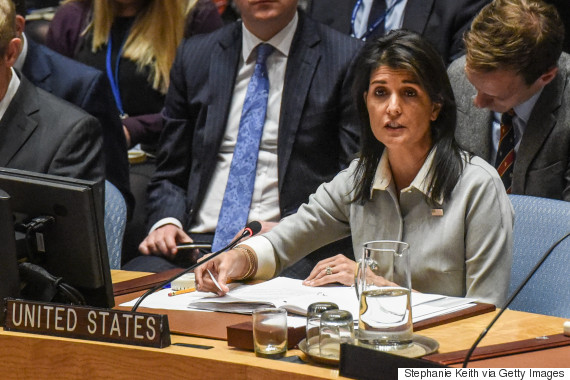 유엔주재 미국대사 니키 헤일리는 19일 유엔 회원국들에게 보낸 서한에서 트럼프가 '우리에게 반대표를 던진 국가가 어디인지 보고하라'는 지시를 내렸다며 경고 메시지를 보냈다.
헤일리 대사는 트위터에도 직설적인 경고를 남겼다. "미국은 (결의안에 찬성한 국가들의) 이름을 적을 것이다."
At the UN we're always asked to do more & give more. So, when we make a decision, at the will of the American ppl, abt where to locate OUR embassy, we don't expect those we've helped to target us. On Thurs there'll be a vote criticizing our choice. The US will be taking names. pic.twitter.com/ZsusB8Hqt4

— Nikki Haley (@nikkihaley) December 19, 2017
각국 고위 외교관들은 헤일리 대사의 경고가 유엔 총회 표결에 큰 영향을 미치지는 못할 것이라고 말했다. 그런 식의 직접적이고도 공개적인 경고는 매우 이례적인 일이기도 하다.
미로슬라프 라이착 유엔총회 의장은 트럼프의 발언에 대해서는 언급을 거부하면서도 "회원국들이 자신들의 의사를 표현하는 건 권리이자 책임"이라고 말했다.
안토니오 구테후스 유엔 사무총장 대변인 역시 트럼프의 발언에 대한 언급을 거부했다.
트럼프 대통령은 "나는 우리 돈을 가져가는 모든 국가들, 그럼에도 안보리에서 우리에게 반대되는 표를 던진 국가들을 향해 니키 (헤일리 대사)가 어제 유엔에서 보낸 메시지가 마음에 든다"고 말했다.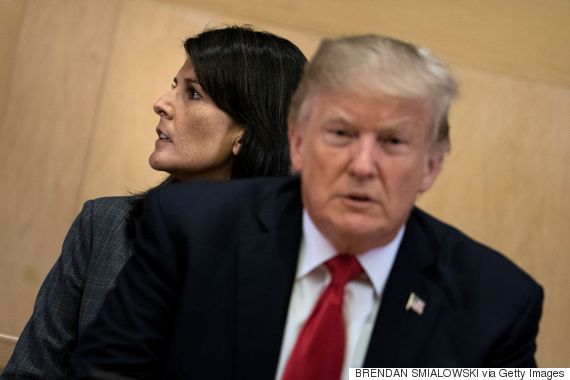 트럼프 대통령은 수십년 동안 지속되어 온 미국의 정책을 뒤집고 불쑥 예루살렘을 이스라엘의 수도로 인정하며 팔레스타인과 아랍 세계의 분노, 그리고 미국의 서구 우방국들의 우려를 불렀다.
트럼프 대통령은 미국 대사관도 텔아비브에서 예루살렘으로 옮길 계획이다. 유엔 결의안 초안에는 모든 국가들이 예루살렘에 대사관을 세우는 것을 삼가야 한다는 내용이 담겼다.
무슬림 국가의 한 고위 외교 관리는 헤일리 대사가 보낸 서한을 이렇게 평가했다. "미국은 다른 이들을 설득할 만한 도덕적 법적 근거가 없다는 걸 자신들이 알고 있을 때 노골적인 괴롭힘에 기댄다."
한 서방 국가의 외교관은 헤일리 대사의 서한은 유엔 무대에서 "멍청한 전략"이라면서도 "'헤일리 2020이나 헤일리 2024'를 위해서는 꽤 괜찮은" 전략이라고 말했다. 헤일리 대사가 선거에 출마할 것이라는 세간의 추측을 언급한 것이다.
그는 "헤일리가 유엔 총회나 안보리에서 표를 얻어내지는 못할 것이다. 그러나 미국 국민들 사이에서는 표를 좀 얻을 것"이라고 덧붙였다.
유럽 국가의 한 고위 외교관 역시 헤일리가 많은 유엔 회원국들의 표를 바꾸지는 못할 것이라는 데 동의했다.
그는 "유엔에서 미국의 리더십에 다소 실종된 상태이며, 이런 식의 서한은 중동 평화 프로세스에서 미국의 리더십을 세우는 데에도 분명 도움이 되지 않을 것"이라고 말했다.


U.S. President Donald Trump arrives with U.S. Vice President Mike Pence, left, to make a statement on Jerusalem in the Diplomatic Room of the White House in Washington, D.C., U.S., on Wednesday, Dec. 6, 2017. Trump formally declared Jerusalem to be Israel's capital and is directing the State Department to start the process of moving the U.S. embassy there from Tel Aviv, a historic shift of U.S. policy that could inflame key allies. Photographer: Andrew Harrer/Bloomberg via Getty Images

U.S. President Donald Trump speaks while making a statement on Jerusalem in the Diplomatic Room of the White House in Washington, D.C., U.S., on Wednesday, Dec. 6, 2017. Trump formally declared Jerusalem to be Israel's capital and is directing the State Department to start the process of moving the U.S. embassy there from Tel Aviv, a historic shift of U.S. policy that could inflame key allies. Photographer: Andrew Harrer/Bloomberg via Getty Images

US President Donald Trump speaks alongside US Vice President Mike Pence (L) about the recognition of Jerusalem as the capital of Israel by the United States in the Diplomatic Reception Room at the White House in Washington, DC, December 6, 2017. President Donald Trump on Wednesday recognized the disputed city of Jerusalem as Israel's capital -- a historic decision that overturns decades of US policy and risks triggering a fresh spasm of violence in the Middle East. / AFP PHOTO / SAUL LOEB (Photo credit should read SAUL LOEB/AFP/Getty Images)

US President Donald Trump signs a proclamation after he delivered a statement on Jerusalem from the Diplomatic Reception Room of the White House in Washington, DC on December 6, 2017 as US Vice President Mike Pence looks on. President Donald Trump on Wednesday recognized the disputed city of Jerusalem as Israel's capital -- a historic decision that overturns decades of US policy and risks triggering a fresh spasm of violence in the Middle East.'I have determined that it is time to officially recognize Jerusalem as the capital of Israel,' Trump said from the White House.'It's the right thing to do.' / AFP PHOTO / SAUL LOEB (Photo credit should read SAUL LOEB/AFP/Getty Images)

WASHINGTON, DC - DECEMBER 06: U.S. President Donald Trump holds up a proclaimation that the U.S. government will formally recognize Jerusalem as the capital of Israel after signing the document in the Diplomatic Reception Room at the White House December 6, 2017 in Washington, DC. In keeping with a campaign promise, Trump said the United States will move its embassy from Tel Aviv to Jerusalem sometime in the next few years. No other country has its embassy in Jerusalem. (Photo by Chip Somodevilla/Getty Images)

US President Donald Trump delivers a statement on Jerusalem from the Diplomatic Reception Room of the White House in Washington, DC on December 6, 2017. / AFP PHOTO / SAUL LOEB (Photo credit should read SAUL LOEB/AFP/Getty Images)

US President Donald Trump delivers a statement on Jerusalem from the Diplomatic Reception Room of the White House in Washington, DC on December 6, 2017. / AFP PHOTO / SAUL LOEB (Photo credit should read SAUL LOEB/AFP/Getty Images)

US President Donald Trump arrives alongside US Vice President Mike Pence (R) to speak about the recognition of Jerusalem as the capital of Israel by the United States in the Diplomatic Reception Room at the White House in Washington, DC, December 6, 2017. / AFP PHOTO / SAUL LOEB (Photo credit should read SAUL LOEB/AFP/Getty Images)

U.S. President Donald Trump speaks while making a statement on Jerusalem in the Diplomatic Room of the White House in Washington, D.C., U.S., on Wednesday, Dec. 6, 2017. Trump formally declared Jerusalem to be Israel's capital and is directing the State Department to start the process of moving the U.S. embassy there from Tel Aviv, a historic shift of U.S. policy that could inflame key allies. Photographer: Andrew Harrer/Bloomberg via Getty Images

U.S. President Donald Trump speaks while making a statement on Jerusalem in the Diplomatic Room of the White House in Washington, D.C., U.S., on Wednesday, Dec. 6, 2017. Trump formally declared Jerusalem to be Israel's capital and is directing the State Department to start the process of moving the U.S. embassy there from Tel Aviv, a historic shift of U.S. policy that could inflame key allies. Photographer: Andrew Harrer/Bloomberg via Getty Images

U.S. President Donald Trump speaks while making a statement on Jerusalem in the Diplomatic Room of the White House in Washington, D.C., U.S., on Wednesday, Dec. 6, 2017. Trump formally declared Jerusalem to be Israel's capital and is directing the State Department to start the process of moving the U.S. embassy there from Tel Aviv, a historic shift of U.S. policy that could inflame key allies. Photographer: Andrew Harrer/Bloomberg via Getty Images

U.S. President Donald Trump signs a proclamation next to U.S. Vice President Mike Pence, left, after making a statement on Jerusalem in the Diplomatic Room of the White House in Washington, D.C., U.S., on Wednesday, Dec. 6, 2017. Trump formally declared Jerusalem to be Israel's capital and is directing the State Department to start the process of moving the U.S. embassy there from Tel Aviv, a historic shift of U.S. policy that could inflame key allies. Photographer: Andrew Harrer/Bloomberg via Getty Images

WASHINGTON, DC - DECEMBER 06: U.S. President Donald Trump announces that the U.S. government will formally recognize Jerusalem as the capital of Israel with Vice President Mike Pence (L) in the Diplomatic Reception Room at the White House December 6, 2017 in Washington, DC. In keeping with a campaign promise, Trump said the United States will move its embassy from Tel Aviv to Jerusalem sometime in the next few years. No other country has its embassy in Jerusalem. (Photo by Chip Somodevilla/Getty Images)

U.S. President Donald Trump holds up a proclamation next to U.S. Vice President Mike Pence, left, after making a statement on Jerusalem in the Diplomatic Room of the White House in Washington, D.C., U.S., on Wednesday, Dec. 6, 2017. Trump formally declared Jerusalem to be Israel's capital and is directing the State Department to start the process of moving the U.S. embassy there from Tel Aviv, a historic shift of U.S. policy that could inflame key allies. Photographer: Andrew Harrer/Bloomberg via Getty Images

U.S. President Donald Trump holds up a proclamation next to U.S. Vice President Mike Pence, left, after making a statement on Jerusalem in the Diplomatic Room of the White House in Washington, D.C., U.S., on Wednesday, Dec. 6, 2017. Trump formally declared Jerusalem to be Israel's capital and is directing the State Department to start the process of moving the U.S. embassy there from Tel Aviv, a historic shift of U.S. policy that could inflame key allies. Photographer: Andrew Harrer/Bloomberg via Getty Images

U.S. President Donald Trump waves next to U.S. Vice President Mike Pence, left, after making a statement on Jerusalem in the Diplomatic Room of the White House in Washington, D.C., U.S., on Wednesday, Dec. 6, 2017. Trump formally declared Jerusalem to be Israel's capital and is directing the State Department to start the process of moving the U.S. embassy there from Tel Aviv, a historic shift of U.S. policy that could inflame key allies. Photographer: Andrew Harrer/Bloomberg via Getty Images

ISTANBUL, TURKEY - DECEMBER 06: A protesters spray paints 'Free Palestine' on a wall outside the U.S. Consulate on December 6, 2017 in Istanbul, Turkey. People gathered to protest after U.S President Donald Trump declared recognition of Jerusalem as the capital of Israel. President Trump went ahead with the announcement despite warnings from Middle East leaders and the Pope condemning the decision. The announcement which breaks decades of U.S. policy threatens to bring further instability to the region. (Photo by Chris McGrath/Getty Images)

GAZA, GAZA CITY - DECEMBER 06: People watch US President Donald Trump's speech regarding the recognition of Jerusalem as Israels capital, from televisions in Gaza, Gaza City on December 06, 2017. (Photo by Ali Jadallah/Anadolu Agency/Getty Images)

GAZA, GAZA CITY - DECEMBER 06: People watch US President Donald Trump's speech regarding the recognition of Jerusalem as Israels capital, from televisions in Gaza, Gaza City on December 06, 2017. (Photo by Ali Jadallah/Anadolu Agency/Getty Images)

JERUSALEM - DECEMBER 6: Flag of the United States is reflected by Israeli authorities on western parts of the historical walls around the Old City of Jerusalem ahead of the President Donald Trump's speech regarding the recognition of Jerusalem as Israels capital, in Jerusalem on December 6, 2017. (Photo by Mostafa Alkharouf/Anadolu Agency/Getty Images)

ISTANBUL, TURKEY - DECEMBER 06: Protesters wave flags and shout slogans outside the U.S. Consulate on December 6, 2017 in Istanbul, Turkey. People gathered to protest after U.S President Donald Trump declared recognition of Jerusalem as the capital of Israel. President Trump went ahead with the announcement despite warnings from Middle East leaders and the Pope condemning the decision. The announcement which breaks decades of U.S. policy threatens to bring further instability to the region. (Photo by Chris McGrath/Getty Images)

ISTANBUL, TURKEY - DECEMBER 06: Protesters wave flags and shout slogans outside the U.S. Consulate on December 6, 2017 in Istanbul, Turkey. People gathered to protest after U.S President Donald Trump declared recognition of Jerusalem as the capital of Israel. President Trump went ahead with the announcement despite warnings from Middle East leaders and the Pope condemning the decision. The announcement which breaks decades of U.S. policy threatens to bring further instability to the region. (Photo by Chris McGrath/Getty Images)

Palestinian demonstrators burn posters of the US president in Bethlehem's Manger Square in protest to him declaring Jerusalem as Israel's capital on December 6, 2017. Abbas said the United States can no longer play the role of peace broker after Donald Trump's decision on Wednesday to recognise Jerusalem as Israel's capital. / AFP PHOTO / Musa AL SHAER (Photo credit should read MUSA AL SHAER/AFP/Getty Images)

Palestinian demonstrators stand on posters of the US president in Bethlehem's Manger Square in protest to him declaring Jerusalem as Israel's capital on December 6, 2017. Abbas said the United States can no longer play the role of peace broker after Donald Trump's decision on Wednesday to recognise Jerusalem as Israel's capital. / AFP PHOTO / Musa AL SHAER (Photo credit should read MUSA AL SHAER/AFP/Getty Images)

Hamas supporters stage a protest against the possible U.S. decision to recognize Jerusalem as Israel's capital, in Gaza City , Wednesday, Dec. 6, 2017. President Donald Trump is forging ahead with plans to recognize Jerusalem as Israel's capital despite intense Arab, Muslim and European opposition to a move that would upend decades of U.S. policy and risk potentially violent protests. (Photo by Ezz al-Zanoun/NurPhoto(

Protestors shouts slogans against US President Donald Trump as they hold Turkish flags during a protest against the Israel at Fatih Mosque in Istanbul, Turkey, 06 December 2017. Earlier on the same day, US President Donald J. Trump signed a proclamation recognising Jerusalem as the Israeli capital and will relocate the US embassy from Tel Aviv to Jerusalem. (Photo by Emrah Oprukcu/NurPhoto via Getty Images)

Protestors shouts slogans against US President Donald Trump as they hold Turkish flags during a protest against the Israel at Fatih Mosque in Istanbul, Turkey, 06 December 2017. Earlier on the same day, US President Donald J. Trump signed a proclamation recognising Jerusalem as the Israeli capital and will relocate the US embassy from Tel Aviv to Jerusalem. (Photo by Emrah Oprukcu/NurPhoto via Getty Images)

RAMALLAH, WEST BANK - DECEMBER 06: People gather to protest against the US President Donald Trumps recognition of Jerusalem as Israels capital, in Ramallah, West Bank on December 06, 2017. (Photo by Issam Rimawi/Anadolu Agency/Getty Images)

Protestors shouts slogans against US President Donald Trump as they hold Turkish flags during a protest against the Israel at Fatih Mosque in Istanbul, Turkey, 06 December 2017. Earlier on the same day, US President Donald J. Trump signed a proclamation recognising Jerusalem as the Israeli capital and will relocate the US embassy from Tel Aviv to Jerusalem. (Photo by Emrah Oprukcu/NurPhoto via Getty Images)

Protestors shouts slogans against US President Donald Trump as they hold Turkish flags during a protest against the Israel at Fatih Mosque in Istanbul, Turkey, 06 December 2017. Earlier on the same day, US President Donald J. Trump signed a proclamation recognising Jerusalem as the Israeli capital and will relocate the US embassy from Tel Aviv to Jerusalem. (Photo by Emrah Oprukcu/NurPhoto via Getty Images)

Protestors shouts slogans against US President Donald Trump as they hold Turkish flags during a protest against the Israel at Fatih Mosque in Istanbul, Turkey, 06 December 2017. Earlier on the same day, US President Donald J. Trump signed a proclamation recognising Jerusalem as the Israeli capital and will relocate the US embassy from Tel Aviv to Jerusalem. (Photo by Emrah Oprukcu/NurPhoto via Getty Images)

JERUSALEM - DECEMBER 6: Flags of the United States and Israel are reflected by Israeli authorities on western parts of the historical walls around the Old City of Jerusalem ahead of the President Donald Trump's speech regarding the recognition of Jerusalem as Israels capital, in Jerusalem on December 6, 2017. (Photo by Mahmoud Ibrahim/Anadolu Agency/Getty Images)

Hamas Chief Ismail Haniyeh during a protest against the possible U.S. decision to recognize Jerusalem as Israel's capital, in Gaza City , Wednesday, Dec. 6, 2017. President Donald Trump is forging ahead with plans to recognize Jerusalem as Israel's capital despite intense Arab, Muslim and European opposition to a move that would upend decades of U.S. policy and risk potentially violent protests. (Photo by Majdi Fathi/NurPhoto via Getty Images)

Hamas supporters stage a protest against the possible U.S. decision to recognize Jerusalem as Israel's capital, in Gaza City , Wednesday, Dec. 6, 2017. President Donald Trump is forging ahead with plans to recognize Jerusalem as Israel's capital despite intense Arab, Muslim and European opposition to a move that would upend decades of U.S. policy and risk potentially violent protests. (Photo by Majdi Fathi/NurPhoto via Getty Images)