미국인 63%는 트럼프가 '러시아 수사'를 방해하고 있다고 본다 (여론조사)
미국인 63%는 도널드 트럼프 대통령이 '러시아 미국 대선 개입' 및 '트럼프 캠프-러시아 공모 의혹' 수사를 "방해하거나 막으려고" 해왔다고 생각하는 것으로 조사됐다.
또 AP와 NORC가 실시한 이 조사에서 응답자 중 40%는 트럼프 대통령이 러시아 측과 "불법적"인 행위를 벌였을 것이라고 생각한다고 답했다. 트럼프 대통령이 러시아 측과 "비윤리적" 행위를 했다고 본다는 응답은 32%였다.
응답자의 38%는 러시아 관련 수사가 매우 중요하다고 답했으며, 54%는 이 사건에 대한 의회의 조사가 공정하고 중립적으로 이뤄질 것이라고 확신하지 못하는 것으로 나타났다. 로버트 뮬러 특별검사의 수사가 공정하고 중립적이지 못할 것이라는 응답은 42%였다.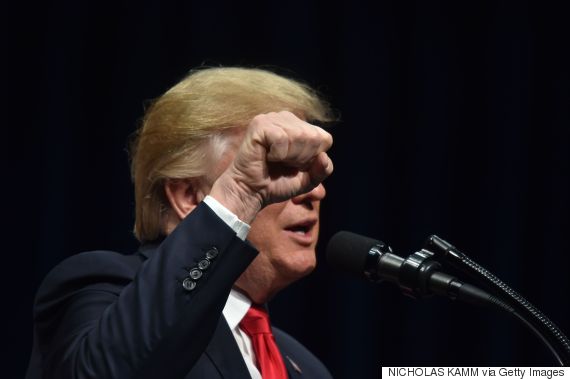 트럼프 대통령의 국정수행 지지율에 대한 항목을 보면, 32%가 긍정적으로 답했고 67%가 부정적이었다. 최근 발표된 퓨리서치센터 조사와 똑같은 수치다.
이같은 국정수행 지지도는 역대 미국 대통령 중 임기 첫 해를 기준으로 가장 낮은 수준이다.
이번 조사는 11월30일부터 12월4일까지 미국 전국 성인남녀 1444명을 대상으로 실시됐으며, 오차 범위는 ±3.7%p다.
* 이 글은 허프포스트US의 63 Percent Of Americans Believe Donald Trump Tried To Obstruct Russia Probe를 번역, 편집한 것입니다.


U.S. President Donald Trump speaks while delivering remarks on his recent 11-day Asia trip in the Diplomatic Room of the White House in Washington, D.C., U.S., on Wednesday, Nov. 15, 2017. Trump said Chinese President Xi Jinping recognizes that a nuclear North Korea is a grave threat to China, and we agreed we would not accept a freeze-for-freeze agreement. Photographer: Andrew Harrer/Bloomberg via Getty Images

U.S. President Donald Trump arrives to deliver remarks on his recent 11-day Asia trip in the Diplomatic Room of the White House in Washington, D.C., U.S., on Wednesday, Nov. 15, 2017. Trump said Chinese President Xi Jinping recognizes that a nuclear North Korea is a grave threat to China, and we agreed we would not accept a freeze-for-freeze agreement. Photographer: Andrew Harrer/Bloomberg via Getty Images

US President Donald Trump arrives to deliver remarks on November 15, 2017 in the Diplomatic Room at the White House in Washington,DC. / AFP PHOTO / Nicholas Kamm (Photo credit should read NICHOLAS KAMM/AFP/Getty Images)

WASHINGTON, DC - NOVEMBER 15: US President Donald Trump walks up to speak about his 12-day trip to Asia, fair trade, and the economy, at the White House on November 15, 2017 in Washington, DC. (Photo by Mark Wilson/Getty Images)

WASHINGTON, DC - NOVEMBER 15: US President Donald Trump walks up to speak about his 12-day trip to Asia, fair trade, and the economy, at the White House on November 15, 2017 in Washington, DC. (Photo by Mark Wilson/Getty Images)

U.S. President Donald Trump speaks while delivering remarks on his recent 11-day Asia trip in the Diplomatic Room of the White House in Washington, D.C., U.S., on Wednesday, Nov. 15, 2017. Trump said Chinese President Xi Jinping recognizes that a nuclear North Korea is a grave threat to China, and we agreed we would not accept a freeze-for-freeze agreement. Photographer: Andrew Harrer/Bloomberg via Getty Images

US President Donald Trump delivers remarks on November 15, 2017 in the Diplomatic Room at the White House in Washington,DC. / AFP PHOTO / Nicholas Kamm (Photo credit should read NICHOLAS KAMM/AFP/Getty Images)

US President Donald Trump delivers remarks on November 15, 2017 in the Diplomatic Room at the White House in Washington,DC. / AFP PHOTO / Nicholas Kamm (Photo credit should read NICHOLAS KAMM/AFP/Getty Images)

U.S. President Donald Trump speaks while delivering remarks on his recent 11-day Asia trip in the Diplomatic Room of the White House in Washington, D.C., U.S., on Wednesday, Nov. 15, 2017. Trump said Chinese President Xi Jinping recognizes that a nuclear North Korea is a grave threat to China, and we agreed we would not accept a freeze-for-freeze agreement. Photographer: Andrew Harrer/Bloomberg via Getty Images

WASHINGTON, DC - NOVEMBER 15: US President Donald Trump speaks about his 12-day trip to Asia, fair trade, and the economy, at the White House on November 15, 2017 in Washington, DC. (Photo by Mark Wilson/Getty Images)

U.S. President Donald Trump speaks while delivering remarks on his recent 11-day Asia trip in the Diplomatic Room of the White House in Washington, D.C., U.S., on Wednesday, Nov. 15, 2017. Trump said Chinese President Xi Jinping recognizes that a nuclear North Korea is a grave threat to China, and we agreed we would not accept a freeze-for-freeze agreement. Photographer: Andrew Harrer/Bloomberg via Getty Images

US President Donald Trump delivers remarks on November 15, 2017 in the Diplomatic Room at the White House in Washington,DC. / AFP PHOTO / NICHOLAS KAMM (Photo credit should read NICHOLAS KAMM/AFP/Getty Images)

WASHINGTON, DC - NOVEMBER 15: US President Donald Trump speaks about his 12-day trip to Asia, fair trade, and the economy, at the White House on November 15, 2017 in Washington, DC. (Photo by Mark Wilson/Getty Images)

WASHINGTON, DC - NOVEMBER 15: US President Donald Trump speaks about his 12-day trip to Asia, fair trade, and the economy, at the White House on November 15, 2017 in Washington, DC. (Photo by Mark Wilson/Getty Images)

U.S. President Donald Trump speaks while delivering remarks on his recent 11-day Asia trip in the Diplomatic Room of the White House in Washington, D.C., U.S., on Wednesday, Nov. 15, 2017. Trump said Chinese President Xi Jinping recognizes that a nuclear North Korea is a grave threat to China, and we agreed we would not accept a freeze-for-freeze agreement. Photographer: Andrew Harrer/Bloomberg via Getty Images

U.S. President Donald Trump speaks while delivering remarks on his recent 11-day Asia trip in the Diplomatic Room of the White House in Washington, D.C., U.S., on Wednesday, Nov. 15, 2017. Trump said Chinese President Xi Jinping recognizes that a nuclear North Korea is a grave threat to China, and we agreed we would not accept a freeze-for-freeze agreement. Photographer: Andrew Harrer/Bloomberg via Getty Images

U.S. President Donald Trump speaks while delivering remarks on his recent 11-day Asia trip in the Diplomatic Room of the White House in Washington, D.C., U.S., on Wednesday, Nov. 15, 2017. Trump said Chinese President Xi Jinping recognizes that a nuclear North Korea is a grave threat to China, and we agreed we would not accept a freeze-for-freeze agreement. Photographer: Andrew Harrer/Bloomberg via Getty Images

U.S. President Donald Trump speaks while delivering remarks on his recent 11-day Asia trip in the Diplomatic Room of the White House in Washington, D.C., U.S., on Wednesday, Nov. 15, 2017. Trump said Chinese President Xi Jinping recognizes that a nuclear North Korea is a grave threat to China, and we agreed we would not accept a freeze-for-freeze agreement. Photographer: Andrew Harrer/Bloomberg via Getty Images

U.S. President Donald Trump speaks while delivering remarks on his recent 11-day Asia trip in the Diplomatic Room of the White House in Washington, D.C., U.S., on Wednesday, Nov. 15, 2017. Trump said Chinese President Xi Jinping recognizes that a nuclear North Korea is a grave threat to China, and we agreed we would not accept a freeze-for-freeze agreement. Photographer: Andrew Harrer/Bloomberg via Getty Images

U.S. President Donald Trump speaks while delivering remarks on his recent 11-day Asia trip in the Diplomatic Room of the White House in Washington, D.C., U.S., on Wednesday, Nov. 15, 2017. Trump said Chinese President Xi Jinping recognizes that a nuclear North Korea is a grave threat to China, and we agreed we would not accept a freeze-for-freeze agreement. Photographer: Andrew Harrer/Bloomberg via Getty Images

U.S. President Donald Trump speaks while delivering remarks on his recent 11-day Asia trip in the Diplomatic Room of the White House in Washington, D.C., U.S., on Wednesday, Nov. 15, 2017. Trump said Chinese President Xi Jinping recognizes that a nuclear North Korea is a grave threat to China, and we agreed we would not accept a freeze-for-freeze agreement. Photographer: Andrew Harrer/Bloomberg via Getty Images

U.S. President Donald Trump speaks while delivering remarks on his recent 11-day Asia trip in the Diplomatic Room of the White House in Washington, D.C., U.S., on Wednesday, Nov. 15, 2017. Trump said Chinese President Xi Jinping recognizes that a nuclear North Korea is a grave threat to China, and we agreed we would not accept a freeze-for-freeze agreement. Photographer: Andrew Harrer/Bloomberg via Getty Images

U.S. President Donald Trump speaks while delivering remarks on his recent 11-day Asia trip in the Diplomatic Room of the White House in Washington, D.C., U.S., on Wednesday, Nov. 15, 2017. Trump said Chinese President Xi Jinping recognizes that a nuclear North Korea is a grave threat to China, and we agreed we would not accept a freeze-for-freeze agreement. Photographer: Andrew Harrer/Bloomberg via Getty Images

U.S. President Donald Trump speaks while delivering remarks on his recent 11-day Asia trip in the Diplomatic Room of the White House in Washington, D.C., U.S., on Wednesday, Nov. 15, 2017. Trump said Chinese President Xi Jinping recognizes that a nuclear North Korea is a grave threat to China, and we agreed we would not accept a freeze-for-freeze agreement. Photographer: Andrew Harrer/Bloomberg via Getty Images

WASHINGTON, DC - NOVEMBER 15: US President Donald Trump takes a drink of water while speaking about his 12-day trip to Asia, fair trade, and the economy, at the White House on November 15, 2017 in Washington, DC. (Photo by Mark Wilson/Getty Images)

U.S. President Donald Trump takes a drink of water while delivering remarks on his recent 11-day Asia trip in the Diplomatic Room of the White House in Washington, D.C., U.S., on Wednesday, Nov. 15, 2017. Trump said Chinese President Xi Jinping recognizes that a nuclear North Korea is a grave threat to China, and we agreed we would not accept a freeze-for-freeze agreement. Photographer: Andrew Harrer/Bloomberg via Getty Images

US President Donald Trump drinks water from a bottle as he delivers remarks on November 15, 2017 in the Diplomatic Room at the White House in Washington, DC. At right is a portrait of first US president George Washington. / AFP PHOTO / NICHOLAS KAMM (Photo credit should read NICHOLAS KAMM/AFP/Getty Images)

US President Donald Trump drinks water from a bottle as he delivers remarks on November 15, 2017 in the Diplomatic Room at the White House in Washington, DC. At right is a portrait of first US president George Washington. / AFP PHOTO / NICHOLAS KAMM (Photo credit should read NICHOLAS KAMM/AFP/Getty Images)

U.S. President Donald Trump reaches for a bottle of water while delivering remarks on his recent 11-day Asia trip in the Diplomatic Room of the White House in Washington, D.C., U.S., on Wednesday, Nov. 15, 2017. Trump said Chinese President Xi Jinping recognizes that a nuclear North Korea is a grave threat to China, and we agreed we would not accept a freeze-for-freeze agreement. Photographer: Andrew Harrer/Bloomberg via Getty Images

U.S. President Donald Trump looks for a water bottle while delivering remarks on his recent 11-day Asia trip in the Diplomatic Room of the White House in Washington, D.C., U.S., on Wednesday, Nov. 15, 2017. Trump said Chinese President Xi Jinping recognizes that a nuclear North Korea is a grave threat to China, and we agreed we would not accept a freeze-for-freeze agreement. Photographer: Andrew Harrer/Bloomberg via Getty Images

WASHINGTON, DC - NOVEMBER 15: US President Donald Trump speaks about his 12-day trip to Asia, fair trade, and the economy, at the White House on November 15, 2017 in Washington, DC. (Photo by Mark Wilson/Getty Images)

US President Donald Trump delivers remarks on November 15, 2017 in the Diplomatic Room at the White House in Washington,DC. / AFP PHOTO / Nicholas Kamm (Photo credit should read NICHOLAS KAMM/AFP/Getty Images)

US President Donald Trump delivers remarks on November 15, 2017 in the Diplomatic Room at the White House in Washington,DC. / AFP PHOTO / Nicholas Kamm (Photo credit should read NICHOLAS KAMM/AFP/Getty Images)

US President Donald Trump delivers remarks on November 15, 2017 in the Diplomatic Room at the White House in Washington,DC. / AFP PHOTO / Nicholas Kamm (Photo credit should read NICHOLAS KAMM/AFP/Getty Images)

US President Donald Trump delivers remarks on November 15, 2017 in the Diplomatic Room at the White House in Washington,DC. / AFP PHOTO / Nicholas Kamm (Photo credit should read NICHOLAS KAMM/AFP/Getty Images)

Traders work on the floor at the closing bell of the Dow Industrial Average at the New York Stock Exchange on November 15, 2017 in New York, as US President Donald Trump delivers a televised statement from the White House. / AFP PHOTO / Bryan R. Smith (Photo credit should read BRYAN R. SMITH/AFP/Getty Images)

A live feed of President Donald Trump speaking is projected on the floor at the closing bell of the Dow Industrial Average at the New York Stock Exchange on November 15, 2017 in New York. / AFP PHOTO / Bryan R. Smith (Photo credit should read BRYAN R. SMITH/AFP/Getty Images)

U.S. President Donald Trump gestures after delivering remarks on his recent 11-day Asia trip in the Diplomatic Room of the White House in Washington, D.C., U.S., on Wednesday, Nov. 15, 2017. Trump said Chinese President Xi Jinping recognizes that a nuclear North Korea is a grave threat to China, and we agreed we would not accept a freeze-for-freeze agreement. Photographer: Andrew Harrer/Bloomberg via Getty Images

US President Donald Trump delivers remarks on November 15, 2017 in the Diplomatic Room at the White House in Washington,DC. / AFP PHOTO / Nicholas Kamm (Photo credit should read NICHOLAS KAMM/AFP/Getty Images)

A live feed of President Donald Trump speaking is projected on the floor at the closing bell of the Dow Industrial Average at the New York Stock Exchange on November 15, 2017 in New York. / AFP PHOTO / Bryan R. Smith (Photo credit should read BRYAN R. SMITH/AFP/Getty Images)