미국 외교관이 사임하면서 틸러슨 국무장관을 신랄히 비판하는 서한을 남겼다
미국 국무부에서 떠오르는 별이라는 말을 듣던 유명 외교관이 사임하면서 '렉스 틸러슨 국무장관이 국무부를 엉망진창으로 만들고 있으며 전세계에서 미국의 입지를 약화시키고 있다'는 격한 서한을 보냈다.
케냐 수도 나이로비에서 미-소말리아 관련 문제를 담당하는 행정관으로 근무했던 엘리자베스 섀클포드는 11월7일 도널드 트럼프 정부가 외교관들에게 "지독한 결례"를 범했으며 국무부의 가장 경험 많은 직원들을 점점 더 많이 밀어내고 있다는 서한을 남겼다. 외교전문지 포린 폴리시가 이 서한을 입수했다.
"이에 따르는 대가는 내가 현재 근무하고 있는 소말리아 담당 부서에서 매일매일 눈에 보인다. 소말리아와 우리 내부 기관에 대한 국무부의 외교적 영향력이 줄어들고 있다." 섀클포드의 글이다.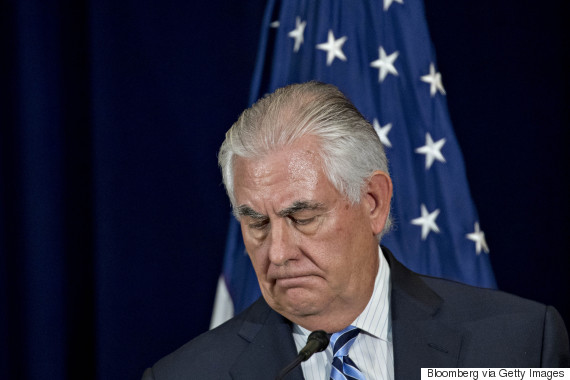 그에 따르면, 국무장관에 임명된 후 엑슨모빌 CEO에서 물러났던 틸러슨은 국무부 직원들에게 전세계 인권 증진 활동은 "국가안보 이익을 확대하는 우리의 역량에 장애물을 조성한다"고 말했다. 섀클포드는 이 말에 "충격을 받았다"고 했다.
틸러슨이 "출혈을 막고" 국무부의 임무를 지켜나갈 능력이 없다면 "나는 당신도 나를 따라 사임하라고 정중하게 추천하고 싶다"고도 했다.
트럼프 정부는 러시아, 터키, 필리핀 등의 국가에서 일어나는 인권 문제를 경시하여 큰 비난을 받아왔다. 민주당 의원들과 전직 외교관들은 이 중요하고도 위험한 시기에 틸러슨이 국무부 예산과 인원을 삭감한 것을 비난해왔다. 중동과 한반도에서 어려운 외교 정책 과제가 계속되고 있기 때문이다.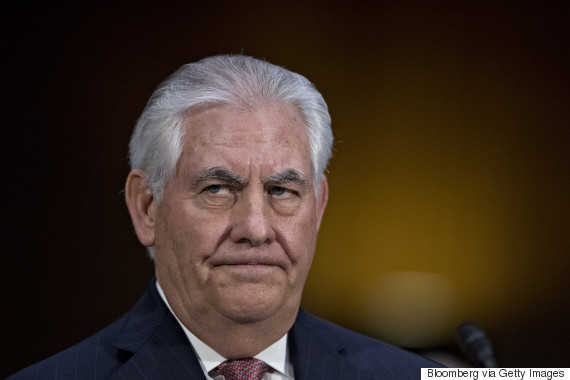 앞서 트럼프를 '멍청이'라고 불렀다는 의혹이 제기된 틸러슨은 지금까지도 이 의혹을 부인하지 않고 있다. 그가 국무장관에서 곧 물러나게 될 것이라는 루머도 끊이지 않는다. 지난 11월, 백악관이 틸러슨 대신 마이크 폼페오 CIA 국장을 국무장관으로 앉히는 방안을 검토했다는 말이 돌기도 했다.
틸러슨은 자신이 해왔던 일들을 변호하며 국무부에는 직원들을 간소화하기 위한 개편이 필요하다고 말한 바 있다.
* 이 글은 허프포스트US의 Star U.S. Diplomat Quits With Fiery Letter To Rex Tillerson을 번역, 편집한 것입니다.
U.S. President Donald Trump speaks while delivering remarks on his recent 11-day Asia trip in the Diplomatic Room of the White House in Washington, D.C., U.S., on Wednesday, Nov. 15, 2017. Trump said Chinese President Xi Jinping recognizes that a nuclear North Korea is a grave threat to China, and we agreed we would not accept a freeze-for-freeze agreement. Photographer: Andrew Harrer/Bloomberg via Getty Images

U.S. President Donald Trump arrives to deliver remarks on his recent 11-day Asia trip in the Diplomatic Room of the White House in Washington, D.C., U.S., on Wednesday, Nov. 15, 2017. Trump said Chinese President Xi Jinping recognizes that a nuclear North Korea is a grave threat to China, and we agreed we would not accept a freeze-for-freeze agreement. Photographer: Andrew Harrer/Bloomberg via Getty Images

US President Donald Trump arrives to deliver remarks on November 15, 2017 in the Diplomatic Room at the White House in Washington,DC. / AFP PHOTO / Nicholas Kamm (Photo credit should read NICHOLAS KAMM/AFP/Getty Images)

WASHINGTON, DC - NOVEMBER 15: US President Donald Trump walks up to speak about his 12-day trip to Asia, fair trade, and the economy, at the White House on November 15, 2017 in Washington, DC. (Photo by Mark Wilson/Getty Images)

WASHINGTON, DC - NOVEMBER 15: US President Donald Trump walks up to speak about his 12-day trip to Asia, fair trade, and the economy, at the White House on November 15, 2017 in Washington, DC. (Photo by Mark Wilson/Getty Images)

U.S. President Donald Trump speaks while delivering remarks on his recent 11-day Asia trip in the Diplomatic Room of the White House in Washington, D.C., U.S., on Wednesday, Nov. 15, 2017. Trump said Chinese President Xi Jinping recognizes that a nuclear North Korea is a grave threat to China, and we agreed we would not accept a freeze-for-freeze agreement. Photographer: Andrew Harrer/Bloomberg via Getty Images

US President Donald Trump delivers remarks on November 15, 2017 in the Diplomatic Room at the White House in Washington,DC. / AFP PHOTO / Nicholas Kamm (Photo credit should read NICHOLAS KAMM/AFP/Getty Images)

US President Donald Trump delivers remarks on November 15, 2017 in the Diplomatic Room at the White House in Washington,DC. / AFP PHOTO / Nicholas Kamm (Photo credit should read NICHOLAS KAMM/AFP/Getty Images)

U.S. President Donald Trump speaks while delivering remarks on his recent 11-day Asia trip in the Diplomatic Room of the White House in Washington, D.C., U.S., on Wednesday, Nov. 15, 2017. Trump said Chinese President Xi Jinping recognizes that a nuclear North Korea is a grave threat to China, and we agreed we would not accept a freeze-for-freeze agreement. Photographer: Andrew Harrer/Bloomberg via Getty Images

WASHINGTON, DC - NOVEMBER 15: US President Donald Trump speaks about his 12-day trip to Asia, fair trade, and the economy, at the White House on November 15, 2017 in Washington, DC. (Photo by Mark Wilson/Getty Images)

U.S. President Donald Trump speaks while delivering remarks on his recent 11-day Asia trip in the Diplomatic Room of the White House in Washington, D.C., U.S., on Wednesday, Nov. 15, 2017. Trump said Chinese President Xi Jinping recognizes that a nuclear North Korea is a grave threat to China, and we agreed we would not accept a freeze-for-freeze agreement. Photographer: Andrew Harrer/Bloomberg via Getty Images

US President Donald Trump delivers remarks on November 15, 2017 in the Diplomatic Room at the White House in Washington,DC. / AFP PHOTO / NICHOLAS KAMM (Photo credit should read NICHOLAS KAMM/AFP/Getty Images)

WASHINGTON, DC - NOVEMBER 15: US President Donald Trump speaks about his 12-day trip to Asia, fair trade, and the economy, at the White House on November 15, 2017 in Washington, DC. (Photo by Mark Wilson/Getty Images)

WASHINGTON, DC - NOVEMBER 15: US President Donald Trump speaks about his 12-day trip to Asia, fair trade, and the economy, at the White House on November 15, 2017 in Washington, DC. (Photo by Mark Wilson/Getty Images)

U.S. President Donald Trump speaks while delivering remarks on his recent 11-day Asia trip in the Diplomatic Room of the White House in Washington, D.C., U.S., on Wednesday, Nov. 15, 2017. Trump said Chinese President Xi Jinping recognizes that a nuclear North Korea is a grave threat to China, and we agreed we would not accept a freeze-for-freeze agreement. Photographer: Andrew Harrer/Bloomberg via Getty Images

U.S. President Donald Trump speaks while delivering remarks on his recent 11-day Asia trip in the Diplomatic Room of the White House in Washington, D.C., U.S., on Wednesday, Nov. 15, 2017. Trump said Chinese President Xi Jinping recognizes that a nuclear North Korea is a grave threat to China, and we agreed we would not accept a freeze-for-freeze agreement. Photographer: Andrew Harrer/Bloomberg via Getty Images

U.S. President Donald Trump speaks while delivering remarks on his recent 11-day Asia trip in the Diplomatic Room of the White House in Washington, D.C., U.S., on Wednesday, Nov. 15, 2017. Trump said Chinese President Xi Jinping recognizes that a nuclear North Korea is a grave threat to China, and we agreed we would not accept a freeze-for-freeze agreement. Photographer: Andrew Harrer/Bloomberg via Getty Images

U.S. President Donald Trump speaks while delivering remarks on his recent 11-day Asia trip in the Diplomatic Room of the White House in Washington, D.C., U.S., on Wednesday, Nov. 15, 2017. Trump said Chinese President Xi Jinping recognizes that a nuclear North Korea is a grave threat to China, and we agreed we would not accept a freeze-for-freeze agreement. Photographer: Andrew Harrer/Bloomberg via Getty Images

U.S. President Donald Trump speaks while delivering remarks on his recent 11-day Asia trip in the Diplomatic Room of the White House in Washington, D.C., U.S., on Wednesday, Nov. 15, 2017. Trump said Chinese President Xi Jinping recognizes that a nuclear North Korea is a grave threat to China, and we agreed we would not accept a freeze-for-freeze agreement. Photographer: Andrew Harrer/Bloomberg via Getty Images

U.S. President Donald Trump speaks while delivering remarks on his recent 11-day Asia trip in the Diplomatic Room of the White House in Washington, D.C., U.S., on Wednesday, Nov. 15, 2017. Trump said Chinese President Xi Jinping recognizes that a nuclear North Korea is a grave threat to China, and we agreed we would not accept a freeze-for-freeze agreement. Photographer: Andrew Harrer/Bloomberg via Getty Images

U.S. President Donald Trump speaks while delivering remarks on his recent 11-day Asia trip in the Diplomatic Room of the White House in Washington, D.C., U.S., on Wednesday, Nov. 15, 2017. Trump said Chinese President Xi Jinping recognizes that a nuclear North Korea is a grave threat to China, and we agreed we would not accept a freeze-for-freeze agreement. Photographer: Andrew Harrer/Bloomberg via Getty Images

U.S. President Donald Trump speaks while delivering remarks on his recent 11-day Asia trip in the Diplomatic Room of the White House in Washington, D.C., U.S., on Wednesday, Nov. 15, 2017. Trump said Chinese President Xi Jinping recognizes that a nuclear North Korea is a grave threat to China, and we agreed we would not accept a freeze-for-freeze agreement. Photographer: Andrew Harrer/Bloomberg via Getty Images

U.S. President Donald Trump speaks while delivering remarks on his recent 11-day Asia trip in the Diplomatic Room of the White House in Washington, D.C., U.S., on Wednesday, Nov. 15, 2017. Trump said Chinese President Xi Jinping recognizes that a nuclear North Korea is a grave threat to China, and we agreed we would not accept a freeze-for-freeze agreement. Photographer: Andrew Harrer/Bloomberg via Getty Images

U.S. President Donald Trump speaks while delivering remarks on his recent 11-day Asia trip in the Diplomatic Room of the White House in Washington, D.C., U.S., on Wednesday, Nov. 15, 2017. Trump said Chinese President Xi Jinping recognizes that a nuclear North Korea is a grave threat to China, and we agreed we would not accept a freeze-for-freeze agreement. Photographer: Andrew Harrer/Bloomberg via Getty Images

WASHINGTON, DC - NOVEMBER 15: US President Donald Trump takes a drink of water while speaking about his 12-day trip to Asia, fair trade, and the economy, at the White House on November 15, 2017 in Washington, DC. (Photo by Mark Wilson/Getty Images)

U.S. President Donald Trump takes a drink of water while delivering remarks on his recent 11-day Asia trip in the Diplomatic Room of the White House in Washington, D.C., U.S., on Wednesday, Nov. 15, 2017. Trump said Chinese President Xi Jinping recognizes that a nuclear North Korea is a grave threat to China, and we agreed we would not accept a freeze-for-freeze agreement. Photographer: Andrew Harrer/Bloomberg via Getty Images

US President Donald Trump drinks water from a bottle as he delivers remarks on November 15, 2017 in the Diplomatic Room at the White House in Washington, DC. At right is a portrait of first US president George Washington. / AFP PHOTO / NICHOLAS KAMM (Photo credit should read NICHOLAS KAMM/AFP/Getty Images)

US President Donald Trump drinks water from a bottle as he delivers remarks on November 15, 2017 in the Diplomatic Room at the White House in Washington, DC. At right is a portrait of first US president George Washington. / AFP PHOTO / NICHOLAS KAMM (Photo credit should read NICHOLAS KAMM/AFP/Getty Images)

U.S. President Donald Trump reaches for a bottle of water while delivering remarks on his recent 11-day Asia trip in the Diplomatic Room of the White House in Washington, D.C., U.S., on Wednesday, Nov. 15, 2017. Trump said Chinese President Xi Jinping recognizes that a nuclear North Korea is a grave threat to China, and we agreed we would not accept a freeze-for-freeze agreement. Photographer: Andrew Harrer/Bloomberg via Getty Images

U.S. President Donald Trump looks for a water bottle while delivering remarks on his recent 11-day Asia trip in the Diplomatic Room of the White House in Washington, D.C., U.S., on Wednesday, Nov. 15, 2017. Trump said Chinese President Xi Jinping recognizes that a nuclear North Korea is a grave threat to China, and we agreed we would not accept a freeze-for-freeze agreement. Photographer: Andrew Harrer/Bloomberg via Getty Images

WASHINGTON, DC - NOVEMBER 15: US President Donald Trump speaks about his 12-day trip to Asia, fair trade, and the economy, at the White House on November 15, 2017 in Washington, DC. (Photo by Mark Wilson/Getty Images)

US President Donald Trump delivers remarks on November 15, 2017 in the Diplomatic Room at the White House in Washington,DC. / AFP PHOTO / Nicholas Kamm (Photo credit should read NICHOLAS KAMM/AFP/Getty Images)

US President Donald Trump delivers remarks on November 15, 2017 in the Diplomatic Room at the White House in Washington,DC. / AFP PHOTO / Nicholas Kamm (Photo credit should read NICHOLAS KAMM/AFP/Getty Images)

US President Donald Trump delivers remarks on November 15, 2017 in the Diplomatic Room at the White House in Washington,DC. / AFP PHOTO / Nicholas Kamm (Photo credit should read NICHOLAS KAMM/AFP/Getty Images)

US President Donald Trump delivers remarks on November 15, 2017 in the Diplomatic Room at the White House in Washington,DC. / AFP PHOTO / Nicholas Kamm (Photo credit should read NICHOLAS KAMM/AFP/Getty Images)

Traders work on the floor at the closing bell of the Dow Industrial Average at the New York Stock Exchange on November 15, 2017 in New York, as US President Donald Trump delivers a televised statement from the White House. / AFP PHOTO / Bryan R. Smith (Photo credit should read BRYAN R. SMITH/AFP/Getty Images)

A live feed of President Donald Trump speaking is projected on the floor at the closing bell of the Dow Industrial Average at the New York Stock Exchange on November 15, 2017 in New York. / AFP PHOTO / Bryan R. Smith (Photo credit should read BRYAN R. SMITH/AFP/Getty Images)

U.S. President Donald Trump gestures after delivering remarks on his recent 11-day Asia trip in the Diplomatic Room of the White House in Washington, D.C., U.S., on Wednesday, Nov. 15, 2017. Trump said Chinese President Xi Jinping recognizes that a nuclear North Korea is a grave threat to China, and we agreed we would not accept a freeze-for-freeze agreement. Photographer: Andrew Harrer/Bloomberg via Getty Images

US President Donald Trump delivers remarks on November 15, 2017 in the Diplomatic Room at the White House in Washington,DC. / AFP PHOTO / Nicholas Kamm (Photo credit should read NICHOLAS KAMM/AFP/Getty Images)

A live feed of President Donald Trump speaking is projected on the floor at the closing bell of the Dow Industrial Average at the New York Stock Exchange on November 15, 2017 in New York. / AFP PHOTO / Bryan R. Smith (Photo credit should read BRYAN R. SMITH/AFP/Getty Images)