브렉시트 1차 협상 타결 실패 직후 다양한 해법이 쏟아지고 있다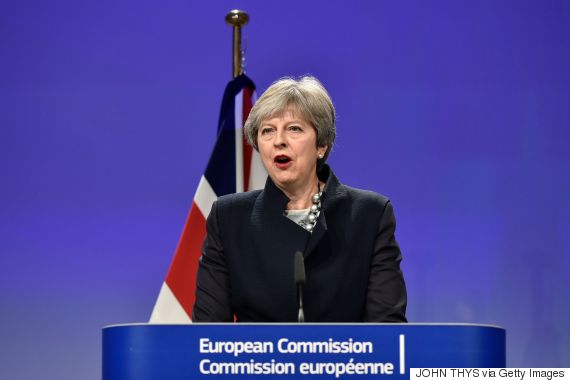 영국과 유럽연합(EU)의 탈퇴를 놓고 벌어진 1차 협상이 타결에 실패했다. 물론 아직 끝은 아니지만, 만만치 않은 난관이 있다는 점은 분명하다.
특히 영국령인 북아일랜드가 영국의 유럽연합(EU) 탈퇴 이후에도 EU 회원국과 마찬가지로 EU 단일시장 지위를 유지하고 관세동맹에 남을 수 있다는 협상 내용은 큰 혼란을 불렀다.
영국인들은 반전을 거듭하고 있는 이 브렉시트 협상에 대한 분노를 담아 다음과 같은 해법들을 쏟아냈다.
1) The Zip Wire Solution (짚와이어 해법)
The areas in YELLOW voted to REMAIN in the European Union so will continue to TRADE FREELY within the EU. There will be a HARD BORDER between the YELLOW and BLUE areas, who voted to LEAVE. The RED LINES represent a SERIES OF ELABORATE ZIPWIRES to transport PEOPLE and GOODS. pic.twitter.com/VS5ylmrXCD

— James (@jrawson) December 4, 2017
노랑색은 EU 잔류(브렉시트 반대)에 표를 던졌으므로 EU와 자유롭게 무역을 한다. 노란 지역과 탈퇴에 표를 던진 파란 지역 사이에는 '하드(강력한)' 국경선이 있을 것이다. 빨간색 선은 사람과 상품을 실어 나르는 정교한 짚와이어들을 가리킨다.
2) Re-location, Re-location, Re-location (재배치, 재배치, 재배치)
부동산 게임과 마찬가지로, 브렉시트 역시 위치에 대한 얘기다.
그런 점을 감안할 때, 이 기자는 이제 런던이 이사를 가야할 때라고 말한다.
So. . . all we have to do is move London to Northern Ireland? https://t.co/5u9LAL4AUm

— Andrew Mueller (@andrew_mueller) December 4, 2017
그렇다면...런던을 북아일랜드로 옮기면 되는 건가?


3) Schneider's List (슈나이더의 목록)
코미디 작가 데이비드 슈나이더는 정성을 다해 목록을 작성했다.
A reminder of the government's suggestions for the Irish border. Looks like they may still be going for the last one. pic.twitter.com/2bXkUwBkCC

— David Schneider (@davidschneider) December 4, 2017
아일랜드 국경 : 가능한 해법들
* 북아일랜드는 EU 관세동맹에 잔류하되 오직 월요일, 수요일, 금요일에만 그렇게 한다.
* 전체 국경에 해리 포터 투명 망토를 입혀 국경이 있지만 안 보이도록 한다.
* 실제 국경을 세우되 유니콘이 순찰을 돌면서 가볍게 터치하도록 한다.
* 데런 브라운(마술사)에게 뭐 좀 가져와보라고 한다.
* 타임머신을 확보해 2016년 6월(브렉시트 투표일)로 돌아가 진실을 말한다. : 이 문제는 해결될 수가 없음
* 아무 대책도 없다고 말한 뒤 우리가 싸놓은 X을 치우기 위해 EU를 떠나버린다.


4) Brexit Means Brexit - 2.0 (브렉시트는 브렉시트다 2.0 버전)
Brexit Solution

United Kingdom of London, Scotland, Gibraltar and Northern Ireland to remain in EU.

Brexitland to leave the EU.

(Parts of Brexitland may vote over time to join the new UK in local referendums, as Overland Territories.)

— David Allen Green (@davidallengreen) December 4, 2017
브렉시트 해법
'런던·스코틀랜드·지브롤터·북아일랜드 영국 연방'은 EU에 남는다.
브렉시트랜드는 EU를 탈퇴한다.
(브렉시트랜드 지역은 새로운 영국의 '내륙 영토'로 가입하기 위한 지역 주민투표를 실시할 수도 있다.)


5) United We Stand... (뭉치면 살고...)
벨기에의 유럽의회의원(MEP) 필립 램버트는 4일 합의될 것으로 예상됐던 협상문 초안에 따라 북아일랜드와 아일랜드 사이의 "완전한 (규제) 일치"가 이뤄질 것이라고 말했다.
그러나 EU 회원국인 아일랜드 정부는 영국령 북아일랜드와의 국경에 그 어떤 물리적 장벽도 놓여져서는 안 된다며 그런 내용의 합의는 거부할 것이라고 밝혔다. 자유로운 왕래를 보장한 벨파스트 협정(1998년)이 위험에 빠질 것이라는 우려 때문이다.
그러자 영국 크리스 브라이언트(노동당) 의원이 묘안(?)을 냈다.
I've an idea. What about regulatory alignment with the whole of the EU? We could call it a customs union. #simples

— Chris Bryant (@RhonddaBryant) December 4, 2017
내게 좋은 생각이 있다. EU 전체와 규제를 일치시키는 건 어떤가? 우리는 이걸 관세동맹이라고 부를 수도 있다. #simples


6) Miller's Crossing (밀러의 크로스)
영국 정부를 상대로 브렉시트 문제를 법원으로 끌고 갔던 지나 밀러(기업인)은 아일랜드 국경 문제를 거론하며 EU에 남아야 한다는 자신의 주장을 재차 강조했다.
Could someone wake up the politicians and tell them there are only 2 solutions to Brexit and NI border issue - stay in the Single Market & Customs Union or #Remain.

— Gina Miller (@thatginamiller) December 4, 2017
누가 정치인들 좀 깨워서 브렉시트와 북아일랜드 국경 문제 유일한 해법은 두 개뿐이라고 말 좀 해주길. 단일시장 & 관세동맹에 남거나, 아니면 #잔류


7) Baffling Brexit (도저히 이해할 수 없는 브렉시트)
채널4뉴스의 크리슈난 구루-머피 기자는 해법이 무엇인지 확신하기 어려웠으나 영국 전체가 똑같은 규제와 관세 체계를 유지하면서도 아일랜드 사이에 '하드' 국경은 없다면 영국인들의 삶은 어떨 것인지 깊이 생각해보았다.
Imagine if there was a way for the whole of the UK to have the same regulatory and customs framework and no hard border with Ireland, yet leaving the EU. Hmmm, let me see....

— Krishnan Guru-Murthy (@krishgm) December 4, 2017
영국 전체가 똑같은 규제와 관세 체계를 유지하고 아일랜드와 '하드' 국경은 세우지 않으면서도 EU를 떠나는 방법이 있는지 생각해보자. 흠, 어디 보자...
8) Do As The IT Department Always Advises (IT부서에서 늘 조언하는 대로)
Has anyone tried turning #Brexit off and turning it back on again?

— James Doleman (@jamesdoleman) December 4, 2017
브렉시트 껐다가 다시 켜 본 사람?
* 이 글은 허프포스트UK의 The Best Solutions To The Northern Ireland Brexit Border Debacle을 번역, 편집한 것입니다.


British Secretary of State for Exiting the European Union (Brexit Minister) David Davis (R) and European Commission member in charge of Brexit negotiations with Britain, Michel Barnier leave after addressing a press conference at the end of the first day of Brexit negotiations at the European Commission in Brussels on June 19, 2017. Britain and the European Union started Brexit negotiations in Brussels on June 19, 2017. / AFP PHOTO / EMMANUEL DUNAND (Photo credit should read EMMANUEL DUNAND/AFP/Getty Images)

British Secretary of State for Exiting the European Union (Brexit Minister) David Davis (R) and European Commission member in charge of Brexit negotiations with Britain, Michel Barnier leave after addressing a press conference at the end of the first day of Brexit negotiations at the European Commission in Brussels on June 19, 2017. Britain and the European Union started Brexit negotiations in Brussels on June 19, 2017. / AFP PHOTO / EMMANUEL DUNAND (Photo credit should read EMMANUEL DUNAND/AFP/Getty Images)

David Davis, U.K. exiting the European Union (EU) secretary, left, listens as Michel Barnier, chief negotiator for the European Union (EU), speaks during a news conference following the start of Brexit negotiations in Brussels, Belgium, on Monday, June 19, 2017. The U.K. and the European Union moved to reassure millions of their citizens that they won't be forced to leave their homes or find new jobs after Brexit, as negotiations on Britain's withdrawal finally got under way. Photographer: Jasper Juinen/Bloomberg via Getty Images

British Secretary of State for Exiting the European Union (Brexit Minister) David Davis (L) and European Commission member in charge of Brexit negotiations with Britain, Michel Barnier address a press conference at the end of the first day of Brexit negotiations at the European Commission in Brussels on June 19, 2017. Britain and the European Union started Brexit negotiations in Brussels on June 19, 2017. / AFP PHOTO / EMMANUEL DUNAND (Photo credit should read EMMANUEL DUNAND/AFP/Getty Images)

David Davis, U.K. exiting the European Union (EU) secretary, left, speaks as Michel Barnier, chief negotiator for the European Union (EU), listens during a news conference following the start of Brexit negotiations in Brussels, Belgium, on Monday, June 19, 2017. The U.K. and the European Union moved to reassure millions of their citizens that they won't be forced to leave their homes or find new jobs after Brexit, as negotiations on Britain's withdrawal finally got under way. Photographer: Jasper Juinen/Bloomberg via Getty Images

David Davis, U.K. exiting the European Union (EU) secretary, left, listens as Michel Barnier, chief negotiator for the European Union (EU), speaks during a news conference following the start of Brexit negotiations in Brussels, Belgium, on Monday, June 19, 2017. The U.K. and the European Union moved to reassure millions of their citizens that they won't be forced to leave their homes or find new jobs after Brexit, as negotiations on Britain's withdrawal finally got under way. Photographer: Jasper Juinen/Bloomberg via Getty Images

David Davis, U.K. exiting the European Union (EU) secretary, left, speaks as Michel Barnier, chief negotiator for the European Union (EU), listens during a news conference following the start of Brexit negotiations in Brussels, Belgium, on Monday, June 19, 2017. The U.K. and the European Union moved to reassure millions of their citizens that they won't be forced to leave their homes or find new jobs after Brexit, as negotiations on Britain's withdrawal finally got under way. Photographer: Jasper Juinen/Bloomberg via Getty Images

David Davis, U.K. exiting the European Union (EU) secretary, listens during a news conference following the start of Brexit negotiations in Brussels, Belgium, on Monday, June 19, 2017. The U.K. and the European Union moved to reassure millions of their citizens that they won't be forced to leave their homes or find new jobs after Brexit, as negotiations on Britain's withdrawal finally got under way. Photographer: Jasper Juinen/Bloomberg via Getty Images

David Davis, U.K. exiting the European Union (EU) secretary, speaks during a news conference following the start of Brexit negotiations in Brussels, Belgium, on Monday, June 19, 2017. The U.K. and the European Union moved to reassure millions of their citizens that they won't be forced to leave their homes or find new jobs after Brexit, as negotiations on Britain's withdrawal finally got under way. Photographer: Jasper Juinen/Bloomberg via Getty Images

British Secretary of State for Exiting the European Union (Brexit Minister) David Davis addresses a press conference at the end of the first day of Brexit negotiations at the European Commission in Brussels on June 19, 2017. Britain and the European Union started Brexit negotiations in Brussels on June 19, 2017. / AFP PHOTO / EMMANUEL DUNAND (Photo credit should read EMMANUEL DUNAND/AFP/Getty Images)

British Secretary of State for Exiting the European Union (Brexit Minister) David Davis addresses a press conference at the end of the first day of Brexit negotiations at the European Commission in Brussels on June 19, 2017. Britain and the European Union started Brexit negotiations in Brussels on June 19, 2017. / AFP PHOTO / EMMANUEL DUNAND (Photo credit should read EMMANUEL DUNAND/AFP/Getty Images)

David Davis, U.K. exiting the European Union (EU) secretary, speaks during a news conference following the start of Brexit negotiations in Brussels, Belgium, on Monday, June 19, 2017. The U.K. and the European Union moved to reassure millions of their citizens that they won't be forced to leave their homes or find new jobs after Brexit, as negotiations on Britain's withdrawal finally got under way. Photographer: Jasper Juinen/Bloomberg via Getty Images

European Commission member in charge of Brexit negotiations with Britain, Michel Barnier gestures as he addresses a press conference at the end of the first day of Brexit negotiations at the European Commission in Brussels on June 19, 2017. Britain and the European Union started Brexit negotiations in Brussels on June 19, 2017. / AFP PHOTO / EMMANUEL DUNAND (Photo credit should read EMMANUEL DUNAND/AFP/Getty Images)

David Davis, U.K. exiting the European Union (EU) secretary, listens during a news conference following the start of Brexit negotiations in Brussels, Belgium, on Monday, June 19, 2017. The U.K. and the European Union moved to reassure millions of their citizens that they won't be forced to leave their homes or find new jobs after Brexit, as negotiations on Britain's withdrawal finally got under way. Photographer: Jasper Juinen/Bloomberg via Getty Images

British Secretary of State for Exiting the European Union (Brexit Minister) David Davis (L) and European Commission member in charge of Brexit negotiations with Britain, Michel Barnier address a press conference at the end of the first day of Brexit negotiations at the European Commission in Brussels on June 19, 2017. Britain and the European Union started Brexit negotiations in Brussels on June 19, 2017. / AFP PHOTO / EMMANUEL DUNAND (Photo credit should read EMMANUEL DUNAND/AFP/Getty Images)

British Secretary of State for Exiting the European Union (Brexit Minister) David Davis (L) and European Commission member in charge of Brexit negotiations with Britain, Michel Barnier address a press conference at the end of the first day of Brexit negotiations at the European Commission in Brussels on June 19, 2017. Britain and the European Union started Brexit negotiations in Brussels on June 19, 2017. / AFP PHOTO / EMMANUEL DUNAND (Photo credit should read EMMANUEL DUNAND/AFP/Getty Images)

British Secretary of State for Exiting the European Union (Brexit Minister) David Davis (L) and European Commission member in charge of Brexit negotiations with Britain, Michel Barnier address a press conference at the end of the first day of Brexit negotiations at the European Commission in Brussels on June 19, 2017. Britain and the European Union started Brexit negotiations in Brussels on June 19, 2017. / AFP PHOTO / EMMANUEL DUNAND (Photo credit should read EMMANUEL DUNAND/AFP/Getty Images)

BRUSSELS, BELGIUM - JUNE 19: Flags of European Union and United Kingdom are seen ahead of a joint press conference of Michel Barnier, chief negotiator for the European Union and the Secretary of State for Exiting the European Union David Davis at the start of Brexit negotiations in Brussels, Belgium, on Monday, June 19, 2017. (Photo by Dursun Aydemir/Anadolu Agency/Getty Images)