영국 해리 왕자와 메건 마크리의 약혼이 공식 발표되다
영국 왕실이 해리 왕자와 배우 메건 마크리의 약혼 사실을 공식 발표했다.
두 사람은 이번달 약혼했으며 2018년 봄 결혼할 예정이다.
The Prince of Wales is delighted to announce the engagement of Prince Harry to Ms. Meghan Markle. pic.twitter.com/zdaHR4mcY6

— Clarence House (@ClarenceHouse) November 27, 2017
영국 왕위계승 서열 5위인 해리 왕자가 어떻게 프로프즈를 했는지는 아직 알려지지 않았으나 지난 여름 함께 보츠와나로 휴가를 떠났을 때 프로포즈를 했다는 소문이 돌았다.
지난 여름 스코틀랜드 발모럴 성에 머물 당시 해리 왕자가 엘리자베스 2세 여왕에게 마크리를 소개할 기회를 요청했다는 소문도 있다.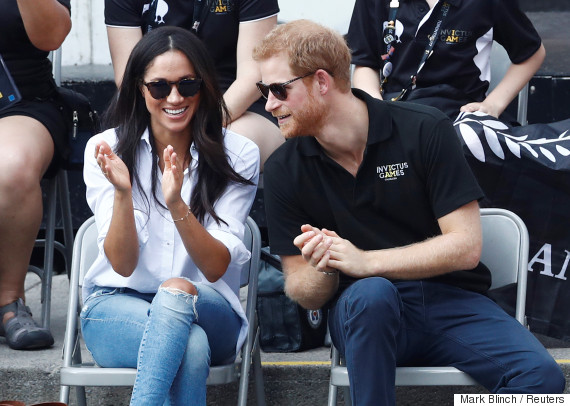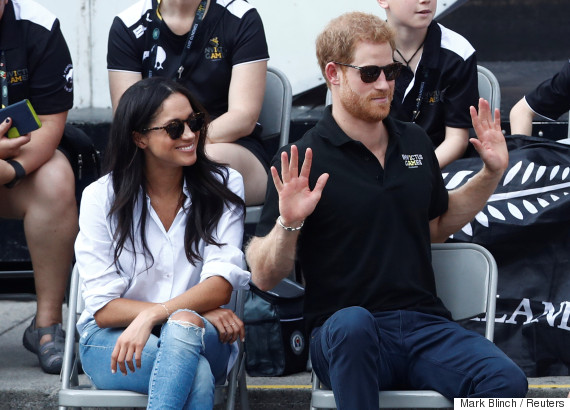 지난 10월 두 사람이 버킹엄궁에서 여왕과 함께 차를 함께 했다는 사실은 이미 보도된 바 있다. 일각에서는 두 사람이 이 만남을 약혼에 대한 여왕의 축복을 요청하는 기회로 삼았던 게 아니냐고 추측하고 있다.
마크리는 이미 찰스 왕세자 내외를 만났으며, 이 둘은 마크리의 팬으로 알려져 있다.
The Queen and The Duke of Edinburgh are delighted for the couple and wish them every happiness. https://t.co/aAJ23uSbao

— The Royal Family (@RoyalFamily) November 27, 2017
올해 36세인 마크리는 이전에 한 번 결혼한 적이 있으며, 법정 드라마 'Suits'에서의 활약으로 잘 알려져 있다.
마크리는 지난 9월 해리 왕자와의 관계를 처음으로 공식 언급했다. 당시 그는 베니티페어에 "우리는 정말 행복하고 사랑에 빠져있는 두 (평범한) 사람"이라고 했다.
"우리는 이 소식이 보도되기 전 6개월 동안 조용히 데이트를 해왔고, 나는 그동안 내내 일을 해왔다. 달라진 건 사람들의 인식 뿐이다."
* 이 글은 허프포스트UK의 Prince Harry Engaged To Megan Markle, Clarence House Announces를 번역, 편집한 것입니다.
WARSAW, POLAND - JULY 17: Prince George of Cambridge and Princess Charlotte of Cambridge peer out of a window as they arrive with Prince William, Duke of Cambridge and Catherine, Duchess of Cambridge on day 1 of their official visit to Poland on July 17, 2017 in Warsaw, Poland. (Photo by Chris Jackson/Getty Images)

WARSAW, POLAND - JULY 17: Prince George of Cambridge and Princess Charlotte of Cambridge peer out of a window as they arrive with Prince William, Duke of Cambridge and Catherine, Duchess of Cambridge on day 1 of their official visit to Poland on July 17, 2017 in Warsaw, Poland. (Photo by Chris Jackson/Getty Images)

WARSAW, POLAND - JULY 17: Prince George of Cambridge and Princess Charlotte of Cambridge peer out of a window as they arrive with Prince William, Duke of Cambridge and Catherine, Duchess of Cambridge on day 1 of their official visit to Poland on July 17, 2017 in Warsaw, Poland. (Photo by Chris Jackson/Getty Images)

WARSAW, POLAND - JULY 17: Prince William, Duke of Cambridge and Prince George of Cambridge arrive at the Warsaw airport during an official visit to Poland and Germany on July 17, 2017 in Warsaw, Poland. (Photo by DMC/GC Images)

WARSAW, POLAND - JULY 17: (NO UK SALES FOR 28 DAYS FROM CREATE DATE) Prince William, Duke of Cambridge and Prince George of Cambridge arrive at Warsaw airport during an official visit to Poland and Germany on July 17, 2017 in Warsaw, Poland. (Photo by Pool/Samir Hussein/Samir Hussein/WireImage)

WARSAW, POLAND - JULY 17: Catherine, Duchess of Cambridge carries Princess Charlotte of Cambridge as they arrive with Prince William, Duke of Cambridge and Prince George of Cambridge on day 1 of their official visit to Poland on July 17, 2017 in Warsaw, Poland. (Photo by Samir Hussein/Samir Hussein/WireImage)

WARSAW, POLAND - JULY 17: (NO UK SALES FOR 28 DAYS FROM CREATE DATE) Catherine, Duchess of Cambridge, Princess Charlotte of Cambridge, Prince William, Duke of Cambridge and Prince George of Cambridge arrive at Warsaw airport during an official visit to Poland and Germany on July 17, 2017 in Warsaw, Poland. (Photo by Pool/Samir Hussein/Samir Hussein/WireImage)

WARSAW, POLAND - JULY 17: Catherine, Duchess of Cambridge carries Princess Charlotte of Cambridge as they arrive with Prince William, Duke of Cambridge and Prince George of Cambridge on day 1 of their official visit to Poland on July 17, 2017 in Warsaw, Poland. (Photo by Samir Hussein/Samir Hussein/WireImage)

WARSAW, POLAND - JULY 17: (NO UK SALES FOR 28 DAYS FROM CREATE DATE) Prince William, Duke of Cambridge and Prince George of Cambridge arrive at Warsaw airport during an official visit to Poland and Germany on July 17, 2017 in Warsaw, Poland. (Photo by Pool/Samir Hussein/Samir Hussein/WireImage)

WARSAW, POLAND - JULY 17: (NO UK SALES FOR 28 DAYS FROM CREATE DATE) Prince George of Cambridge arrives at Warsaw airport during an official visit to Poland and Germany on July 17, 2017 in Warsaw, Poland. (Photo by Pool/Samir Hussein/Samir Hussein/WireImage)

WARSAW, POLAND - JULY 17: (NO UK SALES FOR 28 DAYS FROM CREATE DATE) Prince William, Duke of Cambridge and Prince George of Cambridge arrive at Warsaw airport during an official visit to Poland and Germany on July 17, 2017 in Warsaw, Poland. (Photo by Pool/Samir Hussein/Samir Hussein/WireImage)

WARSAW, POLAND - JULY 17: (NO UK SALES FOR 28 DAYS FROM CREATE DATE) Prince William, Duke of Cambridge and Prince George of Cambridge arrive at Warsaw airport during an official visit to Poland and Germany on July 17, 2017 in Warsaw, Poland. (Photo by Pool/Samir Hussein/Samir Hussein/WireImage)

WARSAW, POLAND - JULY 17: (NO UK SALES FOR 28 DAYS FROM CREATE DATE) Prince William, Duke of Cambridge and Prince George of Cambridge arrive at Warsaw airport during an official visit to Poland and Germany on July 17, 2017 in Warsaw, Poland. (Photo by Pool/Samir Hussein/Samir Hussein/WireImage)

WARSAW, POLAND - JULY 17: (NO UK SALES FOR 28 DAYS FROM CREATE DATE) Prince William, Duke of Cambridge and Prince George of Cambridge arrive at Warsaw airport during an official visit to Poland and Germany on July 17, 2017 in Warsaw, Poland. (Photo by Pool/Samir Hussein/Samir Hussein/WireImage)

WARSAW, POLAND - JULY 17: (NO UK SALES FOR 28 DAYS FROM CREATE DATE) Catherine, Duchess of Cambridge, Princess Charlotte of Cambridge, Prince William, Duke of Cambridge and Prince George of Cambridge arrive at Warsaw airport during an official visit to Poland and Germany on July 17, 2017 in Warsaw, Poland. (Photo by Pool/Samir Hussein/Samir Hussein/WireImage)

WARSAW, POLAND - JULY 17: (NO UK SALES FOR 28 DAYS FROM CREATE DATE) Catherine, Duchess of Cambridge, Princess Charlotte of Cambridge, Prince William, Duke of Cambridge and Prince George of Cambridge arrive at Warsaw airport during an official visit to Poland and Germany on July 17, 2017 in Warsaw, Poland. (Photo by Pool/Samir Hussein/Samir Hussein/WireImage)

WARSAW, POLAND - JULY 17: (NO UK SALES FOR 28 DAYS FROM CREATE DATE) Catherine, Duchess of Cambridge, Princess Charlotte of Cambridge, Prince William, Duke of Cambridge and Prince George of Cambridge arrive at Warsaw airport during an official visit to Poland and Germany on July 17, 2017 in Warsaw, Poland. (Photo by Pool/Samir Hussein/Samir Hussein/WireImage)

WARSAW, POLAND - JULY 17: Catherine, Duchess of Cambridge carries Princess Charlotte of Cambridge as they arrive with Prince William, Duke of Cambridge and Prince George of Cambridge on day 1 of their official visit to Poland on July 17, 2017 in Warsaw, Poland. (Photo by Chris Jackson/Getty Images)

WARSAW, POLAND - JULY 17: Prince William, Duke of Cambridge speaks with Prince George of Cambridge as they arrive with Catherine, Duchess of Cambridge and Princess Charlotte of Cambridge on day 1 of their official visit to Poland on July 17, 2017 in Warsaw, Poland (Photo by Chris Jackson/Getty Images)

WARSAW, POLAND - JULY 17: Prince William, Duke of Cambridge and Prince George of Cambridge arrive at Warsaw airport during an official visit to Poland and Germany on July 17, 2017 in Warsaw, Poland. (Photo by Samir Hussein/Samir Hussein/WireImage)

WARSAW, POLAND - JULY 17: Prince William, Duke of Cambridge speaks with Prince George of Cambridge as they arrive with Catherine, Duchess of Cambridge and Princess Charlotte of Cambridge on day 1 of their official visit to Poland on July 17, 2017 in Warsaw, Poland. (Photo by Samir Hussein/Samir Hussein/WireImage)

WARSAW, POLAND - JULY 17: Prince George of Cambridge arrives at Warsaw airport during an official visit to Poland and Germany on July 17, 2017 in Warsaw, Poland. (Photo by Samir Hussein/Samir Hussein/WireImage)

WARSAW, POLAND - JULY 17: Prince George of Cambridge arrives at Warsaw airport during an official visit to Poland and Germany on July 17, 2017 in Warsaw, Poland. (Photo by Samir Hussein/Samir Hussein/WireImage)

WARSAW, POLAND - JULY 17: Prince George of Cambridge kisses his father, Prince William, Duke of Cambridge hand as they arrive at Warsaw Airport during an official visit to Poland and Germany on July 17, 2017 in Warsaw, Poland. (Photo by DMC/GC Images)