일본 방문 중에 트럼프가 아베와 함께 한 식사는 좀 아이러니하다
애플파이만큼이나 미국을 대표하는 음식이 있다면 바로 햄버거다. 일본을 방문 중인 미국 대통령 도널드 트럼프가 점심 메뉴로 햄버거를 먹었다.
뉴스위크는 골프를 시작하기에 앞서 트럼프가 일본 총리 아베 신조와 함께 클럽하우스에서 햄버거를 먹었다고 전했다. 미국 소고기로 만든 것이었다.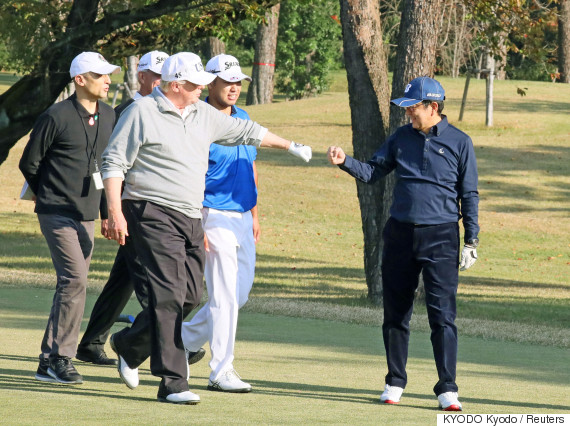 일본 총리실도 이 사실을 확인했다. 총리실 페이스북 페이지에는 다음과 같은 글이 올라와 있다.
"우린 도널드 트럼프 대통령의 방문을 대환영합니다! 점심은 '워킹 런치(working lunch'가 될 예정이며 메뉴는 햄버거입니다."
트럼프가 패스트푸드 애호가라는 사실을 일본이 잘 알고 있다는 증거였다. 2016년 대선 운동 시엔 자기 개인 비행기 안에서 KFC 치킨을 먹는 트럼프의 모습이 포착된 바도 있다. 국빈을 대접할 땐 방문국 국가의 고유 음식을 내놓는 게 정상이다. 그러나 트럼프의 독특한 취향을 반영하다 보니 이런 아이러니한 일이 생긴 것이다.
뿐만 아니다. 아베는 골프를 정말로 사랑하는 이 미국 대통령(임기 후 벌써 75회)을 위해 세계 4위 골퍼인 마쓰야마 히데키 선수까지 라운드에 동반했다.
일본이 트럼프의 이번 방문을 철저히 준비했다는 사실을 증명해주는 사례는 또 있다.
한겨레에 의하면 "일본 정부는 트럼프 대통령이 쇠고기 스테이크에 케첩을 뿌려 먹는 것을 좋아한다는 정보를 미리 입수하고, '와규'(지방이 많은 일본 쇠고기) 스테이크와 닭새우 요리가 유명한 이 음식점을 골랐다."
뉴스위크에 의하면 트럼프에 대한 전기 'Lost Tycoon: The Many Lives of Donald J. Trump'에도 트럼프의 짧은 입맛에 대한 언급이 있다. 1990년에 일본을 방문한, 당시 부동산 거부로 유명했던 트럼프는 "빌어먹을 생선회는 먹지 않을 것"이라고 했다. 대신 맥도날드 햄버거를 사 먹으며 그는 매우 기뻐했다.
한겨레는 또 "백악관은 트럼프 대통령이 머리가 붙은 생선을 싫어한다는 등 그의 음식 취향을 이번 순방국 정부에 통보한 것으로 알려졌다."라고 전했다. 트럼프를 준비하는 한국 요리사들의 임무가 이전과는 확실히 다르다는 소리다.
게다가 트럼프는 술도 마시지 않는다고 한다. 문재인 정부가 그를 어떻게 준비하고 어떻게 맞을지가 주목된다.
아래 슬라이드는 옆으로 밀면 된다.
US President Donald Trump speaks during a joint press conference with Japanese Prime Minister Shinzo Abe (not pictured) at Akasaka Palace in Tokyo on November 6, 2017. President Donald Trump lashed out at the US trade relationship with Japan, saying it was 'not fair and open', as he prepared for formal talks with his Japanese counterpart. / AFP PHOTO / POOL / Kiyoshi Ota (Photo credit should read KIYOSHI OTA/AFP/Getty Images)

US President Donald Trump and Japanese Prime Minister Shinzo Abe (not pictured) attend a joint press conference at Akasaka Palace in Tokyo on November 6, 2017. Donald Trump described North Korea's nuclear missile programme as a 'threat' to the world on a trip to Asia dominated by the crisis. / AFP PHOTO / JIM WATSON (Photo credit should read JIM WATSON/AFP/Getty Images)

US President Donald Trump and Japanese Prime Minister Shinzo Abe (R) attend a joint press conference at Akasaka Palace in Tokyo on November 6, 2017. Donald Trump described North Korea's nuclear missile programme as a 'threat' to the world on a trip to Asia dominated by the crisis. / AFP PHOTO / JIM WATSON (Photo credit should read JIM WATSON/AFP/Getty Images)

U.S. President Donald Trump speaks during a news conference with Shinzo Abe, Japan's prime minister, not pictured, at Akasaka Palace in Tokyo, Japan, on Monday, Nov. 6, 2017. Trump told a gathering of business leaders in Tokyo that Japan has an unfair advantage on trade and that he intends to fix that imbalance by making it easier to do business in the U.S. Photographer: Kiyoshi Ota/Bloomberg via Getty Images

U.S. President Donald Trump, left, shakes hands with Shinzo Abe, Japan's prime minister, during a news conference at Akasaka Palace in Tokyo, Japan, on Monday, Nov. 6, 2017. Trump told a gathering of business leaders in Tokyo that Japan has an unfair advantage on trade and that he intends to fix that imbalance by making it easier to do business in the U.S. Photographer: Kiyoshi Ota/Bloomberg via Getty Images

U.S. President Donald Trump, left, shakes hands with Shinzo Abe, Japan's prime minister, during a news conference at Akasaka Palace in Tokyo, Japan, on Monday, Nov. 6, 2017. Trump told a gathering of business leaders in Tokyo that Japan has an unfair advantage on trade and that he intends to fix that imbalance by making it easier to do business in the U.S. Photographer: Kiyoshi Ota/Bloomberg via Getty Images

U.S. President Donald Trump gestures as he speaks during a news conference with Shinzo Abe, Japan's prime minister, not pictured, at Akasaka Palace in Tokyo, Japan, on Monday, Nov. 6, 2017. Trump told a gathering of business leaders in Tokyo that Japan has an unfair advantage on trade and that he intends to fix that imbalance by making it easier to do business in the U.S. Photographer: Kiyoshi Ota/Bloomberg via Getty Images

U.S. President Donald Trump, left, speaks as Shinzo Abe, Japan's prime minister, during a news conference at Akasaka Palace in Tokyo, Japan, on Monday, Nov. 6, 2017. Trump told a gathering of business leaders in Tokyo that Japan has an unfair advantage on trade and that he intends to fix that imbalance by making it easier to do business in the U.S. Photographer: Kiyoshi Ota/Bloomberg via Getty Images

US President Donald Trump and Japanese Prime Minister Shinzo Abe (R) attend a joint press conference at Akasaka Palace in Tokyo on November 6, 2017. Donald Trump described North Korea's nuclear missile programme as a 'threat' to the world on a trip to Asia dominated by the crisis. / AFP PHOTO / JIM WATSON (Photo credit should read JIM WATSON/AFP/Getty Images)

Japanese Prime Minister Shinzo Abe attends a joint press conference with US President Donald Trump at Akasaka Palace in Tokyo on November 6, 2017. Trump lashed out at the US trade relationship with Japan, saying it was 'not fair and open', as he prepared for formal talks with his Japanese counterpart. / AFP PHOTO / POOL / Kiyoshi Ota (Photo credit should read KIYOSHI OTA/AFP/Getty Images)

US President Donald Trump attends a joint press conference with Japanese Prime Minister Shinzo Abe at Akasaka Palace in Tokyo on November 6, 2017. Trump lashed out at the US trade relationship with Japan, saying it was 'not fair and open', as he prepared for formal talks with his Japanese counterpart. / AFP PHOTO / POOL / Kiyoshi Ota (Photo credit should read KIYOSHI OTA/AFP/Getty Images)

U. S. President Donald Trump, left, shakes hands with Shinzo Abe, Japan's Prime Minister, ahead of a summit meeting at Akasaka Palace in Tokyo, Japan, on Monday, Nov. 6, 2017. Trump is on the first stop of a five-nation swing through Asia where he plans to push his message of fair trade and freedom in the region backed by a strong U.S. military presence. Photographer: Kazuhiro Nogi/Pool via Bloomberg

U.S. President Donald Trump, left, speaks with Shinzo Abe, Japan's prime minister, as they observe an honor guard at Akasaka Palace in Tokyo, Japan, on Monday, Nov. 6, 2017. Trump is on the first stop of a five-nation swing through Asia where he plans to push his message of fair trade and freedom in the region backed by a strong U.S. military presence. Photographer: Yoshikazu Tsuno/Pool via Bloomberg

US President Donald Trump (L) is led by Japanese Prime Minister Shinzo Abe (R) before a summit meeting at Akasaka Palace in Tokyo on November 6, 2017. Trump lashed out at the US trade relationship with Japan, saying it was 'not fair and open', as he prepared for formal talks with his Japanese counterpart. / AFP PHOTO / POOL / Kazuhiro NOGI (Photo credit should read KAZUHIRO NOGI/AFP/Getty Images)