존 켈리는 트럼프를 '자제시키는' 침착한 측근이 아니라, '행동대장'일지도 모른다
도널드 트럼프 미국 대통령을 지원사격하다 구설에 오른 존 켈리 백악관 비서실장을 둘러싼 새로운 평가가 나오고 있다.
켈리 비서실장은 올여름 권력 싸움으로 소란했던 백악관을 잠재우고, 내부 질서를 확립한 인물로 흔히 '웨스트윙의 어른'으로 묘사된다. 현지 언론들은 켈리 비서실장을 트럼프 대통령의 충동적인 행동을 진정시키는 침착한 참모로 그려왔다.
그러나 26일(현지시간) 뉴욕타임스(NYT)에 따르면 최근 켈리 비서실장은 새로운 이미지를 쌓고 있다. 그가 트럼프 대통령의 강경한 성향이나 정책적 방향을 중화하는 온건파가 아닌, 되레 보조를 맞추고 실현하는 '행동대장'이라는 것이다.
John Kelly waded deep into the culture wars in a way few chiefs of staff typically do, @peterbakernyt writes https://t.co/hnvLl3Kiiy

— The New York Times (@nytimes) October 26, 2017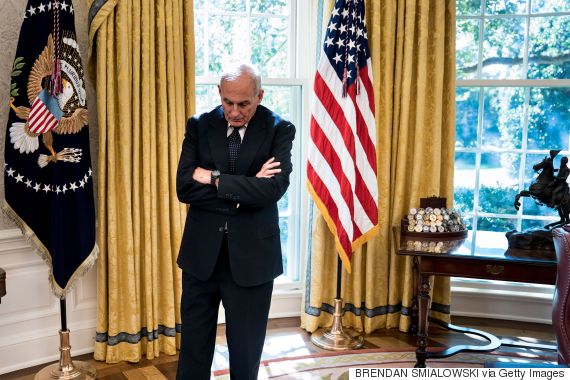 대표적인 사례는 이민 정책 부분에서 나타난다. 켈리 비서실장은 이민 문제와 관련해 트럼프 대통령 못지 않게 보수적인 시각을 갖고 있다. 국토안보부 장관이던 시절에는 버락 오바마 전 행정부의 정책을 뒤집고 자녀와 함께 입국한 불법이민자들에 혐의를 씌우기도 했다.
다수의 관계자들에 따르면 켈리 비서실장은 앞서 트럼프 대통령과 척 슈머 민주당 상원 원내대표(뉴욕)·낸시 펠로시 하원 원내대표(캘리포니아)와 함께한 만찬에서 이웃국인 멕시코를 '제3세계국'이라 비하해 민주당 의원들의 비판을 샀다.
또 지난달 발표된 '연간 허용 난민 수' 설정에도 영향을 미쳤다. 백악관은 지난 여름부터 이 문제를 놓고 허용 난민 수를 당시 기준이던 11만명으로 유지할지 또는 절반 수준인 5만명으로 줄일지, 그 5만~11만명 사이로 변경할지 고민 중이었다.
그러나 켈리 비서실장의 의견은 매우 달랐다. 그는 "0과 1 사이"라고 답했다. 난민 입국 허용에 대한 부정적 입장을 확고히 밝힌 셈이다. 결국 그 수는 당초 하한선이던 5만명보다 적은 4만5000명으로 정해졌다.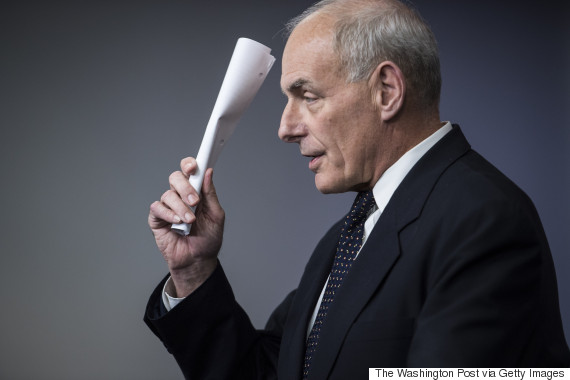 이와 관련해 레온 파네타 전 국방장관은 켈리 비서실장의 정체성을 아는 것이 중요하다고 지적했다. 파네타 전 장관은 버락 오바마 행정부에서 켈리 비서실장과 함께 근무한 바 있다.
파네타 전 장관은 켈리 비서실장의 주요 정체성이 해군이며, 보스턴의 전통 사상을 중시하는 블루컬러 노동자 집안이라는 점을 꼽았다. 그러면서 "두 가지를 결합하면 켈리 비서실장은 트럼프 대통령이 말하고자 하는 것들과 깊은 가치를 일부 공유한다는 사실을 알 수 있다"고 말했다.
켈리 비서실장을 트럼프에 추천한 톰 코튼 상원의원(아칸소·공화)도 비슷한 견해를 내놨다. 그는 켈리 비서실장이 블루컬러 노동자들의 애환을 인정하며 저숙련 이민 노동자들의 유입이 임금 체계에 가져 온 영향을 아는 환경에서 자랐다고 설명했다.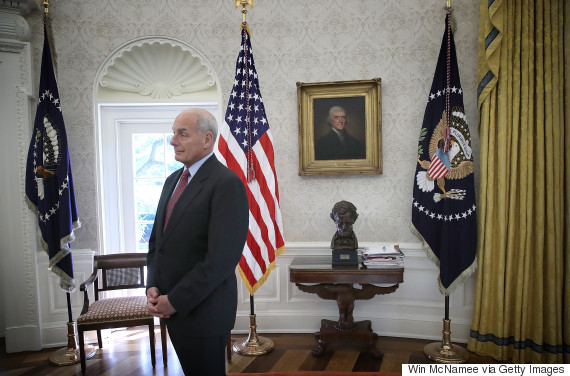 켈리 비서실장은 최근 트럼프 대통령을 변호하다 망신을 당하기도 했다. 트럼프 대통령은 이달 초 니제르에서 군사작전을 수행하던 도중 순직한 군인의 미망인에게 부적절한 위로를 건네 비판을 받았는데, 켈리 비서실장이 이를 폭로한 민주당 의원을 '빈수레가 요란하다'고 공격하며 사실이 아닌 주장을 펼쳤기 때문이다.
이와 관련해 NYT는 "거짓 주장을 해서라도 정치적으로 방해가 되고 인종 차별이란 비판까지 듣는 공개적인 싸움을 기꺼이 할 것이란 의지를 보여줬다"고 평가했다.
켈리 비서실장은 이후 자신을 향한 비판 여론에 상당히 놀란 상태인 것으로 알려졌다. 파네타 전 장관은 이를 '고급 정치에 대한 경험 부족'이라고 평가하며 "그는 해군에서 지뢰의 위치를 알았겠지만 정치에 있는 지뢰는 알지 못한다. 그가 말하고 있는 것들이 존 켈리가 누구인지를 알려주고 있다"고 말했다.


WASHINGTON, DC - OCTOBER 10: White House Chief of Staff John Kelly watches as U.S. President Donald Trump (R) meets with former U.S. Secretary of State Henry Kissinger (L) in the Oval Office October 10, 2017 in Washington, DC. Trump answered a range of questions during the portion of the meeting that was open to the press, including queries on Secretary of State Rex Tillerson. (Photo by Win McNamee/Getty Images)

WASHINGTON, DC - White House Chief of Staff General John Kelly stands in the background as President Donald Trump sits with Dr. Henry Kissinger, while speaking to gathered press, in the Oval Office at the White House in Washington, DC Tuesday October 10, 2017. (Photo by Melina Mara/The Washington Post via Getty Images)

John Kelly, White House chief of staff, stands in the Oval Office of the White House during a meeting with U.S. President Donald Trump and Henry Kissinger, former U.S. secretary of state, not pictured, in Washington, D.C., U.S., on Tuesday, Oct. 10, 2017. During the meeting Trump said he plans to make changes to his tax plan within the next few weeks. Photographer: Andrew Harrer/Bloomberg via Getty Images

WASHINGTON, DC - White House Chief of Staff General John Kelly stands in the background as President Donald Trump sits with Dr. Henry Kissinger, while speaking to gathered press, in the Oval Office at the White House in Washington, DC Tuesday October 10, 2017. (Photo by Melina Mara/The Washington Post via Getty Images)

WASHINGTON, DC - OCTOBER 19: White House Chief of Staff John Kelly listens as President Donald Trump speaks to the media during a meeting with Governor Ricardo Rossello of Puerto Rico in the Oval Office at the White House on October 19, 2017 in Washington, D.C. (Photo by Kevin Dietsch-Pool/Getty Images)

WASHINGTON, DC - OCTOBER 19: White House Chief of Staff John Kelly listens as President Donald Trump speaks to the media during a meeting with Governor Ricardo Rossello of Puerto Rico in the Oval Office at the White House on October 19, 2017 in Washington, D.C. (Photo by Kevin Dietsch-Pool/Getty Images)

WASHINGTON, D.C. - OCTOBER 19: (AFP-OUT) White House Chief of Staff John Kelly listens as President Donald Trump speaks with Governor Ricardo Rossello of Puerto Rico during a meeting in the Oval Office at the White House on October 19, 2017 in Washington, D.C. Trump and Rossello spoke about the continuing recovery efforts following Hurricane Maria. (Photo by Kevin Dietsch-Pool/Getty Images)

WASHINGTON, DC - OCTOBER 20: White House Chief of Staff John Kelly stands in the Oval Office while President Donald Trump meets with UN Secretary General António Guterres, at the White House on October 20, 2017 in Washington, DC. (Photo by Mark Wilson/Getty Images)

WASHINGTON, DC - OCTOBER 20: White House Chief of Staff John Kelly stands in the Oval Office while President Donald Trump meets with UN Secretary General António Guterres, at the White House on October 20, 2017 in Washington, DC. (Photo by Mark Wilson/Getty Images)

WASHINGTON, DC - OCTOBER 20: White House Chief of Staff John Kelly stands in the Oval Office while President Donald Trump meets with UN Secretary General António Guterres, at the White House on October 20, 2017 in Washington, DC. (Photo by Mark Wilson/Getty Images)

White House Chief of Staff John Kelly waits while Governor of Puerto Rico Ricardo Rossello and US President Donald Trump make statement to the press before a meeting in the Oval Office of the White House October 19, 2017 in Washington, DC. / AFP PHOTO / Brendan Smialowski (Photo credit should read BRENDAN SMIALOWSKI/AFP/Getty Images)

White House Chief of Staff John Kelly stands close by as U.S. President Donald Trump meets with former U.S. Secretary of State Henry Kissinger in the Oval Office of the White House in Washington, U.S., October 10, 2017. REUTERS/Kevin Lamarque

White House Chief of Staff John Kelly leans on the Resolute Desk during a meeting between U.S. President Donald Trump and Puerto Rico Governor Ricardo Rossello in the Oval Office of the White House in Washington, U.S., October 19, 2017. REUTERS/Kevin Lamarque

WASHINGTON, DC - OCTOBER 19: White House Chief of Staff John Kelly speaks during a White House briefing October 19, 2017 in Washington, DC. Kelly spoke about the process of the military notifying family members of a death, his own son's death Afghanistan, and the controversy surrounding the news of U.S. President Trump's phone calls to Gold Star families. (Photo by Win McNamee/Getty Images)

WASHINGTON, DC - OCTOBER 19: White House Chief of Staff John Kelly takes questions and talks about his son during the daily press briefing at the White House in Washington, DC on Thursday, Oct. 19, 2017. (Photo by Jabin Botsford/The Washington Post via Getty Images)

WASHINGTON, DC - OCTOBER 19: White House Chief of Staff John Kelly takes questions and talks about his son during the daily press briefing at the White House in Washington, DC on Thursday, Oct. 19, 2017. (Photo by Jabin Botsford/The Washington Post via Getty Images)

WASHINGTON, DC - OCTOBER 19: White House Chief of Staff John Kelly takes questions and talks about his son during the daily press briefing at the White House in Washington, DC on Thursday, Oct. 19, 2017. (Photo by Jabin Botsford/The Washington Post via Getty Images)

WASHINGTON, DC - OCTOBER 19: White House Chief of Staff John Kelly takes questions and talks about his son during the daily press briefing at the White House in Washington, DC on Thursday, Oct. 19, 2017. (Photo by Jabin Botsford/The Washington Post via Getty Images)

WASHINGTON, DC - OCTOBER 19: White House Chief of Staff John Kelly takes questions and talks about his son during the daily press briefing at the White House in Washington, DC on Thursday, Oct. 19, 2017. (Photo by Jabin Botsford/The Washington Post via Getty Images)