켈로그시리얼 박스 때문에 인종차별 파문이 일었다
켈로그가 회사의 인기 시리얼 중의 하나인 '콘 팝스' 때문에 곤욕을 치를 뻔 했다.
시리얼 박스 뒷면 그림이 문제였는데, 독수리 눈을 가진 한 소비자가 인종차별적인 그 내용을 트위터에 공유했다.
살라딘 아메드는 '콘 팝스'를 의인화한 숨은그림찾기 게임에서 오로지 관리/청소 담당의 피부색만 짙게 묘사된 것에 분개했다.
"미국 켈로그 회사에게. 박스에 묘사된 콘 팝스 중에 왜 관리/청소 담당만 갈색인 것이요? 아이들에게 인종차별을 가르치는 짓입니다."
hey @KelloggsUS why is literally the only brown corn pop on the whole cereal box the janitor? this is teaching kids racism. pic.twitter.com/Nh7M7IFawW

— Saladin Ahmed (@saladinahmed) October 24, 2017
People에 의하면 아메드는 보통 트위터 사용자가 아니다. 그는 최우수 과학 소설과 환상문학 작품에 대해 수여하는 '휴고상'의 후보로 수차례 지목된 유명작가다.
켈로그사가 그 사실을 알고 있었는지 아닌지는 모르지만, 아무튼 하메드의 불만에 재빠르게 조치한 것은 사실이다. 그가 위 트윗을 공유한 지 몇 시간도 되지 않아 잘못을 솔직히 시인하는 답장을 보냈다고 Fortune은 전했다.
"켈로그는 다양성과 수용성 이슈에 대해 적극적인 회사입니다. 그 누구에게도 모욕을 주려는 의도가 아니었습니다. 사과합니다. 그림을 업데이트했으므로 새 시리얼 박스들을 매장에서 만날 수 있을 겁니다."
Kellogg is committed to diversity & inclusion. We did not intend to offend – we apologize. The artwork is updated & will be in stores soon.

— Kellogg's (@KelloggsUS) October 24, 2017
아래는 문제의 이미지다. 갈색 '콘 팝스'를 찾아보자.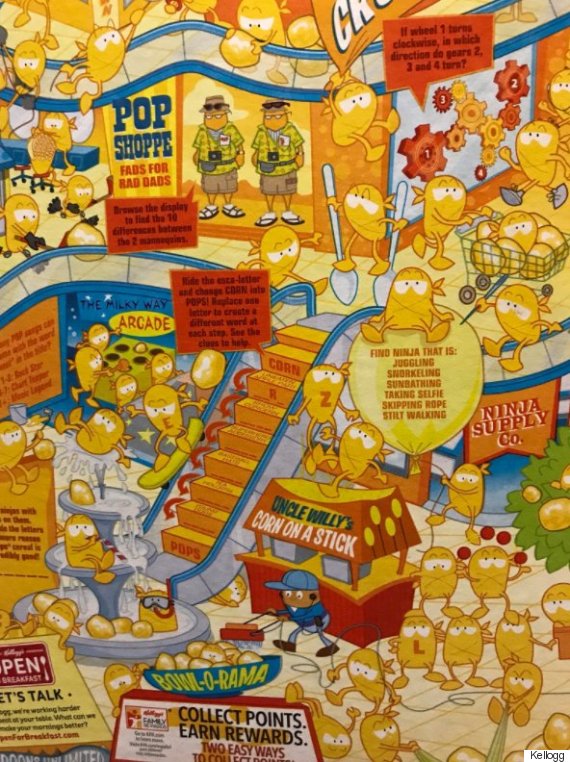 아래 슬라이드는 옆으로 밀면 된다.
Kendall Jenner

Bella Hadid

Gigi Hadid

Taylor Hill

Lily Donaldson

osephine Skriver

Maria Borges

Stella Maxwell

Jasmine Tookes

Joan Smalls

Devon Windsor.

Luma Grothe

Adriana Lima

Cindy Bruna

Kendall Jenner

Cindy Bruna

Joan Smalls

Alanna Arrington

Sara Sampaio

Irina Shayk

Maria Borges.

Cindy Bruna

Maggie Lane

Devon Windsor

Sui He

Leomie Anderson

Barbara Fialho

Liu Wen

Elsa Hosk

Barbara Fialho

Georgia Fowler

Jourdana Phillips

Martha Hunt

Lais Oliveira

Brooke Perry

Dilone

Bridget Malcolm

Jasmine Tookes

Josephine Skriver

Jourdana Phillips

Izabel Goulart

Kelly Gale

Ming Xi

Camille Rowe

Zuri Tibby

Ming Xi

Lais Ribeiro

Gigi Hadid

Valerie Kaufman

PARIS, FRANCE - NOVEMBER 30: Joan Smalls walks the runway at the Victoria's Secret Fashion Show on November 30, 2016 in Paris, France. (Photo by Pascal Le Segretain/Getty Images for Victoria's Secret)

Jasmine Tookes

Lais Ribeiro

Elsa Hosk

Sanne Vloet

Xiao Wen

Rachel Hilbert

Izabel Goulart