틸러슨 국무장관이 트럼프 대통령을 '멍청이'로 불렀다는 의혹을 부인하지 않았다
렉스 틸러슨 국무장관은 지난 여름 자신이 도널드 트럼프 대통령을 '멍청이'라고 불렀다는 의혹을 명확하게 부인하지 않고 있다.
"지난 번에 그에 대한 질문을 받았을 때 말했듯, 나는 그런 시시한 일들을 다루지 않을 것이다." 틸러슨이 15일 CNN '스테이트 오브 더 유니언'에 출연해서 한 말이다. 틸러슨이 트럼프를 멍청이라고 불렀다는 것은 NBC 뉴스가 보도했던 내용이다. "이 동네는 가십, 루머, 빈정거림을 먹고 사는 곳 같다. 이들은 아주 파괴적인 방식으로 서로를 잡아먹으며 산다. 나는 그런 식으로 일하지 않는다. 나는 그런 식으로 거래하지 않는다. 그 질문을 중요한 것으로 만들어 주지 않을 것이다. 나는 대통령을 '미스터 프레지던트'라고 부른다."
.@jaketapper: Did you call Trump a moron?

Rex Tillerson: "I'm not gonna deal with that petty stuff" #CNNSOTU https://t.co/mQxyzmjzBa

— CNN Politics (@CNNPolitics) October 15, 2017
당신은 트럼프를 멍청이라고 불렀는가?
렉스 틸러슨: "나는 그런 시시한 일을 다루지 않을 것이다"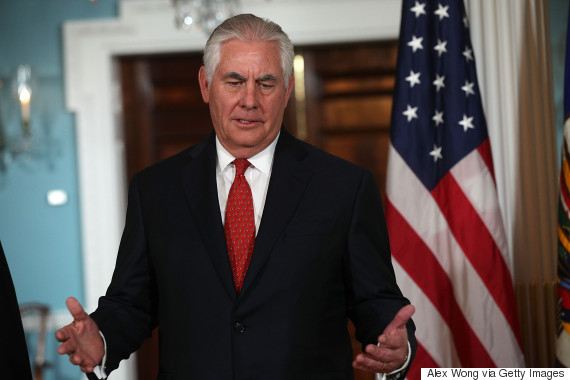 틸러슨은 트럼프와 자신의 관계는 '개방적이고 솔직하며 자연스럽다'고 말했다.
틸러슨이 화가 났으며 '사임하기 직전'이라는 NBC 보도가 나오자 수습 대책도 뒤따랐다. 틸러슨은 예정에 없던 기자회견을 열어 사임할 계획이 없으며 트럼프가 '똑똑하다'고 믿는다고 말했다. 그러나 기자 회견 중에도 대통령을 멍청이라고 불렀다는 의혹을 분명히 부인하지는 않았다.
트럼프는 이 이야기를 부인하며, 틸러슨에게 IQ 테스트를 받아보자고 공개적으로 제안했다. 백악관 측은 나중에 트럼프가 농담한 것이라고 말했다.
틸러슨은 또 이날 방송에서 트럼프가 이란 핵합의를 '불인증'하기로 한 것에 대해서도 말했다. 틸러슨은 합의를 유지하는 것이 미국의 국가 안보 이익에 좋다면서도 트럼프 정부는 '협약의 결함을 손보고' 싶어하는 것이라고 밝혔다.
또 틸러슨은 트럼프와 자신의 불화설은 사실이 아니라며, 대통령이 틸러슨의 외교 정책을 '공개적으로 거세했다'는 밥 코커(공화당-테네시) 상원의원의 말을 일축했다.
"확인해 봤다. 나는 온전하다."
니키 헤일리 유엔주재 미국대사는 백악관과의 긴장설을 부인하며, 대통령은 틸러슨을 전적으로 신뢰한다고 15일 말했다.
"나는 누가 무슨 말을 했다느니 하는 호들갑스러운 상황에 들어가지 않을 것이다. 나는 대통령과 틸러슨 장관이 함께 아주 잘 일하는 모습을 보았다. 그들과 같은 방에 여러 번 있어 보았다. 그들은 계속해서 함께 강력하게 일하고 있다. … 그리고 내가 본 바로는 모든 일이 다 잘 되어 간다. 문제가 있다면 그건 틸러슨 장관이 대답할 일이다. 우리가 대답할 수 있는 것이 아니다." 헤일리가 NBC의 '미트 더 프레스'에서 한 말이다.
* 이 글은 허프포스트US의 Rex Tillerson Once Again Won't Deny He Called Trump A 'Moron'을 번역, 편집한 것입니다.
U.S. President Donald Trump arrives to deliver a statement on Iran in the Diplomatic Reception Room of the White House in Washington, D.C., U.S., on Friday, Oct. 13, 2017. Trump used his strongest language yet in lashing out at the Islamic Republic, calling it a 'fanatical regime' that's determined to spread terrorism and aggression around the world. Photographer: Al Drago/Bloomberg via Getty Images

WASHINGTON, DC - OCTOBER 13: U.S. President Donald Trump arrives to make a statement on the administration's strategy for dealing with Iran, in the Diplomatic Reception Room in the White House, October 13, 2017 in Washington, DC. President Trump stated that the Iran nuclear deal is not in the best interests for the security of the United States, but stopped short of withdrawing from the 2015 agreement. (Photo by Drew Angerer/Getty Images)

WASHINGTON, Oct. 13, 2017 -- U.S. President Donald Trump walks to the podium to announce new Iran strategy at the White House in Washington D.C., the United States, on Oct. 13, 2017. U.S. President Donald Trump rolled out his new Iran strategy on Friday, vowing to deny Tehran 'all paths to a nuclear weapon' in a major shift in Washington's Iran policy. (Xinhua/Ting Shen via Getty Images)

US President Donald Trump arrives to deliver a speech on the Iran deal from the Diplomatic Reception room of the White House in Washington, DC, on October 13, 2017. President Donald Trump on October 13 refused to certify the 2015 Iranian nuclear deal, and warned the United States may yet walk away from 'one of the worst' agreements in history. / AFP PHOTO / Brendan Smialowski (Photo credit should read BRENDAN SMIALOWSKI/AFP/Getty Images)

WASHINGTON, DC - OCTOBER 13: U.S. President Donald Trump makes a statement on the administration's strategy for dealing with Iran, in the Diplomatic Reception Room in the White House, October 13, 2017 in Washington, DC. President Trump stated that the Iran nuclear deal is not in the best interests for the security of the United States, but stopped short of withdrawing from the 2015 agreement. (Photo by Drew Angerer/Getty Images)

US President Donald Trump speaks about the Iran deal from the Diplomatic Reception room of the White House in Washington, DC, on October 13, 2017. President Donald Trump on October 13 refused to certify the 2015 Iranian nuclear deal, and warned the United States may yet walk away from 'one of the worst' agreements in history. / AFP PHOTO / Brendan Smialowski (Photo credit should read BRENDAN SMIALOWSKI/AFP/Getty Images)

US President Donald Trump speaks about the Iran deal from the Diplomatic Reception room of the White House in Washington, DC, on October 13, 2017. President Donald Trump on October 13 refused to certify the 2015 Iranian nuclear deal, and warned the United States may yet walk away from 'one of the worst' agreements in history. / AFP PHOTO / Brendan Smialowski (Photo credit should read BRENDAN SMIALOWSKI/AFP/Getty Images)

WASHINGTON, DC - OCTOBER 13: U.S. President Donald Trump makes a statement on the administration's strategy for dealing with Iran, in the Diplomatic Reception Room in the White House, October 13, 2017 in Washington, DC. President Trump stated that the Iran nuclear deal is not in the best interests for the security of the United States, but stopped short of withdrawing from the 2015 agreement. (Photo by Drew Angerer/Getty Images)

US President Donald Trump speaks about the Iran deal from the Diplomatic Reception room of the White House in Washington, DC, on October 13, 2017. Trump announced he will not certify the Iran nuclear deal and warned that the US could leave the Iran deal 'at any time.' / AFP PHOTO / Brendan Smialowski (Photo credit should read BRENDAN SMIALOWSKI/AFP/Getty Images)

US President Donald Trump speaks about the Iran deal from the Diplomatic Reception room of the White House in Washington, DC, on October 13, 2017. Trump declared the 2015 agreement -- which curbed Iran's nuclear program in return for sanctions relief -- is no longer in the US national interest. / AFP PHOTO / Brendan SMIALOWSKI (Photo credit should read BRENDAN SMIALOWSKI/AFP/Getty Images)

US President Donald Trump speaks about the Iran deal from the Diplomatic Reception room of the White House in Washington, DC, on October 13, 2017. President Donald Trump on October 13 refused to certify the 2015 Iranian nuclear deal, and warned the United States may yet walk away from 'one of the worst' agreements in history. / AFP PHOTO / Brendan Smialowski (Photo credit should read BRENDAN SMIALOWSKI/AFP/Getty Images)

US President Donald Trump speaks about the Iran deal from the Diplomatic Reception room of the White House in Washington, DC, on October 13, 2017. President Donald Trump on October 13 refused to certify the 2015 Iranian nuclear deal, and warned the United States may yet walk away from 'one of the worst' agreements in history. / AFP PHOTO / Brendan Smialowski (Photo credit should read BRENDAN SMIALOWSKI/AFP/Getty Images)

WASHINGTON, DC - OCTOBER 13: U.S. President Donald Trump makes a statement on the administration's strategy for dealing with Iran, in the Diplomatic Reception Room in the White House, October 13, 2017 in Washington, DC. President Trump stated that the Iran nuclear deal is not in the best interests for the security of the United States, but stopped short of withdrawing from the 2015 agreement. (Photo by Drew Angerer/Getty Images)

WASHINGTON, DC - OCTOBER 13: U.S. President Donald Trump makes a statement on the administration's strategy for dealing with Iran, in the Diplomatic Reception Room in the White House, October 13, 2017 in Washington, DC. President Trump stated that the Iran nuclear deal is not in the best interests for the security of the United States, but stopped short of withdrawing from the 2015 agreement. (Photo by Drew Angerer/Getty Images)

US President Donald Trump speaks about the Iran deal from the Diplomatic Reception room of the White House in Washington, DC, on October 13, 2017. Trump announced he will not certify the Iran nuclear deal and warned that the US could leave the Iran deal 'at any time.' / AFP PHOTO / Brendan Smialowski (Photo credit should read BRENDAN SMIALOWSKI/AFP/Getty Images)

U.S. President Donald Trump delivers a statement on Iran in the Diplomatic Reception Room of the White House in Washington, D.C., U.S., on Friday, Oct. 13, 2017. Trump used his strongest language yet in lashing out at the Islamic Republic, calling it a 'fanatical regime' that's determined to spread terrorism and aggression around the world. Photographer: Al Drago/Bloomberg via Getty Images

WASHINGTON, DC - OCTOBER 13: U.S. President Donald Trump makes a statement on the administration's strategy for dealing with Iran, in the Diplomatic Reception Room in the White House, October 13, 2017 in Washington, DC. President Trump stated that the Iran nuclear deal is not in the best interests for the security of the United States, but stopped short of withdrawing from the 2015 agreement.(Photo by Drew Angerer/Getty Images)

WASHINGTON, DC - OCTOBER 13: U.S. President Donald Trump makes a statement on the administration's strategy for dealing with Iran, in the Diplomatic Reception Room in the White House, October 13, 2017 in Washington, DC. President Trump stated that the Iran nuclear deal is not in the best interests for the security of the United States, but stopped short of withdrawing from the 2015 agreement. (Photo by Drew Angerer/Getty Images)

WASHINGTON, DC - OCTOBER 13: U.S. President Donald Trump makes a statement on the administration's strategy for dealing with Iran, in the Diplomatic Reception Room in the White House, October 13, 2017 in Washington, DC. President Trump stated that the Iran nuclear deal is not in the best interests for the security of the United States, but stopped short of withdrawing from the 2015 agreement. (Photo by Drew Angerer/Getty Images)

U.S. President Donald Trump delivers a statement on Iran in the Diplomatic Reception Room of the White House in Washington, D.C., U.S., on Friday, Oct. 13, 2017. Trump used his strongest language yet in lashing out at the Islamic Republic, calling it a 'fanatical regime' that's determined to spread terrorism and aggression around the world. Photographer: Al Drago/Bloomberg via Getty Images

U.S. President Donald Trump delivers a statement on Iran in the Diplomatic Reception Room of the White House in Washington, D.C., U.S., on Friday, Oct. 13, 2017. Trump used his strongest language yet in lashing out at the Islamic Republic, calling it a 'fanatical regime' that's determined to spread terrorism and aggression around the world. Photographer: Al Drago/Bloomberg via Getty Images

US President Donald Trump speaks about the Iran deal from the Diplomatic Reception room of the White House in Washington, DC, on October 13, 2017. President Donald Trump on October 13 refused to certify the 2015 Iranian nuclear deal, and warned the United States may yet walk away from 'one of the worst' agreements in history. / AFP PHOTO / Brendan Smialowski (Photo credit should read BRENDAN SMIALOWSKI/AFP/Getty Images)

U.S. President Donald Trump delivers a statement on Iran in the Diplomatic Reception Room of the White House in Washington, D.C., U.S., on Friday, Oct. 13, 2017. Trump used his strongest language yet in lashing out at the Islamic Republic, calling it a 'fanatical regime' that's determined to spread terrorism and aggression around the world. Photographer: Al Drago/Bloomberg via Getty Images

US President Donald Trump speaks about the Iran deal from the Diplomatic Reception room of the White House in Washington, DC, on October 13, 2017. President Donald Trump on October 13 refused to certify the 2015 Iranian nuclear deal, and warned the United States may yet walk away from 'one of the worst' agreements in history. / AFP PHOTO / Brendan Smialowski (Photo credit should read BRENDAN SMIALOWSKI/AFP/Getty Images)

US President Donald Trump speaks about the Iran deal from the Diplomatic Reception room of the White House in Washington, DC, on October 13, 2017. Trump announced he will not certify the Iran nuclear deal and warned that the US could leave the Iran deal 'at any time.' / AFP PHOTO / Brendan Smialowski (Photo credit should read BRENDAN SMIALOWSKI/AFP/Getty Images)

US President Donald Trump speaks about the Iran deal from the Diplomatic Reception room of the White House in Washington, DC, on October 13, 2017. President Donald Trump on October 13 refused to certify the 2015 Iranian nuclear deal, and warned the United States may yet walk away from 'one of the worst' agreements in history. / AFP PHOTO / Brendan Smialowski (Photo credit should read BRENDAN SMIALOWSKI/AFP/Getty Images)

US President Donald Trump leaves after delivering a speech on the Iran deal from the Diplomatic Reception room of the White House in Washington, DC, on October 13, 2017. President Donald Trump on October 13 refused to certify the 2015 Iranian nuclear deal, and warned the United States may yet walk away from 'one of the worst' agreements in history. / AFP PHOTO / Brendan Smialowski (Photo credit should read BRENDAN SMIALOWSKI/AFP/Getty Images)

US President Donald Trump leaves after speaking about the Iran deal from the Diplomatic Reception room of the White House in Washington, DC, on October 13, 2017. Trump announced he will not certify the Iran nuclear deal and warned that the US could leave the Iran deal 'at any time.' / AFP PHOTO / Brendan Smialowski (Photo credit should read BRENDAN SMIALOWSKI/AFP/Getty Images)

WASHINGTON, DC - OCTOBER 13: U.S. President Donald Trump leaves the podium after making a statement on the administration's strategy for dealing with Iran, in the Diplomatic Reception Room in the White House, October 13, 2017 in Washington, DC. President Trump stated that the Iran nuclear deal is not in the best interests for the security of the United States, but stopped short of withdrawing from the 2015 agreement. (Photo by Drew Angerer/Getty Images)

WASHINGTON, Oct. 13, 2017 -- U.S. President Donald Trump leaves the podium after announcing new Iran strategy at the White House in Washington D.C., the United States, on Oct. 13, 2017. U.S. President Donald Trump rolled out his new Iran strategy on Friday, vowing to deny Tehran 'all paths to a nuclear weapon' in a major shift in Washington's Iran policy. (Xinhua/Ting Shen via Getty Images)

WASHINGTON, DC - OCTOBER 13: U.S. President Donald Trump leaves the podium after making a statement on the administration's strategy for dealing with Iran, in the Diplomatic Reception Room in the White House, October 13, 2017 in Washington, DC. President Trump stated that the Iran nuclear deal is not in the best interests for the security of the United States, but stopped short of withdrawing from the 2015 agreement. (Photo by Drew Angerer/Getty Images)

WASHINGTON, DC - OCTOBER 13: U.S. President Donald Trump leaves the podium after making a statement on the administration's strategy for dealing with Iran, in the Diplomatic Reception Room in the White House, October 13, 2017 in Washington, DC. President Trump stated that the Iran nuclear deal is not in the best interests for the security of the United States, but stopped short of withdrawing from the 2015 agreement. (Photo by Drew Angerer/Getty Images)

WASHINGTON, DC - OCTOBER 13: U.S. President Donald Trump exits after making a statement on the administration's strategy for dealing with Iran, in the Diplomatic Reception Room in the White House, October 13, 2017 in Washington, DC. President Trump stated that the Iran nuclear deal is not in the best interests for the security of the United States, but stopped short of withdrawing from the 2015 agreement. (Photo by Drew Angerer/Getty Images)

US President Donald Trump leaves after delivering a speech on the Iran deal from the Diplomatic Reception room of the White House in Washington, DC, on October 13, 2017. President Donald Trump on October 13 refused to certify the 2015 Iranian nuclear deal, and warned the United States may yet walk away from 'one of the worst' agreements in history. / AFP PHOTO / Brendan Smialowski (Photo credit should read BRENDAN SMIALOWSKI/AFP/Getty Images)