미국 대선토론 스타 '켄 본'이 '누구 찍었냐'는 빌 마허의 질문에 답하다
지난해 미국 대선 TV토론이 낳은 최고의 스타, 켄 본이 빌 마허가 진행하는 HBO '리얼타임'에 출연해 지난 대선에서 누구를 찍었는냐는 질문에 강경한 태도를 고수했다.
발전소 노동자이자 지난 대선 2차 TV토론에서 빨간색 스웨터를 입고 등장해 '바이럴 스타'로 떠올랐던 그는 누구를 찍었냐는 질문에 답하기를 거부했다. 그 대신, 그는 자신이 답변을 거부하는 이유를 명쾌하게 설명했다.
"선거 전에 저는 제가 누구에게 표를 던졌는지 말하지 않을 거라고 약속했습니다. 좋든 싫든, 우리는 셀럽들(의 의견)에 사로잡혀 있습니다. 저 같은 별 거 아닌 사람들(의 의견)도 말이죠. 사람들은 제 의견에 신뢰를 보냅니다. 제가 그들에게 뭘 믿을지 말해주는 건 민주주의 절차에 있어 그리 바람직하지 않은 일입니다." 켄 본이 말했다.
이어 켄 본은 빌 마허에게 이렇게 덧붙였다.
"당신은 정보를 제공하는 사람입니다. 사람들에게 정보를 주고 그들을 가르치고 즐겁게 해주는 게 당신의 일이죠. 저는 발전소에서 일하는 평범한 사람일 뿐입니다. 사람들이 저에게서 정보를 제공받을 필요는 없습니다."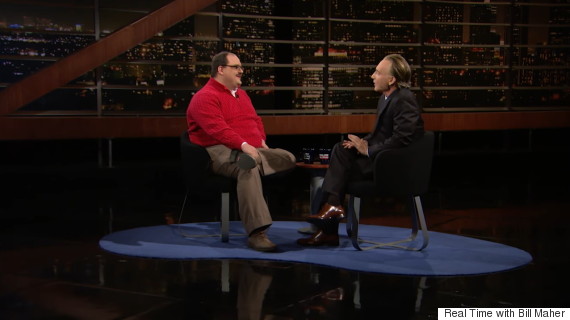 민주당 지지자인 마허는 켄 본을 "(힐러리 클린턴 캠프가) 표를 얻어낼 수 있는 유권자"였다고 표현하며 대선 후보들에 대한 의견, 2020년 대선에서 민주당이 어떻게 해야 그의 마음을 흔들 수 있을 것인지 등에 대해서도 물었다.
켄 본은 지난 대선 당시 불거졌던 힐러리 클린턴의 '이메일 스캔들'은 물론, 지금도 진행 중인 도널드 트럼프 캠프와 러시아의 대선 개입 의혹에 대한 질문에도 답했다.
그는 클린턴의 이메일 스캔들은 자신에게 "큰 이슈가 아니었다"며 "조사 결과를 기다릴 의향이 있었다"고 답했다. 또 켄 본은 러시아가 선거에 개입했을 가능성을 인정하면서도 "다시 돌아가서 힐러리 클린턴을 대통령으로 만들 수는 없다"며 현재 진행중인 조사 결과를 지켜봐야 한다고 말했다.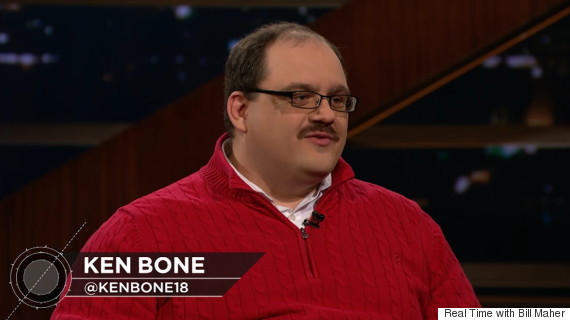 이 인터뷰의 하이라이트는 '부자 감세'로 표현되는 트럼프 정부의 세제 개편안을 어떻게 생각하느냐는 질문에 답하는 과정에서 나왔다.
"(...) 정부가 우리 돈을 (세금으로) 가져간다면, 좀 더 책임감 있게 쓰자는 겁니다. 부유한 사람들에게 세금 혜택을 줄 걱정은 하지 말자는 거죠. 그 사람들은 애초 그 돈을 별로 아쉬워하지 않습니다. 그 돈이 나한테든 중산층에든 흘러내려오지 않는다는 건 증명된 얘기입니다. 그 돈은 실직자인 우리 엄마에게 흘러내려오지 않습니다. 따라서 부유층에게 세금을 (그대로) 걷고 그걸 뭔가 좋은 일에 쓰는 게 낫겠죠."
박수가 터져나왔고, 빌 마허가 혀를 내두르며 이렇게 말했다. "You're a confusing man, Ken."
* 이 글은 허프포스트US의 Bill Maher Sat Down With Ken Bone To Find Out Who He Voted For를 번역, 편집한 것입니다.
Republican U.S. presidential nominee Donald Trump and Democratic U.S. presidential nominee Hillary Clinton take their seats at the start of their presidential town hall debate at Washington University in St. Louis, Missouri, U.S., October 9, 2016. REUTERS/Jim Bourg

Democratic U.S. presidential nominee Hillary Clinton listens as Republican U.S. presidential nominee Donald Trump (not pictured) speaks during their presidential town hall debate at Washington University in St. Louis, Missouri, U.S., October 9, 2016. REUTERS/Jim Bourg

Democratic U.S. presidential nominee Hillary Clinton speaks during their presidential town hall debate with Republican U.S. presidential nominee Donald Trump at Washington University in St. Louis, Missouri, U.S., October 9, 2016.

Republican U.S. presidential nominee Donald Trump listens as Democratic U.S. presidential nominee Hillary Clinton (not pictured) speaks during their presidential town hall debate at Washington University in St. Louis, Missouri, U.S., October 9, 2016. REUTERS/Jim Young

Republican U.S. presidential nominee Donald Trump and Democratic U.S. presidential nominee Hillary Clinton choose not to shake hands during their presidential town hall debate at Washington University in St. Louis, Missouri, U.S., October 9, 2016. REUTERS/Jim Bourg

Democratic U.S. presidential nominee Hillary Clinton reacts as Republican U.S. presidential nominee Donald Trump responds to a question about his remarks about women during their presidential town hall debate at Washington University in St. Louis, Missouri, U.S., October 9, 2016. REUTERS/Rick Wilking

Republican U.S. presidential nominee Donald Trump speaks during the presidential town hall debate with Democratic U.S. presidential nominee Hillary Clinton (not pictured) at Washington University in St. Louis, Missouri, U.S., October 9, 2016. REUTERS/Jim Young

Republican U.S. presidential nominee Donald Trump listens during the second U.S. presidential town hall debate between Trump and Democratic U.S. presidential nominee Hillary Clinton at Washington University in St. Louis, Missouri, U.S., October 9, 2016. REUTERS/Jim Young

Republican U.S. presidential nominee Donald Trump listens as Democratic nominee Hillary Clinton answers a question from the audience during their presidential town hall debate at Washington University in St. Louis, Missouri, U.S., October 9, 2016. REUTERS/Rick Wilking

Democratic U.S. presidential nominee Hillary Clinton arrives at the town hall debate with Republican U.S. presidential nominee Donald Trump and at Washington University in St. Louis, Missouri, U.S., October 9, 2016. REUTERS/Shannon Stapleton

Republican U.S. presidential nominee Donald Trump speaks as Democratic U.S. presidential nominee Hillary Clinton listens during their presidential town hall debate at Washington University in St. Louis, Missouri, U.S., October 9, 2016. REUTERS/Jim Young

Republican U.S. presidential nominee Donald Trump speaks as Democratic U.S. presidential nominee Hillary Clinton listens during their presidential town hall debate at Washington University in St. Louis, Missouri, U.S., October 9, 2016. REUTERS/Jim Young

Democratic U.S. presidential nominee Hillary Clinton speak during her debate against Republican U.S. presidential nominee Donald Trump (L) at Washington University in St. Louis, Missouri, U.S., October 9, 2016. REUTERS/Jim Young

Democratic U.S. presidential nominee Hillary Clinton speaks during her presidential town hall debate against Republican U.S. presidential nominee Donald Trump (not shown) at Washington University in St. Louis, Missouri, U.S., October 9, 2016. REUTERS/Jim Young

Republican U.S. presidential nominee Donald Trump speaks during his presidential town hall debate against Democratic U.S. presidential nominee Hillary Clinton (not shown) at Washington University in St. Louis, Missouri, U.S., October 9, 2016. REUTERS/Aaron P. Bernstein

Republican U.S. presidential nominee Donald Trump speaks as a clock counts down during the presidential town hall debate with Democratic U.S. presidential nominee Hillary Clinton at Washington University in St. Louis, Missouri, U.S., October 9, 2016. REUTERS/Rick Wilking

Republican U.S. presidential nominee Donald Trump speaks during his presidential town hall debate against Democratic U.S. presidential nominee Hillary Clinton (not shown) at Washington University in St. Louis, Missouri, U.S., October 9, 2016. REUTERS/Aaron P. Bernstein

Democratic U.S. presidential nominee Hillary Clinton speak during her debate against Republican U.S. presidential nominee Donald Trump (R) at Washington University in St. Louis, Missouri, U.S., October 9, 2016. REUTERS/Aaron P. Bernstein

Republican U.S. presidential nominee Donald Trump speaks during their presidential town hall debate with Democratic U.S. presidential nominee Hillary Clinton at Washington University in St. Louis, Missouri, U.S., October 9, 2016. REUTERS/Shannon Stapleton

Republican U.S. presidential nominee Donald Trump listnes as Democratic nominee Hillary Clinton answers a question from the audience during their presidential town hall debate at Washington University in St. Louis, Missouri, U.S., October 9, 2016. REUTERS/Rick Wilking

Democratic U.S. presidential nominee Hillary Clinton speak as Republican U.S. presidential nominee Donald Trump looks on during their presidential town hall debate at Washington University in St. Louis, Missouri, U.S., October 9, 2016. REUTERS/Jim Young

Democratic U.S. presidential nominee Hillary Clinton listens during their presidential town hall debate with Republican U.S. presidential nominee Donald Trump at Washington University in St. Louis, Missouri, U.S., October 9, 2016. REUTERS/Shannon Stapleton

Republican U.S. presidential nominee Donald Trump listens as Democratic U.S. presidential nominee Hillary Clinton speaks during their presidential town hall debate with at Washington University in St. Louis, Missouri, U.S., October 9, 2016. REUTERS/Shannon Stapleton

Republican U.S. presidential nominee Donald Trump speaks during their presidential town hall debate with Democratic U.S. presidential nominee Hillary Clinton at Washington University in St. Louis, Missouri, U.S., October 9, 2016. REUTERS/Shannon Stapleton

Democratic U.S. presidential nominee Hillary Clinton speaks during their presidential town hall debate with Republican U.S. presidential nominee Donald Trump at Washington University in St. Louis, Missouri, U.S., October 9, 2016. REUTERS/Rick Wilking TPX IMAGES OF THE DAY

Democratic nominee Hillary Clinton reacts as Republican U.S. presidential nominee Donald Trump (R) answers a question during their presidential town hall debate at Washington University in St. Louis, Missouri, U.S., October 9, 2016. REUTERS/Saul Loeb/Pool

Republican U.S. presidential nominee Donald Trump looks at Democratic U.S. presidential nominee Hillary Clinton during their presidential town hall debate at Washington University in St. Louis, Missouri, U.S., October 9, 2016. REUTERS/Jim Young TPX IMAGES OF THE DAY

Republican U.S. presidential nominee Donald Trump enters the town hall debate against Democratic U.S. presidential nominee Hillary Clinton during their presidential town hall debate at Washington University in St. Louis, Missouri, U.S., October 9, 2016. REUTERS/Saul Loeb/Pool

Republican U.S. presidential nominee Donald Trump is seen during his presidential town hall debate against Democratic U.S. presidential nominee Hillary Clinton (not shown) at Washington University in St. Louis, Missouri, U.S., October 9, 2016. REUTERS/Jim Young

Republican U.S. presidential nominee Donald Trump enters the town hall debate against Democratic U.S. presidential nominee Hillary Clinton during their presidential town hall debate at Washington University in St. Louis, Missouri, U.S., October 9, 2016. REUTERS/Lucy Nicholson

Democratic U.S. presidential nominee Hillary Clinton speak as Republican U.S. presidential nominee Donald Trump looks on during their presidential town hall debate at Washington University in St. Louis, Missouri, U.S., October 9, 2016. REUTERS/Aaron P. Bernstein

Democratic U.S. presidential nominee Hillary Clinton speaks during their presidential town hall debate with Republican U.S. presidential nominee Donald Trump at Washington University in St. Louis, Missouri, U.S., October 9, 2016. REUTERS/Shannon Stapleton

Republican U.S. presidential nominee Donald Trump speaks during his presidential town hall debate against Democratic U.S. presidential nominee Hillary Clinton (not shown) at Washington University in St. Louis, Missouri, U.S., October 9, 2016. REUTERS/Jim Young

Republican U.S. presidential nominee Donald Trump speaks during the presidential town hall debate with Democratic U.S. presidential nominee Hillary Clinton at Washington University in St. Louis, Missouri, U.S., October 9, 2016. REUTERS/Saul Loeb/Pool

Democratic U.S. presidential nominee Hillary Clinton speaks during the presidential town hall debate with Republican U.S. presidential nominee Donald Trump at Washington University in St. Louis, Missouri, U.S., October 9, 2016. REUTERS/Saul Loeb/Pool

Democratic U.S. presidential nominee Hillary Clinton speak as Republican U.S. presidential nominee Donald Trump looks on during their presidential town hall debate at Washington University in St. Louis, Missouri, U.S., October 9, 2016. REUTERS/Jim Young

Moderators Anderson Cooper and Martha Raddatz open the debate between Republican U.S. presidential nominee Donald Trump and Democratic U.S. presidential nominee Hillary Clinton at Washington University in St. Louis, Missouri, U.S., October 9, 2016. REUTERS/Jim Bourg

Democratic U.S. presidential nominee Hillary Clinton speaks during her presidential town hall debate against Republican U.S. presidential nominee Donald Trump (not shown) at Washington University in St. Louis, Missouri, U.S., October 9, 2016. REUTERS/Aaron P. Bernstein

Members of the audience listen to Republican U.S. presidential nominee Donald Trump during the presidential town hall debate with Democratic U.S. presidential nominee Hillary Clinton at Washington University in St. Louis, Missouri, U.S., October 9, 2016. REUTERS/Rick Wilking

Democratic U.S. presidential nominee Hillary Clinton speaks to members of the audience during the presidential town hall debate with Republican U.S. presidential nominee Donald Trump at Washington University in St. Louis, Missouri, U.S., October 9, 2016. REUTERS/Rick Wilking

Democratic U.S. presidential nominee Hillary Clinton speaks to members of the audience during the presidential town hall debate with Republican U.S. presidential nominee Donald Trump at Washington University in St. Louis, Missouri, U.S., October 9, 2016. REUTERS/Rick Wilking

Republican U.S. presidential nominee Donald Trump and Democratic U.S. presidential nominee Hillary Clinton pause during their presidential town hall debate at Washington University in St. Louis, Missouri, U.S., October 9, 2016. REUTERS/Rick Wilking

Republican U.S. presidential nominee Donald Trump speaks as Democratic U.S. presidential nominee Hillary Clinton listens during their presidential town hall debate at Washington University in St. Louis, Missouri, U.S., October 9, 2016. REUTERS/Lucy Nicholson

Republican U.S. presidential nominee Donald Trump looks on as Democratic U.S. presidential nominee Hillary Clinton speaks during their presidential town hall debate at Washington University in St. Louis, Missouri, U.S., October 9, 2016. REUTERS/Lucy Nicholson

Democratic U.S. presidential nominee Hillary Clinton speaks near members of the audience during the presidential town hall debate with Republican U.S. presidential nominee Donald Trump at Washington University in St. Louis, Missouri, U.S., October 9, 2016. REUTERS/Lucy Nicholson

Republican U.S. presidential nominee Donald Trump and Democratic U.S. presidential nominee Hillary Clinton speak during their presidential town hall debate at Washington University in St. Louis, Missouri, U.S., October 9, 2016. REUTERS/Aaron P. Bernstein

Republican U.S. presidential nominee Donald Trump speaks during their presidential town hall debate with Democratic U.S. presidential nominee Hillary Clinton at Washington University in St. Louis, Missouri, U.S., October 9, 2016. REUTERS/Shannon Stapleton

Democratic U.S. presidential nominee Hillary Clinton speaks during her presidential town hall debate against Republican U.S. presidential nominee Donald Trump (not shown) at Washington University in St. Louis, Missouri, U.S., October 9, 2016. REUTERS/Jim Young

Republican U.S. presidential nominee Donald Trump speaks during their presidential town hall debate with Democratic U.S. presidential nominee Hillary Clinton at Washington University in St. Louis, Missouri, U.S., October 9, 2016. REUTERS/Shannon Stapleton

James Carter asks his question during the presidential town hall debate between Democratic U.S. presidential nominee Hillary Clinton and Republican U.S. presidential nominee Donald Trump at Washington University in St. Louis, Missouri, U.S., October 9, 2016. REUTERS/Shannon Stapleton

Republican U.S. presidential nominee Donald Trump speaks as Democratic U.S. presidential nominee Hillary Clinton listens during their presidential town hall debate at Washington University in St. Louis, Missouri, U.S., October 9, 2016. REUTERS/Lucy Nicholson

A photographer and a security detail are seen during the second presidential town hall debate between Republican U.S. presidential nominee Donald Trump and Democratic U.S. presidential nominee Hillary Clinton at Washington University in St. Louis, Missouri, U.S., October 9, 2016. REUTERS/Aaron P. Bernstein

Former U.S. President Bill Clinton (C) looks across at Donald Trump Jr (L) and Eric Trump (R), before Republican U.S. presidential nominee Donald Trump and Democratic U.S. presidential nominee Hillary Clinton began their presidential town hall debate at Washington University in St. Louis, Missouri, U.S., October 9, 2016. REUTERS/Mike Segar

Republican U.S. presidential nominee Donald Trump speaks as Democratic U.S. presidential nominee Hillary Clinton listens during their presidential town hall debate at Washington University in St. Louis, Missouri, U.S., October 9, 2016. REUTERS/Aaron P. Bernstein