트럼프가 어제 올린 '북한과 대화는 답이 아니다!' 트윗의 맥락을 풀이해보자
도널드 트럼프 미국 대통령이 30일(현지시간) 오전 올린 트윗은 꽤 직설적이었다. "25년 동안 미국은 북한과 대화를 해왔고 터무니 없는 돈을 지불해왔다. 대화는 답이 아니다!"
The U.S. has been talking to North Korea, and paying them extortion money, for 25 years. Talking is not the answer!

— Donald J. Trump (@realDonaldTrump) August 30, 2017
잠시 뒤, 미국을 방문 중인 송영무 국방장관과 만난 제임스 매티스 미국 국방장관에게 기자들의 질문이 쏟아졌다.
(질문) : "매티스 장관님, 장관님은 북한과의 외교적 해법을 추구한다고 말씀해오셨습니다. 대통령이 오늘 아침 대화는 답이 아니라는 트윗을 올렸습니다. 북한과의 외교적 해법에서 벗어나는 겁니까?"
매티스의 답은 간명했다. "No."
질문이 다시 이어졌고, 매티스가 다시 분명하게 답했다.
(매티스 국방장관) "우리는 외교적 해법에서 벗어난 적이 한 번도 없습니다. 우리는 (한국과) 함께 계속 노력할 것이고, 송 장관과 저는 우리 나라와 시민들, 우리의 이익을 보호할 책무를 공유하고 있습니다. 그게 바로 우리가 오늘 논의할 것들입니다. 협력할 수 있는 모든 분야를 살펴볼 것입니다. 이미 매우 강도높은 협력이 이뤄지고 있고요, 늘 더 많은 협력을 모색합니다. 우리는 현실에 안주한 적이 없습니다."
가디언은 이런 식의 '엇박자'가 트럼프 정부에서 새로운 건 아니라고 지적하며 "그러나 북한 정권과 이 지역 미국 동맹국들이 이를 어떻게 받아들일 것인지는 분명하지 않다"고 전했다.
북한에 대한 트럼프의 입장은 그동안 종잡을 수 없이 수시로 달라져왔다. 즉흥적으로 나온 '화염과 분노' 발언도 있었고, "김정은이 매우 현명하고 상당히 합리적인 결정을 내렸다!는 트윗도 있었다.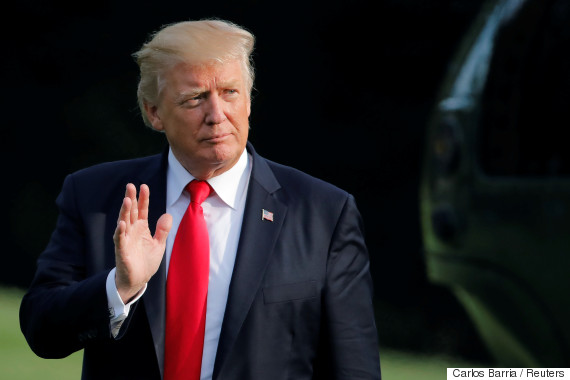 그렇다면 트럼프의 이날 아침 트윗은 어떤 맥락에서 나온 걸까?
가디언은 전날 밤 CNN에 출연한 제임스 클래퍼 전 국가정보국(DNI) 국장의 말이 트럼프의 트윗을 촉발한 것 아니냐는 추정이 나온다고 보도했다.
트럼프가 클래퍼에게 호의적인 감정을 갖고 있지 않다는 사실은 꽤 분명하다. 며칠 전 트럼프는 오바마 정부 시절 DNI 국장을 지낸 클래퍼를 비난하는 트윗을 올렸다. 클래퍼가 '트럼프가 핵무기 버튼을 가지고 있다는 게 우려스럽다'고 말한 직후였다.
이런 상황에서 클래퍼 전 국장은 전날 CNN에 나와 북한 탄도미사일 발사 직후 트럼프가 꺼낸 '모든 옵션이 테이블 위에 있다'는 말과 조금 다른 이야기를 했다.
그는 북한에 대한 미국의 옵션이 사실은 "제한적"이라며 "어쩌면 우리는 마지못해 이 상황을 받아들여야만 할지도 모르고, (북한에) 무언가를 양보하는 걸 검토해야 할지도 모른다"고 말했다. 클래퍼 전 국장은 더이상 북한 '비핵화' 가능성은 없으며, 이런 현실을 인정하고 상황을 '관리'하는 방안을 모색해야 한다고 주장해왔다.
또 그는 북한 문제에 있어 '군사적 해법은 없다'는 스티브 배넌 전 백악관 수석전략가의 말에 동의를 표하며 결국 "제재라는 채찍"과 "대화라는 당근"으로 접근해야 한다고 강조했다.
클래퍼 전 국장의 이날 발언 중에서도 특히 이 대목이 트럼프의 심기를 가장 불편하게 했던 것으로 보인다. 그는 트럼프의 '모든 옵션이 테이블 위에 있다'는 발언을 "톤 다운된 레토릭"으로 규정한 뒤, 자신이 이에 "고무됐다"며 이렇게 말했다.
"(북한에 대한 발언 수위를 낮추는 것은) 지금 우리가 빠져있는 이 악순환을 피하는 데 도움이 된다. 북한이 무언가 도발을 하고, 우리가 강한 레토릭으로 맞서고, 그게 북한을 더욱 과대망상적으로 만들어 또다른 도발적 행동을 하게 만드는 상황이다. 이걸 진정시킬 한 가지 방법은 우리가 스스로 우리의 레토릭을 억누르는 것이다."
클래퍼가 맨 마지막에 언급한 '우리'는 의심의 여지 없이 '트럼프'다.
그러니까, 어제 트럼프는 북한 관련 정책에 대한 어떤 대단한 입장을 밝힌 게 아닐지도 모른다. 그저 TV를 보다가 조금 화가 났을 뿐.


U.S. President Donald Trump listens during an interview in the Oval Office of the White House in Washington, D.C., U.S., on Monday, May 1, 2017. Trump said he would meet with North Korean leader Kim Jong Un amid heightened tensions over his country's nuclear weapons program if the circumstances were right. Photographer: Andrew Harrer/Bloomberg via Getty Images

U.S. President Donald Trump speaks during an interview in the Oval Office of the White House in Washington, D.C., U.S., on Monday, May 1, 2017. Trump said he would meet with North Korean leader Kim Jong Un amid heightened tensions over his country's nuclear weapons program if the circumstances were right. Photographer: Andrew Harrer/Bloomberg via Getty Images

U.S. President Donald Trump speaks during an interview in the Oval Office of the White House in Washington, D.C., U.S., on Monday, May 1, 2017. Trump said he would meet with North Korean leader Kim Jong Un amid heightened tensions over his country's nuclear weapons program if the circumstances were right. Photographer: Andrew Harrer/Bloomberg via Getty Images

U.S. President Donald Trump speaks during an interview in the Oval Office of the White House in Washington, D.C., U.S., on Monday, May 1, 2017. Trump said he would meet with North Korean leader Kim Jong Un amid heightened tensions over his country's nuclear weapons program if the circumstances were right. Photographer: Andrew Harrer/Bloomberg via Getty Images

U.S. President Donald Trump speaks during an interview in the Oval Office of the White House in Washington, D.C., U.S., on Monday, May 1, 2017. Trump said he would meet with North Korean leader Kim Jong Un amid heightened tensions over his country's nuclear weapons program if the circumstances were right. Photographer: Andrew Harrer/Bloomberg via Getty Images

U.S. President Donald Trump listens during an interview in the Oval Office of the White House in Washington, D.C., U.S., on Monday, May 1, 2017. Trump said he would meet with North Korean leader Kim Jong Un amid heightened tensions over his country's nuclear weapons program if the circumstances were right. Photographer: Andrew Harrer/Bloomberg via Getty Images

U.S. President Donald Trump speaks during an interview in the Oval Office of the White House in Washington, D.C., U.S., on Monday, May 1, 2017. Trump said he would meet with North Korean leader Kim Jong Un amid heightened tensions over his country's nuclear weapons program if the circumstances were right. Photographer: Andrew Harrer/Bloomberg via Getty Images

U.S. President Donald Trump speaks during an interview in the Oval Office of the White House in Washington, D.C., U.S., on Monday, May 1, 2017. Trump said he would meet with North Korean leader Kim Jong Un amid heightened tensions over his country's nuclear weapons program if the circumstances were right. Photographer: Andrew Harrer/Bloomberg via Getty Images

U.S. President Donald Trump speaks during an interview in the Oval Office of the White House in Washington, D.C., U.S., on Monday, May 1, 2017. Trump said he would meet with North Korean leader Kim Jong Un amid heightened tensions over his country's nuclear weapons program if the circumstances were right. Photographer: Andrew Harrer/Bloomberg via Getty Images

U.S. President Donald Trump speaks during an interview in the Oval Office of the White House in Washington, D.C., U.S., on Monday, May 1, 2017. Trump said he would meet with North Korean leader Kim Jong Un amid heightened tensions over his country's nuclear weapons program if the circumstances were right. Photographer: Andrew Harrer/Bloomberg via Getty Images

U.S. President Donald Trump speaks during an interview in the Oval Office of the White House in Washington, D.C., U.S., on Monday, May 1, 2017. Trump said he would meet with North Korean leader Kim Jong Un amid heightened tensions over his country's nuclear weapons program if the circumstances were right. Photographer: Andrew Harrer/Bloomberg via Getty Images

U.S. President Donald Trump speaks during an interview in the Oval Office of the White House in Washington, D.C., U.S., on Monday, May 1, 2017. Trump said he would meet with North Korean leader Kim Jong Un amid heightened tensions over his country's nuclear weapons program if the circumstances were right. Photographer: Andrew Harrer/Bloomberg via Getty Images

U.S. President Donald Trump speaks during an interview in the Oval Office of the White House in Washington, D.C., U.S., on Monday, May 1, 2017. Trump said he would meet with North Korean leader Kim Jong Un amid heightened tensions over his country's nuclear weapons program if the circumstances were right. Photographer: Andrew Harrer/Bloomberg via Getty Images

U.S. President Donald Trump speaks during an interview in the Oval Office of the White House in Washington, D.C., U.S., on Monday, May 1, 2017. Trump said he would meet with North Korean leader Kim Jong Un amid heightened tensions over his country's nuclear weapons program if the circumstances were right. Photographer: Andrew Harrer/Bloomberg via Getty Images

U.S. President Donald Trump gestures during an interview in the Oval Office of the White House in Washington, D.C., U.S., on Monday, May 1, 2017. Trump said he would meet with North Korean leader Kim Jong Un amid heightened tensions over his country's nuclear weapons program if the circumstances were right. Photographer: Andrew Harrer/Bloomberg via Getty Images

U.S. President Donald Trump speaks during an interview in the Oval Office of the White House in Washington, D.C., U.S., on Monday, May 1, 2017. Trump said he would meet with North Korean leader Kim Jong Un amid heightened tensions over his country's nuclear weapons program if the circumstances were right. Photographer: Andrew Harrer/Bloomberg via Getty Images

U.S. President Donald Trump speaks during an interview in the Oval Office of the White House in Washington, D.C., U.S., on Monday, May 1, 2017. Trump said he would meet with North Korean leader Kim Jong Un amid heightened tensions over his country's nuclear weapons program if the circumstances were right. Photographer: Andrew Harrer/Bloomberg via Getty Images

U.S. President Donald Trump speaks during an interview in the Oval Office of the White House in Washington, D.C., U.S., on Monday, May 1, 2017. Trump said he would meet with North Korean leader Kim Jong Un amid heightened tensions over his country's nuclear weapons program if the circumstances were right. Photographer: Andrew Harrer/Bloomberg via Getty Images

U.S. President Donald Trump speaks during an interview in the Oval Office of the White House in Washington, D.C., U.S., on Monday, May 1, 2017. Trump said he would meet with North Korean leader Kim Jong Un amid heightened tensions over his country's nuclear weapons program if the circumstances were right. Photographer: Andrew Harrer/Bloomberg via Getty Images

U.S. President Donald Trump listens during an interview in the Oval Office of the White House in Washington, D.C., U.S., on Monday, May 1, 2017. Trump said he would meet with North Korean leader Kim Jong Un amid heightened tensions over his country's nuclear weapons program if the circumstances were right. Photographer: Andrew Harrer/Bloomberg via Getty Images

U.S. President Donald Trump speaks during an interview in the Oval Office of the White House in Washington, D.C., U.S., on Monday, May 1, 2017. Trump said he would meet with North Korean leader Kim Jong Un amid heightened tensions over his country's nuclear weapons program if the circumstances were right. Photographer: Andrew Harrer/Bloomberg via Getty Images

U.S. President Donald Trump speaks during an interview in the Oval Office of the White House in Washington, D.C., U.S., on Monday, May 1, 2017. Trump said he would meet with North Korean leader Kim Jong Un amid heightened tensions over his country's nuclear weapons program if the circumstances were right. Photographer: Andrew Harrer/Bloomberg via Getty Images