도널드 트럼프가 개기일식 도중 '맨 눈'으로 태양을 보고야 말았다 (영상)
도널드 트럼프 미국 대통령과 퍼스트레이디 멜라니아 트럼프 여사도 21일(현지시간) 미국에서 99년 만에 연출된 개기일식을 지켜본 사람들 중 하나였다.
트럼프 부부와 아들 배런은 백악관 트루먼 발코니에서 개기일식을 지켜봤다.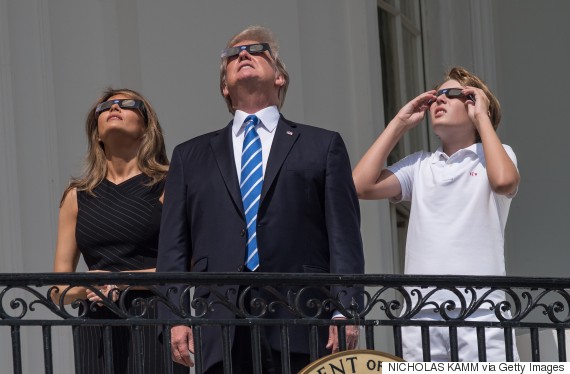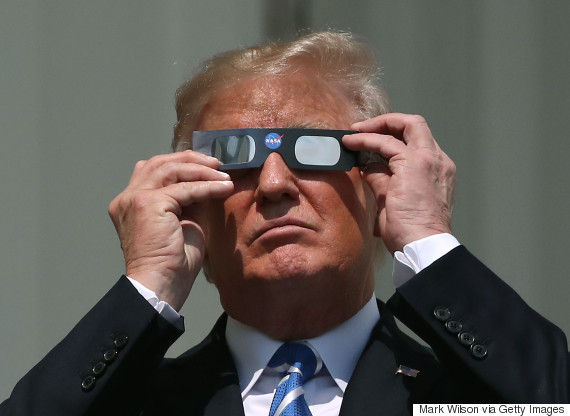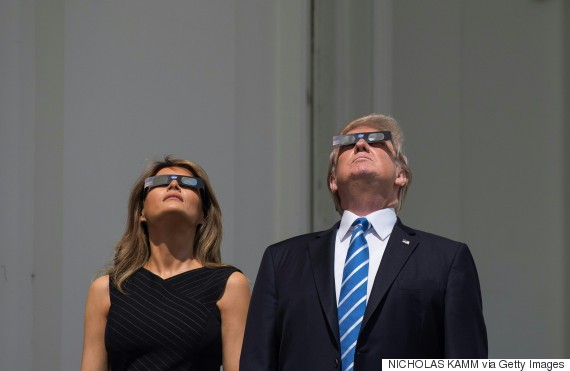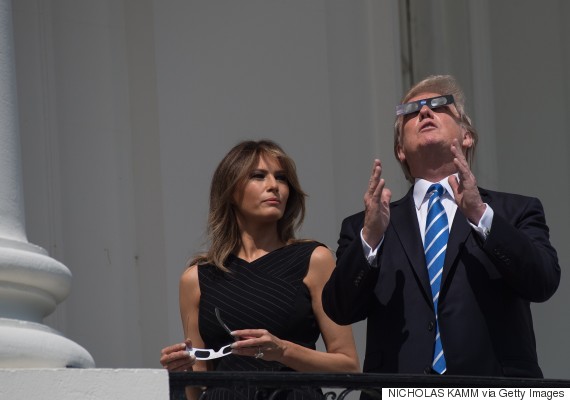 그런데, 이 때, 도널드 트럼프는 보호안경을 벗은 채 태양을 힐끔 쳐다보고야 말았다. 과학자들은 물론, 시력을 잃은 경험자들이 절대 해서는 안 된다고 경고했던 바로 그 행동이다.
백악관 기자단의 보도에 따르면, 밑에 서 있던 한 백악관 관계자는 "쳐다보지 마세요!"라고 소리쳤다.
President Trump sneaks a peek at the #SolarEclipse2017 after taking off his protective glasses pic.twitter.com/sqhhV93LYF

— NBC News (@NBCNews) August 21, 2017
As he did this, someone in a crowd of aides below shouted "Don't look." pic.twitter.com/dtfSLEzcAZ

— Ted Mann (@TMannWSJ) August 21, 2017
The thumbs up here is magnificent pic.twitter.com/PO2ncm2tG1

— Gideon Resnick (@GideonResnick) August 21, 2017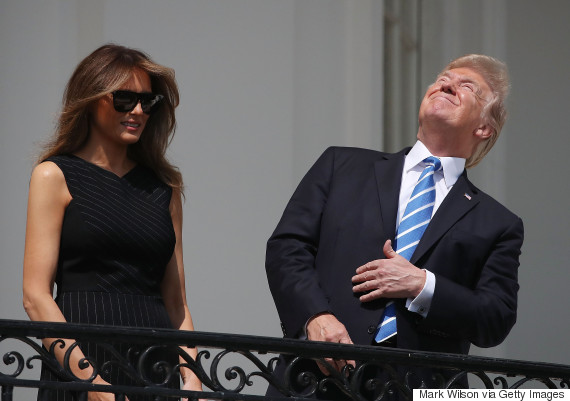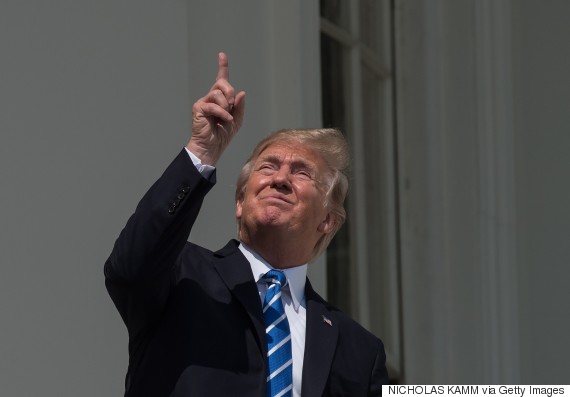 오 마이 갓.


* 이 글은 허프포스트US의 Don't Lie, You Looked At The Eclipse Just Like Donald Trump Did를 번역, 편집한 것입니다.
MADRAS, OR - AUGUST 21: (EDITORS NOTE: Multiple exposures were combined to produce this image.) In this NASA handout, this composite image of eleven pictures shows the progression of a total solar eclipse at Madras High School on August 21, 2017 in Madras, Oregon. A total solar eclipse swept across a narrow portion of the contiguous United States from Lincoln Beach, Oregon to Charleston, South Carolina. A partial solar eclipse was visible across the entire North American continent along with parts of South America, Africa, and Europe. (Photo by Aubrey Gemignani/NASA via Getty Images)

ROXBURY, NJ - AUGUST 21: The Moon is seen passing in front of the Sun during a Solar Eclipse on August 21, 2017 at Roxbury High School in Roxbury, NJ. A total solar eclipse swept across a narrow portion of the contiguous United States from Lincoln Beach, Oregon to Charleston, South Carolina. A partial solar eclipse was visible across the entire North American continent along with parts of South America, Africa, and Europe. (Photo by Rich Graessle/Icon Sportswire via Getty Images)

ROXBURY, NJ - AUGUST 21: The Moon is seen passing in front of the Sun during a Solar Eclipse on August 21, 2017 at Roxbury High School in Roxbury, NJ. A total solar eclipse swept across a narrow portion of the contiguous United States from Lincoln Beach, Oregon to Charleston, South Carolina. A partial solar eclipse was visible across the entire North American continent along with parts of South America, Africa, and Europe. (Photo by Rich Graessle/Icon Sportswire via Getty Images)

ROXBURY, NJ - AUGUST 21: The Moon is seen passing in front of the Sun during a Solar Eclipse on August 21, 2017 at Roxbury High School in Roxbury, NJ. A total solar eclipse swept across a narrow portion of the contiguous United States from Lincoln Beach, Oregon to Charleston, South Carolina. A partial solar eclipse was visible across the entire North American continent along with parts of South America, Africa, and Europe. (Photo by Rich Graessle/Icon Sportswire via Getty Images)

ROXBURY, NJ - AUGUST 21: The Moon is seen passing in front of the Sun during a Solar Eclipse on August 21, 2017 at Roxbury High School in Roxbury, NJ. A total solar eclipse swept across a narrow portion of the contiguous United States from Lincoln Beach, Oregon to Charleston, South Carolina. A partial solar eclipse was visible across the entire North American continent along with parts of South America, Africa, and Europe. (Photo by Rich Graessle/Icon Sportswire via Getty Images)

ROXBURY, NJ - AUGUST 21: The Moon is seen passing in front of the Sun during a Solar Eclipse on August 21, 2017 at Roxbury High School in Roxbury, NJ. A total solar eclipse swept across a narrow portion of the contiguous United States from Lincoln Beach, Oregon to Charleston, South Carolina. A partial solar eclipse was visible across the entire North American continent along with parts of South America, Africa, and Europe. (Photo by Rich Graessle/Icon Sportswire via Getty Images)

ROXBURY, NJ - AUGUST 21: The Moon is seen passing in front of the Sun during a Solar Eclipse on August 21, 2017 at Roxbury High School in Roxbury, NJ. A total solar eclipse swept across a narrow portion of the contiguous United States from Lincoln Beach, Oregon to Charleston, South Carolina. A partial solar eclipse was visible across the entire North American continent along with parts of South America, Africa, and Europe. (Photo by Rich Graessle/Icon Sportswire via Getty Images)

The diamond ring affect is seen during the Great American Eclipse on August 21, 2017, at Casper Collage Wyoming. The total eclipse lasted 2 min and 30 sec. Emotional sky-gazers stood transfixed across North America Monday as the Sun vanished behind the Moon in a rare total eclipse that swept the continent coast-to-coast for the first time in nearly a century. / AFP PHOTO / Gene Blevins (Photo credit should read GENE BLEVINS/AFP/Getty Images)

ROXBURY, NJ - AUGUST 21: The Moon is seen passing in front of the Sun during a Solar Eclipse on August 21, 2017 at Roxbury High School in Roxbury, NJ. A total solar eclipse swept across a narrow portion of the contiguous United States from Lincoln Beach, Oregon to Charleston, South Carolina. A partial solar eclipse was visible across the entire North American continent along with parts of South America, Africa, and Europe. (Photo by Rich Graessle/Icon Sportswire via Getty Images)

ROXBURY, NJ - AUGUST 21: The Moon is seen passing in front of the Sun during a Solar Eclipse on August 21, 2017 at Roxbury High School in Roxbury, NJ. A total solar eclipse swept across a narrow portion of the contiguous United States from Lincoln Beach, Oregon to Charleston, South Carolina. A partial solar eclipse was visible across the entire North American continent along with parts of South America, Africa, and Europe. (Photo by Rich Graessle/Icon Sportswire via Getty Images)

Totality of the Great American Eclipse on August 21, 2017, at Casper Collage Wyoming. The total eclipse lasted 2 min and 30 sec. Emotional sky-gazers stood transfixed across North America Monday as the Sun vanished behind the Moon in a rare total eclipse that swept the continent coast-to-coast for the first time in nearly a century. / AFP PHOTO / Gene Blevins (Photo credit should read GENE BLEVINS/AFP/Getty Images)

Totality of the Great American Eclipse on August 21, 2017, at Casper Collage Wyoming. The total eclipse lasted 2 min and 30 sec. Emotional sky-gazers stood transfixed across North America Monday as the Sun vanished behind the Moon in a rare total eclipse that swept the continent coast-to-coast for the first time in nearly a century. / AFP PHOTO / Gene Blevins (Photo credit should read GENE BLEVINS/AFP/Getty Images)

SALUDA, SOUTH CAROLINA - AUGUST 21: A small plane is silhouetted by the eclipse as it flies thru the path of totality on August 21, 2017 in Saluda, South Carolina. (Photo by Lou Brutus/Icon Sportswire via Getty Images)

FRANKFORT, MI - AUGUST 21: The Total Solar Eclipse party at the Benzie Shores Library on August 21, 2017 in Frankfort, MI. (Photo by Lawrence Iles/Icon Sportswire via Getty Images)

FRANKFORT, MI - AUGUST 21: The Total Solar Eclipse party at the Benzie Shores Library on August 21, 2017 in Frankfort, MI. (Photo by Lawrence Iles/Icon Sportswire via Getty Images)

FRANKFORT, MI - AUGUST 21: The Total Solar Eclipse party at the Benzie Shores Library on August 21, 2017 in Frankfort, MI. (Photo by Lawrence Iles/Icon Sportswire via Getty Images)

FRANKFORT, MI - AUGUST 21: The Total Solar Eclipse party at the Benzie Shores Library on August 21, 2017 in Frankfort, MI. (Photo by Lawrence Iles/Icon Sportswire via Getty Images)

FRANKFORT, MI - AUGUST 21: The Total Solar Eclipse party at the Benzie Shores Library on August 21, 2017 in Frankfort, MI. (Photo by Lawrence Iles/Icon Sportswire via Getty Images)

CHESTER, IL - AUGUST 21: A woman holds a shadow after the total solar eclipse on August 21, 2017, at Mary's River Covered Bridge, in Chester, IL. (Photo by Patrick Gorski/Icon Sportswire via Getty Images)