올해 퀴어문화축제를 앞두고 주한미국 대사관에 무지개 깃발이 걸렸다 (사진)
서울 시청 앞 서울광장 등에서 열리는 퀴어문화축제를 앞두고 주한미국 대사관이 무지개깃발을 걸었다.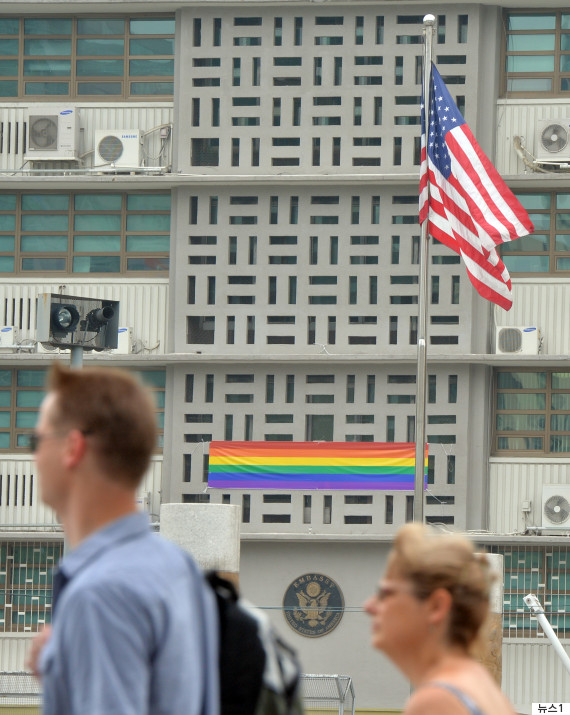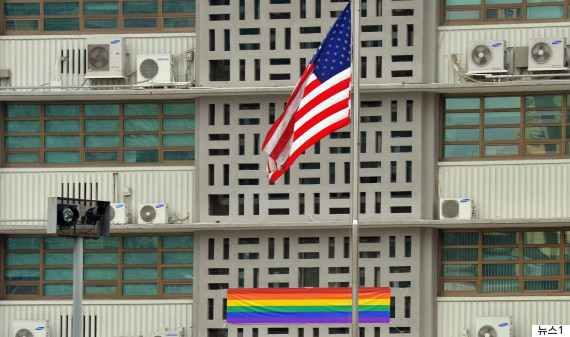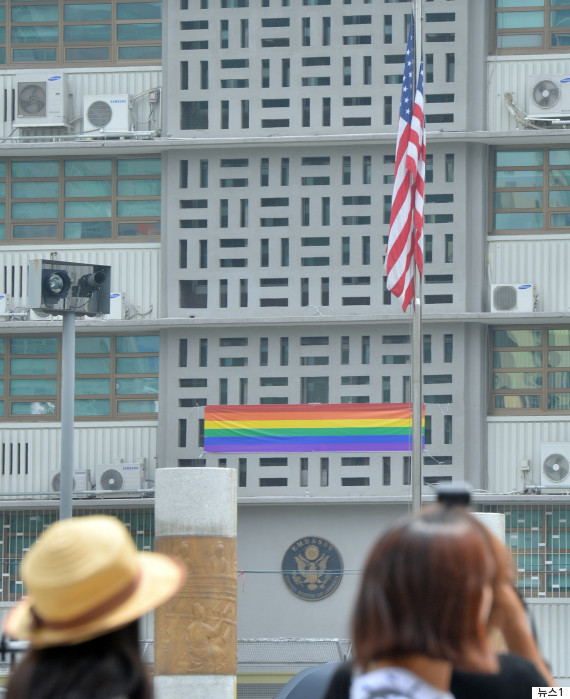 대사관 측은 퀴어문화축제에 지지와 연대를 보내는 뜻으로 지난 8일부터 깃발을 게시했다고 밝혔다.
주한미국 대사관은 2015년부터 퀴어문화축제에 부스를 마련해 행사에 참가하고 있다. 지난해에는 마크 리퍼트 당시 주한미국 대사를 비롯해 16개국 주한 대사관 관계자들이 개막식에 참석한 바 있다. 주한미국 대사관은 최근 열린 대구 퀴어문화축제에서도 부스를 마련했다.
뉴스1은 올해 퀴어문화축제에 마크 내퍼 대사대리도 참가할 예정인 것으로 전해졌다고 보도했다.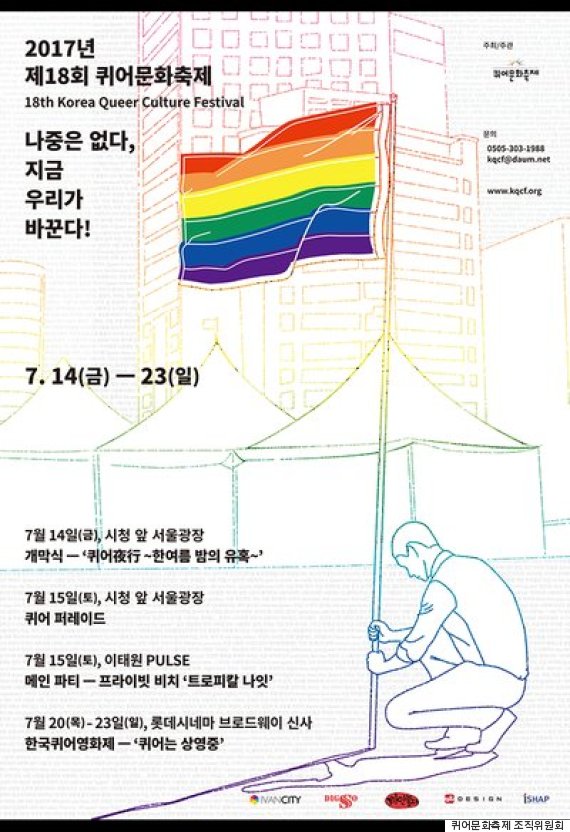 '나중은 없다, 지금 우리가 바꾼다'는 슬로건이 준비된 올해 퀴어문화축제는 14일부터 23일까지 서울시청 앞 서울광장 등에서 열린다.
'하이라이트'라고 할 수 있는 퀴어퍼레이드는 15일(오전 11시~저녁 7시)로 예정되어 있다. (주최 측에 따르면, 비가 와도 그대로 진행된다.) 개막식은 하루 전인 14일 저녁 7시에 열린다. 장소는 모두 서울시청 앞 서울광장이다.
한국에서 퀴어문화축제가 열린 건 2000년부터다. 당시 참가자는 50여명에 불과했지만, 이후 꾸준히 규모가 커졌다. 올해 퀴어문화축제에는 국가인권위원회가 국가기관으로는 최초로 참여할 예정이다. 홍보 부스도 마련된다.
한편 올해 퀴어문화축제에서는 구글코리아, 러쉬, 이반시티, 텐가 등을 비롯한 기업체와 13개국 주한 대사관(뉴질랜드, 덴마크, 네덜란드, 노르웨이, 독일, 스웨덴, 아일랜드, 영국, 유럽연합대표부, 캐나다, 프랑스, 핀란드, 호주), 국제앰네스티를 비롯한 시민단체 등이 부스를 마련할 예정이다.
다음은 주한미국 대사관이 13일 낸 보도자료 전문.
주한 미국 대사관 LGBTI 성소수자들의 인권 지지

주한 미국 대사관은 이전과 마찬가지로 올해 한국 퀴어문화축제도 지지하고 참여하길 기대하며, LGBTI성소수자들의 기본권을 보호하기 위하여 한국 및 세계 각지의 인권 단체 및 시민 사회 단체들과 연대할 것임을 확인하고자 "자부심"의 무지개 깃발을 건것을 자랑스럽게 생각합니다. 미국은 모든 인간의 인권과 기본적인 자유를 보호하고자 지속적으로 노력하고 있습니다.

U.S. Embassy Support of LGBTI Rights

U.S. Embassy Seoul looks forward to supporting, and participating in, this year's Korea Queer Culture Festival, as we have in years past. The Embassy is proud to display the rainbow "Pride" flag in a show of solidarity with human-rights and civil-society organizations in the Republic of Korea and around the world that promote the fundamental rights of LGBTI persons. The United States remains committed to human rights and fundamental freedoms for all persons.

Prime Minister Justin Trudeau waves to the crowd as he, his wife Sophie Gregoire Trudeau and their children Xavier and Ella-Grace march in the Pride Parade in Toronto, June 25, 2017. / AFP PHOTO / GEOFF ROBINS (Photo credit should read GEOFF ROBINS/AFP/Getty Images)

Prime Minister Justin Trudeau waves to the crowd as he, his wife Sophie Gregoire Trudeau and their children Xavier and Ella-Grace march in the Pride Parade in Toronto, June 25, 2017. / AFP PHOTO / GEOFF ROBINS (Photo credit should read GEOFF ROBINS/AFP/Getty Images)

Marchers wave pride flags during the Pride Parade in Toronto, Ontario, June 25, 2017. / AFP PHOTO / GEOFF ROBINS (Photo credit should read GEOFF ROBINS/AFP/Getty Images)

Ontario Premier Kathleen Wynne waves to spectators during the Pride Parade in Toronto, Ontario, June 25, 2017. The event draws hundreds of thousands of spectators every year. / AFP PHOTO / GEOFF ROBINS (Photo credit should read GEOFF ROBINS/AFP/Getty Images)

A man cools down spectators with his water gun as he marches in the Pride Parade in Toronto, Ontario, June 25, 2017. The event draws hundreds of thousands of spectators every year. / AFP PHOTO / GEOFF ROBINS (Photo credit should read GEOFF ROBINS/AFP/Getty Images)

A giant pride flag is carried down Younge Street in Toronto, Ontario during the city's Pride Parade, June 25, 2017. / AFP PHOTO / GEOFF ROBINS (Photo credit should read GEOFF ROBINS/AFP/Getty Images)

NEW YORK, US - JUNE 25: New York City Mayor Bill de Blasio and Chirlane McCray attend the 2017 New York City Pride March on June 25, 2017 in New York, US. (Photo by William Volcov/Brazil Photo Press/LatinContent/Getty Images)

NEW YORK, NY - JUNE 25: Governor of the State of New York, Andrew M. Cuomo participates in The March at the New York City Pride 2017 on June 25, 2017 in New York City. (Photo by John Lamparski/Getty Images)

NEW YORK, NY - JUNE 25: New York Senator Chuck Schumer attends the 2017 New York City Pride March on June 25, 2017 in New York City. (Photo by Michael Stewart/Getty Images)

NEW YORK, NY - JUNE 25: New York Congressman Jerry Nadler attends the 2017 New York City Pride March on June 25, 2017 in New York City. (Photo by Michael Stewart/Getty Images)

Members of Toronto's Police force take part in the LGBT Pride March in the Manhattan borough of New York City, New York, U.S. June 25, 2017. REUTERS/Carlo Allegri

Members of Toronto's Police force take part in the LGBT Pride March in the Manhattan borough of New York City, New York, U.S. June 25, 2017. REUTERS/Carlo Allegri

NEW YORK, NY - JUNE 25: People march down 5th Ave. in the annual New York Gay Pride Parade, one of the oldest and largest in the world on June 25, 2017 in New York City. (Photo by Vanessa Carvalho/Brazil Photo Press/LatinContent/Getty Images)

NEW YORK, NY - JUNE 25: Kelly Osbourne (R) and Gbenga Akinnagbe participates in the The March at the New York City Pride 2017 on June 25, 2017 in New York City. (Photo by John Lamparski/Getty Images)

Edie Windsor participates in The March at the New York City Pride 2017 on June 25, 2017 in New York City. (Photo by John Lamparski/Getty Images)

NEW YORK, NY - JUNE 25: Actress Ilana Glazer attends the 2017 New York City Pride March on June 25, 2017 in New York City. (Photo by Michael Stewart/Getty Images)

NEW YORK, NY - JUNE 25: Grand Marshal BGeng Le attends the 2017 New York City Pride March on June 25, 2017 in New York City. (Photo by Michael Stewart/Getty Images)

New York City firefighter Brooke Guinan participates in The March at the New York City Pride 2017 on June 25, 2017 in New York City. (Photo by John Lamparski/Getty Images)

NEW YORK, NY - JUNE 25: A general view of atmosphere during the 2017 New York City Pride March on June 25, 2017 in New York City. (Photo by Michael Stewart/Getty Images)

A person dressed up as U.S. President Donald Trump in the Grim Reaper outfit participates in the LGBT Pride March in the Manhattan borough of New York City, U.S., June 25, 2017. REUTERS/Carlo Allegri TPX IMAGES OF THE DAY

NEW YORK, NY - JUNE 25: Guests attend NYC Gay Pride March on June 25, 2017 in New York City. (Photo by Presley Ann/Patrick McMullan via Getty Images)

NEW YORK, NY - JUNE 25: A general view of atmosphere during the 2017 New York City Pride March on June 25, 2017 in New York City. (Photo by Michael Stewart/Getty Images)

NEW YORK, NY - JUNE 25: A general view of atmosphere during the 2017 New York City Pride March on June 25, 2017 in New York City. (Photo by Michael Stewart/Getty Images)

NEW YORK, NY - JUNE 25: Girls kiss during the annual New York Gay Pride Parade, one of the oldest and largest in the world on June 25, 2017 in New York City. (Photo by Vanessa Carvalho/Brazil Photo Press/LatinContent/Getty Images)

NEW YORK, NY - JUNE 25: A general view of atmosphere during the 2017 New York City Pride March on June 25, 2017 in New York City. (Photo by Michael Stewart/Getty Images)

NEW YORK, NY - JUNE 25: People march down 5th Ave. in the annual New York Gay Pride Parade, one of the oldest and largest in the world on June 25, 2017 in New York City. Thouands cheered as members of LGBT community danced and marched under a bright summer sun. Many participants carried political themed signs as President Trump's adminstration has angered some in the LGBT community. (Photo by Spencer Platt/Getty Images)

NEW YORK, NY - JUNE 25: A general view of atmosphere during the 2017 New York City Pride March on June 25, 2017 in New York City. (Photo by Michael Stewart/Getty Images)

NEW YORK, NY - JUNE 25: A general view of atmosphere during the 2017 New York City Pride March on June 25, 2017 in New York City. (Photo by Michael Stewart/Getty Images)

NEW YORK, NY - JUNE 25: A general view of atmosphere at NYC Gay Pride March on June 25, 2017 in New York City. (Photo by Presley Ann/Patrick McMullan via Getty Images)

NEW YORK, NY - JUNE 25: Guests attend NYC Gay Pride March on June 25, 2017 in New York City. (Photo by Presley Ann/Patrick McMullan via Getty Images)

NEW YORK, NY - JUNE 25: Guests attend NYC Gay Pride March on June 25, 2017 in New York City. (Photo by Presley Ann/Patrick McMullan via Getty Images)

NEW YORK, NY - JUNE 25: Grand Marshals James Esseks (L) and Gavin Grimm attend the 2017 New York City Pride March on June 25, 2017 in New York City. (Photo by Michael Stewart/Getty Images)

NEW YORK, NY - JUNE 25: Guests attend NYC Gay Pride March on June 25, 2017 in New York City. (Photo by Presley Ann/Patrick McMullan via Getty Images)

NEW YORK, NY - JUNE 25: People ride motorcycles down 5th Ave. in the annual New York Gay Pride Parade, one of the oldest and largest in the world on June 25, 2017 in New York City. Thouands cheered as members of LGBT community danced and marched under a bright summer sun. Many participants carried political themed signs as President Trump's adminstration has angered some in the LGBT community. (Photo by Spencer Platt/Getty Images)

NEW YORK, NY - JUNE 25: Two female police officers embrace as people march down 5th Ave. in the annual New York Gay Pride Parade, one of the oldest and largest in the world on June 25, 2017 in New York City. Thouands cheered as members of LGBT community danced and marched under a bright summer sun. Many participants carried political themed signs as President Trump's adminstration has angered some in the LGBT community. (Photo by Spencer Platt/Getty Images)

NEW YORK, NY - JUNE 25: People march down 5th Ave. in the annual New York Gay Pride Parade, one of the oldest and largest in the world on June 25, 2017 in New York City. Thouands cheered as members of LGBT community danced and marched under a bright summer sun. Many participants carried political themed signs as President Trump's adminstration has angered some in the LGBT community. (Photo by Spencer Platt/Getty Images)

NEW YORK, NY - JUNE 25: People march down 5th Ave. in the annual New York Gay Pride Parade, one of the oldest and largest in the world on June 25, 2017 in New York City. Thouands cheered as members of LGBT community danced and marched under a bright summer sun. Many participants carried political themed signs as President Trump's adminstration has angered some in the LGBT community. (Photo by Spencer Platt/Getty Images)

San Francisco Mayor Ed Lee waves to a cheering crowd along the San Francisco Pride Parade route in San Francisco, California on Sunday, June, 25, 2017. / AFP PHOTO / Josh Edelson (Photo credit should read JOSH EDELSON/AFP/Getty Images)

San Francisco Mayor Ed Lee waves to a cheering crowd along the San Francisco Pride parade route in San Francisco, California on June 25, 2017. / AFP PHOTO / Josh Edelson (Photo credit should read JOSH EDELSON/AFP/Getty Images)

San Francisco Police Officers Eureka Monroe (L) and Brenden Manix (R) take a selfie during the San Francisco Pride parade in San Francisco, California on Sunday, June, 25, 2017. / AFP PHOTO / Josh Edelson (Photo credit should read JOSH EDELSON/AFP/Getty Images)

People march with banners and balloons during the San Francisco Pride parade in San Francisco, California on June, 25, 2017. / AFP PHOTO / Josh Edelson (Photo credit should read JOSH EDELSON/AFP/Getty Images)

Ciara Hall (L) cheers with friends during the San Francisco Pride parade in San Francisco, California on Sunday, June, 25, 2017. / AFP PHOTO / Josh Edelson (Photo credit should read JOSH EDELSON/AFP/Getty Images)

A woman holds up a sign during the San Francisco Pride Parade in San Francisco, California on Sunday, June, 25, 2017. / AFP PHOTO / Josh Edelson (Photo credit should read JOSH EDELSON/AFP/Getty Images)

A man raises a fist while marching along the parade route during the San Francisco Pride parade in San Francisco, California on Sunday, June, 25, 2017. / AFP PHOTO / Josh Edelson (Photo credit should read JOSH EDELSON/AFP/Getty Images)

SAN FRANCISCO, CA - JUNE 25: A man dances in the annual LGBTQI Pride Parade on June 25, 2017 in San Francisco, California. The LGBT community descended on Market Street for the 47th annual Pride Parade (Photo by Elijah Nouvelage/Getty Images)

A woman holds up a sign while marching along the parade route during the San Francisco Pride Parade in San Francisco, California on Sunday, June, 25, 2017. / AFP PHOTO / Josh Edelson (Photo credit should read JOSH EDELSON/AFP/Getty Images)

SAN FRANCISCO, CA - JUNE 25: A contingent from the Brady Campaign to Prevent Gun Violence participates in the annual LGBTQI Pride Parade on Sunday, June 25, 2017 in San Francisco, California. The LGBT community descended on Market Street for the 47th annual Pride Parade. (Photo by Elijah Nouvelage/Getty Images)

Anti-Trump protesters march in the San Francisco Pride parade in San Francisco, California on June 25, 2017. / AFP PHOTO / Josh Edelson (Photo credit should read JOSH EDELSON/AFP/Getty Images)

City of Chicago Mayor Rahm Emanuel takes part of the 48th annual Gay and Lesbian Pride Parade on June 25, 2017 in Chicago, Illinois. / AFP PHOTO / Kamil Krzaczynski (Photo credit should read KAMIL KRZACZYNSKI/AFP/Getty Images)

People celebrate the 48th annual Gay and Lesbian Pride Parade on June 25, 2017 in Chicago, Illinois. / AFP PHOTO / Kamil Krzaczynski (Photo credit should read KAMIL KRZACZYNSKI/AFP/Getty Images)

People celebrate the 48th annual Gay and Lesbian Pride Parade on June 25, 2017 in Chicago, Illinois. / AFP PHOTO / Kamil Krzaczynski (Photo credit should read KAMIL KRZACZYNSKI/AFP/Getty Images)

People celebrate the 48th annual Gay and Lesbian Pride Parade on June 25, 2017 in Chicago, Illinois. / AFP PHOTO / Kamil Krzaczynski (Photo credit should read KAMIL KRZACZYNSKI/AFP/Getty Images)

People celebrate the 48th annual Gay and Lesbian Pride Parade on June 25, 2017 in Chicago, Illinois. / AFP PHOTO / Kamil Krzaczynski (Photo credit should read KAMIL KRZACZYNSKI/AFP/Getty Images)

People celebrate the 48th annual Gay and Lesbian Pride Parade on June 25, 2017 in Chicago, Illinois. / AFP PHOTO / Kamil Krzaczynski (Photo credit should read KAMIL KRZACZYNSKI/AFP/Getty Images)

ISTANBUL, TURKEY - JUNE 25: LGBT supporters march towards Taksim Square on June 25, 2017 in Istanbul, Turkey. The 2017 LGBT Pride March was banned by authorities for the third year. Organisers defied the order and people attempted to march to Taksim Square but were met by a heavy police presence and the crowd was dispersed by tear gas and several people were arrested. (Photo by Chris McGrath/Getty Images)

ISTANBUL, TURKEY - JUNE 25: LGBT supporters march towards Taksim Square on June 25, 2017 in Istanbul, Turkey. The 2017 LGBT Pride March was banned by authorities for the third year. Organisers defied the order and people attempted to march to Taksim Square but were met by a heavy police presence and the crowd was dispersed by tear gas and several people were arrested. (Photo by Chris McGrath/Getty Images)

LGBT rights activist try to gather for a pride parade, which was banned by the governorship, in central Istanbul, on June 25, 2017. / AFP PHOTO / YASIN AKGUL (Photo credit should read YASIN AKGUL/AFP/Getty Images)

ISTANBUL, TURKEY - JUNE 25: LGBT supporters stand in the street as they are met by police while attempting to march towards Taksim Square on June 25, 2017 in Istanbul, Turkey. The 2017 LGBT Pride March was banned by authorities for the third year. Organisers defied the order and people attempted to march to Taksim Square but were met by a heavy police presence and the crowd was dispersed by tear gas and several people were arrested. (Photo by Chris McGrath/Getty Images)

Turkish riot police officers block ways to Istikjlal avenue for LGBT rights activist as they try to gather for a pride parade, which was banned by the governorship, in central Istanbul, on June 25, 2017. / AFP PHOTO / YASIN AKGUL (Photo credit should read YASIN AKGUL/AFP/Getty Images)

Turkish riot police officers block ways to Istikjlal avenue for LGBT rights activist (C) as they try to gather for a pride parade, which was banned by the governorship, in central Istanbul, on June 25, 2017. / AFP PHOTO / BULENT KILIC (Photo credit should read BULENT KILIC/AFP/Getty Images)

PARIS, FRANCE - JUNE 24: People gather for LGBT priests march to celebrate its 40th anniversary at the squares of Concorde and the Republic with one slogan: MAP for all (Medically assisted procreation), on June 24, 2017 in Paris, France. PHOTOGRAPH BY Julien Mattia / Le Pictorium / Barcroft Images London-T:+44 207 033 1031 E:hello@barcroftmedia.com - New York-T:+1 212 796 2458 E:hello@barcroftusa.com - New Delhi-T:+91 11 4053 2429 E:hello@barcroftindia.com www.barcroftimages.com (Photo credit should read Julien/Le Pictorium/Barcroft / Barcroft Media via Getty Images)

PARIS, FRANCE - JUNE 24: People gather for LGBT priests march to celebrate its 40th anniversary at the squares of Concorde and the Republic with one slogan: MAP for all (Medically assisted procreation), on June 24, 2017 in Paris, France. PHOTOGRAPH BY Julien Mattia / Le Pictorium / Barcroft Images London-T:+44 207 033 1031 E:hello@barcroftmedia.com - New York-T:+1 212 796 2458 E:hello@barcroftusa.com - New Delhi-T:+91 11 4053 2429 E:hello@barcroftindia.com www.barcroftimages.com (Photo credit should read Julien/Le Pictorium/Barcroft / Barcroft Media via Getty Images)

PARIS, FRANCE - JUNE 24: Up to 500,000 people march to demand equal reproductive rights for gay couples at the annual Gay Pride March which celebrates its 40th anniversary on June 24, 2017 in Paris, France. The LGBT community demand equal rights and fight against sexism, homophobia, transphobia, and biphobia. (Photo by John van Hasselt/Corbis via Getty Images)

PARIS, FRANCE - JUNE 24: People gather for LGBT priests march to celebrate its 40th anniversary at the squares of Concorde and the Republic with one slogan: MAP for all (Medically assisted procreation), on June 24, 2017 in Paris, France. PHOTOGRAPH BY Julien Mattia / Le Pictorium / Barcroft Images London-T:+44 207 033 1031 E:hello@barcroftmedia.com - New York-T:+1 212 796 2458 E:hello@barcroftusa.com - New Delhi-T:+91 11 4053 2429 E:hello@barcroftindia.com www.barcroftimages.com (Photo credit should read Julien/Le Pictorium/Barcroft / Barcroft Media via Getty Images)

PARIS, FRANCE - JUNE 24: People gather for LGBT priests march to celebrate its 40th anniversary at the squares of Concorde and the Republic with one slogan: MAP for all (Medically assisted procreation), on June 24, 2017 in Paris, France. PHOTOGRAPH BY Julien Mattia / Le Pictorium / Barcroft Images London-T:+44 207 033 1031 E:hello@barcroftmedia.com - New York-T:+1 212 796 2458 E:hello@barcroftusa.com - New Delhi-T:+91 11 4053 2429 E:hello@barcroftindia.com www.barcroftimages.com (Photo credit should read Julien/Le Pictorium/Barcroft / Barcroft Media via Getty Images)

PARIS, FRANCE - JUNE 24: People gather for LGBT priests march to celebrate its 40th anniversary at the squares of Concorde and the Republic with one slogan: MAP for all (Medically assisted procreation), on June 24, 2017 in Paris, France. PHOTOGRAPH BY Julien Mattia / Le Pictorium / Barcroft Images London-T:+44 207 033 1031 E:hello@barcroftmedia.com - New York-T:+1 212 796 2458 E:hello@barcroftusa.com - New Delhi-T:+91 11 4053 2429 E:hello@barcroftindia.com www.barcroftimages.com (Photo credit should read Julien/Le Pictorium/Barcroft / Barcroft Media via Getty Images)

PARIS, FRANCE - JUNE 24: People gather for LGBT priests march to celebrate its 40th anniversary at the squares of Concorde and the Republic with one slogan: MAP for all (Medically assisted procreation), on June 24, 2017 in Paris, France. PHOTOGRAPH BY Julien Mattia / Le Pictorium / Barcroft Images London-T:+44 207 033 1031 E:hello@barcroftmedia.com - New York-T:+1 212 796 2458 E:hello@barcroftusa.com - New Delhi-T:+91 11 4053 2429 E:hello@barcroftindia.com www.barcroftimages.com (Photo credit should read Julien/Le Pictorium/Barcroft / Barcroft Media via Getty Images)

PARIS, FRANCE - JUNE 24: People gather for LGBT priests march to celebrate its 40th anniversary at the squares of Concorde and the Republic with one slogan: MAP for all (Medically assisted procreation), on June 24, 2017 in Paris, France. PHOTOGRAPH BY Julien Mattia / Le Pictorium / Barcroft Images London-T:+44 207 033 1031 E:hello@barcroftmedia.com - New York-T:+1 212 796 2458 E:hello@barcroftusa.com - New Delhi-T:+91 11 4053 2429 E:hello@barcroftindia.com www.barcroftimages.com (Photo credit should read Julien/Le Pictorium/Barcroft / Barcroft Media via Getty Images)

PARIS, FRANCE - JUNE 24: People gather for LGBT priests march to celebrate its 40th anniversary at the squares of Concorde and the Republic with one slogan: MAP for all (Medically assisted procreation), on June 24, 2017 in Paris, France. PHOTOGRAPH BY Julien Mattia / Le Pictorium / Barcroft Images London-T:+44 207 033 1031 E:hello@barcroftmedia.com - New York-T:+1 212 796 2458 E:hello@barcroftusa.com - New Delhi-T:+91 11 4053 2429 E:hello@barcroftindia.com www.barcroftimages.com (Photo credit should read Julien/Le Pictorium/Barcroft / Barcroft Media via Getty Images)

PARIS, FRANCE - JUNE 24: Up to 500,000 people march to demand equal reproductive rights for gay couples at the annual Gay Pride March which celebrates its 40th anniversary on June 24, 2017 in Paris, France. The LGBT community demand equal rights and fight against sexism, homophobia, transphobia, and biphobia. (Photo by John van Hasselt/Corbis via Getty Images)

Demonstrators from the collective Ltbgi stroll through Seville, Spain on June 24, 2017. The annual pride of LGTBI in Seville was celebrated with the participation of collective and lgtbi people coming from all Andlucia. The main political parties and their representatives also participated. (Photo by David Carbajo/NurPhoto via Getty Images)

Demonstrators from the collective Ltbgi stroll through Seville, Spain on June 24, 2017. The annual pride of LGTBI in Seville was celebrated with the participation of collective and lgtbi people coming from all Andlucia. The main political parties and their representatives also participated. (Photo by David Carbajo/NurPhoto via Getty Images)

Demonstrators from the collective Ltbgi stroll through Seville, Spain on June 24, 2017. The annual pride of LGTBI in Seville was celebrated with the participation of collective and lgtbi people coming from all Andlucia. The main political parties and their representatives also participated. (Photo by David Carbajo/NurPhoto via Getty Images)

LONDON, UNITED KINGDOM - JUNE 24: The Rainbow flag flies from the Royal Opera House in support of LGBT Gay Pride week on June 24, 2017 in London, England. PHOTOGRAPH BY Amer Ghazzal / Barcroft Images London-T:+44 207 033 1031 E:hello@barcroftmedia.com - New York-T:+1 212 796 2458 E:hello@barcroftusa.com - New Delhi-T:+91 11 4053 2429 E:hello@barcroftindia.com www.barcroftimages.com (Photo credit should read Amer Ghazzal / Barcroft Images / Barcroft Media via Getty Images)

MILAN, ITALY - 2017/06/24: The Major of Milan Beppe Sala pictured during the Milano Pride Parade. Fifty thousand people walking on the street for gay lesbian and diversity rights in Milan. (Photo by Roberto Finizio/Pacific Press/LightRocket via Getty Images)

MILAN, ITALY - 2017/06/24: The Major of Milan Beppe Sala pictured during the Milano Pride Parade. Fifty thousand people walking on the street for gay lesbian and diversity rights in Milan. (Photo by Roberto Finizio/Pacific Press/LightRocket via Getty Images)

MILAN, ITALY - 2017/06/24: Fifty thousand people walking on the street for gay lesbian and diversity rights in Milan. (Photo by Roberto Finizio/Pacific Press/LightRocket via Getty Images)

MILAN, ITALY - 2017/06/24: Milano gay pride demonstration. (Photo by Davide Bosco/Pacific Press/LightRocket via Getty Images)

MILAN, ITALY - 2017/06/24: Fifty thousand people walking on the street for gay lesbian and diversity rights in Milan. (Photo by Roberto Finizio/Pacific Press/LightRocket via Getty Images)

MILAN, ITALY - 2017/06/24: Milano gay pride demonstration. (Photo by Davide Bosco/Pacific Press/LightRocket via Getty Images)

MILAN, ITALY - 2017/06/24: Milano gay pride demonstration. (Photo by Davide Bosco/Pacific Press/LightRocket via Getty Images)

MILAN, ITALY - 2017/06/24: Milano gay pride demonstration. (Photo by Davide Bosco/Pacific Press/LightRocket via Getty Images)

MILAN, ITALY - 2017/06/24: Fifty thousand people walking on the street for gay lesbian and diversity rights in Milan. (Photo by Roberto Finizio/Pacific Press/LightRocket via Getty Images)

MILAN, ITALY - 2017/06/24: Fifty thousand people walking on the street for gay lesbian and diversity rights in Milan. (Photo by Roberto Finizio/Pacific Press/LightRocket via Getty Images)

MARIKINA, PHILIPPINES - 2017/06/24: Thousands of Filipino and foreign joined to the annual lesbian, gay bisexual and transgender (LGBT) Metro Manila Pride March in Marikina City. The groups also called the equality and respect. (Photo by Gregorio B. Dantes Jr./Pacific Press/LightRocket via Getty Images)

MARIKINA, METRO MANILA, PHILIPPINES - 2017/06/24: Thousands marched through Marikina city Saturday afternoon to commemorate the annual Gay Pride March. On its 23rd year, the Philippines has the oldest pride march in Asia. (Photo by J Gerard Seguia/Pacific Press/LightRocket via Getty Images)

MARIKINA, PHILIPPINES - 2017/06/24: Thousands of Filipino and foreigners joined the annual lesbian, gay bisexual and transgender (LGBT) Metro Manila Pride March in Marikina City. The groups also called the equality and respect. (Photo by Gregorio B. Dantes Jr./Pacific Press/LightRocket via Getty Images)

MARIKINA, METRO MANILA, PHILIPPINES - 2017/06/24: Thousands marched through Marikina city Saturday afternoon to commemorate the annual Gay Pride March. On its 23rd year, the Philippines has the oldest pride march in Asia. (Photo by J Gerard Seguia/Pacific Press/LightRocket via Getty Images)

MARIKINA, METRO MANILA, PHILIPPINES - 2017/06/24: Thousands marched through Marikina city Saturday afternoon to commemorate the annual Gay Pride March. On its 23rd year, the Philippines has the oldest pride march in Asia. (Photo by J Gerard Seguia/Pacific Press/LightRocket via Getty Images)

MARIKINA, METRO MANILA, PHILIPPINES - 2017/06/24: Thousands marched through Marikina city Saturday afternoon to commemorate the annual Gay Pride March. On its 23rd year, the Philippines has the oldest pride march in Asia. (Photo by J Gerard Seguia/Pacific Press/LightRocket via Getty Images)

Revellers take part in the Gay Pride Parade in San Salvador, El Salvador, June 24, 2017. REUTERS/Jose Cabezas

Participants ride in a scooter during the Gay Pride Parade in San Salvador, El Salvador, June 24, 2017. REUTERS/Jose Cabezas

A participant performs during the Gay Pride Parade in Mexico City, Mexico June 24, 2017. REUTERS/Henry Romero

Participants carry a rainbow flag during the Gay Pride Parade in Mexico City, Mexico June 24, 2017. REUTERS/Henry Romero

The colours of the Pride rainbow flag symbolizing gay rights, are projected on a building, after a Gay Pride Parade, in downtown Mexico City, Mexico June 24, 2017. REUTERS/Henry Romero

DUBLIN, IRELAND - 2017/06/24: Leo Varadkar Taoiseach (Irish Prime Minster) takes part in this years pride parade. He is Ireland's first openly gay leader of the country. (Photo by John Rooney/Pacific Press/LightRocket via Getty Images)

DUBLIN, IRELAND - 2017/06/24: Members of Dublin's gay, lesbian and transexual community parade through the city centre during the annual Gay Pride celebration. (Photo by John Rooney/Pacific Press/LightRocket via Getty Images)

Revellers take part in the Gay Pride Parade in San Jose, on June 25, 2017. / AFP PHOTO / Ezequiel BECERRA (Photo credit should read EZEQUIEL BECERRA/AFP/Getty Images)

Revellers take part in the Gay Pride Parade in San Jose, on June 25, 2017. / AFP PHOTO / Ezequiel BECERRA (Photo credit should read EZEQUIEL BECERRA/AFP/Getty Images)