트럼프는 러시아와 '사이버 보안대'를 만들려 한다. 러시아의 대선 개입은 대수롭지 않다고 한다
G20 정상회담에서 돌아온 도널드 트럼프 대통령은 9일 곧바로 블라디미르 푸턴 러시아 대통령과 가진 회동에 대한 트윗들을 올렸다. 외교관들의 발언과는 배치되는 내용이었고, 공화당 내부에서도 비난이 일었다.
트럼프에 의하면 두 사람은 '뚫을 수 없는 사이버 보안대'를 만드는 데 협력하기로 했다고 한다. 지난해 미국 대선에 대한 러시아의 사이버 공격이 있었던 터라, 이 발언에는 즉각 조롱이 쏟아졌다.
마르코 루비오 상원의원(공화당-플로리다)은 "푸틴과 손을 잡고 '사이버 보안대'를 만드는 것은 아사드[시리아 대통령]와 함께 '화학 무기 부대'를 만드는 꼴"이라는 트윗을 올렸다.
Partnering with Putin on a "Cyber Security Unit" is akin to partnering with Assad on a "Chemical Weapons Unit". 2/3

— Marco Rubio (@marcorubio) July 9, 2017
푸틴과 손을 잡고 '사이버 보안대'를 만드는 것은 아사드[시리아 대통령]와 함께 '화학 무기 부대'를 만드는 꼴이다
린지 그레이엄 상원의원(공화당-사우스 캐롤라이나)은 NBC의 '미트 더 프레스'에서 러시아와의 사이버 협력은 "내가 들어 본 중 가장 멍청한 생각은 아니지만, 상당히 가깝다."고 말했다.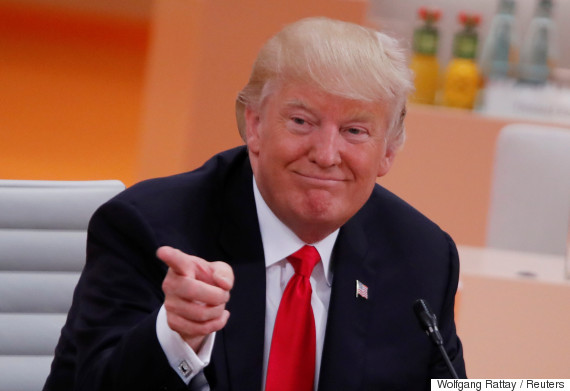 트럼프는 '폭풍트윗'에서 2016년 대선 당시의 러시아 개입에 대해 푸틴을 '강하게 압박했다'고 말했다. 그동안 트럼프는 툭하면 러시아의 개입 의혹을 부인해왔다. 한 트윗에서 "나는 내 의견을 이미 밝혔다."고 애매하게 쓰기는 했다. 그 의견이 무엇인지 밝히지는 않았다.
트럼프는 "러시아와 건설적으로 함께 일하겠다"고 말했지만, 지난해 미국 대선의 러시아 개입에서 비롯된 이슈들에 대해서는 계속 다시 공격했다. 러시아에게 이메일을 해킹 당한 민주당 전국 위원회를 또 표적으로 삼았고, 버락 오바마 전 대통령이 작년 대선에 러시아가 미친 영향을 막기 위한 조치를 충분히 취하지 않았다고 비판했다.
러시아가 지난해 대선에 개입했다는 미국 정보기관들의 결론은 별 거 아니라고 계속 주장하며, 언론을 맹공격하기도 했다.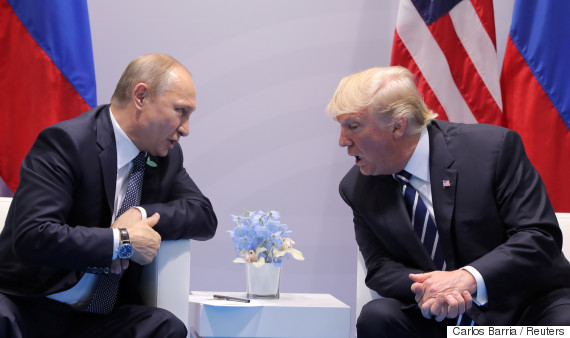 언론들은 최근 러시아의 개입을 '확신한다'는 1월 보고서에 서명한 미국 정보기관은 17개 중 4개 뿐이라고 보도했다. 하지만 그것은 이 4곳(FBI, CIA, NSA, 미국국가정보국)만이 이 이슈를 살필 권한이 있었기 때문이었다.
폴리티팩트가 지적했듯, 미국국가정보국은 정보기관 17곳 전부를 감독하는 최고기관이므로, 트럼프의 시각과는 달리 모든 기관이 독립적으로 이 결과를 인정하지 않았다 해도 러시아가 개입했다는데 의견 일치가 있었음은 변함이 없다.
트럼프는 자신과 푸틴이 러시아 제재 이슈를 의논하지 않았다는 트윗도 썼다. 7월 7일 브리핑에서 러시아 제재를 의논했다고 밝혔던 렉스 틸러슨 국무장관의 말과는 상충된다.
7일 회동에 참석한 사람은 트럼프, 푸틴, 틸러슨, 세르게이 라프로프 러시아 외무장관, 통역가 2명 뿐이었기 때문에 자세한 내용을 확인하기란 힘들다. 최초 보도 일부는 러시아 국영 매체에서 나왔다.
한편 논란이 확산되자 트럼프는 약 12시간 만에 새로 트윗을 올려 "푸틴 대통령과 내가 사이버보안대에 대해 논의했다고 해서 그게 실현될 것이라고 생각한다는 뜻은 아니다"라고 한 발 물러섰다.
The fact that President Putin and I discussed a Cyber Security unit doesn't mean I think it can happen. It can't-but a ceasefire can,& did!

— Donald J. Trump (@realDonaldTrump) July 10, 2017
* 이 글은 허프포스트US의 Trump Proposes 'Cyber Security Unit' With Russia, Downplays Election Interference를 번역, 편집한 것입니다.

U.S. President Donald Trump shakes hands with Russian President Vladimir Putin during the their bilateral meeting at the G20 summit in Hamburg, Germany July 7, 2017. REUTERS/Carlos Barria TPX IMAGES OF THE DAY

Russia's President Vladimir Putin talks to U.S. President Donald Trump during their bilateral meeting at the G20 summit in Hamburg, Germany July 7, 2017. REUTERS/Carlos Barria

U.S. President Donald Trump (3rd R), Secretary of State Rex Tillerson (R), Russian President Vladimir Putin (3rd L) and Foreign Minister Sergei Lavrov (L) attend a meeting on the sidelines of the G20 summit in Hamburg, Germany July 7, 2017 Sputnik/Mikhail Klimentyev/Kremlin via REUTERS ATTENTION EDITORS - THIS IMAGE WAS PROVIDED BY A THIRD PARTY. EDITORIAL USE ONLY.

U.S. President Donald Trump meets with Russian President Vladimir Putin during their bilateral meeting at the G20 summit in Hamburg, Germany July 7, 2017. REUTERS/Carlos Barria

U.S. President Donald Trump gestures as he meets with Russian President Vladimir Putin during the their bilateral meeting at the G20 summit in Hamburg, Germany July 7, 2017. REUTERS/Carlos Barria

Russia's President Vladimir Putin talks to U.S. President Donald Trump during their bilateral meeting at the G20 summit in Hamburg, Germany July 7, 2017. REUTERS/Carlos Barria

Russia's President Vladimir Putin sits next to U.S. President Donald Trump during their bilateral meeting at the G20 summit in Hamburg, Germany July 7, 2017. REUTERS/Carlos Barria

Russia's President Vladimir Putin talks to U.S. President Donald Trump during their bilateral meeting at the G20 summit in Hamburg, Germany July 7, 2017. REUTERS/Carlos Barria

Russia's President Vladimir Putin talks to U.S. President Donald Trump during their bilateral meeting at the G20 summit in Hamburg, Germany July 7, 2017. REUTERS/Carlos Barria

U.S. President Donald Trump meets with Russian President Vladimir Putin during the their bilateral meeting at the G20 summit in Hamburg, Germany July 7, 2017. REUTERS/Carlos Barria

Russia's President Vladimir Putin talks to U.S. President Donald Trump during their bilateral meeting at the G20 summit in Hamburg, Germany July 7, 2017. REUTERS/Carlos Barria

U.S. President Donald Trump speaks with Russian President Vladimir Putin during the their bilateral meeting at the G20 summit in Hamburg, Germany July 7, 2017. REUTERS/Carlos Barria

Russia's President Vladimir Putin talks to U.S. President Donald Trump during their bilateral meeting at the G20 summit in Hamburg, Germany July 7, 2017. REUTERS/Carlos Barria

U.S. President Donald Trump speaks while Russia's President Vladimir Putin sits next during their bilateral meeting at the G20 summit in Hamburg, Germany July 7, 2017. REUTERS/Carlos Barria

U.S. President Donald Trump shakes hands with Russia's President Vladimir Putin during their bilateral meeting at the G20 summit in Hamburg, Germany July 7, 2017. REUTERS/Carlos Barria

U.S. President Donald Trump shakes hands with Russia's President Vladimir Putin during their bilateral meeting at the G20 summit in Hamburg, Germany July 7, 2017. REUTERS/Carlos Barria