트럼프가 조금 전 문재인 대통령과의 만찬 후기를 트위터에 올렸다
도널드 트럼프 미국 대통령이 문재인 대통령과의 환영 만찬 뒤 '후기'를 자신의 트위터에 올렸다.
Just finished a very good meeting with the President of South Korea. Many subjects discussed including North Korea and new trade deal!

— Donald J. Trump (@realDonaldTrump) June 30, 2017
한국 대통령과의 매우 좋은 만남이 방금 끝났다. 북한과 새로운 무역협정을 포함해 많은 주제가 논의됐다!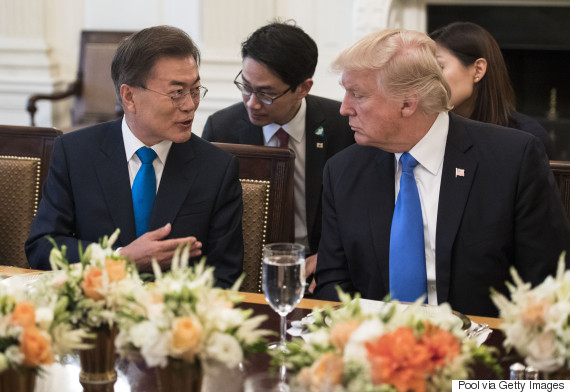 트럼프가 언급한 '새 무역협정'은 한미FTA 개정을 뜻하는 것으로 보인다. 이번 한미정상회담을 앞두고 미국 측은 한미FTA를 주요 안건으로 삼겠다는 의지를 분명히 밝힌 바 있다.



US President Donald Trump and First Lady Melania Trump receive South Korean President Moon Jae-in and his wife Kim Jeong-suk at the White House in Washington, DC, on June 29, 2017. / AFP PHOTO / NICHOLAS KAMM (Photo credit should read NICHOLAS KAMM/AFP/Getty Images)

US President Donald Trump and First Lady Melania Trump receive South Korean President Moon Jae-in at the White House in Washington, DC, on June 29, 2017. / AFP PHOTO / NICHOLAS KAMM (Photo credit should read NICHOLAS KAMM/AFP/Getty Images)

WASHINGTON, DC - JUNE 29: U.S. President Donald Trump (R) welcomes South Korean President Moon Jae-in (L) during an arrival at the South Portico of the White House June 29, 2017 in Washington, DC. President Moon is on a three-day visit in Washington. (Photo by Alex Wong/Getty Images)

WASHINGTON, DC - JUNE 29: U.S. President Donald Trump (R) welcomes South Korean President Moon Jae-in (L) during an arrival at the South Portico of the White House June 29, 2017 in Washington, DC. President Moon is on a three-day visit in Washington. (Photo by Alex Wong/Getty Images)

U.S. President Donald Trump welcomes South Korean President Moon Jae-in to the White House in Washington, U.S., June 29, 2017. REUTERS/Carlos Barria

US President Donald Trump and First Lady Melania Trump receive South Korean President Moon Jae-in and his wife Kim Jeong-suk at the White House in Washington, DC, on June 29, 2017. / AFP PHOTO / NICHOLAS KAMM (Photo credit should read NICHOLAS KAMM/AFP/Getty Images)

WASHINGTON, DC - JUNE 29: U.S. President Donald Trump (R) and first lady Melania Trump (3rd L) welcome South Korean President Moon Jae-in (2nd L) and his wife Kim Jung-sook (L) during an arrival at the South Portico of the White House June 29, 2017 in Washington, DC. President Moon is on a three-day visit in Washington. (Photo by Alex Wong/Getty Images)

U.S. President Donald Trump and first lady Melania Trump welcome South Korean President Moon Jae-in and his wife Kim Jeong-sook to the White House in Washington, U.S., June 29, 2017. REUTERS/Carlos Barria

WASHINGTON, DC - JUNE 29: U.S. President Donald Trump (3rd L) and first lady Melania Trump (R) welcome South Korean President Moon Jae-in (2nd L) and his wife Kim Jung-sook (L) during an arrival at the South Portico of the White House June 29, 2017 in Washington, DC. President Moon is on a three-day visit in Washington. (Photo by Alex Wong/Getty Images)

US President Donald Trump and First Lady Melania Trump receive South Korean President Moon Jae-in and his wife Kim Jeong-suk at the White House in Washington, DC, on June 29, 2017. / AFP PHOTO / NICHOLAS KAMM (Photo credit should read NICHOLAS KAMM/AFP/Getty Images)

WASHINGTON, DC - JUNE 29: U.S. President Donald Trump (3rd L) and first lady Melania Trump (R) welcome South Korean President Moon Jae-in (2nd L) and his wife Kim Jung-sook (L) during an arrival at the South Portico of the White House June 29, 2017 in Washington, DC. President Moon is on a three-day visit in Washington. (Photo by Alex Wong/Getty Images)

WASHINGTON, DC - JUNE 29: U.S. President Donald Trump (3rd L) and first lady Melania Trump (R) welcome South Korean President Moon Jae-in (2nd L) and his wife Kim Jung-sook (L) during an arrival at the South Portico of the White House June 29, 2017 in Washington, DC. President Moon is on a three-day visit in Washington. (Photo by Alex Wong/Getty Images)

US President Donald Trump and First Lady Melania Trump receive South Korean President Moon Jae-in and his wife Kim Jeong-suk at the White House in Washington, DC, on June 29, 2017. / AFP PHOTO / NICHOLAS KAMM (Photo credit should read NICHOLAS KAMM/AFP/Getty Images)

South Korean President Moon Jae-in waves next to First Lady Melania Trump as he arrives for a visit to the White House in Washington, U.S., June 29, 2017. REUTERS/Carlos Barria

US President Donald Trump speaks as First Lady Melania Trump and South Korean President Moon Jae-in look on before dinner at the White House in Washington, DC, on June 29, 2017. / AFP PHOTO / NICHOLAS KAMM (Photo credit should read NICHOLAS KAMM/AFP/Getty Images)

South Korean President Moon and his wife Kim Jung-sook attends a dinner with U.S. President Donald Trump in the White House, Washington, U.S., June 29, 2017. REUTERS/Carlos Barria

US President Donald Trump welcomes South Korean President Moon Jae-in before dinner at the White House in Washington, DC, on June 29, 2017. / AFP PHOTO / NICHOLAS KAMM (Photo credit should read NICHOLAS KAMM/AFP/Getty Images)

Moon Jae-in, South Korea's president, center, shakes hands with U.S. President Donald Trump, prior to dinner in the State Dinning Room at the White House in Washington, D.C., U.S., on Thursday, June 29, 2017. In a speech to business leaders in Washington on Wednesday evening, Moon said the alliance between South Korea and the United States would only become stronger and stressed the need to resolve the North Korea nuclear issue. Photographer: Kevin Dietsch/Pool via Bloomberg

US President Donald Trump and South Korean President Moon Jae-in shake hands before dinner at the White House in Washington, DC, on June 29, 2017. / AFP PHOTO / NICHOLAS KAMM (Photo credit should read NICHOLAS KAMM/AFP/Getty Images)

U.S. President Donald Trump shakes hans with South Korean President Moon Jae-in during a dinner in the White House, Washington, U.S., June 29, 2017. REUTERS/Carlos Barria

WASHINGTON, D.C. - JUNE 29: (AFP-OUT) U.S. President Donald Trump and South Korean President Moon Jae-in address the media prior to dinner with first lady Melania Trump, Moon's wife Kim Jeong-suk and members of their delegations, in the State Dinning Room at the White House June 29, 2017 in Washington, D.C. (Photo by Kevin Dietsch-Pool/Getty Images)

Moon Jae-in, South Korea's president, left, speaks with U.S. President Donald Trump, prior to dinner in the State Dinning Room at the White House in Washington, D.C., U.S., on Thursday, June 29, 2017. In a speech to business leaders in Washington on Wednesday evening, Moon said the alliance between South Korea and the United States would only become stronger and stressed the need to resolve the North Korea nuclear issue. Photographer: Kevin Dietsch/Pool via Bloomberg

U.S. President Donald Trump, right, speaks as Moon Jae-in, South Korea's president, left, and his wife Kim Jung-sook listen prior to dinner in the State Dinning Room at the White House in Washington, D.C., U.S., on Thursday, June 29, 2017. In a speech to business leaders in Washington on Wednesday evening, Moon said the alliance between South Korea and the United States would only become stronger and stressed the need to resolve the North Korea nuclear issue. Photographer: Kevin Dietsch/Pool via Bloomberg

South Korean President Moon attends a dinner with U.S. President Donald Trump in the White House, Washington, U.S., June 29, 2017. REUTERS/Carlos Barria

U.S. President Donald Trump, speaks as Moon Jae-in, South Korea's president, left, listens prior to dinner in the State Dinning Room at the White House in Washington, D.C., U.S., on Thursday, June 29, 2017. In a speech to business leaders in Washington on Wednesday evening, Moon said the alliance between South Korea and the United States would only become stronger and stressed the need to resolve the North Korea nuclear issue. Photographer: Kevin Dietsch/Pool via Bloomberg

US President DonUS President Donald Trump speaks as First Lady Melania Trump and South Korean President Moon Jae-in look on before dinner at the White House in Washington, DC, on June 29, 2017. / AFP PHOTO / NICHOLAS KAMM (Photo credit should read NICHOLAS KAMM/AFP/Getty Images)