'성소수자 프라이드' 축제를 찾은 트뤼도 총리 사진에는 숨은 디테일이 있었다(사진)
지난달 정상회담 때 '스타워즈' 양말을 신어 화제가 됐던 쥐스탱 트뤼도 캐나다 총리의 양말 선택이 또 화제다. 이번에는 '게이 프라이드 퍼레이드'(Gay Pride Parade)에 신고 간 '무지개색 양말'이다. 양말에는 예상밖의 메시지까지 적혀있어 시선을 끌었다.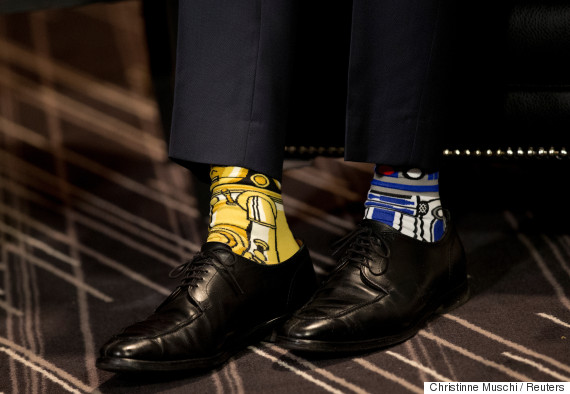 지난 5월 4일 엔다 케니 아일랜드 총리와의 만남의 자리에서 신었던 스타워즈 양말. 5월 4일은 '스타워즈 데이'로, 스타워즈 팬들이 서로에게 "May the fourth be with you"라고 한마디씩 해주는 날이다.
지난 주말 트뤼도 총리는 토론토에서 개최된 게이 프라이드 퍼레이드에 참석했다.
트뤼도 총리의 퍼레이드 방문은 특별한 뉴스 거리가 아니었다. 하지만 행사 직후 총리실 소속 사진사 아담 스코티가 촬영한 트뤼도 총리 사진이 SNS에 공개되면서 큰 화제가 됐다.
'원더우먼'으로 분한 여자아이와 하이파이브를 하기 위해 자세를 낮춘 트뤼도 총리의 바지가 올라가면서 '무지개색' 양말이 사진에 포착된 것이다.


1. Justin Trudeau 2. at Pride 3. wearing rainbow socks 4. high-fiving a little girl dressed as Wonder Woman pic.twitter.com/1xYQoOaPOt

— laura olin (@lauraolin) June 25, 2017
"1. 저스틴 트뤼도가 2. 프라이드 퍼레이드에 나와서 3. 레인보우 양말을 신고 4. 원더우먼 옷을 입은 여자 아이와 하이파이브를 하는 모습"


그런데 여기서 끝이 아니었다.
성소수자 인권을 상징하는 무지개색 양말을 행사에 맞게 착용한 점도 흥미로웠지만 양말에 적혀있는 문구도 타이밍을 맞춘 것이었기 때문이다.


Trudeau wore Eid-themed socks to a pro-Pride church service. #MeanwhileInCanadahttps://t.co/nFNdCuH3xA pic.twitter.com/uCk0DcApFH

— Nick Ashdown (@Nick_Ashdown) June 25, 2017


바로 이슬람 단식 성월 라마단 종료를 기념하는 축제 '이드 알피드르'라고 적혀있던 것. 올해 이드 알피드르는 게이 프라이드 축제와 공교롭게 일정이 겹쳤는데 총리의 재치있는 대처가 눈길을 끈 것이다. 이 양말은 토론토 소재 '할랄' 브랜드에서 제작된 것이라고 WP는 전했다.