[화보] 이번 주말 전 세계에서 열린 '프라이드 퍼레이드' 최고의 사진들 (사진 100장)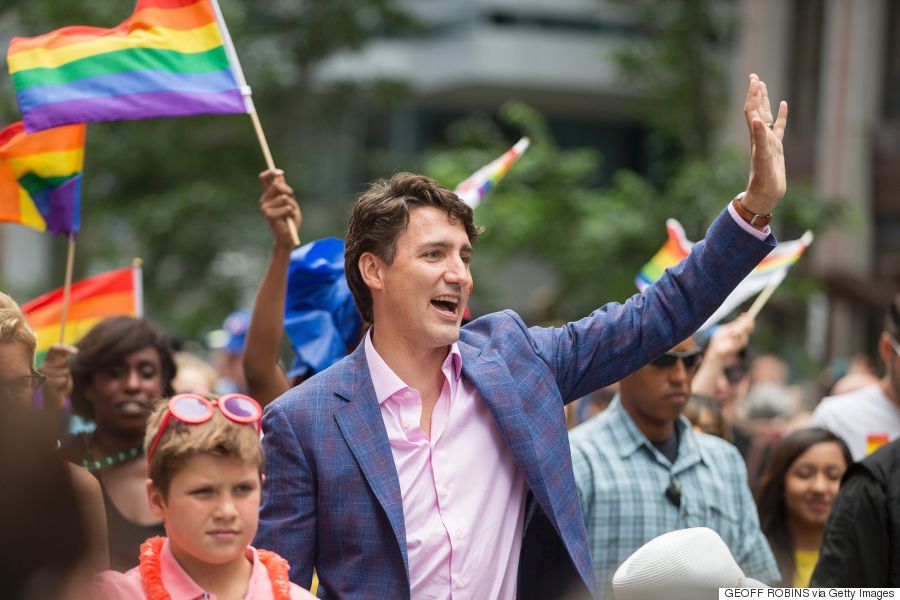 지난주에 이번 주말에도 이어 전 세계 곳곳에서 '2017 프라이드 퍼레이드'가 열렸다. 미국 뉴욕과 프랑스 파리, 이탈리아 밀라노, 멕시코 멕시코시티, 필리핀 마닐라 등이다.
뉴욕에서는 빌 더블라지오 뉴욕시장, 척 슈머 상원의원, 제리 내들러 하원의원, 앤드루 쿠오모 뉴욕주지사 등이 동참했다. 람 이매뉴얼 시카고시장도 시카고에서 열린 퍼레이드에 나타났다.
토론토에서는 쥐스탱 트뤼도 총리와 캐슬린 윈 온타리오주 주지사가 모습을 드러냈고, 샌프란시스코에서는 에드 리 시장이 멋진 복장으로 퍼레이드에 참가했다.
밀라노 시장 주세페 살라, 아일랜드 총리 리오 버라드커도 각각 밀라노와 더블린에서 열린 퍼레이드에 참석했다.
영국 런던에서는 24일부터 2주 동안 이어질 프라이드 축제 기간에 맞춰 지하철역, 버스정류장 등에 무지개색이 입혀졌다.
We're celebrating #Pride with rainbow roundels in stations, plus a huge design at the entrance to TCR. Look out for them! #LoveisLove 🌈 pic.twitter.com/FtDvz3vIET

— Transport for London (@TfL) June 22, 2017
사디크 칸 런던시장은 다음과 같은 트윗으로 직접 홍보에 나섰다.
We're spreading the message across the @TfL network – here in London #LoveisLove https://t.co/hiKGSF137h pic.twitter.com/Cm19LWc5LN

— Sadiq Khan (@SadiqKhan) June 24, 2017
다음은 허프포스트가 고른 주말 전 세계 프라이드 퍼레이드의 하이라이트.


캐나다, 토론토

GEOFF ROBINS via Getty Images

캐나다, 토론토

GEOFF ROBINS via Getty Images

캐나다, 토론토

GEOFF ROBINS via Getty Images

캐나다, 토론토

GEOFF ROBINS via Getty Images

캐나다, 토론토

GEOFF ROBINS via Getty Images

캐나다, 토론토

GEOFF ROBINS via Getty Images

미국, 뉴욕

Brazil Photo Press/CON via Getty Images

미국, 뉴욕

John Lamparski via Getty Images

미국, 뉴욕

Michael Stewart via Getty Images

미국, 뉴욕

Michael Stewart via Getty Images

미국, 뉴욕

Carlo Allegri / Reuters

미국, 뉴욕

Carlo Allegri / Reuters

미국, 뉴욕

Brazil Photo Press/CON via Getty Images

미국, 뉴욕

John Lamparski via Getty Images

미국, 뉴욕

John Lamparski via Getty Images

미국, 뉴욕

Michael Stewart via Getty Images

미국, 뉴욕

Michael Stewart via Getty Images

미국, 뉴욕

John Lamparski via Getty Images

미국, 뉴욕

Michael Stewart via Getty Images

미국, 뉴욕

Carlo Allegri / Reuters

미국, 뉴욕

Presley Ann via Getty Images

미국, 뉴욕

Michael Stewart via Getty Images

미국, 뉴욕

Michael Stewart via Getty Images

미국, 뉴욕

Brazil Photo Press/CON via Getty Images

미국, 뉴욕

Michael Stewart via Getty Images

미국, 뉴욕

Spencer Platt via Getty Images

미국, 뉴욕

Michael Stewart via Getty Images

미국, 뉴욕

Michael Stewart via Getty Images

미국, 뉴욕

Presley Ann via Getty Images

미국, 뉴욕

Presley Ann via Getty Images

미국, 뉴욕

Presley Ann via Getty Images

미국, 뉴욕

Michael Stewart via Getty Images

미국, 뉴욕

Presley Ann via Getty Images

미국, 뉴욕

Spencer Platt via Getty Images

미국, 뉴욕

Spencer Platt via Getty Images

미국, 뉴욕

Spencer Platt via Getty Images

미국, 뉴욕

Spencer Platt via Getty Images

미국, 샌프란시스코

JOSH EDELSON via Getty Images

미국, 샌프란시스코

JOSH EDELSON via Getty Images

미국, 샌프란시스코

JOSH EDELSON via Getty Images

미국, 샌프란시스코

JOSH EDELSON via Getty Images

미국, 샌프란시스코

JOSH EDELSON via Getty Images

미국, 샌프란시스코

JOSH EDELSON via Getty Images

미국, 샌프란시스코

JOSH EDELSON via Getty Images

미국, 샌프란시스코

Elijah Nouvelage via Getty Images

미국, 샌프란시스코

JOSH EDELSON via Getty Images

미국, 샌프란시스코

Elijah Nouvelage via Getty Images

미국, 샌프란시스코

JOSH EDELSON via Getty Images

미국, 시카고

KAMIL KRZACZYNSKI via Getty Images

미국, 시카고

KAMIL KRZACZYNSKI via Getty Images

미국, 시카고

KAMIL KRZACZYNSKI via Getty Images

미국, 시카고

KAMIL KRZACZYNSKI via Getty Images

미국, 시카고

KAMIL KRZACZYNSKI via Getty Images

미국, 시카고

KAMIL KRZACZYNSKI via Getty Images

터키, 이스탄불

Chris McGrath via Getty Images

터키, 이스탄불

Chris McGrath via Getty Images

터키, 이스탄불

YASIN AKGUL via Getty Images

터키, 이스탄불

Chris McGrath via Getty Images

터키, 이스탄불

YASIN AKGUL via Getty Images

터키, 이스탄불

BULENT KILIC via Getty Images

프랑스, 파리

Barcroft Media via Getty Images

프랑스, 파리

Barcroft Media via Getty Images

프랑스, 파리

John van Hasselt - Corbis via Getty Images

프랑스, 파리

Barcroft Media via Getty Images

프랑스, 파리

Barcroft Media via Getty Images

프랑스, 파리

Barcroft Media via Getty Images

프랑스, 파리

Barcroft Media via Getty Images

프랑스, 파리

Barcroft Media via Getty Images

프랑스, 파리

Barcroft Media via Getty Images

프랑스, 파리

John van Hasselt - Corbis via Getty Images

세비야, 스페인

NurPhoto via Getty Images

세비야, 스페인

NurPhoto via Getty Images

세비야, 스페인

NurPhoto via Getty Images

영국, 런던

Barcroft Media via Getty Images

이탈리아, 밀라노

Pacific Press via Getty Images

이탈리아, 밀라노

Pacific Press via Getty Images

이탈리아, 밀라노

Pacific Press via Getty Images

이탈리아, 밀라노

Pacific Press via Getty Images

이탈리아, 밀라노

Pacific Press via Getty Images

이탈리아, 밀라노

Pacific Press via Getty Images

이탈리아, 밀라노

Pacific Press via Getty Images

이탈리아, 밀라노

Pacific Press via Getty Images

이탈리아, 밀라노

Pacific Press via Getty Images

이탈리아, 밀라노

Pacific Press via Getty Images

필리핀, 마닐라

Pacific Press via Getty Images

필리핀, 마닐라

Pacific Press via Getty Images

필리핀, 마닐라

Pacific Press via Getty Images

필리핀, 마닐라

Pacific Press via Getty Images

필리핀, 마닐라

Pacific Press via Getty Images

필리핀, 마닐라

Pacific Press via Getty Images

엘살바도르, 산살바도르

Jose Cabezas / Reuters

엘살바도르, 산살바도르

Jose Cabezas / Reuters

멕시코, 멕시코시티

Henry Romero / Reuters

멕시코, 멕시코시티

Henry Romero / Reuters

멕시코, 멕시코시티

Henry Romero / Reuters

아일랜드, 더블린

Pacific Press via Getty Images

아일랜드, 더블린

Pacific Press via Getty Images

코스타리카, 산호세

EZEQUIEL BECERRA via Getty Images

코스타리카, 산호세

EZEQUIEL BECERRA via Getty Images