아무래도 도널드 트럼프는 NATO 회의에서 친구를 만드는 데 실패한 것 같다
25일(현지시간) 벨기에 브뤼셀에서 열린 북대서양조약기구(NATO) 정상회의에 참석한 도널드 트럼프 미국 대통령은 다른 정상들 사이에서 적응을 위해 최선의 노력을 다했다.
이 모든 행사는 트럼프에겐 마치 학교에 처음 입학한 어린이의 기분처럼 느껴진 것 같았다. 모든 학급에는 따돌림이 있고, 여러 보도들을 종합하면 트럼프는 그 역할을 받아들이기 위해 노력한 것으로 보인다.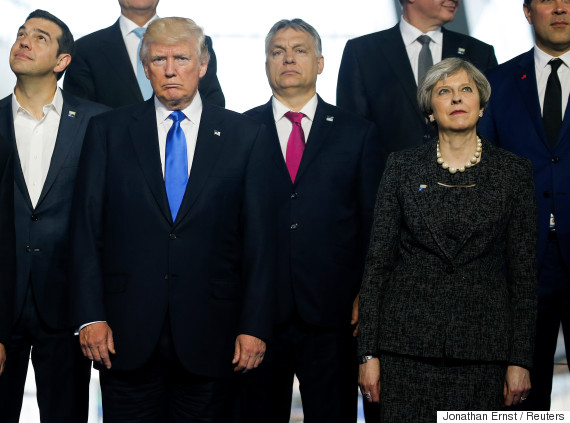 그는 국방비를 충분히 지출하지 않는다며 나토 동맹국들을 비난하는 입장을 발표하는 것으로 회의 첫날을 시작했다. 이 자리에 있었던 다른 이들의 표정은... 직접 보면 안다.
*Look at their faces* and the whispering as Trump admonishes leaders over NATO financial obligations. pic.twitter.com/gLCYgKTdi3

— Bradd Jaffy (@BraddJaffy) May 25, 2017
이후 트럼프가 앞사람을 밀치고 나오는 모습이 포착됐다.
Did Trump just shove another NATO leader to be in the front of the group? pic.twitter.com/bL1r2auELd

— Steve Kopack (@SteveKopack) May 25, 2017
트럼프가 밀쳐낸 것으로 보이는 사람은 바로 몬테네그로 총리 두스코 마르코비치였다. 몬테네그로는 오는 6월 나토 가입이 예정되어 있으며, 그는 블라디미르 푸틴 러시아 대통령의 심기를 거스르는 인물이기도 하다.
It appears the man Trump shoved aside was Prime Minister Dusko Markovic of Montenegro, the newest NATO member, directly threatened by Putin

— Greg Pinelo (@gregpinelo) May 25, 2017
이어진 나토 '단체 사진' 촬영 순간을 묘사한 워싱턴포스트 필립 루커 기자의 보도에 따르면, 트럼프는 그다지 인기가 없었던 것 같다.
"몇몇 지도자들은 서로 인사를 나누곤 했으나 트럼프는 아니었다. 그는 가끔 자세를 바꾸거나 주위를 돌아보며 조용히 서있었다." 루커는 이렇게 적었다.
또 캐나다의 쥐스탱 트뤼도 총리가 다같이 손을 흔들자고 제안하자 "일부는 트뤼도의 말에 따랐으나 트럼프는 아니었다. 그는 팔을 올리지 않았다."고 한다.
"트럼프는 사진 활영이 진행되는 동안 아주 잠깐 미소를 지었으나 나머지 대부분의 시간 동안 진지한 표정을, 혹은 무서운 표정을 지었다."고 루커는 전했다.
사진 촬영이 끝나고 각국 정상들은 흩어지기 시작했다. 일부는 그 자리에 남아 어울렸으나 트럼프는 아니었다.
"퇴장하는 길에 트럼프에게 다가가거나 말을 거는 지도자는 단 하나도 보지 못했다."
* 이 글은 허프포스트US의 Well, Trump Sure Looks Like He's Making Friends At The NATO Summit을 번역, 편집한 것입니다.
NATO Secretary General Jens Stoltenberg (L) directs U.S President Donald Trump who takes his place as NATO member leaders gather before the start of their summit in Brussels, Belgium, May 25, 2017. REUTERS/Hannibal Hanschke

U.S President Donald Trump (C) takes his place as NATO member leaders gather before the start of their summit in Brussels, Belgium, May 25, 2017. REUTERS/Hannibal Hanschke

NATO Secretary General Jens Stoltenberg (L) speaks with US President Donald Trump (C) next to Britain's Prime Minister Theresa May (3R) , Turkish President Recep Tayyip Erdogan (R) as officials get ready for the family picture during the NATO (North Atlantic Treaty Organization) summit ceremony at the NATO headquarters, in Brussels, on May 25, 2017. / AFP PHOTO / Mandel NGAN (Photo credit should read MANDEL NGAN/AFP/Getty Images)

BRUSSELS, BELGIUM - MAY 25: Turkish President Recep Tayyip Erdogan (first row 2nd R), U.S. President Donald Trump (front row 4th R), Britain's Prime Minister Theresa May (front row 3rd R), NATO Secretary General Jens Stoltenberg, German Chancellor Angela Merkel (2nd row L), Spanish Prime Minister Mariano Rajoy, French President Emmanuel Macron, Belgian Prime Minister Charles Michel, Canadian Prime Minister Justin Trudeau and Prime Minister of Greece Alexis Tsipras attend a family photo shooting during the NATO (North Atlantic Treaty Organization) summit at the NATO headquarters, in Brussels, Belgium on May 25, 2017. (Photo by Ercin Top/Anadolu Agency/Getty Images)

US President Donald Trump (front row C) reacts as he stands by (front row from L) Portuguese Prime Minister Antonio Costa, Greek Prime Minister Alexis Tsipras, Hungary's Prime Minister Viktor Orban, Britain's Prime Minister Theresa May, (back row from L Romanian President Klaus Werner Iohannis, Slovakia's President Andrej Kiska and Iceland's Prime Minister Bjarni Benediktsson, during a family picture during the NATO (North Atlantic Treaty Organization) summit at the NATO headquarters, in Brussels, on May 25, 2017. / AFP PHOTO / Mandel NGAN (Photo credit should read MANDEL NGAN/AFP/Getty Images)

(Front row from L) NATO Secretary General Jens Stoltenberg, US President Donald Trump, Britain's Prime Minister Theresa May, Turkish President Recep Tayyip Erdogan, Spanish Prime Minister Mariano Rajoy, (second row from L) German Chancellor Angela Merkel, Greek Prime Minister Alexis Tsipras, Hungary's Prime Minister Viktor Orban, Iceland's Prime Minister Bjarni Benediktsson, Italian Prime Minister Paolo Gentiloni, Latvia's President Raimonds Vejonis, (third row from L) Polish President Andrzej Duda, Portuguese Prime Minister Antonio Costa, Romanian President Klaus Werner Iohannis, Slovakia's President Andrej Kiska, Slovenian Prime Minister Miro Cerar and Montenegro's Prime Minister Dusko Markovic pose for a family picture during the NATO (North Atlantic Treaty Organization) summit at the NATO headquarters, in Brussels, on May 25, 2017. / AFP PHOTO / POOL / Stefan Rousseau (Photo credit should read STEFAN ROUSSEAU/AFP/Getty Images)

(L-R) Portuguese Prime Minister Antonio Costa, NATO Secretary General Jens Stoltenberg, Greek Prime Minister Alexis Tsipras, U.S. President Donald Trump, Hungarian Prime Minister Voktor Orban and Britain's Prime Minister Theresa May pose for a family photo during a NATO summit at their new headquarters in Brussels, Belgium, May 25, 2017. REUTERS/Jonathan Ernst

(L-R) Greek Prime Minister Alexis Tsipras, U.S. President Donald Trump, Hungarian Prime Minister Voktor Orban and Britain's Prime Minister Theresa May pose during a family photo at the start of NATO summit at their new headquarters in Brussels, Belgium, May 25, 2017. REUTERS/Jonathan Ernst TPX IMAGES OF THE DAY

(L-R) Greek Prime Minister Alexis Tsipras, U.S. President Donald Trump, Hungarian Prime Minister Voktor Orban and Britain's Prime Minister Theresa May pose for a family photo during the NATO summit at their new headquarters in Brussels, Belgium, May 25, 2017. REUTERS/Jonathan Ernst

(L-R) NATO Secretary General Jens Stoltenberg, Greek Prime Minister Alexis Tsipras, U.S. President Donald Trump, Hungarian Prime Minister Voktor Orban and Britain's Prime Minister Theresa May pose during a family photo at the start of NATO summit at their new headquarters in Brussels, Belgium, May 25, 2017. REUTERS/Jonathan Ernst

NATO Secretary General Jens Stoltenberg (R) uses a hammer during the NATO summit near U.S President Donald Trump (C) and Britain's Prime Minister Theresa May (L) at the NATO headquarters, in Brussels, Belgium, May 25, 2017. REUTERS/Thierry Charlier/Pool

U.S. President Donald Trump (R) speaks to Britain's Prime Minister Theresa May during in a working dinner meeting at the NATO headquarters during a NATO summit of heads of state and government in Brussels, Belgium, May 25, 2017. REUTERS/Thierry Charlier/Pool

U.S. President Donald Trump (L), Poland's President Andrzej Duda (C) and Britain's Prime Minister Theresa May attend a ceremony at the start of the NATO summit at their new headquarters in Brussels, Belgium, May 25, 2017. REUTERS/Jonathan Ernst

U.S. President Donald Trump (L), Poland's President Andrzej Duda (C) and Britain's Prime Minister Theresa May attend a ceremony at the start of the NATO summit at their new headquarters in Brussels, Belgium, May 25, 2017. REUTERS/Jonathan Ernst

U.S. President Donald Trump (L) talks to Britain's Prime Minister Theresa May as Turkish President Recep Tayyip Erdogan (R) looks on during a ceremony at the start of the NATO summit at their new headquarters in Brussels, Belgium, May 25, 2017. REUTERS/Jonathan Ernst

U.S. President Donald Trump (L) and Britain's Prime Minister Theresa May attend a ceremony at the start of the NATO summit at their new headquarters in Brussels, Belgium, May 25, 2017. REUTERS/Jonathan Ernst

(LtoR) NATO Secretary General Jens Stoltenberg, US President Donald Trump and Britain's Prime Minister Theresa May attend the handover ceremony of the new headquarters of NATO (North Atlantic Treaty Organization) in Brussels, on May 25, 2017. / AFP PHOTO / POOL / Melanie Wenger (Photo credit should read MELANIE WENGER/AFP/Getty Images)

U.S. President Donald Trump (L) and Britain's Prime Minister Theresa May react during a ceremony at the new NATO headquarters before the start of a summit in Brussels, Belgium, May 25, 2017. REUTERS/Christian Hartmann TPX IMAGES OF THE DAY

U.S. President Donald Trump (L) and Britain's Prime Minister Theresa May react during a ceremony at the new NATO headquarters before the start of a summit in Brussels, Belgium, May 25, 2017. REUTERS/Christian Hartmann

U.S. President Donald Trump (L) and Britain's Prime Minister Theresa May attend a ceremony at the start of the NATO summit at their new headquarters in Brussels, Belgium, May 25, 2017. REUTERS/Jonathan Ernst

U.S. President Donald Trump reacts as he speaks beside NATO Secretary General Jens Stoltenberg at the start of the NATO summit at their new headquarters in Brussels, Belgium, May 25, 2017.REUTERS/Jonathan Ernst

US President Donald Trump (C) delivers a speech next to NATO Secretary General Jens Stoltenberg (L) during the unveiling ceremony of the Berlin Wall monument, during the NATO (North Atlantic Treaty Organization) summit at the NATO headquarters, in Brussels, on May 25, 2017. / AFP PHOTO / Mandel NGAN (Photo credit should read MANDEL NGAN/AFP/Getty Images)

U.S. President Donald Trump speaks beside NATO Secretary General Jens Stoltenberg at the start of the NATO summit at their new headquarters in Brussels, Belgium, May 25, 2017.REUTERS/Jonathan Ernst

U.S. President Donald Trump delivers remarks at the start of the NATO summit at their new headquarters in Brussels, Belgium, May 25, 2017. REUTERS/Jonathan Ernst

U.S. President Donald Trump jokes with French President Emmanuel Macron about their shake hands in front of NATO leaders, including Canada's Prime Minister Justin Trudeau (R), German Chancellor Angela Merkel and NATO Secretary General Jens Stoltenberg (3rdR), Belgium King Philippe (L) and Italian Prime Minister Paolo Gentiloni, at the start of the NATO summit at their new headquarters in Brussels, Belgium, May 25, 2017. REUTERS/Jonathan Ernst

From L-R, Belgium's King Philipe, Italian Prime Minister Paolo Gentiloni, U.S. President Donald Trump who shakes hands with French President Emmanuel Macron, NATO Secretary General Jens Stoltenberg (partially hidden), Croatia's President Kolinda Grabar-Kitarovic, German Chancellor Angela Merkel, Canada's Prime Minister Justin Trudeau gather with NATO member leaders to pose for a family picture before the start of their summit in Brussels, Belgium, May 25, 2017. REUTERS/Christian Hartmann TPX IMAGES OF THE DAY

U.S. President Donald Trump (R) walks past Britain's Prime Minister Theresa May (L), Canada's Prime Minister Justin Trudeau (2ndL) and other leaders at the start of the NATO summit at their new headquarters in Brussels, Belgium, May 25, 2017. REUTERS/Jonathan Ernst

U.S. President Donald Trump (C) reacts as he holds a translation device while standing between Belgium's King Philippe (L) and Croatia's President Kolinda Grabar-Kitarovic at the start of the NATO summit at their new headquarters in Brussels, Belgium, May 25, 2017. REUTERS/Christian Hartmann

U.S. President Donald Trump (C) walks past French President Emmanuel Macron (L) and German Chancellor Angela Merkel on his way to his spot for a family photo during the NATO summit at their new headquarters in Brussels, Belgium May 25, 2017. REUTERS/Jonathan Ernst

(L-R) French President Emmanuel Macron, NATO Secretary General Jens Stoltenberg, US President Donald Trump and Belgian Prime Minister Charles Michel look on during the unveiling ceremony of the new headquarters of NATO (North Atlantic Treaty Organization) on May 25, 2017 in Brussels during a NATO Summit. / AFP PHOTO / BELGA / BENOIT DOPPAGNE / Belgium OUT (Photo credit should read BENOIT DOPPAGNE/AFP/Getty Images)

U.S. President Donald Trump and Canada's Prime Minister Justin Trudeau attend a ceremony at the new NATO headquarters before the start of a summit in Brussels, Belgium, May 25, 2017. REUTERS/Christian Hartmann