코미 전 FBI 국장은 트럼프가 자신을 발견하지 못하도록 '커튼' 위장술을 시도했다
제임스 코미 전 FBI 국장은 도널드 트럼프 미국 대통령을 만나는 게 정말 불편했던 것 같다. 그는 트럼프의 눈에 띄지 않으려는 목적으로 백악관 커튼에 바짝 붙어 '위장술'을 시도하기도 했다고 뉴욕타임스(NYT)가 18일(현지시간) 보도했다.
브루킹스 연구소 수석연구원이자 코미 전 국장의 친구인 벤자민 위티스는 NYT에 지난 1월 백악관에서 있었던 수사·사법기관 관계자 초청 행사에서 있었던 일을 소개했다.
보도에 따르면, 내용은 이렇다.
2미터가 넘는, 게다가 그날 다크 블루 수트를 입은 코미는 트럼프가 자신을 발견해 불러내지 못했으면 하는 희망에서 행사장 뒷편 청색 커튼에 '섞이려' 했다고 위티스에게 말했다. (뉴욕타임스 5월18일)
당일 촬영된 영상에 따르면, 코미 전 국장과 커튼의 모습이 보인다.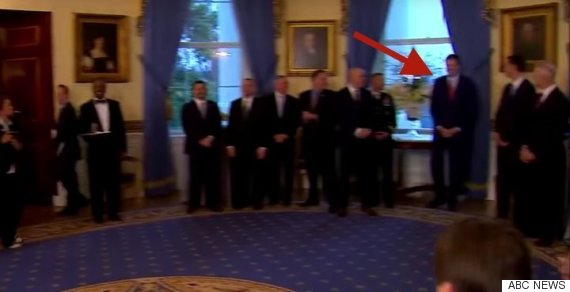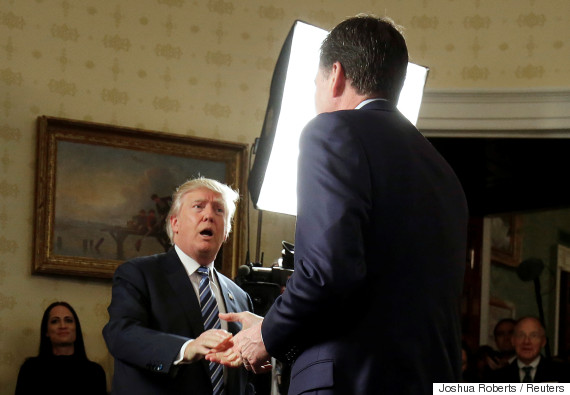 그러나 이 전략은 통하지 않았다.
트럼프는 그를 발견했을 뿐만 아니라, 이름까지 불렀다. 그에게 '키스'를 보내는 것처럼 보이는 행동을 취하기도 했다. 악수를 하자며 그를 부르기도 했다. 그러나 당시 FBI 국장이었던 코미는 트럼프와의 포옹은 하지 않기로 "단단히 결심한 상태"였다고 위티스는 전했다.
그러나 이건 또다른 어색한 장면으로 이어졌다.
위티스는 "악수를 하게된다는 것만으로도 상황은 좋지 않았다. 팔이 긴 코미는 자신이 (포옹을 피하기 위해) 예방적 차원에서 악수를 위해 팔을 쭉 내밀어 트럼프의 손을 잡았다"고 말했다. "그러나 트럼프는 포옹을 하기 위해 코미를 끌어 안았고, 코미는 응하지 않았다. 영상을 보면, 한 사람은 악수를 하고 있고 한 사람은 포옹을 하고 있다."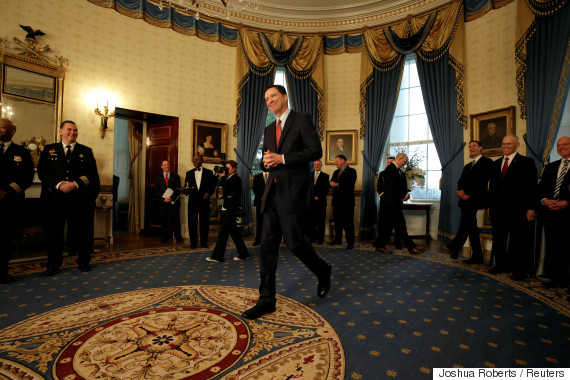 '어떻게 알았지...'
트럼프는 지난주 코미 전 국장을 전격 해임했다. 트럼프는 FBI의 러시아 대선개입 수사가 해임 결정에 영향을 미쳤음을 실토한 바 있다.
한편 코미가 커튼을 활용한 위장술을 시도했다는 소식은 소셜미디어에서의 폭발적 반응을 불렀다.
"isnt comey supposed to be here tonight has any body seen james comey" pic.twitter.com/x2GLNK5w74

— darth:™ (@darth) May 19, 2017
'Comey...tried to blend in with the blue curtains in the back of the room', Just like a Milford man! #arresteddevelopment @MrTonyHale pic.twitter.com/a1cntNAhJc

— Jennifer (@JenNole94) May 19, 2017
Sean Spicer hides in bushes to avoid reporters
James Comey hides in curtains to avoid Trump

Next week, Paul Ryan be like: pic.twitter.com/2cu0P7tyne

— teresa lo (@teresalo_tweets) May 19, 2017
Ways to avoid people, #103: Attempt to blend in with your surroundings aka "the Comey Curtain Move"https://t.co/A5Hf1g4gTy pic.twitter.com/Ud9t6DCJiF

— Jena Melancon (@MelanconJena) May 19, 2017
* 이 글은 허프포스트US의 James Comey Reportedly Tried To Blend Into The Curtains So Trump Wouldn't Spot Him을 번역, 편집한 것입니다.
U.S. President Donald Trump listens during an interview in the Oval Office of the White House in Washington, D.C., U.S., on Monday, May 1, 2017. Trump said he would meet with North Korean leader Kim Jong Un amid heightened tensions over his country's nuclear weapons program if the circumstances were right. Photographer: Andrew Harrer/Bloomberg via Getty Images

U.S. President Donald Trump speaks during an interview in the Oval Office of the White House in Washington, D.C., U.S., on Monday, May 1, 2017. Trump said he would meet with North Korean leader Kim Jong Un amid heightened tensions over his country's nuclear weapons program if the circumstances were right. Photographer: Andrew Harrer/Bloomberg via Getty Images

U.S. President Donald Trump speaks during an interview in the Oval Office of the White House in Washington, D.C., U.S., on Monday, May 1, 2017. Trump said he would meet with North Korean leader Kim Jong Un amid heightened tensions over his country's nuclear weapons program if the circumstances were right. Photographer: Andrew Harrer/Bloomberg via Getty Images

U.S. President Donald Trump speaks during an interview in the Oval Office of the White House in Washington, D.C., U.S., on Monday, May 1, 2017. Trump said he would meet with North Korean leader Kim Jong Un amid heightened tensions over his country's nuclear weapons program if the circumstances were right. Photographer: Andrew Harrer/Bloomberg via Getty Images

U.S. President Donald Trump speaks during an interview in the Oval Office of the White House in Washington, D.C., U.S., on Monday, May 1, 2017. Trump said he would meet with North Korean leader Kim Jong Un amid heightened tensions over his country's nuclear weapons program if the circumstances were right. Photographer: Andrew Harrer/Bloomberg via Getty Images

U.S. President Donald Trump listens during an interview in the Oval Office of the White House in Washington, D.C., U.S., on Monday, May 1, 2017. Trump said he would meet with North Korean leader Kim Jong Un amid heightened tensions over his country's nuclear weapons program if the circumstances were right. Photographer: Andrew Harrer/Bloomberg via Getty Images

U.S. President Donald Trump speaks during an interview in the Oval Office of the White House in Washington, D.C., U.S., on Monday, May 1, 2017. Trump said he would meet with North Korean leader Kim Jong Un amid heightened tensions over his country's nuclear weapons program if the circumstances were right. Photographer: Andrew Harrer/Bloomberg via Getty Images

U.S. President Donald Trump speaks during an interview in the Oval Office of the White House in Washington, D.C., U.S., on Monday, May 1, 2017. Trump said he would meet with North Korean leader Kim Jong Un amid heightened tensions over his country's nuclear weapons program if the circumstances were right. Photographer: Andrew Harrer/Bloomberg via Getty Images

U.S. President Donald Trump speaks during an interview in the Oval Office of the White House in Washington, D.C., U.S., on Monday, May 1, 2017. Trump said he would meet with North Korean leader Kim Jong Un amid heightened tensions over his country's nuclear weapons program if the circumstances were right. Photographer: Andrew Harrer/Bloomberg via Getty Images

U.S. President Donald Trump speaks during an interview in the Oval Office of the White House in Washington, D.C., U.S., on Monday, May 1, 2017. Trump said he would meet with North Korean leader Kim Jong Un amid heightened tensions over his country's nuclear weapons program if the circumstances were right. Photographer: Andrew Harrer/Bloomberg via Getty Images

U.S. President Donald Trump speaks during an interview in the Oval Office of the White House in Washington, D.C., U.S., on Monday, May 1, 2017. Trump said he would meet with North Korean leader Kim Jong Un amid heightened tensions over his country's nuclear weapons program if the circumstances were right. Photographer: Andrew Harrer/Bloomberg via Getty Images

U.S. President Donald Trump speaks during an interview in the Oval Office of the White House in Washington, D.C., U.S., on Monday, May 1, 2017. Trump said he would meet with North Korean leader Kim Jong Un amid heightened tensions over his country's nuclear weapons program if the circumstances were right. Photographer: Andrew Harrer/Bloomberg via Getty Images

U.S. President Donald Trump speaks during an interview in the Oval Office of the White House in Washington, D.C., U.S., on Monday, May 1, 2017. Trump said he would meet with North Korean leader Kim Jong Un amid heightened tensions over his country's nuclear weapons program if the circumstances were right. Photographer: Andrew Harrer/Bloomberg via Getty Images

U.S. President Donald Trump speaks during an interview in the Oval Office of the White House in Washington, D.C., U.S., on Monday, May 1, 2017. Trump said he would meet with North Korean leader Kim Jong Un amid heightened tensions over his country's nuclear weapons program if the circumstances were right. Photographer: Andrew Harrer/Bloomberg via Getty Images

U.S. President Donald Trump gestures during an interview in the Oval Office of the White House in Washington, D.C., U.S., on Monday, May 1, 2017. Trump said he would meet with North Korean leader Kim Jong Un amid heightened tensions over his country's nuclear weapons program if the circumstances were right. Photographer: Andrew Harrer/Bloomberg via Getty Images

U.S. President Donald Trump speaks during an interview in the Oval Office of the White House in Washington, D.C., U.S., on Monday, May 1, 2017. Trump said he would meet with North Korean leader Kim Jong Un amid heightened tensions over his country's nuclear weapons program if the circumstances were right. Photographer: Andrew Harrer/Bloomberg via Getty Images

U.S. President Donald Trump speaks during an interview in the Oval Office of the White House in Washington, D.C., U.S., on Monday, May 1, 2017. Trump said he would meet with North Korean leader Kim Jong Un amid heightened tensions over his country's nuclear weapons program if the circumstances were right. Photographer: Andrew Harrer/Bloomberg via Getty Images

U.S. President Donald Trump speaks during an interview in the Oval Office of the White House in Washington, D.C., U.S., on Monday, May 1, 2017. Trump said he would meet with North Korean leader Kim Jong Un amid heightened tensions over his country's nuclear weapons program if the circumstances were right. Photographer: Andrew Harrer/Bloomberg via Getty Images

U.S. President Donald Trump speaks during an interview in the Oval Office of the White House in Washington, D.C., U.S., on Monday, May 1, 2017. Trump said he would meet with North Korean leader Kim Jong Un amid heightened tensions over his country's nuclear weapons program if the circumstances were right. Photographer: Andrew Harrer/Bloomberg via Getty Images

U.S. President Donald Trump listens during an interview in the Oval Office of the White House in Washington, D.C., U.S., on Monday, May 1, 2017. Trump said he would meet with North Korean leader Kim Jong Un amid heightened tensions over his country's nuclear weapons program if the circumstances were right. Photographer: Andrew Harrer/Bloomberg via Getty Images

U.S. President Donald Trump speaks during an interview in the Oval Office of the White House in Washington, D.C., U.S., on Monday, May 1, 2017. Trump said he would meet with North Korean leader Kim Jong Un amid heightened tensions over his country's nuclear weapons program if the circumstances were right. Photographer: Andrew Harrer/Bloomberg via Getty Images

U.S. President Donald Trump speaks during an interview in the Oval Office of the White House in Washington, D.C., U.S., on Monday, May 1, 2017. Trump said he would meet with North Korean leader Kim Jong Un amid heightened tensions over his country's nuclear weapons program if the circumstances were right. Photographer: Andrew Harrer/Bloomberg via Getty Images