'뉴요커'가 완벽한 표지로 트럼프의 코미 FBI 국장 해임 사태를 꼬집다
매거진 '뉴요커'가 최근 미국 워싱턴DC를 뒤흔들고 있는 사건을 표지에 올렸다. 5월22일자 커버에 담긴 '쫓겨나다'라는 제목의 일러스트레이션에는 제임스 코미 전 국장이 유나이티드 항공 여객기에서 끌어내려지는 장면이 담겼다. 물론, 그를 끌어내는 사람은 다름 아닌 제프 세션스 법무장관이다. 경찰관 복장을 한 세션스 뒤로는 파일럿 유니폼을 입은 도널드 트럼프의 모습이 보인다.
트럼프는 지난 9일 코미 국장을 전격 해임했다. 코미는 트럼프 측이 러시아 당국과 공모해 2016년 미국 대선에 개입했는지 여부에 대한 수사를 이끌고 있었다.
세션스 법무장관은 자신이 선거운동 기간 동안 러시아 정부당국자와 접촉한 사실이 드러나자 지난 3월 러시아 관련 수사에서 손을 떼겠다고 밝혔다. 그는 인사청문회에서 이런 사실을 공개하지 않았다. 수사에 관여하지 않고 있음에도 그는 트럼프 대통령에게 코미 국장의 해임을 "권고했다"고 트럼프가 11일 방송된 NBC뉴스와의 인터뷰에서 말했다.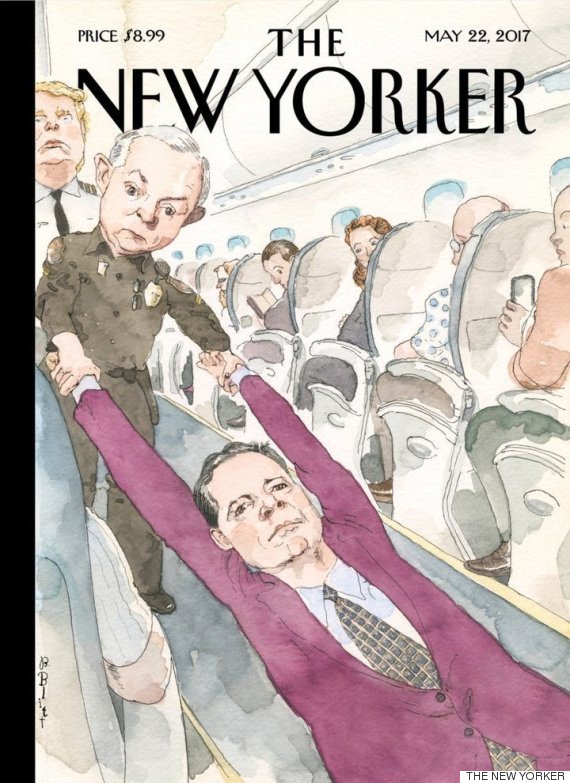 An early look at next week's cover, "Ejected," by Barry Blitt: https://t.co/HJUOYaH8qk pic.twitter.com/kCAqsAOUn5

— The New Yorker (@NewYorker) May 11, 2017
일러스트레이터 배리 블리트는 "약간의 비약은 있을 것이다"라고 말했다. "제임스 코미는 2미터가 넘는 장신이다. 아마도 그는 비좁은 객실 좌석을 기꺼이 포기했을지도 모른다."
New @newyorker cover — yet again, Barry Blitt is a genius pic.twitter.com/PX3TsEWKYC

— Evan Smith (@evanasmith) May 11, 2017
* 이 글은 허핑턴포스트US의 New Yorker Cover Has United Trump And Sessions In Scorn Over Comey Firing을 번역, 편집한 것입니다.
U.S. President Donald Trump listens during an interview in the Oval Office of the White House in Washington, D.C., U.S., on Monday, May 1, 2017. Trump said he would meet with North Korean leader Kim Jong Un amid heightened tensions over his country's nuclear weapons program if the circumstances were right. Photographer: Andrew Harrer/Bloomberg via Getty Images

U.S. President Donald Trump speaks during an interview in the Oval Office of the White House in Washington, D.C., U.S., on Monday, May 1, 2017. Trump said he would meet with North Korean leader Kim Jong Un amid heightened tensions over his country's nuclear weapons program if the circumstances were right. Photographer: Andrew Harrer/Bloomberg via Getty Images

U.S. President Donald Trump speaks during an interview in the Oval Office of the White House in Washington, D.C., U.S., on Monday, May 1, 2017. Trump said he would meet with North Korean leader Kim Jong Un amid heightened tensions over his country's nuclear weapons program if the circumstances were right. Photographer: Andrew Harrer/Bloomberg via Getty Images

U.S. President Donald Trump speaks during an interview in the Oval Office of the White House in Washington, D.C., U.S., on Monday, May 1, 2017. Trump said he would meet with North Korean leader Kim Jong Un amid heightened tensions over his country's nuclear weapons program if the circumstances were right. Photographer: Andrew Harrer/Bloomberg via Getty Images

U.S. President Donald Trump speaks during an interview in the Oval Office of the White House in Washington, D.C., U.S., on Monday, May 1, 2017. Trump said he would meet with North Korean leader Kim Jong Un amid heightened tensions over his country's nuclear weapons program if the circumstances were right. Photographer: Andrew Harrer/Bloomberg via Getty Images

U.S. President Donald Trump listens during an interview in the Oval Office of the White House in Washington, D.C., U.S., on Monday, May 1, 2017. Trump said he would meet with North Korean leader Kim Jong Un amid heightened tensions over his country's nuclear weapons program if the circumstances were right. Photographer: Andrew Harrer/Bloomberg via Getty Images

U.S. President Donald Trump speaks during an interview in the Oval Office of the White House in Washington, D.C., U.S., on Monday, May 1, 2017. Trump said he would meet with North Korean leader Kim Jong Un amid heightened tensions over his country's nuclear weapons program if the circumstances were right. Photographer: Andrew Harrer/Bloomberg via Getty Images

U.S. President Donald Trump speaks during an interview in the Oval Office of the White House in Washington, D.C., U.S., on Monday, May 1, 2017. Trump said he would meet with North Korean leader Kim Jong Un amid heightened tensions over his country's nuclear weapons program if the circumstances were right. Photographer: Andrew Harrer/Bloomberg via Getty Images

U.S. President Donald Trump speaks during an interview in the Oval Office of the White House in Washington, D.C., U.S., on Monday, May 1, 2017. Trump said he would meet with North Korean leader Kim Jong Un amid heightened tensions over his country's nuclear weapons program if the circumstances were right. Photographer: Andrew Harrer/Bloomberg via Getty Images

U.S. President Donald Trump speaks during an interview in the Oval Office of the White House in Washington, D.C., U.S., on Monday, May 1, 2017. Trump said he would meet with North Korean leader Kim Jong Un amid heightened tensions over his country's nuclear weapons program if the circumstances were right. Photographer: Andrew Harrer/Bloomberg via Getty Images

U.S. President Donald Trump speaks during an interview in the Oval Office of the White House in Washington, D.C., U.S., on Monday, May 1, 2017. Trump said he would meet with North Korean leader Kim Jong Un amid heightened tensions over his country's nuclear weapons program if the circumstances were right. Photographer: Andrew Harrer/Bloomberg via Getty Images

U.S. President Donald Trump speaks during an interview in the Oval Office of the White House in Washington, D.C., U.S., on Monday, May 1, 2017. Trump said he would meet with North Korean leader Kim Jong Un amid heightened tensions over his country's nuclear weapons program if the circumstances were right. Photographer: Andrew Harrer/Bloomberg via Getty Images

U.S. President Donald Trump speaks during an interview in the Oval Office of the White House in Washington, D.C., U.S., on Monday, May 1, 2017. Trump said he would meet with North Korean leader Kim Jong Un amid heightened tensions over his country's nuclear weapons program if the circumstances were right. Photographer: Andrew Harrer/Bloomberg via Getty Images

U.S. President Donald Trump speaks during an interview in the Oval Office of the White House in Washington, D.C., U.S., on Monday, May 1, 2017. Trump said he would meet with North Korean leader Kim Jong Un amid heightened tensions over his country's nuclear weapons program if the circumstances were right. Photographer: Andrew Harrer/Bloomberg via Getty Images

U.S. President Donald Trump gestures during an interview in the Oval Office of the White House in Washington, D.C., U.S., on Monday, May 1, 2017. Trump said he would meet with North Korean leader Kim Jong Un amid heightened tensions over his country's nuclear weapons program if the circumstances were right. Photographer: Andrew Harrer/Bloomberg via Getty Images

U.S. President Donald Trump speaks during an interview in the Oval Office of the White House in Washington, D.C., U.S., on Monday, May 1, 2017. Trump said he would meet with North Korean leader Kim Jong Un amid heightened tensions over his country's nuclear weapons program if the circumstances were right. Photographer: Andrew Harrer/Bloomberg via Getty Images

U.S. President Donald Trump speaks during an interview in the Oval Office of the White House in Washington, D.C., U.S., on Monday, May 1, 2017. Trump said he would meet with North Korean leader Kim Jong Un amid heightened tensions over his country's nuclear weapons program if the circumstances were right. Photographer: Andrew Harrer/Bloomberg via Getty Images

U.S. President Donald Trump speaks during an interview in the Oval Office of the White House in Washington, D.C., U.S., on Monday, May 1, 2017. Trump said he would meet with North Korean leader Kim Jong Un amid heightened tensions over his country's nuclear weapons program if the circumstances were right. Photographer: Andrew Harrer/Bloomberg via Getty Images

U.S. President Donald Trump speaks during an interview in the Oval Office of the White House in Washington, D.C., U.S., on Monday, May 1, 2017. Trump said he would meet with North Korean leader Kim Jong Un amid heightened tensions over his country's nuclear weapons program if the circumstances were right. Photographer: Andrew Harrer/Bloomberg via Getty Images

U.S. President Donald Trump listens during an interview in the Oval Office of the White House in Washington, D.C., U.S., on Monday, May 1, 2017. Trump said he would meet with North Korean leader Kim Jong Un amid heightened tensions over his country's nuclear weapons program if the circumstances were right. Photographer: Andrew Harrer/Bloomberg via Getty Images

U.S. President Donald Trump speaks during an interview in the Oval Office of the White House in Washington, D.C., U.S., on Monday, May 1, 2017. Trump said he would meet with North Korean leader Kim Jong Un amid heightened tensions over his country's nuclear weapons program if the circumstances were right. Photographer: Andrew Harrer/Bloomberg via Getty Images

U.S. President Donald Trump speaks during an interview in the Oval Office of the White House in Washington, D.C., U.S., on Monday, May 1, 2017. Trump said he would meet with North Korean leader Kim Jong Un amid heightened tensions over his country's nuclear weapons program if the circumstances were right. Photographer: Andrew Harrer/Bloomberg via Getty Images