당신이 '극좌' 후보 장-뤼크 멜랑숑과 프랑스 대선에 주목해야 하는 이유
프랑스 대선에 대단한 드라마가 빠질 수는 없다. 최근 몇 주 동안의 설문 조사에서는 65세 좌파 후보 장-뤼크 멜랑숑의 지지율이 예상 밖의 급등세를 보여 선거 전반과 그의 경쟁자 3명의 머릿속을 복잡하게 만들고 있다.
한때 여론 조사에서 한참이나 뒤처진 5위를 기록하던 멜랑숑은 이번 주에는 지지율 20%를 기록해, 추문에 시달리는 보수 후보 프랑수아 피용을 1% 앞섰다. 르몽드 지가 입소스-스포라 스터나를 통해 조사한 결과다. 중도 후보 에마뉘엘 마크롱은 극우 정치인 마린 르펜과 함께 22%를 기록하며 공동 선두를 차지했다.
포퓰리스트를 자처하는 멜랑숑은 스스로를 미국의 버니 샌더스 상원의원(무소속-버몬트)에 비교하며, 베네수엘라의 우고 차베스와 쿠바의 카스트로 형제를 우상시한다. 1970년대에 사회당에 가입한 그는 이후 상원의원에 당선됐다.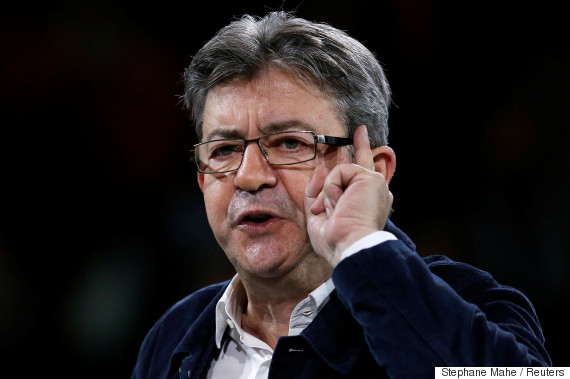 그는 2008년에 자신이 '자본주의의 위기' 속에서 좌파를 개혁할 사람이라고 말했다. 그래서 그는 좌파당을 만들었다가, 2016년에 다시 '굴복하지 않는 프랑스'라는 뜻인 '라 프랑스 앵수미즈'라는 단체를 만들었다. 그는 스페인의 인디그나도스와 같은 포퓰리스트 '안티-리버럴 운동'에서 영감을 얻었다.
"프랑스는 언제나 급진적 사고의 역사를 가지고 있었다. 오래 전부터 공산당에서 비롯된 것이었다. 공산당이 사라지자, 장-뤼크 멜랑숑이 그러한 급진주의를 지지하고 나섰지만 공산주의 사상을 내세우지는 않는다." 공산주의 전문 역사가 로저 마텔리가 허핑턴포스트 프랑스에 말했다.
뛰어난 연설가인 멜랑숑은 최근 몇 번의 토론에서 활력이 넘치는 모습을 보여주어 인기를 얻었다. 그는 프랑스의 현재 체제, 즉 제5공화국을 폐지하겠다고 주장한다. 그는 현재 집권하고 있는 '과두제'가 아닌 대중이 규정하는 새로운 공화국을 만들겠다고 홈페이지를 통해 밝히고 있다.
또한 경제 자극을 위해 1억 유로를 풀고, EU에서 '프렉시트(Frexit)'하고, NATO에서 탈퇴하고, 정년을 60세로 낮추며, 일주일 근로 시간을 32시간으로 하겠다고 공약한다. 또 그는 1년에 40만 유로 이상 버는 사람들의 소득 중 90%를 세금으로 걷겠다고 한다.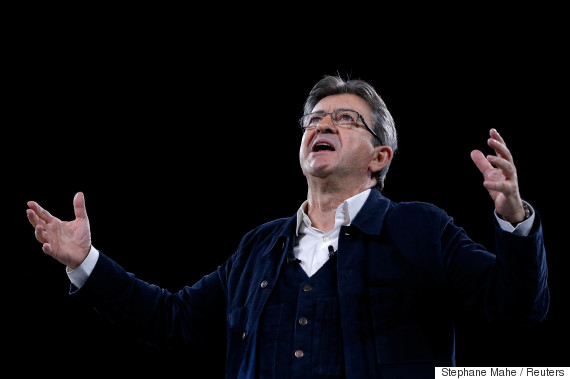 멜랑숑의 포퓰리스트적 견해에 이끌리는 유권자들은 사실 사상적 스펙트럼으로는 정반대에 있는 후보에게서 얻을 수 있는 것들을 지지하고 있다는 것이 아이러니다.
르펜 역시 포퓰리스트다. 이민과 테러에 있어서는 훨씬 더 강경하다. 하지만 르펜 역시 멜랑숑처럼 프랑스 인들에게 일자리를 되찾아주고 EU 및 국제 조약에서 탈퇴하고 싶어한다. 르펜과 멜랑숑은 행동을 취하기 전 프랑스 인들이 관여할 수 있도록 국민 투표를 하겠다고 제안했다.
멜량숑은 이러한 유사점을 여러 번 부인해 왔다.
"나는 국수주의자가 아니다. 나는 애국자다. 나는 다른 국가들과 협상할 준비가 되어 있는 것이지, 프랑스를 고립시키려는 게 아니다." 멜랑숑이 르 푸앙 지와의 인터뷰 도중 르펜에 대해 한 말이다.
1차 투표는 4월 23일에 열린다. 두 명의 후보를 놓고 치르는 2차 투표는 5월 7일이다.
* 이 글은 허핑턴포스트US의 Why You Should Pay Attention To Jean-Luc Mélenchon And The French Election을 번역, 편집한 것입니다.
Jean-Luc Melenchon of the French far left Parti de Gauche and candidate for the 2017 French presidential election delivers a speech as he holds a political rally in Paris, France, March 18, 2017. REUTERS/Gonzalo Fuentes

Jean-Luc Melenchon of the French far left Parti de Gauche and candidate for the 2017 French presidential election delivers a speech as he holds a political rally in Paris, France, March 18, 2017. REUTERS/Gonzalo Fuentes

Jean-Luc Melenchon of the French far left Parti de Gauche and candidate for the 2017 French presidential election delivers a speech as he holds a political rally in Paris, France, March 18, 2017. REUTERS/Gonzalo Fuentes

Jean-Luc Melenchon of the French far left Parti de Gauche and candidate for the 2017 French presidential election delivers a speech as he holds a political rally in Rennes, France, March 26, 2017. REUTERS/Stephane Mahe

Jean-Luc Melenchon of the French far left Parti de Gauche and candidate for the 2017 French presidential election delivers a speech as he holds a political rally in Rennes, France, March 26, 2017. REUTERS/Stephane Mahe

Jean-Luc Melenchon of the French far left Parti de Gauche and candidate for the 2017 French presidential election delivers a speech as he holds a political rally in Rennes, France, March 26, 2017. REUTERS/Stephane Mahe

Jean-Luc Melenchon of the French far left Parti de Gauche and candidate for the 2017 French presidential election delivers a speech as he holds a political rally in Rennes, France, March 26, 2017. REUTERS/Stephane Mahe

Jean-Luc Melenchon of the French far left Parti de Gauche and candidate for the 2017 French presidential election delivers a speech as he holds a political rally in Rennes, France, March 26, 2017. REUTERS/Stephane Mahe

Jean-Luc Melenchon of the French far left Parti de Gauche and candidate for the 2017 French presidential election delivers a speech as he holds a political rally in Rennes, France, March 26, 2017. REUTERS/Stephane Mahe

Jean-Luc Melenchon of the Parti de Gauche attends a prime-time televised debate for the candidates of the French 2017 presidential election in La Plaine Saint-Denis, near Paris, France, April 4, 2017. REUTERS/Lionel Bonaventure/Pool

Jean-Luc Melenchon of the French far left Parti de Gauche and candidate for the 2017 French presidential election delivers a speech during a political rally in Marseille, France, April 9, 2017. REUTERS/Jean-Paul Pelissier TPX IMAGES OF THE DAY

Jean-Luc Melenchon of the French far left Parti de Gauche and candidate for the 2017 French presidential election delivers a speech during a political rally in Marseille, France, April 9, 2017. REUTERS/Jean-Paul Pelissier

Supporters gather at the Old Harbour as Jean-Luc Melenchon of the French far left Parti de Gauche and candidate for the 2017 French presidential election delivers a speech during a political rally in Marseille, France, April 9, 2017. REUTERS/Jean-Paul Pelissier TPX IMAGES OF THE DAY

Supporters gather at the Old Harbour as Jean-Luc Melenchon of the French far left Parti de Gauche and candidate for the 2017 French presidential election delivers a speech during a political rally in Marseille, France, April 9, 2017. REUTERS/Jean-Paul Pelissier

Jean-Luc Melenchon of the French far left Parti de Gauche and candidate for the 2017 French presidential election delivers a speech during a political rally in Marseille, France, April 9, 2017. REUTERS/Jean-Paul Pelissier

Jean-Luc Melenchon of the French far left Parti de Gauche and candidate for the 2017 French presidential election delivers a speech during a political rally in Marseille, France, April 9, 2017. REUTERS/Jean-Paul Pelissier

Jean-Luc Melenchon of the French far left Parti de Gauche and candidate for the 2017 French presidential election, attends a political rally in Lille, France, April 12, 2017. REUTERS/Pascal Rossignol TPX IMAGES OF THE DAY

Jean-Luc Melenchon of the French far left Parti de Gauche and candidate for the 2017 French presidential election, attends a political rally in Lille, France, April 12, 2017. REUTERS/Pascal Rossignol

Jean-Luc Melenchon of the French far left Parti de Gauche and candidate for the 2017 French presidential election, attends a political rally in Lille, France, April 12, 2017. REUTERS/Pascal Rossignol

Jean-Luc Melenchon of the French far left Parti de Gauche and candidate for the 2017 French presidential election, attends a political rally in Lille, France, April 12, 2017. REUTERS/Pascal Rossignol

Jean-Luc Melenchon of the French far left Parti de Gauche and candidate for the 2017 French presidential election, attends a political rally in Lille, France, April 12, 2017. REUTERS/Pascal Rossignol

Women walk past campaign posters of the 11th candidates who run in the 2017 French presidential election in Saint Andre de La Roche, near Nice, France, April 10, 2017. L-R : Nicolas Dupont-Aignan, Debout La France group candidate, Marine Le Pen, French National Front (FN) political party leader, Emmanuel Macron, head of the political movement En Marche ! (Onwards !), French Socialist party candidate Benoit Hamon, Nathalie Arthaud, France's extreme-left Lutte Ouvriere political party (LO) leader, Philippe Poutou, Anti-Capitalist Party (NPA) presidential candidate, Jacques Cheminade, "Solidarite et Progres" (Solidarity and Progress) party candidate, lawmaker and independent candidate Jean Lassalle, Jean-Luc Melenchon, candidate of the French far-left Parti de Gauche, Francois Asselineau, UPR candidate, and Francois Fillon, the Republicans political party candidate. REUTERS/Eric Gaillard

Campaign posters of candidates Jean-Luc Melenchon of the Parti de Gauche and Emmanuel Macron head of the political movement En Marche! (Onwards!) who run in the 2017 French presidential election are seen in Paris, France, April 5, 2017. REUTERS/Gonzalo Fuentes

From L-R, campaign posters for candidates Marine Le Pen of the National Front (FN), Jean-Luc Melenchon of the Parti de Gauche, and Benoit Hamon of the Socialist Party who run in the 2017 French presidential election are seen in Paris, France, April 5, 2017. REUTERS/Charles Platiau

A combination picture shows five candidates for the French 2017 presidential election, Francois Fillon, the Republicans political party candidate, Benoit Hamon, French Socialist party candidate, Marine Le Pen, French National Front (FN) political party leader, Emmanuel Macron, head of the political movement En Marche ! (or Onwards !), Jean-Luc Melenchon, candidate of the French far-left Parti de Gauche, in Paris, France, March 17, 2017. REUTERS/Christian Hartmann