[화보] '트럭 돌진' 테러공격에 스웨덴이 꽃으로 사랑과 연대의 메시지를 전달하다
지난 금요일에 벌어졌던 스톡홀름 '트럭 돌진' 공격에 대응해 수많은 사람들이 9일(현지시간) 꽃과 깃발, 희망의 메시지를 들고 시내 중심가를 가득 메웠다.
이날 모인 사람들이 희생자를 추모하고 사건 당시 초기 대응에 뛰어들었던 이들에게 찬사를 보내는 사람들의 사진을 공유하면서 소셜미디어에는 해시태그 #WeAreNotAfraid, #Unity, 그리고 #WeAreSwedes가 뛰어올랐다.
꽃을 들고 있는 경찰관의 사진을 공유한 Lotta Hardelin(스웨덴 언론사 '다건스 나이터' 사진기자)는 "이게 바로 우리가 폭력에 대응하는 방식이다"라고 적었다.
How we deal with violence.#openstockholm#stockholmattack pic.twitter.com/az9zYfMONT

— Lotta Härdelin (@Lotta_Hardelin) April 8, 2017
한 발 더 나가 이번 공격으로 피해를 입은 이들이 음식과 피난처, 치료 등을 제공받을 수 있는 장소를 공유하는 해시태그 #OpenStockholm도 주목을 끌었다. 지역 상인들과 교회들 뿐만 아니라 자신의 집을 개방한 시민들도 이런 온정의 손길을 내밀었다.
Just in case anyone needs a place to stay because of the travel chaos, we're in downtown #Stockholm and our door is open. #OpenStockholm

— David Abergel (@David_Abergel) April 7, 2017
'트래블 카오스' 때문에 머물 곳이 필요한 분들이 있을까봐 알려드립니다. 저희 집은 스톡홀름 시내에 있고요, 우리 문은 열려있습니다.
S:t Johannes church in central Stockholm is open. They have chargers, blankets and staff. https://t.co/o6jHp8b46C #openstockholm

— Per Grankvist (@pergrankvist) April 7, 2017
성 요하네스 교회는 스톡홀름 시내에 있습니다. 충전기와 담요, 스태프가 준비되어 있습니다.
If you are stuck in Stockholm follow the hashtag #openstockholm for awesome people who can take you in until things are resolved.

— Marvinmega (@Marvinmega) April 7, 2017
스톡홀름에 갇히신 분들은 해시태그 #openstockholm을 검색해보시길. 문제가 해결될 때까지 여러분들을 도와줄 멋진 사람들이 있습니다.
이런 가슴 따뜻한 움직임은 한 남성이 트럭을 몰고 행인을 향해 돌진한 뒤 백화점에 충돌한 사건이 있은 지 꼭 이틀 만에 나왔다. 이 공격으로 스웨덴인 2명과 영국인 1명, 벨기에인 1명 등 모두 4명이 숨졌고, 15명이 다쳤다.
일요일, 사건 현장을 둘러싸고 있던 안전 펜스는 시민들이 헌화한 꽃으로 장식됐다. 이곳에 주차되어 있던 경찰차들도 꽃과 풍선으로 장식됐다.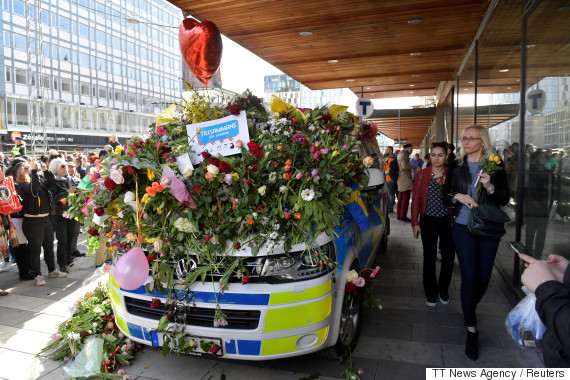 Inger Morstedt(75세)는 AFP에 "이 다음에는 어쩌면 좋은 일이 생길 것 같다"고 말했다. 그는 자신과 같은 스웨덴인들이 "더 열려있고 더 환영하는" 태도를 취하게 될지 모른다는 희망을 전했다.
토요일에 사건 현장인 백화점 바깥에 헌화한 스테판 뢰벤 스웨덴 총리는 국가적 슬픔에 빠져 있다면서도 "우리는 함께 이걸 헤쳐나갈 것"이라고 말했다.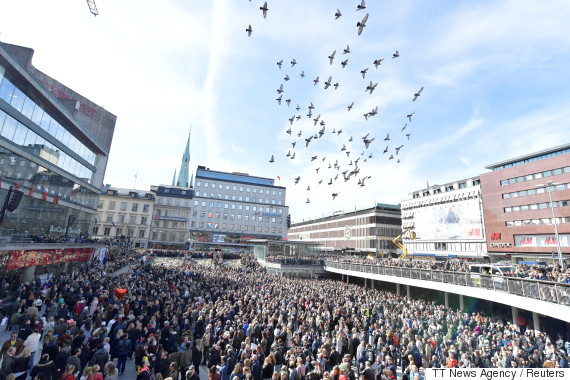 뢰벤 총리는 성명에서 "이런 종류의 공격의 목적은 공포와 증오를 퍼뜨리는 것"이라고 지적했다. "지난 24시간 동안, 스웨덴은 또한 최고의 모습을 보여줬다. 우리는 서로 도왔고, 서로를 지원했으며, 우리의 집을 열었다. 누구도 빼앗아갈 수 없는 스웨덴의 힘이 있다는 것을 보여준다."
이날 광장의 모습을 담은 사진들을 더 살펴보자.
Flowers all over! Peace & Love! Those who want Good far outnumber those who want Evil! #openstockholm pic.twitter.com/kvOYVnIDT8

— Lennart Bjurström (@greenergrowth) April 8, 2017
꽃들이 넘쳐난다! 평화 & 사랑! 선을 원하는 사람들이 악을 바라는 사람들을 압도한다!
Deeply moved by the amazing sea of people, the warm words spoken, and all the solidarity shown at Sergels torg today. #OpenStockholm pic.twitter.com/mgnU0qnYem

— Margot Wallström (@margotwallstrom) April 9, 2017
(스웨덴 외무장관) :오늘 세르겔 광장에 모인 수많은 놀라운 인파가 보여준 따뜻한 발언들, 그 모든 연대에 깊은 감명을 받았다. #OpenStockholm
Stockholm is drowning in flowers. #openstockholm #wearenotafraid #loverally pic.twitter.com/c5zYRd56Tt

— Linnea (@neeea) April 9, 2017
스톡홀름이 꽃들로 잔뜩 물들었다. #oepnstockholm #wearenotafraid #loverally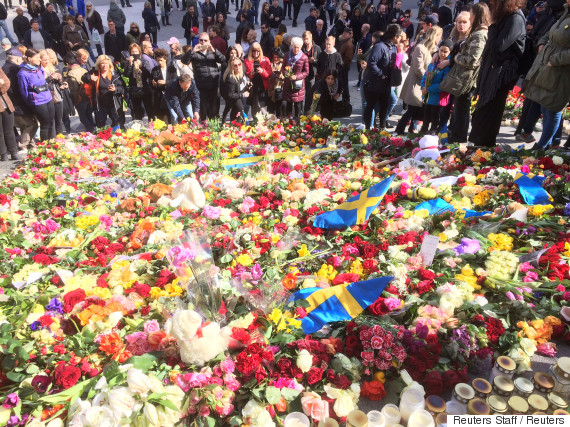 This is the most beautiful thing I've ever seen 🇸🇪❤ #openstockholm #stockholmattack #prayforsweden pic.twitter.com/kHxdnOmgHF

— Nathalie Hagerman (@nathaliesaga1) April 8, 2017
이건 지금까지 본 것 중 가장 아름답다.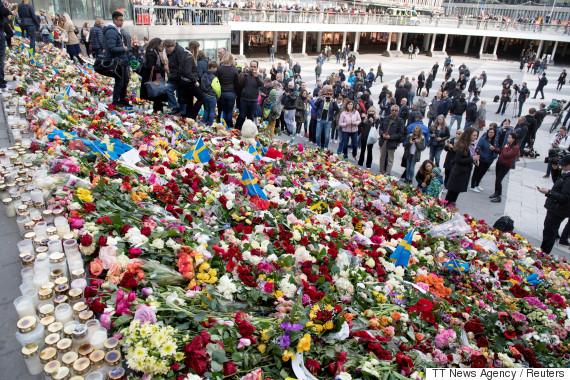 Love #WeAreSwedes Unity #Sergels #openstockholm #Stockholm #Wearenotafraid pic.twitter.com/YXMfJJgIwY

— MBarkBåt (@mona_klvmona) April 9, 2017
Today the air was filled with sadness but also love and hope. We can't thank you enough for all the kind words. Thank you! #openstockholm pic.twitter.com/a47cESaetg

— Visit Stockholm (@visitstockholm) April 9, 2017
* 이 글은 허핑턴포스트US의 Swedes Respond To Deadly Attack With Messages Of Love And Tons Of Flowers를 번역, 편집한 것입니다.
Candles and flowers are placed near the site where a beer truck crashed into the department store Ahlens after plowing down the Drottninggatan Street in central Stockholm, Sweden, April 7, 2017. Maja Suslin / TT news Agenc/via Reuters ATTENTION EDITORS - THIS IMAGE WAS PROVIDED BY A THIRD PARTY. FOR EDITORIAL USE ONLY. NOT FOR SALE FOR MARKETING OR ADVERTISING CAMPAIGNS. THIS PICTURE IS DISTRIBUTED EXACTLY AS RECEIVED BY REUTERS, AS A SERVICE TO CLIENTS. SWEDEN OUT. NO COMMERCIAL OR EDITORIAL SALES IN SWEDEN. NO COMMERCIAL SALES.

STOCKHOLM 2017-04-08 People lay flowers near the crime scene, near the Ahlens department store, in central Stockholm the morning after a hijacked beer truck plowed into pedestrians on Drottninggatan and crashed into Ahlens department store on Friday, killing four people, injuring 15 others. TT News Agency/Anders Wiklund/via REUTERS ATTENTION EDITORS - THIS IMAGE WAS PROVIDED BY A THIRD PARTY. EDITORIAL USE ONLY. SWEDEN OUT.

Swedish Prime Minister Stefan Lofven looks at flowers as he visits the crime scene in central Stockholm, April 8, 2017, the day after a hijacked beer truck plowed into pedestrians on Drottninggatan and crashed into Ahlens department store, killing four people, injuring 15 others. TT News Agency/Jonas Ekstromer via REUTERS ATTENTION EDITORS - THIS IMAGE WAS PROVIDED BY A THIRD PARTY. FOR EDITORIAL USE ONLY. SWEDEN OUT. NO COMMERCIAL OR EDITORIAL SALES IN SWEDEN.

STOCKHOLM 2017-04-08 Flowers lay on a police car at Hotorget square near the crime scene in central Stockholm on April 08, 2017, the day after a hijacked beer truck plowed into pedestrians on Drottninggatan and crashed into Ahlens department store, killing four people, injuring 15 others. TT News Agency/Noella Johansson/via REUTERS ATTENTION EDITORS - THIS IMAGE WAS PROVIDED BY A THIRD PARTY. EDITORIAL USE ONLY. SWEDEN OUT.

A woman puts flowers on a police vehicle near the Ahlens department store following Friday's attack in central Stockholm, Sweden, April 9, 2017. REUTERS/Philip O'Connor

STOCKHOLM 2017-04-08 People gather at a police cordon near the crime scene in central Stockholm on April 08, 2017, the day after a hijacked beer truck plowed into pedestrians on Drottninggatan and crashed into Ahlens department store, killing four people, injuring 15 others. TT News Agency/Noella Johansson/via REUTERS ATTENTION EDITORS - THIS IMAGE WAS PROVIDED BY A THIRD PARTY. EDITORIAL USE ONLY. SWEDEN OUT.

A soft toy is seen among flowers near the crime scene in central Stockholm April 8, 2017, the day after a hijacked beer truck plowed into pedestrians on Drottninggatan and crashed into Ahlens department store. REUTERS/Gideon Malherbe

Sweden's flag is seen among flowers near the crime scene in central Stockholm April 8, 2017, the day after a hijacked beer truck plowed into pedestrians on Drottninggatan and crashed into Ahlens department store. REUTERS/Gideon Malherbe

People put flowers near the crime scene in central Stockholm April 8, 2017, the day after a hijacked beer truck plowed into pedestrians on Drottninggatan and crashed into Ahlens department store. REUTERS/Gideon Malherbe

A policeman lays flowers near the crime scene in central Stockholm April 08, 2017, the day after a hijacked beer truck plowed into pedestrians on Drottninggatan and crashed into Ahlens department store, killing four people, injuring 15 others. REUTERS/Stringer

Flowers are seen on a fence by Ahlens department store following Friday's attack in central Stockholm, Sweden, April 9, 2017. According to local media, the flowers were moved to the steps at Sergels Torg on Sunday morning. TT News Agency/Jonas Ekstromer/via REUTERSATTENTION EDITORS - THIS IMAGE WAS PROVIDED BY A THIRD PARTY. FOR EDITORIAL USE ONLY. SWEDEN OUT. NO COMMERCIAL SALES.

Flowers are seen on a fence by Ahlens department store following Friday's attack in central Stockholm, Sweden, April 9, 2017. According to local media, the flowers were moved to the steps at Sergels Torg on Sunday morning. TT News Agency/Jonas Ekstromer/via REUTERSATTENTION EDITORS - THIS IMAGE WAS PROVIDED BY A THIRD PARTY. FOR EDITORIAL USE ONLY. SWEDEN OUT. NO COMMERCIAL SALES.

Flowers are seen on a fence by Ahlens department store following Friday's attack in central Stockholm, Sweden, April 9, 2017. REUTERS/Philip O'Connor

People leaving flowers on the steps in Sergels Torg following Friday's terror attack in central Stockholm, Sweden, Sunday, April 9, 2017. Noella Johansson/TT News Agency via REUTERS ATTENTION EDITORS - THIS IMAGE WAS PROVIDED BY A THIRD PARTY. FOR EDITORIAL USE ONLY. SWEDEN OUT. NO COMMERCIAL OR EDITORIAL SALES IN SWEDEN

People gathering at the crash site at Ahlens department store following Friday's terror attack in central Stockholm, Sweden, Sunday, April 9, 2017. Jonas Ekstromer/TT News Agency via REUTERS ATTENTION EDITORS - THIS IMAGE WAS PROVIDED BY A THIRD PARTY. FOR EDITORIAL USE ONLY. SWEDEN OUT. NO COMMERCIAL OR EDITORIAL SALES IN SWEDEN

People leaving flowers on a police van outside Ahlens department store following Friday's terror attack in central Stockholm, Sweden, Sunday, April 9, 2017. Jonas Ekstromer/TT News Agency via REUTERS ATTENTION EDITORS - THIS IMAGE WAS PROVIDED BY A THIRD PARTY. FOR EDITORIAL USE ONLY. SWEDEN OUT. NO COMMERCIAL OR EDITORIAL SALES IN SWEDEN

People put flowers on a police vehicle outside Ahlens department store, following Friday's attack, in central Stockholm, Sweden, April 9, 2017. TT NEWS AGENCY/Jessica Gow via REUTERS ATTENTION EDITORS - THIS IMAGE WAS PROVIDED BY A THIRD PARTY. FOR EDITORIAL USE ONLY. NOT FOR SALE FOR MARKETING OR ADVERTISING CAMPAIGNS. SWEDEN OUT. NO COMMERCIAL OR EDITORIAL SALES IN SWEDEN. NO COMMERCIAL SALES.

Swedish Prime Minister Stefan Lofven looks at flowers laid for the victims as he visits the crime scene, April 8, 2017, the day after a hijacked beer truck plowed into pedestrians on Drottninggatan and crashed into Ahlens department store, in central Stockholm, Sweden. TT News Agency/Jonas Ekstromer via REUTERS ATTENTION EDITORS - THIS IMAGE WAS PROVIDED BY A THIRD PARTY. FOR EDITORIAL USE ONLY. SWEDEN OUT. NO COMMERCIAL OR EDITORIAL SALES IN SWEDEN.

STOCKHOLM 2017-04-08 People laying flowers near the crime scene in central Stockholm the morning after a hijacked beer truck plowed into pedestrians on Drottninggatan and crashed into Ahlens department store on Friday, killing four people, injuring 15 others. TT News Agency/Jonas Ekstromer/via REUTERS ATTENTION EDITORS - THIS IMAGE WAS PROVIDED BY A THIRD PARTY. EDITORIAL USE ONLY. SWEDEN OUT.

People leaving flowers on the steps in Sergels Torg following Friday's attack in central Stockholm, Sweden, April 9, 2017. REUTERS/Philip O'Connor

People leave flowers on the steps in Sergels Torg following Friday's attack in central Stockholm, Sweden, April 9, 2017. REUTERS/Gideon Malherb

Police officer Ivan Sokolowski is seen adorned with flowers by well-wishers ahead of the ceremony at Sergels Torg in Stockholm, Sweden, April 9, 2017. REUTERS/Philip O'Connor

People leave flowers on the steps in Sergels Torg following Friday's attack in central Stockholm, Sweden, April 9, 2017. REUTERS/Gideon Malherb

People gather in Sergels torg in central Stockholm for a "Lovefest" vigil against terrorism following Friday's attack, April 9, 2017. TT NEWS AGENCY/Maja Suslin via REUTERS ATTENTION EDITORS - THIS IMAGE WAS PROVIDED BY A THIRD PARTY. FOR EDITORIAL USE ONLY. NOT FOR SALE FOR MARKETING OR ADVERTISING CAMPAIGNS. SWEDEN OUT. NO COMMERCIAL OR EDITORIAL SALES IN SWEDEN. NO COMMERCIAL SALES.

People leave flowers on the steps in Sergels Torg following Friday's attack in central Stockholm, Sweden, April 9, 2017. REUTERS/Gideon Malherb

People gather in Sergels torg in central Stockholm for a "Lovefest" vigil against terrorism following Friday's attack, April 9, 2017. TT NEWS AGENCY/Maja Suslin via REUTERS ATTENTION EDITORS - THIS IMAGE WAS PROVIDED BY A THIRD PARTY. FOR EDITORIAL USE ONLY. NOT FOR SALE FOR MARKETING OR ADVERTISING CAMPAIGNS. SWEDEN OUT. NO COMMERCIAL OR EDITORIAL SALES IN SWEDEN. NO COMMERCIAL SALES.

People gather in Sergels Torg, central Stockholm for a "Lovefest" vigil against terrorism following Friday's terror attack on Drottninggatan, April 9, 2017. TT News Agency/Maja Suslin via Reuters ATTENTION EDITORS - THIS IMAGE WAS PROVIDED BY A THIRD PARTY. FOR EDITORIAL USE ONLY. NOT FOR SALE FOR MARKETING OR ADVERTISING CAMPAIGNS. THIS PICTURE IS DISTRIBUTED EXACTLY AS RECEIVED BY REUTERS, AS A SERVICE TO CLIENTS. SWEDEN OUT. NO COMMERCIAL OR EDITORIAL SALES IN SWEDEN. NO COMMERCIAL SALES.

People gather in Sergels torg for a "Lovefest" vigil against terrorism following Friday's attack in Stockholm, Sweden, April 9, 2017. REUTERS/Rebecka Roos

STOCKHOLM 2017-04-08 Flowers and a note "Je suis Stockholm" near the crime scene in central Stockholm the morning after a hijacked beer truck plowed into pedestrians on Drottninggatan and crashed into Ahlens department store on Friday, killing four people, injuring 15 others. TT News Agency/Anders Wiklund/via REUTERS ATTENTION EDITORS - THIS IMAGE WAS PROVIDED BY A THIRD PARTY. EDITORIAL USE ONLY. SWEDEN OUT.

STOCKHOLM 2017-04-08 People laying flowers near the crime scene in central Stockholm the morning after a hijacked beer truck plowed into pedestrians on Drottninggatan and crashed into Ahlens department store on Friday, killing four people, injuring 15 others.TT News Agency/Jonas Ekstromer/via REUTERS ATTENTION EDITORS - THIS IMAGE WAS PROVIDED BY A THIRD PARTY. EDITORIAL USE ONLY. SWEDEN OUT.

A view of the street where several people were killed and injured when a truck crashed into department store Ahlens, in central Stockholm, Sweden, April 7, 2017. Fredrik Sandberg/TT News Agency via REUTERS ATTENTION EDITORS - THIS IMAGE WAS PROVIDED BY A THIRD PARTY. FOR EDITORIAL USE ONLY. SWEDEN OUT. NO COMMERCIAL OR EDITORIAL SALES IN SWEDEN

STOCKHOLM 2017-04-08 Police cordon in central Stockholm the morning after a hijacked beer truck plowed into pedestrians on Drottninggatan and crashed into Ahlens department store on Friday, killing four people, injuring 15 others. TT News Agency/Jonas Ekstromer/via REUTERS ATTENTION EDITORS - THIS IMAGE WAS PROVIDED BY A THIRD PARTY. EDITORIAL USE ONLY. SWEDEN OUT.

Drottninggatan following Friday's terror attack in central Stockholm, Sweden, Sunday, April 9, 2017. Noella Johansson/TT News Agency via REUTERS ATTENTION EDITORS - THIS IMAGE WAS PROVIDED BY A THIRD PARTY. FOR EDITORIAL USE ONLY. SWEDEN OUT. NO COMMERCIAL OR EDITORIAL SALES IN SWEDEN