도널드 트럼프가 당내 강경보수파 '프리덤코커스'를 향해 '전쟁'을 선포하다
도널드 트럼프 미국 대통령이 트럼프케어 통과를 좌절시킨 당내 강경보수파 '프리덤코커스'를 향해 "싸워야 한다"며 전면전을 예고했다.
30일(현지시간) 뉴욕타임스(NYT) 등에 따르면, 트럼프 대통령은 트위터에 "프리덤코커스가 우리와 함께하지 않는다면 그들은 공화당의 어젠다 전체를 다치게 할 것"이라며 "우리는 2018년에 그들 및 민주당과 싸워야 한다"고 했다.
The Freedom Caucus will hurt the entire Republican agenda if they don't get on the team, & fast. We must fight them, & Dems, in 2018!

— Donald J. Trump (@realDonaldTrump) March 30, 2017
프리덤코커스는 공화당내 강경파다. 이들은 오바마케어의 완전 폐기를 요구하며 트럼프 행정부의 건강보험개혁안을 받아들이지 않았다. 이 때문에 당내 기반이 약한 '아웃사이더' 트럼프의 한계가 드러난 것 아니냐는 지적도 잇따랏다.
이에 트럼프가 강경한 태도로 공화당 지도부에 반기를 드는 프리덤코커스를 2018년 중간선거를 두고 압박하려는 것으로 풀이된다.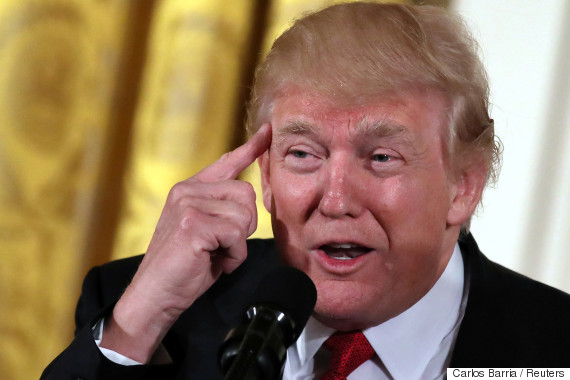 프리덤코커스는 오랜 기간 공화당 지도부의 골칫거리였다. 그러나 지난 8년 민주당 집권기간엔 이들간의 갈등이 부각되지 않았다. 공공의 적이 없어진 지금, 잠재돼있던 갈등이 수면위로 떠오른 셈이다.
프리덤코커스와 백악관의 갈등이 깊어지면 트럼프 행정부는 향후 예산안 통과, 세제개혁 등에도 어려움을 겪을 수밖에 없다. 또 싸움이 계속될 경우 공화당 내에서도 트럼프에 대한 반발심리에 이탈자가 추가로 발생할 수 있으며, 트럼프는 어쩔 수 없이 민주당과 손을 잡아야 하는 상황이 될 것이란 전망도 나오고 있다.


U.S. President Donald Trump walks out of the White House to meet truckers and truck industry chief executive officers on the South Lawn of the White House in Washington, D.C., U.S., on Thursday, March 23, 2017. House leaders delayed a scheduled vote on their embattled health-care bill as conservatives mulled a deal proposed by the Trump administration aimed at winning Republican holdouts support. Photographer: Andrew Harrer/Bloomberg via Getty Images

U.S. President Donald Trump, center, meets Chris Spear, president of the American Trucking Associations (ATA), right, during an event to meet truckers and truck industry chief executive officers with U.S. Vice President Mike Pence on the South Lawn of the White House in Washington, D.C., U.S., on Thursday, March 23, 2017. House leaders delayed a scheduled vote on their embattled health-care bill as conservatives mulled a deal proposed by the Trump administration aimed at winning Republican holdouts support. Photographer: Andrew Harrer/Bloomberg via Getty Images

U.S. President Donald Trump, center, speaks while meeting Chris Spear, president of the American Trucking Associations (ATA), right, during an event to meet truckers and truck industry chief executive officers with U.S. Vice President Mike Pence on the South Lawn of the White House in Washington, D.C., U.S., on Thursday, March 23, 2017. House leaders delayed a scheduled vote on their embattled health-care bill as conservatives mulled a deal proposed by the Trump administration aimed at winning Republican holdouts support. Photographer: Andrew Harrer/Bloomberg via Getty Images

U.S. President Donald Trump greets truck industry chief executive officers during an event on the South Lawn of the White House in Washington, D.C., U.S., on Thursday, March 23, 2017. House leaders delayed a scheduled vote on their embattled health-care bill as conservatives mulled a deal proposed by the Trump administration aimed at winning Republican holdouts support. Photographer: Andrew Harrer/Bloomberg via Getty Images

U.S. President Donald Trump, center left, greets truckers and truck industry chief executive officers during an event on the South Lawn of the White House in Washington, D.C., U.S., on Thursday, March 23, 2017. House leaders delayed a scheduled vote on their embattled health-care bill as conservatives mulled a deal proposed by the Trump administration aimed at winning Republican holdouts support. Photographer: Andrew Harrer/Bloomberg via Getty Images

U.S. President Donald Trump stands on a tractor trailer during an event with truckers and truck industry chief executive officers on the South Lawn of the White House in Washington, D.C., U.S., on Thursday, March 23, 2017. House leaders delayed a scheduled vote on their embattled health-care bill as conservatives mulled a deal proposed by the Trump administration aimed at winning Republican holdouts support. Photographer: Andrew Harrer/Bloomberg via Getty Images

US President Donald Trump (C) gestures as he exits the drivers seat of a semi-truck while welcoming truckers and CEOs to the White House in Washington, DC, March 23, 2017, to discuss healthcare. / AFP PHOTO / JIM WATSON (Photo credit should read JIM WATSON/AFP/Getty Images)

U.S. President Donald Trump stands on a tractor trailer during an event with truckers and truck industry chief executive officers on the South Lawn of the White House in Washington, D.C., U.S., on Thursday, March 23, 2017. House leaders delayed a scheduled vote on their embattled health-care bill as conservatives mulled a deal proposed by the Trump administration aimed at winning Republican holdouts support. Photographer: Andrew Harrer/Bloomberg via Getty Images

U.S. President Donald Trump sits in the cab of a tractor trailer during an event with truckers and truck industry chief executive officers on the South Lawn of the White House in Washington, D.C., U.S., on Thursday, March 23, 2017. House leaders delayed a scheduled vote on their embattled health-care bill as conservatives mulled a deal proposed by the Trump administration aimed at winning Republican holdouts support. Photographer: Andrew Harrer/Bloomberg via Getty Images

WASHINGTON, DC - MARCH 23: U.S. President Donald Trump sits in the cab of a truck and pulls the horn as he welcomes members of American Trucking Associations to the White House March 23, 2017 in Washington, DC. President Trump hosted truckers and CEOs for a listening session on healthcare. (Photo by Alex Wong/Getty Images)

WASHINGTON, DC - MARCH 23: U.S. President Donald Trump sits in the cab of a truck as he welcomes members of American Trucking Associations to the White House March 23, 2017 in Washington, DC. President Trump hosted truckers and CEOs for a listening session on healthcare. (Photo by Alex Wong/Getty Images)

U.S. President Donald Trump sits in the cab of a tractor trailer during an event with truckers and truck industry chief executive officers on the South Lawn of the White House in Washington, D.C., U.S., on Thursday, March 23, 2017. House leaders delayed a scheduled vote on their embattled health-care bill as conservatives mulled a deal proposed by the Trump administration aimed at winning Republican holdouts support. Photographer: Andrew Harrer/Bloomberg via Getty Images

WASHINGTON, DC - MARCH 23: (EDITORS NOTE: Retransmission with alternate crop.) U.S. President Donald Trump sits in the cab of a truck as he welcomes members of American Trucking Associations to the White House March 23, 2017 in Washington, DC. President Trump hosted truckers and CEOs for a listening session on healthcare. (Photo by Alex Wong/Getty Images)

US President Donald Trump sits in the drivers seat of a semi-truck as he welcomes truckers and CEOs to the White House in Washington, DC, March 23, 2017, to discuss healthcare. / AFP PHOTO / JIM WATSON (Photo credit should read JIM WATSON/AFP/Getty Images)

WASHINGTON, DC - MARCH 23: U.S. President Donald Trump sits in the cab of a truck as he welcomes members of American Trucking Associations to the White House March 23, 2017 in Washington, DC. President Trump hosted truckers and CEOs for a listening session on healthcare. (Photo by Alex Wong/Getty Images)

U.S. President Donald Trump sits in the cab of a tractor trailer during an event with truckers and truck industry chief executive officers on the South Lawn of the White House in Washington, D.C., U.S., on Thursday, March 23, 2017. House leaders delayed a scheduled vote on their embattled health-care bill as conservatives mulled a deal proposed by the Trump administration aimed at winning Republican holdouts support. Photographer: Andrew Harrer/Bloomberg via Getty Images

U.S. President Donald Trump sits in the cab of a tractor trailer during an event with truckers and truck industry chief executive officers on the South Lawn of the White House in Washington, D.C., U.S., on Thursday, March 23, 2017. House leaders delayed a scheduled vote on their embattled health-care bill as conservatives mulled a deal proposed by the Trump administration aimed at winning Republican holdouts support. Photographer: Andrew Harrer/Bloomberg via Getty Images

US President Donald Trump sits in the drivers seat of a semi-truck as he welcomes truckers and CEOs to the White House in Washington, DC, March 23, 2017, to discuss healthcare. / AFP PHOTO / JIM WATSON / ALTERNATIVE CROP (Photo credit should read JIM WATSON/AFP/Getty Images)

US President Donald Trump sits in the drivers seat of a semi-truck as he welcomes truckers and CEOs to the White House in Washington, DC, March 23, 2017, to discuss healthcare. / AFP PHOTO / JIM WATSON (Photo credit should read JIM WATSON/AFP/Getty Images)

WASHINGTON, DC - MARCH 23: U.S. President Donald Trump sits in the cab of a truck as he welcomes members of American Trucking Associations to the White House March 23, 2017 in Washington, DC. President Trump hosted truckers and CEOs for a listening session on healthcare. (Photo by Alex Wong/Getty Images)

US President Donald Trump sits in the drivers seat of a semi-truck as he welcomes truckers and CEOs to the White House in Washington, DC, March 23, 2017, to discuss healthcare. / AFP PHOTO / JIM WATSON (Photo credit should read JIM WATSON/AFP/Getty Images)

US President Donald Trump (C) waves after closing the door as he sits in the drivers seat of a semi-truck while welcoming truckers and CEOs to the White House in Washington, DC, March 23, 2017, to discuss healthcare. / AFP PHOTO / JIM WATSON (Photo credit should read JIM WATSON/AFP/Getty Images)