트럼프가 또 골프장에 갔다. 취임 9주만에 벌써 12번째다.
지금까지, 도널드 트럼프 미국 대통령은 골프를 치기 위해 백악관을 비우지 않겠다는 선거운동 당시의 약속을 그다지 잘 지키지 않았다.
트럼프는 25일 아침 버지니아주의 '트럼프 내셔널 골프 클럽'에 도착했다. NBC뉴스의 브래드 재피 에디터가 지적한 것처럼, 취임 후 9주 동안 12번째 골프장 방문이다.
President Trump is now at Trump National Golf Club in Virginia, per pool; it's his 12th golf course trip since taking office 9 weeks ago

— Bradd Jaffy (@BraddJaffy) March 25, 2017
트럼프가 실제로 골프를 쳤는지는 분명하지 않았다. 풀기자단에 속한 기자들은 트럼프가 "회동"을 위해 골프장에 간 것이라는 말을 들었지만, 이날 오후까지 기자들은 이 회동의 종류나 참석자 등에 대한 아무런 정보를 듣지 못했다.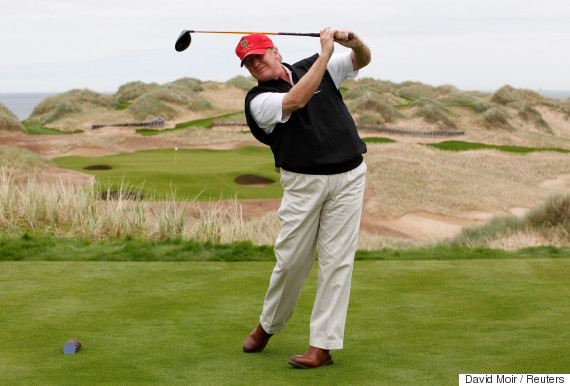 트럼프의 이런 '소풍'들은 그가 선거운동 기간 동안 했던 약속들과는 완전히 딴판이다. 그는 "해야할 일이 너무 많기 때문에 백악관을 거의 떠나지 않을 것"이라며 "골프를 칠 시간은 없을 것"이라고 했었다.
#TBT to March 2016, when presidents leaving the White House was a bad thing pic.twitter.com/rURy9cTn49

— Brandon Wall (@Walldo) March 18, 2017
트럼프는 또 오바마의 골프를 여러 차례 비난하기도 했다.
We pay for Obama's travel so he can fundraise millions so Democrats can run on lies. Then we pay for his golf.

— Donald J. Trump (@realDonaldTrump) October 14, 2014
@realDonaldTrump Will you talk about how many times you've played golf and complained about Obama playing golf? pic.twitter.com/kE5Po4U0Zd

— Rod Blackhurst (@rodblackhurst) March 15, 2017
백악관 대변인 숀 스파이서 역시 오바마의 골프를 비판하곤 했다.
Wish I could be on the golf course but have to work - must be nice to be President

— Sean Spicer (@seanspicer) July 29, 2012
그러나 스파이서는 지금 트럼프의 골프를 변호하며 트럼프의 골프는 좀 더 전략적인 것이라고 말한다.
워싱턴포스트에 따르면 스파이서는 최근 기자회견에서 "트럼프는 골프라는 게임을 어떻게 활용할 건지에 대해 말해왔다"고 말했다.
또 스파이서 대변인은 트럼프는 골프장에서 골프를 치는 게 아니라 종종 전화도 걸고 회동도 한다고 주장했다. "따라서 트럼프가 골프장에 간다고 해서 꼭 골프를 친다는 뜻은 아니다"라는 것.
역대 대통령의 일정을 수집해 온 CBS 마크 놀러 기자는 트럼프가 골프를 쳤는지 치지 않았는지 백악관이 확인해주는 경우는 거의 없다고 지난 월요일 밝혔다.
Of Pres Trump's 11 visits to his golf clubs in Florida, WH confirmed golf only 3 times. Other times said he "may have hit some balls."

— Mark Knoller (@markknoller) March 20, 2017
* 이 글은 허핑턴포스트US의 Trump Heads To Golf Club For the Twelfth Time In 9-Week Presidency를 번역, 편집한 것입니다.
U.S. President Donald Trump walks out of the White House to meet truckers and truck industry chief executive officers on the South Lawn of the White House in Washington, D.C., U.S., on Thursday, March 23, 2017. House leaders delayed a scheduled vote on their embattled health-care bill as conservatives mulled a deal proposed by the Trump administration aimed at winning Republican holdouts support. Photographer: Andrew Harrer/Bloomberg via Getty Images

U.S. President Donald Trump, center, meets Chris Spear, president of the American Trucking Associations (ATA), right, during an event to meet truckers and truck industry chief executive officers with U.S. Vice President Mike Pence on the South Lawn of the White House in Washington, D.C., U.S., on Thursday, March 23, 2017. House leaders delayed a scheduled vote on their embattled health-care bill as conservatives mulled a deal proposed by the Trump administration aimed at winning Republican holdouts support. Photographer: Andrew Harrer/Bloomberg via Getty Images

U.S. President Donald Trump, center, speaks while meeting Chris Spear, president of the American Trucking Associations (ATA), right, during an event to meet truckers and truck industry chief executive officers with U.S. Vice President Mike Pence on the South Lawn of the White House in Washington, D.C., U.S., on Thursday, March 23, 2017. House leaders delayed a scheduled vote on their embattled health-care bill as conservatives mulled a deal proposed by the Trump administration aimed at winning Republican holdouts support. Photographer: Andrew Harrer/Bloomberg via Getty Images

U.S. President Donald Trump greets truck industry chief executive officers during an event on the South Lawn of the White House in Washington, D.C., U.S., on Thursday, March 23, 2017. House leaders delayed a scheduled vote on their embattled health-care bill as conservatives mulled a deal proposed by the Trump administration aimed at winning Republican holdouts support. Photographer: Andrew Harrer/Bloomberg via Getty Images

U.S. President Donald Trump, center left, greets truckers and truck industry chief executive officers during an event on the South Lawn of the White House in Washington, D.C., U.S., on Thursday, March 23, 2017. House leaders delayed a scheduled vote on their embattled health-care bill as conservatives mulled a deal proposed by the Trump administration aimed at winning Republican holdouts support. Photographer: Andrew Harrer/Bloomberg via Getty Images

U.S. President Donald Trump stands on a tractor trailer during an event with truckers and truck industry chief executive officers on the South Lawn of the White House in Washington, D.C., U.S., on Thursday, March 23, 2017. House leaders delayed a scheduled vote on their embattled health-care bill as conservatives mulled a deal proposed by the Trump administration aimed at winning Republican holdouts support. Photographer: Andrew Harrer/Bloomberg via Getty Images

US President Donald Trump (C) gestures as he exits the drivers seat of a semi-truck while welcoming truckers and CEOs to the White House in Washington, DC, March 23, 2017, to discuss healthcare. / AFP PHOTO / JIM WATSON (Photo credit should read JIM WATSON/AFP/Getty Images)

U.S. President Donald Trump stands on a tractor trailer during an event with truckers and truck industry chief executive officers on the South Lawn of the White House in Washington, D.C., U.S., on Thursday, March 23, 2017. House leaders delayed a scheduled vote on their embattled health-care bill as conservatives mulled a deal proposed by the Trump administration aimed at winning Republican holdouts support. Photographer: Andrew Harrer/Bloomberg via Getty Images

U.S. President Donald Trump sits in the cab of a tractor trailer during an event with truckers and truck industry chief executive officers on the South Lawn of the White House in Washington, D.C., U.S., on Thursday, March 23, 2017. House leaders delayed a scheduled vote on their embattled health-care bill as conservatives mulled a deal proposed by the Trump administration aimed at winning Republican holdouts support. Photographer: Andrew Harrer/Bloomberg via Getty Images

WASHINGTON, DC - MARCH 23: U.S. President Donald Trump sits in the cab of a truck and pulls the horn as he welcomes members of American Trucking Associations to the White House March 23, 2017 in Washington, DC. President Trump hosted truckers and CEOs for a listening session on healthcare. (Photo by Alex Wong/Getty Images)

WASHINGTON, DC - MARCH 23: U.S. President Donald Trump sits in the cab of a truck as he welcomes members of American Trucking Associations to the White House March 23, 2017 in Washington, DC. President Trump hosted truckers and CEOs for a listening session on healthcare. (Photo by Alex Wong/Getty Images)

U.S. President Donald Trump sits in the cab of a tractor trailer during an event with truckers and truck industry chief executive officers on the South Lawn of the White House in Washington, D.C., U.S., on Thursday, March 23, 2017. House leaders delayed a scheduled vote on their embattled health-care bill as conservatives mulled a deal proposed by the Trump administration aimed at winning Republican holdouts support. Photographer: Andrew Harrer/Bloomberg via Getty Images

WASHINGTON, DC - MARCH 23: (EDITORS NOTE: Retransmission with alternate crop.) U.S. President Donald Trump sits in the cab of a truck as he welcomes members of American Trucking Associations to the White House March 23, 2017 in Washington, DC. President Trump hosted truckers and CEOs for a listening session on healthcare. (Photo by Alex Wong/Getty Images)

US President Donald Trump sits in the drivers seat of a semi-truck as he welcomes truckers and CEOs to the White House in Washington, DC, March 23, 2017, to discuss healthcare. / AFP PHOTO / JIM WATSON (Photo credit should read JIM WATSON/AFP/Getty Images)

WASHINGTON, DC - MARCH 23: U.S. President Donald Trump sits in the cab of a truck as he welcomes members of American Trucking Associations to the White House March 23, 2017 in Washington, DC. President Trump hosted truckers and CEOs for a listening session on healthcare. (Photo by Alex Wong/Getty Images)

U.S. President Donald Trump sits in the cab of a tractor trailer during an event with truckers and truck industry chief executive officers on the South Lawn of the White House in Washington, D.C., U.S., on Thursday, March 23, 2017. House leaders delayed a scheduled vote on their embattled health-care bill as conservatives mulled a deal proposed by the Trump administration aimed at winning Republican holdouts support. Photographer: Andrew Harrer/Bloomberg via Getty Images

U.S. President Donald Trump sits in the cab of a tractor trailer during an event with truckers and truck industry chief executive officers on the South Lawn of the White House in Washington, D.C., U.S., on Thursday, March 23, 2017. House leaders delayed a scheduled vote on their embattled health-care bill as conservatives mulled a deal proposed by the Trump administration aimed at winning Republican holdouts support. Photographer: Andrew Harrer/Bloomberg via Getty Images

US President Donald Trump sits in the drivers seat of a semi-truck as he welcomes truckers and CEOs to the White House in Washington, DC, March 23, 2017, to discuss healthcare. / AFP PHOTO / JIM WATSON / ALTERNATIVE CROP (Photo credit should read JIM WATSON/AFP/Getty Images)

US President Donald Trump sits in the drivers seat of a semi-truck as he welcomes truckers and CEOs to the White House in Washington, DC, March 23, 2017, to discuss healthcare. / AFP PHOTO / JIM WATSON (Photo credit should read JIM WATSON/AFP/Getty Images)

WASHINGTON, DC - MARCH 23: U.S. President Donald Trump sits in the cab of a truck as he welcomes members of American Trucking Associations to the White House March 23, 2017 in Washington, DC. President Trump hosted truckers and CEOs for a listening session on healthcare. (Photo by Alex Wong/Getty Images)

US President Donald Trump sits in the drivers seat of a semi-truck as he welcomes truckers and CEOs to the White House in Washington, DC, March 23, 2017, to discuss healthcare. / AFP PHOTO / JIM WATSON (Photo credit should read JIM WATSON/AFP/Getty Images)

US President Donald Trump (C) waves after closing the door as he sits in the drivers seat of a semi-truck while welcoming truckers and CEOs to the White House in Washington, DC, March 23, 2017, to discuss healthcare. / AFP PHOTO / JIM WATSON (Photo credit should read JIM WATSON/AFP/Getty Images)