마이크 펜스가 주지사 시절 개인 이메일을 썼고, 계정은 해킹됐다
마이크 펜스 미국 부통령이 주지자 재직 시절 개인 이메일 계정을 사용한 사실이 밝혀지면서 2일 밤 미국 백악관이 논란의 중심에 섰다. 법무장관 제프 세션스가 트럼프 선거캠프와 러시아 측의 '내통 의혹'에 대한 수사에서 손을 떼겠다고 밝힌지 불과 몇 시간 뒤의 일이다.
지역언론 '인디애나폴리스 스타'는 펜스 부통령이 인디애나 주지사 재직 시절 개인 이메일 계정을 사용했으며, 지난 여름 초보적 수법을 쓴 해커에 의해 해킹을 당했다고 보도했다. 펜스는 대선 선거운동 기간 동안 민주당 힐러리 클린턴 후보의 국무부 장관 재직 시절 개인 이메일 사용 문제를 강력하게 비판했던 인물이었다.
펜스는 인디애나 고위 관계자들과 대화를 나누는 데 AOL 개인 계정을 사용했다. 이 대화 중에는 인디애나주의 테러 대응 방안, 테러 관련 사건으로 기소된 인물에 대한 체포 등 때로 민감한 내용도 포함되어 있었던 것으로 드러났다. 이 매체는 공공정보 공개 요청에 따라 이런 내용이 담긴 이메일을 공개했다.
현 인디애나 주지사 측은 30페이지가 넘는 펜스의 AOL 이메일을 공개했다. 다만 숫자를 밝히지 않은 수의 추가 이메일은 너무 민감한 정보를 담고 있기 때문에 공개 대상에서 제외됐다고 인디애나폴리스 스타는 전했다.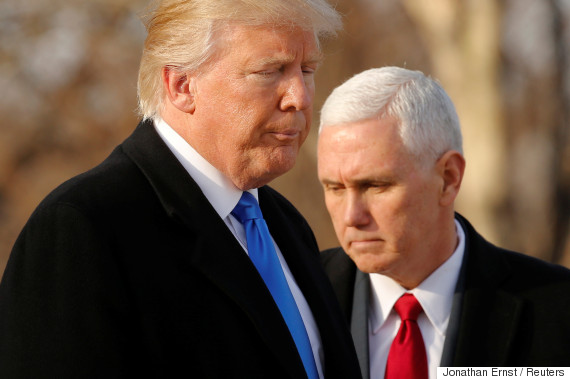 백악관은 펜스가 주지사 시절 개인 이메일과 주정부 이메일을 사용했다는 사실을 인지했다. 백악관은 2일 밤 낸 성명에서 "당시 주지사였던 펜스는 임기를 마치면서 외부 변률고문에게 자신의 모든 대화를 검토해 업무와 관련된 이메일이 법에 따라 모두 주정부 기록으로 이송되도록 지시했고, 외부 법률고문은 이 임무를 수행했으며 지금도 계속 진행하고 있다"고 밝혔다.
보도에 따르면 인디애나주에서 주지사가 공식 업무에 있어 개인 이메일을 사용하는 게 불법은 아니다. 다만 해당 이메일들은 공공 기록으로 보관되도록 규정되어 있다.
펜스의 개인 AOL 계정은 지난 여름 한 해커에 의해 해킹됐다. 그는 펜스의 연락처에 등록된 지인들에게 펜스와 그의 아내가 필리핀에 갇혀 있으며, 돈이 필요하다는 이메일을 보냈다.
펜스가 공적 업무에 개인 이메일을 사용했다는 사실이 밝혀지면서 클린턴의 '이메일 스캔들'을 공개적으로 비판했던 그의 발언들도 재조명되고 있다.
폴리티코에 따르면 펜스는 지난해 11월 한 연설에서 "기밀 정보를 잘못 다루는 건 범죄"라고 말한 적이 있다.
또 펜스는 NBC '밋 더 프레스'에 출연해서는 클린턴이 "해킹에 노출될 수 있는 방법으로 기밀 정보를 다뤘고, 그것이 적대 국가의 손에 넘어갈 수 있다는 것을 알고도 그렇게 했거나 몰랐다면 똑똑히 알았어야 한다"고 말하기도 했다.
펜스는 공개되어야 마땅한 공공정보가 담긴 주지사 시절 이메일을 공개하라는 소송에 연루돼 1년 반 넘게 법정 다툼을 벌이고 있다.
클린턴의 전 대변인 닉 메릴은 하나의 트윗으로 펜스의 위선적 행동을 꼬집었다.
I look forward to the righteous indignation, wild claims, and multiple investigations into this. https://t.co/SW6QqRuoWK

— Nick Merrill (@NickMerrill) March 3, 2017
"이 문제에 대한 지당한 분개와 강력한 비판, 여러 차례의 조사를 기대하고 있다."
* 이 글은 허핑턴포스트US의 Mike Pence Used Personal Email As Governor And Was Hacked를 번역, 편집한 것입니다.
U.S. President Donald Trump delivers his first address to a joint session of Congress from the floor of the House of Representatives iin Washington, U.S., February 28, 2017. REUTERS/Jim Lo Scalzo/Pool

U.S. President Donald Trump delivers his first address to a joint session of Congress from the floor of the House of Representatives iin Washington, U.S., February 28, 2017. REUTERS/Jim Lo Scalzo/Pool

U.S. President Donald Trump delivers his first address to a joint session of Congress from the floor of the House of Representatives iin Washington, U.S., February 28, 2017. REUTERS/Jim Lo Scalzo/Pool

U.S. Trump Addresses Joint Session of Congress - Washington, U.S. 28/02/17 - U.S. President Donald Trump gives a thumbs up as Vice President Mike Pence and Speaker of the House Paul Ryan (R) applaud behind him. REUTERS/Carlos Barria

U.S. President Donald Trump addresses Joint Session of Congress - Washington, U.S. - 28/02/17 - U.S. President Donald Trump addresses the U.S. Congress. REUTERS/Carlos Barria

U.S. President Donald Trump addresses Joint Session of Congress - Washington, U.S. - 28/02/17 - U.S. President Donald Trump addresses the U.S. Congress. REUTERS/Carlos Barria

U.S. President Donald Trump delivers his first address to a joint session of Congress from the floor of the House of Representatives iin Washington, U.S., February 28, 2017. REUTERS/Jim Lo Scalzo/Pool

U.S. President Donald Trump delivers his first address to a joint session of Congress from the floor of the House of Representatives iin Washington, U.S., February 28, 2017. REUTERS/Jim Lo Scalzo/Pool

U.S. President Donald Trump addresses Joint Session of Congress - Washington, U.S. - 28/02/17 - U.S. President Donald Trump gestures as he walks past cabinet members before addressing the U.S. Congress. REUTERS/Kevin Lamarque

U.S. President Donald Trump addresses Joint Session of Congress - Washington, U.S. - 28/02/17 - U.S. President Donald Trump shakes hands with Chief Justice of the Supreme Court John Roberts after addressing the U.S. Congress. REUTERS/Kevin Lamarque

U.S. President Donald Trump delivers his first address to a joint session of Congress from the floor of the House of Representatives iin Washington, U.S., February 28, 2017. REUTERS/Jim Lo Scalzo/Pool

U.S. President Donald Trump addresses Joint Session of Congress - Washington, U.S. - 28/02/17 - U.S. President Donald Trump addresses the U.S. Congress. REUTERS/Kevin Lamarque

U.S. President Donald Trump addresses Joint Session of Congress - Washington, U.S. - 28/02/17 - U.S. President Donald Trump addresses the U.S. Congress. REUTERS/Kevin Lamarque

U.S. President Donald Trump delivers his first address to a joint session of Congress from the floor of the House of Representatives iin Washington, U.S., February 28, 2017. REUTERS/Jim Lo Scalzo/Pool

Vice President Mike Pence (L) and Speaker of the House Paul Ryan (R) applaud as US President Donald J. Trump (C) delivers his first address to a joint session of Congress from the floor of the House of Representatives iin Washington, U.S., February 28, 2017. REUTERS/Jim Lo Scalzo/Pool

U.S. President Donald Trump addresses Joint Session of Congress - Washington, U.S. - 28/02/17 - U.S. President Donald Trump addresses the U.S. Congress. REUTERS/Jonathan Ernst

U.S. President Trump Addresses Joint Session of Congress - Washington, U.S. - 28/02/17 - Carryn Owens (C), widow of Senior Chief Petty Officer William "Ryan" Owens, reacts as Ivanka Trump (R), daughter of U.S. President Donald Trump applauds, after being mentioned by President Trump. REUTERS/Jonathan Ernst

U.S. President Trump Addresses Joint Session of Congress - Washington, U.S. - 28/02/17 - Carryn Owens, widow of Senior Chief Petty Officer William "Ryan" Owens, applauds with Ivanka Trump (R), daughter of U.S. President Donald Trump, after being mentioned by President Trump. REUTERS/Kevin Lamarque

U.S. President Donald Trump addresses Joint Session of Congress - Washington, U.S. - 28/02/17 - U.S. President Donald Trump addresses the U.S. Congress. REUTERS/Jonathan Ernst

US President Donald J. Trump arrives to deliver his first address to a joint session of Congress from the floor of the House of Representatives in Washington, DC, USA, 28 February 2017. / AFP / EPA POOL / JIM LO SCALZO (Photo credit should read JIM LO SCALZO/AFP/Getty Images)

WASHINGTON, DC - FEBRUARY 28: U.S. President Donald Trump (L) speaks with Sen. Joe Manchin (D-WV) after addressing a joint session of the U.S. Congress on February 28, 2017 in the House chamber of the U.S. Capitol in Washington, DC. Trump's first address to Congress focused on national security, tax and regulatory reform, the economy, and healthcare. (Photo by Win McNamee/Getty Images)

Secretary of State Rex Tillerson (L) and Secretary of Education Betsy DeVos (R) arrive for US President Donald Trump's first address to a joint session of Congress on the floor of the House of Representatives in Washington, U.S., February 28, 2017. REUTERS/Jim Lo Scalzo/Pool

Speaker of the House Paul Ryan (R) applauds as US President Donald J. Trump delivers his first address to a joint session of Congress from the floor of the House of Representatives in Washington, DC, USA, 28 February 2017. / AFP / EPA POOL / JIM LO SCALZO (Photo credit should read JIM LO SCALZO/AFP/Getty Images)

U.S. President Donald Trump speaks during a joint session of Congress in Washington, D.C., U.S., on Tuesday, Feb. 28, 2017. Trump will press Congress to carry out his priorities for replacing Obamacare, jump-starting the economy and bolstering the nation's defenses in an address eagerly awaited by lawmakers, investors and the public who want greater clarity on his policy agenda. Photographer: Aaron P. Bernstein/Bloomberg via Getty Images

Vice President Mike Pence (L) and Speaker of the House Paul Ryan (R) listen as US President Donald J. Trump (C) delivers his first address to a joint session of Congress from the floor of the House of Representatives in Washington, DC, USA, 28 February 2017. / AFP / EPA POOL / JIM LO SCALZO (Photo credit should read JIM LO SCALZO/AFP/Getty Images)

US President Donald Trump departs after addressing a joint session of the US Congress on February 28, 2017 at the Capitol in Washington, DC. / AFP / ANDREW CABALLERO-REYNOLDS (Photo credit should read ANDREW CABALLERO-REYNOLDS/AFP/Getty Images)

WASHINGTON, DC - FEBRUARY 28: (AFP OUT) U.S. President Donald Trump addresses a joint session of the U.S. Congress on February 28, 2017 in the House chamber of the U.S. Capitol in Washington, DC. Trump's first address to Congress focused on national security, tax and regulatory reform, the economy, and healthcare. (Photo by Jim Lo Scalzo - Pool/Getty Images)

WASHINGTON, DC - FEBRUARY 28: (AFP OUT) U.S. President Donald Trump addresses a joint session of the U.S. Congress on February 28, 2017 in the House chamber of the U.S. Capitol in Washington, DC. Trump's first address to Congress focused on national security, tax and regulatory reform, the economy, and healthcare. (Photo by Jim Lo Scalzo - Pool/Getty Images)

WASHINGTON, DC - FEBRUARY 28: U.S. President Donald Trump addresses a joint session of the U.S. Congress as Vice President Mike Pence (L) and House Speaker Rep. Paul Ryan (R) (R-WI) look on on February 28, 2017 in the House chamber of the U.S. Capitol in Washington, DC. Trump's first address to Congress focused on national security, tax and regulatory reform, the economy, and healthcare. (Photo by Chip Somodevilla/Getty Images)

WASHINGTON, DC - FEBRUARY 28: U.S. President Donald Trump addresses a joint session of the U.S. Congress as Vice President Mike Pence (L) and House Speaker Rep. Paul Ryan (R) (R-WI) look on on February 28, 2017 in the House chamber of the U.S. Capitol in Washington, DC. Trump's first address to Congress focused on national security, tax and regulatory reform, the economy, and healthcare. (Photo by Chip Somodevilla/Getty Images)

WASHINGTON, DC - FEBRUARY 28: (AFP OUT) U.S. President Donald J. Trump (C) delivers his first address to a joint session of the U.S. Congress as U.S. Vice President Mike Pence (L) and Speaker of the House Paul Ryan (R) listen on February 28, 2017 in the House chamber of the U.S. Capitol in Washington, DC. Trump's first address to Congress focused on national security, tax and regulatory reform, the economy, and healthcare. (Photo by Jim Lo Scalzo - Pool/Getty Images)