백인 민족주의자 스티븐 배넌이 도널드 트럼프의 지명을 받아 백악관 최고위직에 오르다
백인 민족주의적 시각을 갖고 있는 것으로 알려졌으며 반 유대주의로 비난 받은 적도 있는 스티븐 배넌 전 브레이트바트 뉴스 네트워크 대표가 일요일에 도널드 트럼프 대통령 당선인의 수석 전략가이자 수석 고문으로 임명됐다.
62세의 배넌은 브레이트바트에서 물러나 트럼프 선거 운동 본부의 CEO를 맡고 있었다. 이제 차기 정권에서 그는 고위직에 올라가게 되었다.
트럼프는 또한 일요일에 공화당 전국위원회 라인스 프리버스 위원장을 비서실장으로 임명했다.
"스티브와 라인스는 우리 선거 운동을 함께 잘 이끌어 역사적 승리를 이룬 훌륭한 자격을 갖춘 지도자들이다. 이제 나는 그 두 사람과 함께 백악관에서 힘을 합쳐 미국을 다시 위대하게 만들겠다." 트럼프가 발표한 보도자료다.
버락 오바마 대통령의 첫 임기 때 수석 고문을 맡았던 데이비드 엑설로드는 일요일에 배넌이 아닌 프리버스를 비서실장으로 임명한 것은 트럼프가 보다 '전통적인' 접근을 하고 있는 신호라고 트위터에 썼으나, 이후 배넌의 백악관 입성이 '굉장히 우려된다'고 말했다.
보도자료에서 배넌의 이름이 프리버스보다 위에 나온 것은 트럼프 정권에서 그의 존재감이 비서실장에 맞먹을 수 있다는 것을 보여준다. 대통령의 최고 전략가와 수석 고문은 보통 대통령과의 만남을 좌지우지하며 계획 설정과 실행을 돕는다.
배넌은 강경 포퓰리스트 웹사이트 브레이트바트를 백인 민족주의자와 대안 우파들이 즐겨찾는 곳으로 만들었다고 증오 단체들을 모니터하는 남부 빈곤 법률 센터는 밝혔다.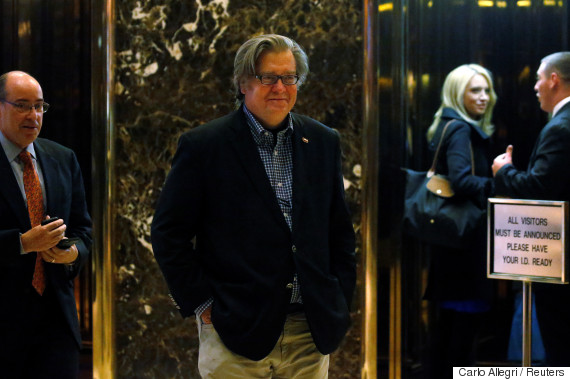 Stephen Bannon was the main driver behind Breitbart becoming a white ethno-nationalist propaganda mill https://t.co/IyJ6ET2vaS

— SPLC (@splcenter) November 13, 2016
스티븐 배넌은 브레이트바트를 백인 인종-민족주의 프로프간다 매체로 몰아간 주역이다
브레이트바트는 트럼프 선거 운동 본부측의 대변인 역찰을 했으며 폴 라이언 하원 의장(공화당, 위스콘신), 존 맥케인 상원 의원(공화당, 애리조나) 등 트럼프에게 비판적인 보수 인사들을 공격했다.
브레이트바트는 가족 계획이 나치와 연관이 있다거나 클린턴의 측근 후마 애버딘이 사우디 아라비아 스파이라는 등의 음모론을 퍼뜨렸다. 브레이트바트는 여성혐오와 인종차별적 기사로 클릭 수를 올리며, 희롱이나 젠더 편견에 맞서는 여성은 약하고 경쟁력이 떨어진다, 유색 인종과 이민자들은 선천적으로 범죄자다 같은 프레임을 설정한다.
해리 레이드 상원 의원(민주당, 네바다)의 대변인 애덤 젠틀슨은 트럼프가 배넌을 선택한 것이 "트럼프의 백악관에서 백인 우월주의자들이 가장 높은 수준으로 대변될 것이라는 신호"라고 밝혔다.
"왜 KKK가 트럼프를 자기들의 편으로 보는지 쉽게 이해할 수 있다."는 것.
남부 빈곤 법률 센터와 유대인 차별 철폐 운동 단체 ADL 역시 우려를 표명했다. ADL은 배넌과 "그의 대안 우파들은 미국의 핵심적 가치들에 너무나 적대적이다"라고 밝혔다.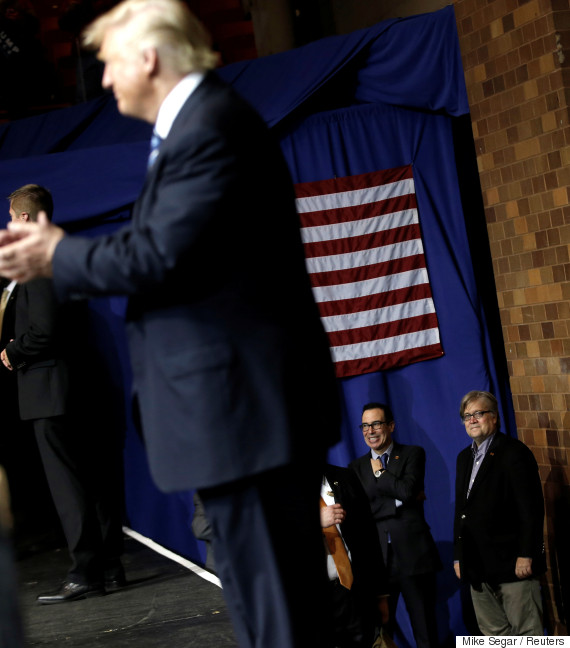 배넌의 백악관 입성까지의 경로는 트럼프의 당선만큼이나 우여곡절이 많고 특이했다.
미국 해군 장교였던 배넌은 여러 매체와 금융 투자로 큰 돈을 벌었다(1993년에 '사인필드' 매각 협상을 도와 로열티로 상당한 돈을 벌었다고 한다).
브레이트바트의 전 편집자 벤 샤피로는 배넌이 기회주의적이며 사악하다고 비판했다.
"[배넌은] 앙심을 품은 못된 사람이다. 명목상으론 친구인 사람들에게 가혹한 말을 하고 적들을 위협하는 걸로 유명하다." 샤피로가 8월에 데일리 와이어에 쓴 글이다.
3월에 항의의 뜻으로 브레이트바트를 떠난 샤피로는 트럼프가 대선에서 승리하면 배넌이 요직을 맡을 것이라 예상했다.
"야망을 품은 스티브 배넌에게 있어 제일 중요한 건 자기 자신이기 때문에, 트럼프가 잘못하고 있어도 배넌은 트럼프에게 잘 하고 있다고 말할 것이다. 배넌은 정치인들과 투자자들을 그런 식으로 조종한다. 자신의 개인적 천재성에 투자하게 한 다음 내부에서부터 파먹는다." 샤피로의 글이다.
* 이 글은 허핑턴포스트US의 A White Nationalist Is The New White House Chief Strategist를 번역, 편집한 것입니다.
Developer Donald Trump talks with his former wife Ivana Trump during the men's final at the U.S. Open September 7, 1997. REUTERS/File Photo FROM THE FILES PACKAGE "THE CANDIDATES" - SEARCH CANDIDATES FILES FOR ALL 90 IMAGES

From left, Billy Crystal, host of the 76th annual Academy Awards, his wife Janice Goldfinger, Melania Knauss and her boyfriend Donald Trump, pose together as they leave the Vanity Fair Oscar party at Morton's restaurant in West Hollywood, California, early March 1, 2004. REUTERS/Ethan Miller/File Photo FROM THE FILES PACKAGE "THE CANDIDATES" - SEARCH CANDIDATES FILES FOR ALL 90 IMAGES

Donald Trump, president of the Trump Organization, pauses before the U.S. Senate Committee on Homeland Security and Governmental Affairs subcommittee during a hearing on "U.S. Financial Involvement in Renovation of U.N. Headquarters" on Capitol Hill in Washington July 21, 2005. REUTERS/Molly Riley/File Photo FROM THE FILES PACKAGE "THE CANDIDATES" - SEARCH CANDIDATES FILES FOR ALL 90 IMAGES

Donald Trump (C), entrepreneur and host of the television reality series "The Apprentice", poses with his wife and children Donald Trump Jr.(L), Tiffany Trump (2nd L), Melania (2nd R) and daughter Ivanka at the party following the live telecast of the finale of season five in Los Angeles, California June 5, 2006. REUTERS/Fred Prouser/File Photo FROM THE FILES PACKAGE "THE CANDIDATES" - SEARCH CANDIDATES FILES FOR ALL 90 IMAGES

Donald Trump talks to reporters at a news conference where he presented a proposal that the Twin Towers of the World Trade Center be rebuilt, in New York May 18, 2005. REUTERS/Jeff Christensen/File Photo FROM THE FILES PACKAGE "THE CANDIDATES" - SEARCH CANDIDATES FILES FOR ALL 90 IMAGES

Donald Trump poses across the street from the job site of the Trump International Hotel and Tower Chicago after a news conference in Chicago May 10, 2006. REUTERS/Stephen J. Carrera/File Photo FROM THE FILES PACKAGE "THE CANDIDATES" - SEARCH CANDIDATES FILES FOR ALL 90 IMAGES

Donald Trump holds a replica of his star on the Hollywood Walk of Fame as his wife Melania holds their son Barron in Los Angeles, January 16, 2007. REUTERS/Chris Pizzello/File Photo FROM THE FILES PACKAGE "THE CANDIDATES" - SEARCH CANDIDATES FILES FOR ALL 90 IMAGES

Republican presidential nominee Donald Trump views a replica of the Oval Office on a tour of the Gerald Ford Presidential Museum in Grand Rapids, Michigan, U.S. September 30, 2016. REUTERS/Jonathan Ernst/File Photo FROM THE FILES PACKAGE "THE CANDIDATES" - SEARCH CANDIDATES FILES FOR ALL 90 IMAGES

Entrepreneur Donald Trump, host of the NBC television reality series "The Apprentice", says his catch line from the show as he arrives at a casting call for the sixth season of the show at Universal Studios Hollywood in Los Angeles March 10, 2006. REUTERS/Fred Prouser/File Photo FROM THE FILES PACKAGE "THE CANDIDATES" - SEARCH CANDIDATES FILES FOR ALL 90 IMAGES

Donald Trump answers questions during an interview about his new book with co-author Robert Kiyosaki, "Why We Want You to Be Rich", at his office in New York City October 9, 2006. REUTERS/Lucas Jackson/File Photo FROM THE FILES PACKAGE "THE CANDIDATES" - SEARCH CANDIDATES FILES FOR ALL 90 IMAGES

Real estate magnate Donald Trump (R) plays golf during the opening of his Trump International Golf Links golf course near Aberdeen, northeast Scotland July 10, 2012. REUTERS/David Moir/File Photo FROM THE FILES PACKAGE "THE CANDIDATES" - SEARCH CANDIDATES FILES FOR ALL 90 IMAGES

U.S. property mogul Donald Trump holds a golf club during a media event on the sand dunes of the Menie estate, the site for Trump's proposed golf resort, near Aberdeen, Scotland, Britain May 27, 2010. REUTERS/David Moir/File Photo FROM THE FILES PACKAGE "THE CANDIDATES" - SEARCH CANDIDATES FILES FOR ALL 90 IMAGES

Real estate magnate Donald Trump waves as he leaves a Greater Nashua Chamber of Commerce business expo at the Radisson Hotel in Nashua, New Hampshire, May 11, 2011. REUTERS/Don Himsel/Pool/File Photo FROM THE FILES PACKAGE "THE CANDIDATES" - SEARCH CANDIDATES FILES FOR ALL 90 IMAGES

Republican U.S. presidential candidate Donald Trump shows off the size of his hands as rivals Marco Rubio (L) and Ted Cruz (R) look on at the start of the U.S. Republican presidential candidates debate in Detroit, Michigan, March 3, 2016. REUTERS/Jim Young/File Photo FROM THE FILES PACKAGE "THE CANDIDATES" - SEARCH CANDIDATES FILES FOR ALL 90 IMAGES

Republican U.S. presidential candidate Donald Trump poses for a photo after an interview with Reuters in his office in Trump Tower, in the Manhattan borough of New York City, U.S., May 17, 2016. REUTERS/Lucas Jackson/File Photo FROM THE FILES PACKAGE "THE CANDIDATES" - SEARCH CANDIDATES FILES FOR ALL 90 IMAGES

Republican U.S. presidential candidate Donald Trump addresses a Trump for President campaign rally in Macon, Georgia November 30, 2015. REUTERS/Christopher Aluka Berry/File Photo FROM THE FILES PACKAGE "THE CANDIDATES" - SEARCH CANDIDATES FILES FOR ALL 90 IMAGES

Republican U.S. presidential nominee Donald Trump (L) greets vice presidential nominee Mike Pence after Pence spoke during the third day of the Republican National Convention in Cleveland, Ohio, U.S. July 20, 2016. REUTERS/Mike Segar/File Photo FROM THE FILES PACKAGE "THE CANDIDATES" - SEARCH CANDIDATES FILES FOR ALL 90 IMAGES

U.S. Republican presidential nominee Donald Trump looks on during a campaign rally in Prescott Valley, Arizona, U.S., October 4, 2016. REUTERS/Mike Segar /File Photo FROM THE FILES PACKAGE "THE CANDIDATES" - SEARCH CANDIDATES FILES FOR ALL 90 IMAGES

U.S. Republican presidential candidate Donald Trump reacts to an answer his wife Melania gives during an interview on NBC's "Today" show in New York, April 21, 2016. REUTERS/Brendan McDermid/File Photo FROM THE FILES PACKAGE "THE CANDIDATES" - SEARCH CANDIDATES FILES FOR ALL 90 IMAGES

U.S. Republican presidential nominee Donald Trump waves to supporters as he arrives at a campaign rally, in Prescott Valley, Arizona, U.S., October 4, 2016. REUTERS/Mike Segar/File Photo FROM THE FILES PACKAGE "THE CANDIDATES" - SEARCH CANDIDATES FILES FOR ALL 90 IMAGES

U.S. Republican presidential candidate Donald Trump makes his way through the crowd after addressing a Tea Party rally against the Iran nuclear deal at the U.S. Capitol in Washington September 9, 2015. REUTERS/Jonathan Ernst/File Photo FROM THE FILES PACKAGE "THE CANDIDATES" - SEARCH CANDIDATES FILES FOR ALL 90 IMAGES

U.S. Republican presidential candidate, real estate mogul and TV personality Donald Trump holds up his financial statement showing his net worth as he formally announces his campaign for the 2016 Republican presidential nomination during an event at Trump Tower in New York June 16, 2015. REUTERS/Brendan McDermid/File Photo FROM THE FILES PACKAGE "THE CANDIDATES" - SEARCH CANDIDATES FILES FOR ALL 90 IMAGES

Republican U.S. presidential candidate Donald trump and his wife Melania attend the Republican caucus at the 7 Flags Event Center in Clive, Iowa February 1, 2016. REUTERS/Aaron P. Bernstein/File Photo FROM THE FILES PACKAGE "THE CANDIDATES" - SEARCH CANDIDATES FILES FOR ALL 90 IMAGES

Audience member Robin Roy (C) reacts as U.S. Republican presidential candidate Donald Trump greets her at a campaign rally in Lowell, Massachusetts January 4, 2016. REUTERS/Brian Snyder /File Photo FROM THE FILES PACKAGE "THE CANDIDATES" - SEARCH CANDIDATES FILES FOR ALL 90 IMAGES

Republican presidential nominee Donald Trump attends a church service, in Detroit, Michigan, U.S., September 3, 2016. REUTERS/Carlo Allegri/File Photo FROM THE FILES PACKAGE "THE CANDIDATES" - SEARCH CANDIDATES FILES FOR ALL 90 IMAGES

U.S. Republican presidential candidate, real estate mogul and TV personality Donald Trump poses with his family after formally announcing his campaign for the 2016 Republican presidential nomination during an event at Trump Tower in New York June 16, 2015. REUTERS/Brendan McDermid/File Photo FROM THE FILES PACKAGE "THE CANDIDATES" - SEARCH CANDIDATES FILES FOR ALL 90 IMAGES

U.S. Republican presidential nominee Donald Trump attends a campaign event in Wilmington, Ohio, U.S. November 4, 2016. REUTERS/Carlo Allegri/File Photo FROM THE FILES PACKAGE "THE CANDIDATES" - SEARCH CANDIDATES FILES FOR ALL 90 IMAGES

Real estate developer Donald Trump prepares to go on stage to speak during the Freedom Summit in Greenville, South Carolina May 9, 2015. REUTERS/Chris Keane/File Photo FROM THE FILES PACKAGE "THE CANDIDATES" - SEARCH CANDIDATES FILES FOR ALL 90 IMAGES

Republican U.S. Presidential nominee Donald Trump holds a Purple Heart given to him during a campaign event at Briar Woods High School in Ashburn, Virginia, U.S., August 2, 2016. REUTERS/Eric Thayer /File Photo FROM THE FILES PACKAGE "THE CANDIDATES" - SEARCH CANDIDATES FILES FOR ALL 90 IMAGES

QUALITY REPEAT - Republican presidential nominee Donald Trump holds babies at a campaign rally in Colorado Springs, Colorado, U.S., July 29, 2016. REUTERS/Carlo Allegri/File Photo FROM THE FILES PACKAGE "THE CANDIDATES" - SEARCH CANDIDATES FILES FOR ALL 90 IMAGES

U.S. Republican presidential candidate Donald Trump reacts as he is introduced during a campaign event in Concord, North Carolina March 7, 2016. REUTERS/Chris Keane/File Photo FROM THE FILES PACKAGE "THE CANDIDATES" - SEARCH CANDIDATES FILES FOR ALL 90 IMAGES

U.S. Republican presidential candidate Donald Trump hugs a U.S. flag as he takes the stage for a campaign town hall meeting in Derry, New Hampshire August 19, 2015. REUTERS/Brian Snyder/File Photo FROM THE FILES PACKAGE "THE CANDIDATES" - SEARCH CANDIDATES FILES FOR ALL 90 IMAGES