에릭 홀더 전 법무장관이 미국 선거인단 제도는 폐지되어야 한다고 말하다
에릭 홀더 전 미국 법무장관이 11일 선거인단 제도 폐지를 주장했다.
민주당 대선 후보 힐러리 클린턴이 일반 투표에서는 이겼으나 선거에서 패한 지금, 홀더는 미국 대선 제도가 바뀌어야 할 때라고 말한다.
"간단한 해결책이 있다는 내용의 글을 쓰는 중이며, 우리는 선거인단 제도를 폐지해야 한다." 홀더가 '리얼 타임' 호스트 빌 마허에게 말했다.
그러기 위해서는 헌법 개정이 필요하다고 하자 마허는 '쉽지 않을 일'이라고 했고, 홀더는 "쉽지 않을 일이 필요하면 힘든 일을 하면 된다. 하자."라고 대답했다.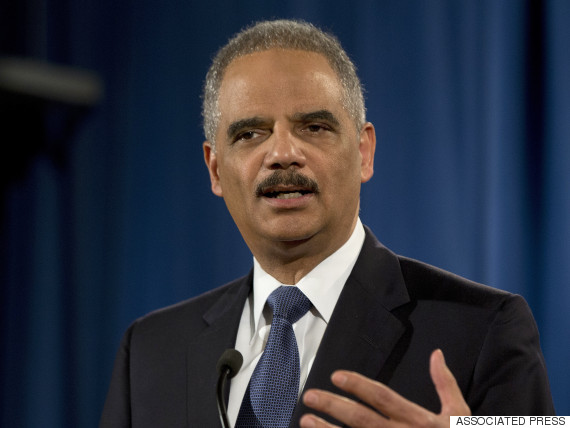 도널드 트럼프 대통령 당선자는 선거 운동 기간 내내 선거가 자신에게 불리하게 조작되었다고 주장했음에도 선거인단 제도가 그 반대로 작용한 이유를 두 사람은 의논했다.
또한 두 사람은 선거일이 주말로 바뀌거나 공휴일이 되어야 한다는 점에 동의했다.


* 이 글은 허핑턴포스트US의 Eric Holder Says The Electoral College Must Be Abolished를 번역, 편집한 것입니다.
관련기사 :
- 도널드 트럼프와 힐러리 클린턴의 실제 득표율 격차는 0.1%였다
- 힐러리가 20만 표 이상 앞섰지만 선거에서 진 이유
- 미국의 선거 시스템이 개똥같다는 걸 보여주는 단 한장의 그림
Republican U.S. president-elect Donald Trump speaks at his election night rally in Manhattan, New York, U.S., November 9, 2016. REUTERS/Carlo Allegri

U.S. President-elect Donald Trump speaks at his election night rally in Manhattan, New York, U.S., November 9, 2016. REUTERS/Carlo Allegri TPX IMAGES OF THE DAY

U.S. President-elect Donald Trump greets supporters during his election night rally in Manhattan, New York, U.S., November 9, 2016. REUTERS/Mike Segar

Republican U.S. President-elect Donald Trump kisses his wife Melania at his election night rally in Manhattan, New York, U.S., November 9, 2016. REUTERS/Jonathan Ernst

Republican U.S. president-elect Donald Trump speaks at his election night rally in Manhattan, New York, U.S., November 9, 2016. REUTERS/Carlo Allegri

Terry Mendoza and Margery Simchak, attend a Republican Party event in Phoenix, Arizona, watch as Donald Trump gives his acceptance speech early November 9, 2016. REUTERS/Nancy Wiechec

Republican U.S. presidential nominee Donald Trump greets supporters at his election night rally in Manhattan, New York, U.S., November 9, 2016. REUTERS/Carlo Allegri

People watch as U.S. president-elect Donald Trump is displayed speaking, in Times Square in New York, U.S., November 9, 2016. REUTERS/Mark Kauzlarich

Donald Trump supporters in Phoenix, Arizona, react as the U.S. president-elect gives his acceptance speech early November 9, 2016. REUTERS/Nancy Wiechec

U.S. President elect Donald Trump greets supporters at election night rally in Manhattan, New York, U.S., November 9, 2016. REUTERS/Jonathan Ernst

U.S. President-elect Donald Trump and his running mate Mike Pence address their election night rally in Manhattan, New York, U.S., November 9, 2016. REUTERS/Mike Segar

U.S. President-elect Donald Trump greets supporters at his election night rally in Manhattan, New York, U.S., November 9, 2016. REUTERS/Jonathan Ernst

U.S. President-elect Donald Trump and his running mate Mike Pence address their election night rally in Manhattan, New York, U.S., November 9, 2016. REUTERS/Mike Segar

U.S. President-elect Donald Trump addresses supporters during his election night rally in Manhattan, New York, U.S., November 9, 2016. REUTERS/Mike Segar

U.S. President elect Donald Trump greets supporters at election night rally in Manhattan, New York, U.S., November 9, 2016. REUTERS/Jonathan Ernst

U.S. President-elect Donald Trump, his wife Melania, daughter Ivanka, son Barron and other family members greet supporters during his election night rally in Manhattan, New York, U.S., November 9, 2016. REUTERS/Mike Segar

A supporter of U.S. President-elect Donald Trump (L) argues with a man against Trump in Times Square, Manhattan, New York, U.S. November 8, 2016. REUTERS/Bria Webb

Supporters of U.S. President-elect Donald Trump hold signs as they rally through Times Square, Manhattan, New York, U.S. November 8, 2016. REUTERS/Bria Webb

Supporters of U.S. President-elect Donald Trump hold signs as they rally through Times Square, Manhattan, New York, U.S. November 8, 2016. REUTERS/Bria Webb

Supporters of U.S. President-elect Donald Trump rally through Times Square, Manhattan, New York, U.S. November 8, 2016. REUTERS/Bria Webb

Traders at BGC Partners look at screens after Donald Trump won the U.S. Presidential election, in London, Britain, November 9, 2016. REUTERS/Toby Melville TPX IMAGES OF THE DAY

Supporters of U.S. President-elect Donald Trump hold signs as they rally through Times Square, Manhattan, New York, U.S. on November 9, 2016. REUTERS/Bria Webb

Traders at BGC Partners look at screens as victorious U.S. Presidential election candidate Donald Trump speaks on a television screen behind, in London, Britain, November 9, 2016. REUTERS/Toby Melville

A dart board with images of Republican U.S. presidential candidate Donald Trump (R) and Democratic U.S. presidential candidate Hillary Clinton is seen at an election event held by Republicans Overseas Israel at a bar in Jerusalem November 9, 2016. REUTERS/Ammar Awad

A trader stretches at BGC Partners after Donald Trump won the U.S. Presidential election, in London, Britain, November 9, 2016. REUTERS/Toby Melville

Traders at BGC Partners look at screens after Donald Trump won the U.S. Presidential election, in London, Britain, November 9, 2016. REUTERS/Toby Melville

A TV screen showing U.S. President-elect Donald Trump is pictured in front of the German share price index, DAX board, at the stock exchange in Frankfurt, Germany, November 9, 2016. REUTERS/Staff/Remote

Students chant as they demonstrate at San Francisco State University in San Francisco, California, U.S. following the election of Donald Trump as President of the United States November 9, 2016. REUTERS/Stephen Lam

Residents are seen with U.S. flag during the U.S. presidential election in Melania Trump's hometown of Sevnica, Slovenia November 9, 2016. REUTERS/Srdjan Zivulovic

Residents celebrate during the U.S. presidential election in Melania Trump's hometown of Sevnica, Slovenia November 9, 2016. REUTERS/Srdjan Zivulovic

Residents celebrate during the U.S. presidential election in Melania Trump's hometown of Sevnica, Slovenia November 9, 2016. REUTERS/Srdjan Zivulovic

Republican presidential nominee Donald Trump arrives for his election night rally at the New York Hilton Midtown in Manhattan, New York, U.S., November 9, 2016. REUTERS/Andrew Kelly