버락 오바마가 트위터 계정을 빼앗긴 도널드 트럼프를 놀렸다
버락 오바마 대통령은 일요일에 공화당 대선 후보 도널드 트럼프가 선거 운동 요원에게 트위터 계정을 빼앗긴 것을 놀렸다. 대선을 코 앞에 둔 지금 트럼프가 툭하면 소셜 미디어에서 이상한 소리를 하는 것을 막기 위해 빼앗은 것이다.
"트럼프 선거 운동 측은 그의 트위터를 빼앗은 것 같다. 지난 이틀 동안 그들이 트럼프의 자제력을 너무나 믿을 수가 없어서 '우리가 당신 트위터를 뺏을 게요.'라고 말했던 것이다." 오바마는 플로리다 키시미의 힐러리 클린턴 유세장에서 말했다.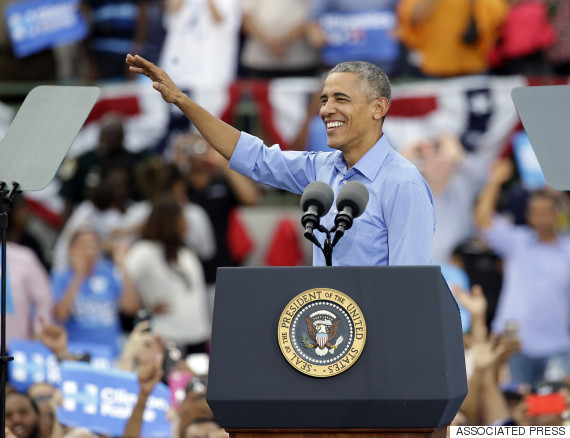 "트위터 계정도 못 다루는 사람은 핵무기 코드를 다룰 수 없다. SNL이 놀렸다고 새벽 3시에 트위터를 하는 사람은 핵무기 코드를 다룰 수 없다." 오바마는 웃는 관중들에게 말했다.
대선이 코앞인 지금, 트럼프 측은 트럼프를 단속하고 공식 견해만 말하게 하려고 툭하면 밤 늦은 시간에 트위터에 막말을 쏟아내는 것을 막았다.
일요일자 뉴욕 타임스에 실린 일화를 보면 트럼프의 매체 담당자들이 대선을 앞두고 트럼프의 트위터 계정을 통제하며, 올리기 전에 트럼프의 트윗을 편집한다고 한다.
트럼프의 과거 트윗에는 힐러리 클린턴 등 라이벌들에 대한 모욕, 자신의 비판하는 사람들과의 싸움, 음모론 퍼뜨리기, 오바마가 언급한 '새터데이 나잇 라이브'에서 자신을 연기한 알렉 볼드윈에 대한 비난 등이 담겨 있었다.
Watched Saturday Night Live hit job on me.Time to retire the boring and unfunny show. Alec Baldwin portrayal stinks. Media rigging election!

— Donald J. Trump (@realDonaldTrump) October 16, 2016
새터데이 나잇 라이브가 나를 공격한 것을 보았다. 지루하고 재미없는 이 쇼는 이제 없어져야 한다. 알렉 볼드윈의 연기는 형편없다. 매체가 조작하는 선거다!
편집자주 : 도널드 트럼프는 꾸준히 정치적 폭력을 조장하고, 그는 상습적인 거짓말쟁이이며, 겉잡을 수 없는 제노포비아, 인종주의자, 여성혐오주의자인 데다 오바마 대통령이 미국 태생이 아니라고 믿는 사람들 중 하나일 뿐만 아니라 반복적으로 -전 세계 16억명에 달하는- 무슬림의 미국 입국을 금지하겠다고 말하는 인물이다.

* 이 글은 허핑턴포스트US의 Barack Obama Skewers Donald Trump For Losing His Twitter Access를 번역, 편집한 것입니다.
Republican presidential nominee Donald Trump speaks at a campaign rally in Minneapolis, Minnesota, U.S. November 6, 2016. REUTERS/Carlo Allegri TPX IMAGES OF THE DAY

Republican presidential nominee Donald Trump speaks at a campaign rally in Minneapolis, Minnesota, U.S. November 6, 2016. REUTERS/Carlo Allegri

A supporter holds a sign for victory party tickets as Republican U.S. presidential nominee Donald Trump rallies in a cargo hangar at Minneapolis Saint Paul International Airport in Minneapolis, Minnesota, U.S. November 6, 2016. REUTERS/Jonathan Ernst

Republican U.S. presidential nominee Donald Trump rallies with supporters in a cargo hangar at Minneapolis Saint Paul International Airport in Minneapolis, Minnesota, U.S. November 6, 2016. REUTERS/Jonathan Ernst

Republican U.S. presidential nominee Donald Trump rallies with supporters in a cargo hangar at Minneapolis Saint Paul International Airport in Minneapolis, Minnesota, U.S. November 6, 2016. REUTERS/Jonathan Ernst

Republican presidential nominee Donald Trump stands on the running board of an SUV and waves at an overflow crowd at a campaign rally in Minneapolis, Minnesota, U.S. November 6, 2016. REUTERS/Carlo Allegri

Republican U.S. presidential nominee Donald Trump departs after rallying with supporters in a cargo hangar at Minneapolis Saint Paul International Airport in Minneapolis, Minnesota, U.S., November 6, 2016. REUTERS/Jonathan Ernst

Republican presidential nominee Donald Trump attends a campaign rally in Detroit, Michigan, U.S. November 6, 2016. REUTERS/Carlo Allegri

Republican presidential nominee Donald Trump attends a campaign rally in Moon, Pennsylvania, U.S. November 6, 2016. REUTERS/Carlo Allegri

Republican presidential nominee Donald Trump attends a campaign rally in Moon, Pennsylvania, U.S. November 6, 2016. REUTERS/Carlo Allegri

Republican presidential nominee Donald Trump attends a campaign rally in Moon, Pennsylvania, U.S. November 6, 2016. REUTERS/Carlo Allegri

Republican presidential nominee Donald Trump attends a campaign rally in Moon, Pennsylvania, U.S. November 6, 2016. REUTERS/Carlo Allegri

Republican presidential nominee Donald Trump attends a campaign rally in Moon, Pennsylvania, U.S. November 6, 2016. REUTERS/Carlo Allegri

Republican presidential nominee Donald Trump attends a campaign rally in Moon, Pennsylvania, U.S. November 6, 2016. REUTERS/Carlo Allegri

Republican presidential nominee Donald Trump attends a campaign rally in Moon, Pennsylvania, U.S. November 6, 2016. REUTERS/Carlo Allegri

Republican presidential nominee Donald Trump attends a campaign rally in Moon, Pennsylvania, U.S. November 6, 2016. REUTERS/Carlo Allegri

Republican presidential nominee Donald Trump speaks during a campaign rally in Leesburg, Virginia, U.S. November 7, 2016. REUTERS/Carlo Allegri

Republican presidential nominee Donald Trump speaks during a campaign rally in Leesburg, Virginia, U.S. November 7, 2016. REUTERS/Carlo Allegri

U.S. Republican presidential nominee Donald Trump holds a rally at Atlantic Aviation in Moon, Pennsylvania, U.S. November 6, 2016. Picture taken November 6, 2016. REUTERS/Mark Makela

A protester asks: "Will you respect women, Donald?" as Republican presidential nominee Donald Trump speaks during a campaign rally in Leesburg, Virginia, U.S. November 7, 2016. REUTERS/Carlo Allegri

People turn to jeer reporters after Republican U.S. presidential nominee Donald Trump (at lectern in background) directs them to at a rally in a cargo hangar at Minneapolis Saint Paul International Airport in Minneapolis, Minnesota, U.S. November 6, 2016. REUTERS/Jonathan Ernst

U.S. Republican presidential nominee Donald Trump holds a rally at Atlantic Aviation in Moon, Pennsylvania, U.S. November 6, 2016. Picture taken November 6, 2016. REUTERS/Mark Makela

Supporters cheer for Republican presidential nominee Donald Trump at a campaign rally in Minneapolis, Minnesota, U.S. November 6, 2016. REUTERS/Carlo Allegri

A man wears a shirt reading "Rope. Tree. Journalist." as supporters gather to rally with Republican presidential nominee Donald Trump in a cargo hangar at Minneapolis Saint Paul International Airport in Minneapolis, Minnesota, U.S. November 6, 2016. REUTERS/Jonathan Ernst

People hold signs as Republican U.S. presidential nominee Donald Trump rallies with supporters in a cargo hangar at Minneapolis-Saint Paul International Airport in Minneapolis, Minnesota, U.S. November 6, 2016. REUTERS/Jonathan Ernst

Former U.S. Representative Michele Bachmann (R-MN) speaks at a rally for Republican presidential nominee Donald Trump prior to his arrival in a cargo hangar at Minneapolis Saint Paul International Airport in Minneapolis, Minnesota, U.S. November 6, 2016. REUTERS/Jonathan Ernst

A child covers his ears before Republican presidential nominee Donald Trump appears at a campaign rally in Sioux City, Iowa, U.S. November 6, 2016. REUTERS/Carlo Allegri