전 미스유니버스 알리샤 마차도는 트럼프의 여성혐오를 생생하게 증언한다
전 미스 유니버스 알리샤 마차도는 공화당 대선 후보 도널드 트럼프가 대통령이 되는 것을 반드시 막아내겠다는 의지로 가득하다. 트럼프는 그녀를 '미스 돼지', '미스 하녀', '먹는 기계'라고 부른 적이 있다.
"그는 미국 대통령이 되어서는 안 되는 사람이다." 마차도는 화요일에 나온 가디언 인터뷰에서 말했다.
작년까지 미스 유니버스 대회 개최권을 보유했던 트럼프는 마차도가 1996년에 미스 유니버스로 뽑힌 뒤 마차도의 체중을 조롱하며 언어 폭력을 가했다. 월요일 대선 토론 중 민주당 후보 힐러리 클린턴이 트럼프의 여성혐오 역사를 강조하는데 사용해서 마차도의 이야기가 다시 관심을 끌고 있다.
"트럼프가 했던 최악의 말 중 하나는 미인 대회에 나온 여성에 대한 말이었다. 트럼프는 미인 대회를 좋아한다. 미인 대회를 후원하고 놀러간다. 트럼프는 그 여성이 라틴계라는 이유로 미스 돼지, 미스 가정부라고 불렀다. 도널드, 그녀에게도 이름이 있다. 그녀의 이름은 알리샤 마차도이고 미국 시민이 되었고, 분명히 11월에 투표할 것이다."
클린턴 측은 토론 후에 트럼프의 마차도에 대한 발언 영상을 공개하며 이 점을 더욱 강조했다.
마차도에게 체중을 줄이라고 말했다는 것을 인정한 트럼프는 물러서려 하지 않았다. 그는 화요일 아침에 폭스 뉴스에 당시에 마차도가 '체중이 엄청나게 늘어서 진짜 문제였다'고 말했다.
마차도가 미스 유니버스가 된 뒤, 트럼프는 다이어트와 운동을 강제했다. 한 번은 TV 카메라를 대동하고 운동하고 있던 마차도를 급습하기도 했다. 마차도에게 신체적인 모욕감을 주었을 뿐 아니라 트럼프는 그녀의 라틴계 혈통을 조소하고 발음을 비판하며 그녀를 '미스 하녀'라고 불렀다.
마차도는 트럼프가 자신에게 공개적으로 수치를 준 것이 섭식 장애와 우울증 등 건강에 지속적인 영향을 주었다고 말했다.
"나는 뉴욕의 체육관에 갇힌 쥐 같았다. '저 쥐를 좀 봐, 달리고, 뛰고 운동을 해.' 그런 식이었다. 그 순간이… 문제가 찾아오고 시작된 순간이었다." 마차도가 카메라 급습에 대해 가디언에 한 말이다.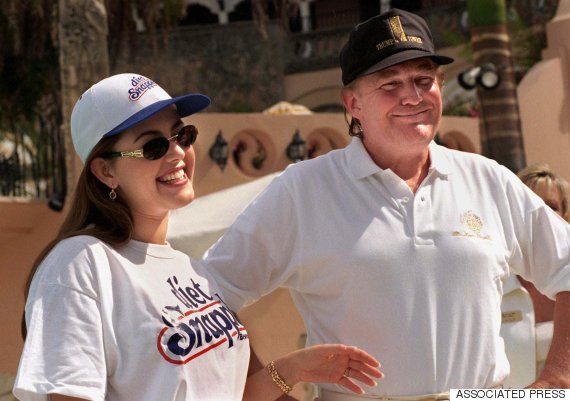 알리샤 마차도와 도널드 트럼프. 1997년 2월15일. ⓒAssociated Press
베네수엘라에서 태어난 마차도는 11월에 클린턴에게 투표하기 위해 최근 미국 시민이 되었다. 미스 유니버스 때의 경험을 이용해 트럼프가 오래 전부터 성차별을 하고 외모를 가지고 여성을 조롱한 것을 알리고 있다.
화요일에는 자신의 경험이 더 많은 사람들이 트럼프에 반대하는 표를 던지게 만들길 바란다고 기자들에게 스페인어로 말했다.
"나는 20년 후에 이런 위치에서 … 이 사람이 다시 어리석은 짓을 하고 어리석은 말을 하는 것을 보게 될 줄은 상상도 못했다. 난 이제 더 이상 미인 대회 우승자, 미스 유니버스가 아니다. 나는 노동자다. 나는 어머니다 … 내겐 가족과 커리어가 있다. 나는 사업을 하고, 내 이야기가 이번 선거에서 사람들이 눈을 뜨게 해줄 수 있다면 난 그것을 위해 노력할 뿐이다."
편집자주 : 도널드 트럼프는 꾸준히 정치적 폭력을 조장하고, 그는 상습적인 거짓말쟁이이며, 겉잡을 수 없는 제노포비아, 인종주의자, 여성혐오주의자인 데다 오바마 대통령이 미국 태생이 아니라고 믿는 사람들 중 하나일 뿐만 아니라 반복적으로 -전 세계 16억명에 달하는- 무슬림의 미국 입국을 금지하겠다고 말하는 인물이다.

* 이 글은 허핑턴포스트US의 Alicia Machado On Trump: 'He Can't Be A President Of The United States Of America'(영어)를 번역, 편집한 것입니다.
Republican U.S. presidential nominee Donald Trump and Democratic U.S. presidential nominee Hillary Clinton shake hands at the start of their first presidential debate at Hofstra University in Hempstead, New York, U.S., September 26, 2016. REUTERS/Mike Segar

Republican U.S. presidential nominee Donald Trump greets Democratic U.S. presidential nominee Hillary Clinton prior to their first presidential debate at Hofstra University in Hempstead, New York, U.S., September 26, 2016. REUTERS/Mike Segar

Democratic U.S. presidential nominee Hillary Clinton speaks during her first presidential debate against Republican U.S. presidential nominee Donald Trump (not shown) at Hofstra University in Hempstead, New York, U.S., September 26, 2016. REUTERS/Mike Segar

Democratic U.S. presidential nominee Hillary Clinton pauses during the first presidential debate with Republican U.S. presidential nominee Donald Trump at Hofstra University in Hempstead, New York, U.S., September 26, 2016. REUTERS/Joe Raedle/Pool

Republican U.S. presidential nominee Donald Trump and Democratic U.S. presidential nominee Hillary Clinton greet one another as they take the stage for their first debate at Hofstra University in Hempstead, New York, U.S. September 26, 2016. REUTERS/Jonathan Ernst

Republican U.S. presidential nominee Donald Trump and Democratic U.S. presidential nominee Hillary Clinton greet one another as they take the stage for their first debate at Hofstra University in Hempstead, New York, U.S. September 26, 2016. REUTERS/Jonathan Ernst

Republican U.S. presidential nominee Donald Trump and Democratic U.S. presidential nominee Hillary Clinton greet one another as they take the stage for their first debate at Hofstra University in Hempstead, New York, U.S. September 26, 2016. REUTERS/Jonathan Ernst

Republican U.S. presidential nominee Donald Trump and Democratic U.S. presidential nominee Hillary Clinton greet one another as they take the stage for their first debate at Hofstra University in Hempstead, New York, U.S. September 26, 2016. REUTERS/Jonathan Ernst

Democratic U.S. presidential nominee Hillary Clinton speaks during the first presidential debate with Republican U.S. presidential nominee Donald Trump at Hofstra University in Hempstead, New York, U.S., September 26, 2016. REUTERS/Mike Segar

Democratic U.S. presidential nominee Hillary Clinton speaks during the first presidential debate with Republican U.S. presidential nominee Donald Trump at Hofstra University in Hempstead, New York, U.S., September 26, 2016. REUTERS/Rick Wilking

Democratic U.S. presidential nominee Hillary Clinton looks on during her first presidential debate against Republican U.S. presidential nominee Donald Trump (not shown) at Hofstra University in Hempstead, New York, U.S., September 26, 2016. REUTERS/Brian Snyder

Republican U.S. presidential nominee Donald Trump speaks during the first debate with Democratic U.S. presidential nominee Hillary Clinton at Hofstra University in Hempstead, New York, U.S., September 26, 2016. REUTERS/Lucas Jackson

Republican U.S. presidential nominee Donald Trump speaks during the first debate with Democratic U.S. presidential nominee Hillary Clinton at Hofstra University in Hempstead, New York, U.S., September 26, 2016. REUTERS/Lucas Jackson

Democratic U.S. presidential nominee Hillary Clinton smiles during the first presidential debate with Republican U.S. presidential nominee Donald Trump at Hofstra University in Hempstead, New York, U.S., September 26, 2016. REUTERS/Lucas Jackson

Republican U.S. presidential nominee Donald Trump speaks during his first presidential debate against Democratic U.S. presidential nominee Hillary Clinton (not shown) at Hofstra University in Hempstead, New York, U.S., September 26, 2016. REUTERS/Lucas Jackson

Republican U.S. presidential nominee Donald Trump speaks during the first presidential debate with Democratic U.S. presidential nominee Hillary Clinton at Hofstra University in Hempstead, New York, U.S., September 26, 2016. REUTERS/Lucas Jackson

Republican U.S. presidential nominee Donald Trump speaks as Democratic U.S. presidential nominee Hillary Clinton listens during their first presidential debate at Hofstra University in Hempstead, New York, U.S., September 26, 2016. REUTERS/Rick Wilking

Moderator Lester Holt presides over the first debate between Republican U.S. presidential nominee Donald Trump and Democratic U.S. presidential nominee Hillary Clinton at Hofstra University in Hempstead, New York, U.S., September 26, 2016. REUTERS/Joe Raedle/Pool

Republican U.S. presidential nominee Donald Trump speaks as Democratic U.S. presidential nominee Hillary Clinton listens during their first presidential debate at Hofstra University in Hempstead, New York, U.S., September 26, 2016. REUTERS/Joe Raedle/Pool

Republican U.S. presidential nominee Donald Trump speaks during the first presidential debate with Democratic U.S. presidential nominee Hillary Clinton at Hofstra University in Hempstead, New York, U.S., September 26, 2016. REUTERS/Joe Raedle/Pool

Republican U.S. presidential nominee Donald Trump speaks during the first debate with Democratic U.S. presidential nominee Hillary Clinton at Hofstra University in Hempstead, New York, U.S., September 26, 2016. REUTERS/Lucas Jackson

Democratic U.S. presidential nominee Hillary Clinton speaks during the first presidential debate with Republican U.S. presidential nominee Donald Trump at Hofstra University in Hempstead, New York, U.S., September 26, 2016. REUTERS/Lucas Jackson

Republican U.S. presidential nominee Donald Trump speaks during the first presidential debate with Democratic U.S. presidential nominee Hillary Clinton at Hofstra University in Hempstead, New York, U.S., September 26, 2016. REUTERS/Lucas Jackson

Republican U.S. presidential nominee Donald Trump listens during the first debate with Democratic U.S. presidential nominee Hillary Clinton at Hofstra University in Hempstead, New York, U.S., September 26, 2016. REUTERS/Brian Snyder

Republican U.S. presidential nominee Donald Trump gestures as he speaks during the first debate with Democratic U.S. presidential nominee Hillary Clinton at Hofstra University in Hempstead, New York, U.S., September 26, 2016. REUTERS/Lucas Jackson

Democratic U.S. presidential nominee Hillary Clinton listens during the first presidential debate with Republican U.S. presidential nominee Donald Trump at Hofstra University in Hempstead, New York, U.S., September 26, 2016. REUTERS/Brian Snyder

Moderator Lester Holt (C) raises his hand during the first presidential debate between Democratic U.S. presidential nominee Hillary Clinton and Republican U.S. presidential nominee Donald Trump at Hofstra University in Hempstead, New York, U.S., September 26, 2016. REUTERS/Mike Segar

Republican U.S. presidential nominee Donald Trump reacts during the first debate with Democratic U.S. presidential nominee Hillary Clinton at Hofstra University in Hempstead, New York, U.S., September 26, 2016. REUTERS/Lucas Jackson

Republican U.S. presidential nominee Donald Trump and Democratic U.S. presidential nominee Hillary Clinton speak during their first presidential debate at Hofstra University in Hempstead, New York, U.S., September 26, 2016. REUTERS/Adrees Latif

Republican U.S. presidential nominee Donald Trump reacts during the first presidential debate with Democratic U.S. presidential nominee Hillary Clinton at Hofstra University in Hempstead, New York, U.S., September 26, 2016. REUTERS/Lucas Jackson

Republican U.S. presidential nominee Donald Trump reacts during the first presidential debate with Democratic U.S. presidential nominee Hillary Clinton at Hofstra University in Hempstead, New York, U.S., September 26, 2016. REUTERS/Lucas Jackson

Democratic U.S. presidential nominee Hillary Clinton smiles during the first presidential debate with Republican U.S. presidential nominee Donald Trump at Hofstra University in Hempstead, New York, U.S., September 26, 2016. REUTERS/Brian Snyder

Republican U.S. presidential nominee Donald Trump and Democratic U.S. presidential nominee Hillary Clinton discuss a point during their first presidential debate at Hofstra University in Hempstead, New York, U.S., September 26, 2016. REUTERS/Lucas Jackson

Republican U.S. presidential nominee Donald Trump and Democratic U.S. presidential nominee Hillary Clinton walk away from their podiums at the conclusion of their first presidential debate at Hofstra University in Hempstead, New York, U.S., September 26, 2016. REUTERS/Joe Raedle/Pool

Republican U.S. presidential nominee Donald Trump speaks as Democratic U.S. presidential nominee Hillary Clinton listens during their first presidential debate at Hofstra University in Hempstead, New York, U.S., September 26, 2016. REUTERS/Rick Wilking

Republican U.S. presidential nominee Donald Trump shakes hands with Democratic U.S. presidential nominee Hillary Clinton at the conclusion of their first presidential debate at Hofstra University in Hempstead, New York, U.S., September 26, 2016. REUTERS/Mike Segar TPX IMAGES OF THE DAY

Hillary Clinton and Donald Trump face off for the first of three high stakes presidential debates.

Democratic U.S. presidential nominee Hillary Clinton waves after the first presidential debate against Republican U.S. presidential nominee Donald Trump (not shown) at Hofstra University in Hempstead, New York, U.S., September 26, 2016. REUTERS/Adrees Latif TPX IMAGES OF THE DAY

Republican U.S. presidential nominee Donald Trump greets Democratic U.S. presidential nominee Hillary Clinton after their first presidential debate at Hofstra University in Hempstead, New York, U.S., September 26, 2016. REUTERS/Brian Snyder

Republican U.S. presidential nominee Donald Trump and Democratic U.S. presidential nominee Hillary Clinton walk away from their podiums at the conclusion of their first presidential debate at Hofstra University in Hempstead, New York, U.S., September 26, 2016. REUTERS/Brian Snyder

Republican U.S. presidential nominee Donald Trump is accompanied by his relatives, including his wife Melania (2nd from L) at the conclusion of the first debate with Democratic U.S. presidential nominee Hillary Clinton at Hofstra University in Hempstead, New York, U.S., September 26, 2016. REUTERS/Brian Snyder

Republican U.S. presidential nominee Donald Trump greets moderator Lester Holt (R) as Democratic U.S. presidential nominee Hillary Clinton stands onstage at the end of their first presidential debate at Hofstra University in Hempstead, New York, U.S., September 26, 2016. REUTERS/Brian Snyder

Republican U.S. presidential nominee Donald Trump (2ndL) kisses his wife Melania as daughter Ivanka and son Donald Trump Jr. stand onstage after the first presidential debate at Hofstra University in Hempstead, New York, U.S., September 26, 2016. REUTERS/Brian Snyder

Democratic U.S. presidential nominee Hillary Clinton holds hands with her husband, former President Bill Clinton, as they leave the stage after the conclusion of the first debate with Republican U.S. presidential nominee Donald Trump at Hofstra University in Hempstead, New York, U.S., September 26, 2016. REUTERS/Joe Raedle/Pool

Democratic U.S. presidential nominee Hillary Clinton holds hands with her husband, former President Bill Clinton, as they leave the stage after the conclusion of the first debate with Republican U.S. presidential nominee Donald Trump at Hofstra University in Hempstead, New York, U.S., September 26, 2016. REUTERS/Joe Raedle/Pool

Democratic U.S. presidential nominee Hillary Clinton and her husband, former President Bill Clinton (R), greet members of the audience after the conclusion of the first debate with Republican U.S. presidential nominee Donald Trump at Hofstra University in Hempstead, New York, U.S., September 26, 2016. REUTERS/Lucas Jackson

Republican U.S. presidential nominee Donald Trump speaks as Democratic U.S. presidential nominee Hillary Clinton listens during their first presidential debate at Hofstra University in Hempstead, New York, U.S., September 26, 2016. REUTERS/Rick Wilking

Republican U.S. presidential nominee Donald Trump, with his wife Melania, talks to reporters in the spin room after his first debate against Democratic U.S. presidential nominee Hillary Clinton at Hofstra University in Hempstead, New York, U.S. September 26, 2016. REUTERS/Jonathan Ernst

Republican U.S. presidential nominee Donald Trump (2ndL) stands with Trump family members after the first presidential debate at Hofstra University in Hempstead, New York, U.S., September 26, 2016. REUTERS/Mike Segar TPX IMAGES OF THE DAY

Republican U.S. presidential nominee Donald Trump speaks as Democratic U.S. presidential nominee Hillary Clinton listens during their first presidential debate at Hofstra University in Hempstead, New York, U.S., September 26, 2016. REUTERS/Rick Wilking

Republican U.S. presidential nominee Donald Trump greets his wife Melania onstage after the conclusion of his first debate with Democratic U.S. presidential nominee Hillary Clinton at Hofstra University in Hempstead, New York, U.S., September 26, 2016. REUTERS/Joe Raedle/Pool