미국 피츠버그에서 우버의 '자율주행 택시'가 처음으로 시범운영에 들어갔다 (동영상)
미국 펜실베이니아 주(州) 피츠버그에 '자율주행 우버 택시'가 처음으로 등장했다.
차량공유서비스업체인 우버는 14일(현지시간) 피츠버그 시내에 자율주행 우버 택시를 처음으로 투입해 시범운영에 들어갔다고 '피츠버그 포스트-가제트' 등 지역 언론이 전했다.
이는 기사가 전혀 동승하지 않는 '무인 우버 택시'의 전 단계로, 우버는 자율주행 차량이 예상치 못한 돌발상황에 맞닥뜨릴 때를 대비해 기사를 동승시켰다.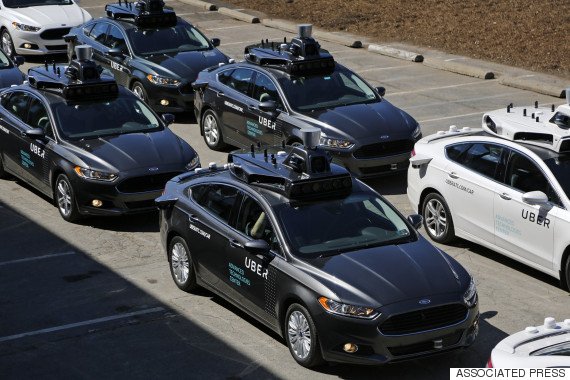 Behind the wheel of Uber's first self-driving car - The Verge
시범운영에 투입된 자율주행 우버 택시 모델은 포드 자동차의 '퓨전'(Fusion)으로, 일반인들이 자율주행 차량을 경험하는 것은 이번이 처음이다. 자율주행 우버 택시 시범운영 프로그램에 참여하고 싶은 승객은 스마트폰 앱으로 차량을 호출하면 된다.
우버 최고경영자(CEO)인 트래비스 칼리닉은 이날 자신의 블로그에 "이번 실험은 큰 진전"이라면서 "이 기술(무인운전 자율주행차)의 성공 여부를 판단하려면 실제 현장 테스트가 가장 중요하다"고 말했다.
우버는 현재 피츠버그에 '자율주행 차량 연구소'를 두고 있으며, 향후 피츠버그의 시범운영 상황을 지켜보면서 다른 도시로 확대하는 방안을 검토할 것으로 알려졌다.


A self driving Uber car drives across the ninth street bridge in downtown Pittsburgh Wednesday, Sept. 14, 2016. On Wednesday, a fleet of self-driving Ford Fusions began picking up Uber riders who opted to participate in a test program. While the vehicles are loaded with features that allow them to navigate on their own, an Uber engineer sits in the driver's seat and can seize control if things go awry. (AP Photo/Gene J. Puskar)

In this Monday, Sept. 12, 2016, photo, a self-driving Uber drives in Pittsburgh during a media preview. Starting Wednesday, Sept. 14, 2016, dozens of self-driving Ford Fusions will pick up riders who opted into a test program with Uber. While the vehicles are loaded with features that allow them to navigate on their own, an Uber engineer will sit in the driver's seat and seize control if things go awry. (AP Photo/Gene J. Puskar)

A self driving Uber car drives down River Road on Pittsburgh's Northside Wednesday, Sept. 14, 2016. On Wednesday, a fleet of self-driving Ford Fusions began picking up Uber riders who opted to participate in a test program. While the vehicles are loaded with features that allow them to navigate on their own, an Uber engineer sits in the driver's seat and can seize control if things go awry. (AP Photo/Gene J. Puskar)

A self driving Uber car drives on Liberty Ave. through the Bloomfield neighborhood of Pittsburgh Wednesday, Sept. 14, 2016. On Wednesday, a fleet of self-driving Ford Fusions began picking up Uber riders who opted to participate in a test program. While the vehicles are loaded with features that allow them to navigate on their own, an Uber engineer sits in the driver's seat and can seize control if things go awry. (AP Photo/Gene J. Puskar)

Uber safety driver Zachary Rearick, left, and vehicle operator Paul Rocchini take journalists on a drive through the streets of downtown Pittsburgh in a self driving Uber, Monday, Sept. 12, 2016. Starting Wednesday morning, Sept. 14, 2016 dozens of self-driving Ford Fusions will pick up riders who opted into a test program with Uber. While the vehicles are loaded with features that allow them to navigate on their own, an Uber engineer will sit in the driver's seat and seize control if things go awry. (AP Photo/Gene J. Puskar)

A journalist gets in a self driving Uber for a ride during a media preview at Uber's Advanced Technologies Center in Pittsburgh Monday, Sept. 12, 2016. Starting Wednesday morning, Sept. 14, 2016 dozens of self-driving Ford Fusions will pick up riders who opted into a test program with Uber. While the vehicles are loaded with features that allow them to navigate on their own, an Uber engineer will sit in the driver's seat and seize control if things go awry. (AP Photo/Gene J. Puskar)

A group of self driving Uber vehicles position themselves to take journalists on rides during a media preview at Uber's Advanced Technologies Center in Pittsburgh, Monday, Sept. 12, 2016. Starting Wednesday morning, Sept. 14, 2016 dozens of self-driving Ford Fusions will pick up riders who opted into a test program with Uber. While the vehicles are loaded with features that allow them to navigate on their own, an Uber engineer will sit in the driver's seat and seize control if things go awry. (AP Photo/Gene J. Puskar)

A group of self driving Uber vehicles position themselves to take journalists on rides during a media preview at Uber's Advanced Technologies Center in Pittsburgh, Monday, Sept. 12, 2016. Starting Wednesday morning, Sept. 14, 2016 dozens of self-driving Ford Fusions will pick up riders who opted into a test program with Uber. While the vehicles are loaded with features that allow them to navigate on their own, an Uber engineer will sit in the driver's seat and seize control if things go awry. (AP Photo/Gene J. Puskar)

A group of self driving Uber vehicles position themselves to take journalists on rides during a media preview at Uber's Advanced Technologies Center in Pittsburgh, Monday, Sept. 12, 2016. Starting Wednesday morning, Sept. 14, 2016 dozens of self-driving Ford Fusions will pick up riders who opted into a test program with Uber. While the vehicles are loaded with features that allow them to navigate on their own, an Uber engineer will sit in the driver's seat and seize control if things go awry. (AP Photo/Gene J. Puskar)

Uber's Volvo XC90 self driving car is shown during a demonstration of self-driving automotive technology in Pittsburgh, Pennsylvania, U.S. September 13, 2016. REUTERS/Aaron Josefczyk

A fleet of Uber's Ford Fusion self driving cars are shown during a demonstration of self-driving automotive technology in Pittsburgh, Pennsylvania, U.S. September 13, 2016. REUTERS/Aaron Josefczyk

A fleet of Uber's Ford Fusion self driving cars are shown during a demonstration of self-driving automotive technology in Pittsburgh, Pennsylvania, U.S. September 13, 2016. REUTERS/Aaron Josefczyk

A fleet of Uber's Ford Fusion self driving cars are shown through the lobby windows during a demonstration of self-driving automotive technology in Pittsburgh, Pennsylvania, U.S. September 13, 2016. REUTERS/Aaron Josefczyk

A roof mounted camera and radar system is shown on Uber's Ford Fusion self driving car during a demonstration of self-driving automotive technology in Pittsburgh, Pennsylvania, U.S. September 13, 2016. REUTERS/Aaron Josefczyk

A front camera is shown on Uber's Ford Fusion self driving car during a demonstration of self-driving automotive technology in Pittsburgh, Pennsylvania, U.S. September 13, 2016. REUTERS/Aaron Josefczyk

A side camera is shown on Uber's Ford Fusion self driving car during a demonstration of self-driving automotive technology in Pittsburgh, Pennsylvania, U.S. September 13, 2016. REUTERS/Aaron Josefczyk

A member of the media takes a photograph of Uber's Ford Fusion self driving car during a demonstration of self-driving automotive technology in Pittsburgh, Pennsylvania, U.S. September 13, 2016. REUTERS/Aaron Josefczyk