라이언 록티 사건과 관련해 확실한 건 트위터가 정말 대단하다는 거다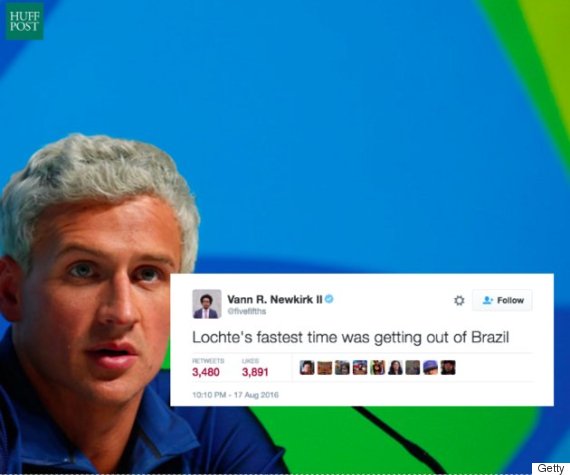 라이언 록티와 친구 수영선수들에게 지난 주말에 무슨 일을 있었는지 그 내막을 안다는 말은 아니다. 솔직히 말해, 아무도 모른다. 록티와 그 친구들이 사고를 쳤다면 그들만 안다. 그런데 확실한 것이 있긴 있다. 이 사건에 대한 트위터가 정말로 대단하다는 것. 이런 훌륭한 트위터를 소개하지 않고 그냥 넘어갈 순 없다.
Lochte's fastest time was getting out of Brazil

— Vann R. Newkirk II (@fivefifths) August 18, 2016
캡션:
록티는 브라질을 빠져나가면서 그의 가장 빠른 기록을 경신했다.
Rio: We need to double check both of your stories about this alleged robbery.

Ryan Lochte: pic.twitter.com/qxGE0NI1EW

— Philip DeFranco (@PhillyD) August 18, 2016
캡션:
리우 - 강도 사건에 대한 두 개 이야기 다 확인 필요.
Ryan Lochte leaving Brazil 🇧🇷 pic.twitter.com/YgdH1Jhy5o

— LTMA (@ltma) August 18, 2016
캡션:
라이언 록티가 브라질에서 도망치다.
Ryan Lochte be like... pic.twitter.com/hSIeQ5hbtF

— J.A. Adande (@jadande) August 18, 2016
캡션:
라이언 록티, 아마 이런 모습 아니었을까...
Ryan Lochte lied about a night on the town to his mom and started an international incident. I'm dead.

— Ashley Weatherford (@sincerelyash) August 18, 2016
캡션:
라이언 록티는 밤늦게까지 놀았다는 사실을 엄마에게 거짓말 했다가 국제적인 사건이 됐다. 그렇다면 난 죽었다.
Sketch of the guy who held up Lochte pic.twitter.com/sPLUvWz5dC

— Vann R. Newkirk II (@fivefifths) August 18, 2016
캡션:
록티를 턴 강도 스케치.
If Ryan Lochte lied about that robbery, how can we ever believe any man's allegations of robbery? 🤔

— WendyBrandes (@WendyBrandes) August 18, 2016
캡션:
라이언 록티가 말한 게 거짓말이라면 앞으로 강도사건에 대해 누구의 말을 믿을 수 있겠는가?
wait but did ryan lochte really say "whatever" with the gun to his forehead or nah

— america (@greghoward88) August 18, 2016
캡션:
잠깐. 무장강도가 총을 머리에 겨눈 순간에 록티가 정말로 "맘대로 해"라고 한 게 사실인가? 그럴리가...
Synchronized swimmers would keep their story straight.

— Steve Rushin (@SteveRushin) August 18, 2016
캡션:
싱크로나이즈드 스위밍 선수들이었다면 말이 일치했을 텐데.
Matt Lauer: Ryan, your robbery story isn't adding up?
Ryan Lochte: pic.twitter.com/r9xD4vMJSL

— Zito (@_Zeets) August 18, 2016
캡션:
앵커 매트 라우어, "라이언, 강도사건에 대한 설명, 앞뒤가 안 맞습니다." 라이언 록티 - 위 동영상
For Lochte the unbelievable thing is a 32 year old man still telling his mom the whereabouts of his night out.

— Ashley Holcomb (@ashleyxholcomb) August 18, 2016
캡션:
가장 어처구니 없는 부분은 32살인 록티가 자기 엄마에게 밤에 어디 있었는지 보고해야 했다는 점이다.
Honestly, now would be the perfect time to actually rob Lochte

— Myles Brown (@mdotbrown) August 18, 2016
캡션:
그런데 지금이야말로 록티를 강도할 적기다.
If it turns out Lochte filed a false report, I look forward to people bringing up the case every single time a man says he's been robbed.

— Caitlin Kelly (@caitlin__kelly) August 18, 2016
캡션:
록티는 가짜로 신고했다. 앞으로 남자가 사기(원어의 '도난'을 사기로)당했다고 할 때마다 이 이야기를 기억시켜 줄거다.
Ryan Lochte thought Rio was gonna be like this pic.twitter.com/7pPy9J6vG8

— Caity Weaver (@caityweaver) August 18, 2016
캡션:
라이언 록티는 리우가 이런 곳인 줄 알았나 보다.
"harambe, you're alive! but how?"
"tell no one ryan lochte, the fate of the world depends on it. just make up a story."

— Oliver Willis (@owillis) August 18, 2016
캡션:
"하람베. 살아 있었네. 대체 어떻게?" "라이언, 아무에게도 이야기하면 안 돼. 지구의 운명이 달려있다고. 그러니까 그냥 둘러대."
@netw3rk Who among us hasnt lied to mom about a night out then doubled down when she went public then fled the country to avoid the police?

— Justin Scaife (@JustinScaife) August 18, 2016
캡션:
자기 엄마에게 '스파'에 갔다가 지갑을 잃어버렸다고 시인하기가 뭣해서 그렇게 된 것 아닐까?
The Ryan Lochte @serial is going to be good.

— pourmecoffee (@pourmecoffee) August 17, 2016
캡션:
라이언 록티 시리얼은 정말로 맛있을 거야.
I can't decide if I want to know THE FULL TRUTH about Ryan Lochte right now or just have it doled out to me in episodes like a morphine drip

— Matt Pearce (@mattdpearce) August 17, 2016
캡션:
라이언 록티에 대한 사실을 지금 전부 아는 게 좋을지 아니면 모르핀처럼 찔끔찔끔 알게 되는 것이 좋을 지 솔직히 말해 잘 모르겠다.
I am never going to say "whatever" again without prefacing it, "As Ryan Lochte says at gunpoint,"

— Meredith Haggerty (@manymanywords) August 15, 2016
캡션:
난 앞으로 "라이언 록티처럼 머리에 총이 겨눠진 상태에서"라는 말을 덧붙이지 않고는 "맘대로 해"라는 말은 절대 안 할 거다.
Brazil overthrows elected president in a coup. US shrugs.

Brazil drags US swimmers off a plane. THIS MEANS WAR.

— Ryan Grim (@ryangrim) August 18, 2016
캡션:
국민이 선출한 브라질 대통령이 쿠데타로 타도되자 미국은 어깨를 으쓱하는 정도다. 브라질이 미국 수영선수를 비행기에서 잡아 내리자, 이건 전쟁 감이라고 한다.
my fave is Ryan RTing his plea LMAOOOOOO pic.twitter.com/g8wBJH9aBY

— FLEEKNIK (@Judnikki) August 18, 2016
캡션:
라이언이 자기의 변명을 리트윗하는 것. 웃겨 죽겠다.
Lochte getting a robbed at gunpoint and Melo just chillen regular lol pic.twitter.com/qrU3c6A0AM

— Ak Beckham (@IcebergAk) August 16, 2016
캡션:
록티는 무장강도에게 도둑맞았다고 하고 멜로는 그냥 느긋하게 쉰다.
Brazilian Police: "And you made the whole story up, didn't you?"

Lochte: pic.twitter.com/O2YKasN62s

— Chief (@BarstoolChief) August 18, 2016
캡션: 브라질 경찰 - "만들어 낸 이야기지? 그렇지?" 록티 - "네."
What Ryan Lochte told his momma vs what really happened pic.twitter.com/jyUGT6B5ko

— Jemele Hill (@jemelehill) August 18, 2016
캡션:
라이언 록티가 자기 엄마에게 말 한 것 대비 실제 상황.
More NBC reporting still to come... pic.twitter.com/sVjoqaVHow

— Alexander Goot (@AGoot18) August 18, 2016
캡션:
더 많은 사연을 NBC가 틀림없이 보도할 거다.
(Like how is Ryan Lochte the smartest dude in a four-person group?)

— Gary Parrish (@GaryParrishCBS) August 18, 2016
캡션:
4 명 중에 라이언 록티가 가장 똑똑한 사람이었다고? 어떻게?
My hair is going back to its normal color tomorrow 🙏

— Ryan Lochte (@RyanLochte) August 16, 2016
캡션:
내일부터 내 원래 머리 색으로 돌아간다.
After winning the gold medal in the women's individual all-around on Aug. 11, the 19-year-old gymnast insisted that she be credited for her own achievements."I'm not the next Usain Bolt or Michael Phelps," she told Sporting News after accepting her second gold medal. "I'm the first Simone Biles."Hell yes, Simone.

The 20-year-old Chinese swimmer, who's known for her great attitude and funny faces, recently revealed that she got her period before the 4x100-meter relay on Aug. 13. "My period came last night and I'm really tired right now," Fu told a reporter. "But this isn't an excuse, I still did not swim as well as I should have."Her honesty was refreshing and so important, especially in a culture that still treats women's periods as a taboo subject.

After becoming the first American woman to win gold in shot put, Michelle Carter expressed an empowering message about body image and self-love. "I'm in a sport where people don't look at us like women, they don't look at us like being girls, or feminine," Carter told the AP. "But I've been girly all my life and so I couldn't separate... between the sport and being a woman." Earlier this year, Carter told The New Yorker that it's just fine to be feminine and be a badass competitor. "I think now, it's like, 'You know what? We're girls and we can throw heavy balls and be in the dirt and we look good while we're doing it,'" she said. "I think it's bringing more attention to the sport and girls are realizing, 'Hey, I can do this and it's O.K. to do this as a girl.'"

Forget their world domination in the Olympics, these five American gymnasts -- dubbed The Final Five -- deserve gold for their awesome sisterhood. Aly Raisman, Gabby Douglas, Simone Biles, Laurie Hernandez and Madison Kocian have shown each other some truly amazing support and TLC through the games. One awesome example of the team's unwavering support for one another came after Biles won gold and Raisman won silver in the women's individual all-around competition. "I think I was more proud of Aly getting silver than me gold," Biles told ESPNW. "She's worked so incredibly hard during her comeback. She's one of my role models, and I don't think there's anyone I'd rather share the podium with. I'm more happy for her than I am myself."

In response to a sexist comment that 19-year-old American swimmer Katie Ledecky "swims like a man," NBC commentator Rowdy Gaines said, "She doesn't swim like a man, she swims like Katie Ledecky!"We couldn't have said it better.

Brazilian gymnast Rebeca Andrade slayed her floor routine on Aug. 7 set to the tune of Queen Bey's "Crazy In Love." While Andrade came in fourth in the individual all-around competition, the gymnast won the hearts of Bey fans everywhere.We were certainly "crazy in love" with her routine.

The 20-year-old American swimmer made history on Aug. 12 when she set an Olympic record in the women's 100-meter freestyle, and won a gold medal. "It means a lot, this medal is not just for me. This is for a whole bunch of people who have come before me, and have been an inspiration to me," Manuel told NBC after the race. "It's for all the people after me who can't -- who believe they can't do it. And I just want to be an inspiration to others, that you can do it."

Fencer Ibtihaj Muhammad made history just by competing in the Olympic Games. But she didn't just show up -- she slayed, winning a bronze medal along with the rest of the U.S. Women's Fencing Team.

Uzbekistani gymnast Oksana Chusovitina is currently competing in her seventh Olympic Games. Yes, you read that correctly -- her seventh Olympic games. Chusovitina, known as "Chuso" in the gymnastics community, first competed in the 1992 Olympic Games in Barcelona and has competed in every Olympics since. She has a 17-year-old son, who is one year older than the youngest gymnast on the American team, Laurie Hernandez. During the women's vault competition, Chusovitina attempted a vault move so dangerous it's been dubbed the "vault of death." Although she didn't land it -- and unfortunately did not medal -- the 41-year-old gymnast won our hearts with her gutsy performance.

The U.S. women's basketball team is hands-down dominating the Olympics. Apparently, not everyone's happy about it. When a reporter asked coach Geno Auriemma if he thinks it's bad for basketball that his team is so dominant, the veteran women's coach responded perfectly: "We live in that Trumpian era where it's OK to be sexist and degrade people that are good, just because they're the opposite sex. We are what we are. We're never going to apologize for being that good. We're never going to apologize for setting a standard that other people aspire to achieve.We got a guy in the pool with a USA swim cap on who nobody can beat. And if he wasn't in swimming, there would be a lot of other guys with gold medals. So, it is what it is. The world needs times when such great, great teams or great individuals are doing great things, that other people can talk about and other people say, 'Wow, wouldn't it be great to be at that level?' These are Olympians. They're supposed to play at a high level.They're professionals, they're supposed to put on a show, they're supposed to entertain. So, what are we supposed to do? Just go out there and win by a little?"

After Manuel's history-making gold medal win in the 100-meter freestyle, she came back to her room at 2 a.m. to find Ledecky still awake and ready to hug her.According to the New York Times:"Before the 800, Ledecky did not have the best night's sleep. She woke up on Friday with a sore throat that she kiddingly blamed on her roommate, Simone Manuel. After Manuel's upset victory in the 100-meter freestyle on Thursday, Ledecky stayed awake to congratulate her. Manuel said she was shocked when she cracked open the bedroom door around 2 in the morning and was swallowed in an embrace by Ledecky.'She said I'm not going to sleep until I give you a hug,' Manuel said. 'That really meant a lot to me.'"#FriendshipGoals
허핑턴포스트US의 'All We Know For Sure About The Ryan Lochte Story Is That These Are Good Tweets'를 번역, 편집한 것입니다.