미국 공화당이 뒤늦게 도널드 트럼프를 버릴 준비를 하고 있다
도널드 트럼프 미국 공화당 대선후보가 연일 망언을 쏟아내고 지지율이 추락하면서 공화당 내부에서 트럼프 낙선이나 중도낙마를 가정한 전략이 속속 나오고 있다.
공화당 슈퍼팩(정치활동위원회) 전략가들은 트럼프의 패배를 기정사실로 가정하고 민주당의 힐러리 클린턴이 대권을 차지했을 때 의회에 공화당원이 많아야 한다는 논리의 상하원 선거광고 제작을 논의하고 있다고 뉴욕타임스(NYT) 등이 6일(현지시간) 보도했다.
11월 8일로 예정된 대선일에는 상하원 의원을 뽑는 선거도 함께 치러져 상원의원 전체 100명 가운데 3분의 1인 34명과 하원의원 435명을 선출한다. 이에 거센 역풍을 맞고 있는 트럼프 '불똥'이 튈 것에 대비하는 것이다.

또한 공화당 지도부 상당수가 '트럼프가 당의 번영을 위협하는 존재'라는 결론을 내리고 언제쯤 상원의원 선거 후보들이 트럼프와 거리를 두도록 할지 고민하는 것으로 알려졌다.
"The conclusion has become that the guy is incorrigible": Republicans are starting to flee Trump's shadow https://t.co/xKEDpoxjO1

— The New York Times (@nytimes) August 6, 2016
지도부가 트럼프의 중도 낙마에 대비해 '플랜 B 시나리오'를 검토하고 있다는 보도도 나왔다.
여기에 공화당 현역 의원은 물론 골수지지자와 후원자들마저 공식적으로 민주당의 클린턴이나 제3의 자유당 게리 존슨 후보 지지를 표명하고 있다.
공화당의 스콧 리겔(버지니아) 하원의원은 11월 대선에서 존슨 후보에게 투표하겠다고 5일 밝혔다. 공화당 현역 의원이 자유당 후보를 공개 지지한 것은 처음 있는 일이다.
이보다 앞서 2일 리처드 한나(뉴욕) 하원의원도 "트럼프는 공화당에 봉사하기에도 미국을 이끌기에도 부적합하다"며 클린턴 지지를 표명했다.
또 다른 공화당 후보는 이미 트럼프가 대통령이 된다면 자신이 그에게 맞서겠다는 내용의 광고까지 내보냈다.
패트릭 투미(펜실베이니아) 상원의원은 5일 컨퍼런스 콜에서 "트럼프는 자기 멋대로인 유형"이라며 "유권자들이 대선과 상원의원 선거에서 다른 선택을 할 것"이라고 말했다.
펜실베이니아 유권자들이 대통령으로는 트럼프를 뽑지 않아도 상원의원으로는 자신에게 표를 던져줄 것이라고 암시한 것이다.
론 존슨(위스콘신) 상원의원과 데이비드 영(아이오와) 하원의원은 트럼프가 자신의 지역구에 방문하자 다른 곳에서 따로 행사를 열기도 했다.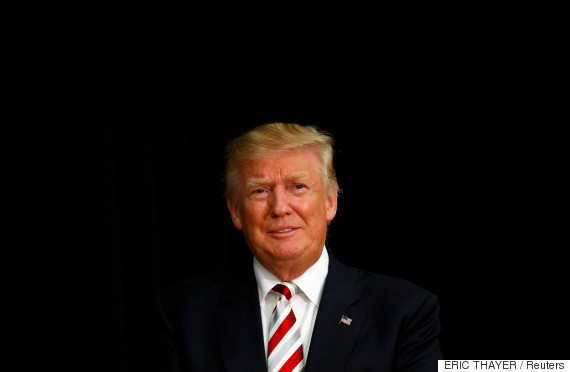 현역 의원이 아닌 공화당 지지자들도 속속 트럼프의 반대편에 서고 있다.
공화당에 지원을 아끼지 않는 '큰 손' 후원자이자 골수지지자인 멕 휘트먼 휴렛팩커드(HP) 최고경영자(CEO)도 2일 성명을 통해 클린턴에 대한 지지를 공식 표명했다.
공화당의 우상 로널드 레이건 대통령의 보좌관이자 대변인이었던 더그 엘멧도 지난달 민주당 전당대회에 등장해 "40년째 공화당 대선후보에게 투표했지만, 이번 대선에서 처음으로 민주당 후보에게 표를 주려 한다"고 말했다.
이외에도 젭 부시 전 플로리다 주지사의 핵심 참모였던 샐리 브래드쇼와 공화당에 기부해 온 억만장자 헤지펀드 매니저 세스 클라만도 클린턴 지지 의사를 밝혔다.


편집자주 : 도널드 트럼프는 꾸준히 정치적 폭력을 조장하고, 그는 상습적인 거짓말쟁이이며, 겉잡을 수 없는 제노포비아, 인종주의자, 여성혐오주의자인 데다 오바마 대통령이 미국 태생이 아니라고 믿는 사람들 중 하나일 뿐만 아니라 반복적으로 -전 세계 16억명에 달하는- 무슬림의 미국 입국을 금지하겠다고 말하는 인물이다.

Republican presidential candidate Donald Trump waves to supporters during a campaign town hall at Ocean Center, Wednesday, Aug. 3, 2016, in Daytona Beach, Fla. (AP Photo/Evan Vucci)

Supporters cheer for Republican presidential candidate Donald Trump during a campaign rally at the Greensboro Coliseum in Greensboro, N.C., Tuesday, June 14, 2016. (AP Photo/Chuck Burton)

A Trump supporter holds up a book during first day of the Republican National Convention in Cleveland, Monday, July 18, 2016. (AP Photo/John Locher)

A supporter of Republican presidential candidate Donald Trump holds a sign during a campaign rally, Monday, July 25, 2016, in Winston-Salem, N.C. (AP Photo/Evan Vucci)

A supporter of Republican Presidential candidate Donald Trump, records the event during a speech in Virginia Beach, Va., Monday, July 11, 2016. (AP Photo/Steve Helber)

Supporters of Republican presidential candidate Donald Trump wave before a rally in Greensboro, N.C., Tuesday, June 14, 2016. (AP Photo/Chuck Burton)

Supporters of Republican presidential candidate Donald Trump recite the Pledge of Allegiance during a rally for the candidate in Richmond, Va., Friday, June 10, 2016. (AP Photo/Steve Helber)

Supporters of Republican presidential candidate Donald Trump wave signs after a campaign rally, Saturday, June 11, 2016 at a private hanger at Greater Pittsburgh International Airport in Moon, Pa. (AP Photo/Keith Srakocic)

A supporter of Republican presidential candidate Donald Trump marches in downtown on Tuesday, July 19, 2016, in Cleveland, during the second day of the Republican convention. (AP Photo/Patrick Semansky)

A supporter of Republican presidential candidate Donald Trump holds a sign before a rally at Gilley's in Dallas, Thursday, June 16, 2016. (AP Photo/LM Otero)

Supporters of Republican presidential candidate Donald Trump hope to capture a photo of the candidate after a campaign speech Saturday, June 11, 2016, in Tampa, Fla. (AP Photo/Chris O'Meara)

Supporters of Republican presidential candidate Donald Trump cheer after arriving for a rally Friday, June 17, 2016, in The Woodlands, Texas. (AP Photo/David J. Phillip)

Supporters of Republican presidential candidate Donald Trump react to him speaking at a rally Saturday, June 18, 2016, in Phoenix. (AP Photo/Ross D. Franklin)

Supporters of Republican presidential candidate Donald Trump clamor for autographs a rally Wednesday, June 29, 2016, in Bangor, Maine.(AP Photo/Robert F. Bukaty)

Supporters of Republican presidential candidate Donald Trump wait for the start of a rally in Westfield, Ind., Tuesday, July 12, 2016. Trump is wildly unpopular among young adults, in particular young people of color, and nearly two-thirds of Americans between the ages of 18 and 30 believe the presumptive Republican nominee is racist. That's the finding of a new GenForward poll that also found just 19 percent of young people have a favorable opinion of Trump compared to the three-quarters of young adults who hold a dim view of the New York billionaire. (AP Photo/Michael Conroy)

Trump supporters Kay Kellogg Katz, left, and Gena Gore from Monroe, La., cheer during first day of the Republican National Convention in Cleveland, Monday, July 18, 2016. (AP Photo/Matt Rourke)

Supporters watch Republican presidential candidate Donald Trump speak on a outdoor screen in downtown on Thursday, July 21, 2016, in Cleveland, during the final day of the Republican convention. (AP Photo/John Minchillo)

Supporters of Republican presidential candidate Donald Trump cheer during a campaign rally, Monday, July 25, 2016, in Winston-Salem, N.C. (AP Photo/Evan Vucci)

Supporters of Republican presidential candidate Donald Trump watch as he speaks during a campaign rally, Monday, July 25, 2016, in Winston-Salem, N.C. (AP Photo/Evan Vucci)

Supporters of Republican presidential candidate Donald Trump cheer as he takes the stage during a campaign rally, Monday, July 25, 2016, in Winston-Salem, N.C. (AP Photo/Evan Vucci)

Supporters cheer for Republican presidential candidate Donald Trump during a campaign rally, Wednesday, July 27, 2016, in Toledo, Ohio. (AP Photo/Evan Vucci)

Supporters reach out for Republican presidential candidate Donald Trump during a campaign rally, Wednesday, July 27, 2016, in Toledo, Ohio. (AP Photo/Evan Vucci)

Supporters of Republican presidential candidate Donald Trump wait to shake hands during a campaign rally, Wednesday, July 27, 2016, in Toledo, Ohio. (AP Photo/Evan Vucci)

Supporters of Republican presidential candidate Donald Trump cheer as he speaks during a campaign rally, Thursday, July 28, 2016, in Cedar Rapids, Iowa. (AP Photo/Evan Vucci)

Supporters cheer as Republican presidential candidate Donald Trump speaks during a town hall event, Monday, Aug. 1, 2016, in Columbus, Ohio . (AP Photo/Evan Vucci)

Supporters of Republican presidential candidate Donald Trump look on as he speaks during a campaign rally at Cumberland Valley High School, Monday, Aug. 1, 2016, in Mechanicsburg, Pa. (AP Photo/Evan Vucci)

Supporters of Republican presidential candidate Donald Trump cheer as he speaks to an overflow room during a campaign rally at Cumberland Valley High School, Monday, Aug. 1, 2016, in Mechanicsburg, Pa. (AP Photo/Evan Vucci)

Supporters of Republican presidential candidate Donald Trump listen as he speaks during a campaign rally at Briar Woods High School, Tuesday, Aug. 2, 2016, in Ashburn, Va. (AP Photo/Evan Vucci)

Supporters of Republican presidential candidate Donald Trump listens as he speaks during a campaign rally at Briar Woods High School, Tuesday, Aug. 2, 2016, in Ashburn, Va. (AP Photo/Evan Vucci)

Supporters of Republican presidential candidate Donald Trump wait for his arrival to a campaign rally at Cumberland Valley High School, Monday, Aug. 1, 2016, in Mechanicsburg, Pa. (AP Photo/Evan Vucci)

Supporters of Republican presidential candidate Donald Trump cheer as he speaks to an overflow room during a campaign rally at Cumberland Valley High School, Monday, Aug. 1, 2016, in Mechanicsburg, Pa. (AP Photo/Evan Vucci)

Supporters of Republican presidential candidate Donald Trump watch as he speaks during a campaign rally at Jacksonville Veterans Memorial Arena, Wednesday, Aug. 3, 2016, in Jacksonville, Fla. (AP Photo/Evan Vucci)

Supporters of Republican presidential candidate Donald Trump cheer as he arrives to a campaign rally at Jacksonville Veterans Memorial Arena, Wednesday, Aug. 3, 2016, in Jacksonville, Fla. (AP Photo/Evan Vucci)

Supporters of Republican presidential candidate Donald Trump watch as he speaks during a campaign rally at Jacksonville Veterans Memorial Arena, Wednesday, Aug. 3, 2016, in Jacksonville, Fla. (AP Photo/Evan Vucci)