버락 오바마가 '내가 아는 미국'을 칭송하며 미국을 이끌 사람은 힐러리 클린턴이라고 연설하다
수요일 밤에 버락 오바마 대통령은 미국인들이 11월에 냉혹한 선택을 해야 한다고 말했다. '우리가 어떤 사람들인가'에 대한 '근본적' 질문들을 제기하는 흔치 않은 선거이며 사상 가장 훌륭한 자격을 갖춘 후보 중 하나인 힐러리 클린턴이 믿을 수 없는 사기꾼 도널드 트럼프와 맞서는 선거라고 했다.
오바마는 자신이 재임 중에 이뤘던 것들을 꼽으며 감동적이고 맹렬했던 민주당 전당 대회 연설을 시작했다. 실업률 감소, 자동차 산업 재건, 의료 개혁 통과, 이란 핵 협상, 오사마 빈 라덴 살해였다. 연설 마지막에는 클린턴이 오바마와 함께 했다.
오바마는 가계의 경제적 어려움, 널리 퍼진 총기 폭력 등 미국의 당면 과제들을 언급했다. 그러나 "변화는 결코 쉽지 않고 결코 빠르지 않지만" 미국이 문제를 해결할 수 있는 능력이 있다는 강한 믿음을 표명했다.
"제가 아는 미국은 용기와 낙관주의와 독창성이 가득한 곳입니다." 오바마는 지난 주 클리블랜드에서 열린 공화당 전당 대회에서 나온 어둡고 비관적 메시지와 상반되는 모습을 제시했다.
"우리는 서로 등을 돌리고, 세상에 등을 돌리는, 굉장히 비관적인 나라의 모습에 대해 들었습니다. 급박한 문제들에 대한 진지한 해결책은 없었습니다. 그저 분개와 책임 돌리기와 분노와 증오를 부채질했을 뿐입니다."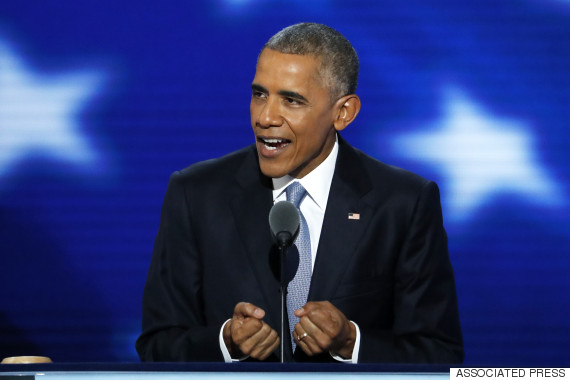 두 가지 모습을 제시한 오바마는 클린턴의 경험과 실력뿐 아니라 어린이와 퇴역 군인들을 옹호해 온 역사를 일깨우며 클린턴을 지지했다.
오바마는 특히 클린턴의 공공 서비스에 대한 헌신을 강조했다. 클린턴의 가장 큰 정치적 책임(정치 경험이 있다는 것)을 자산으로 바꾸기 위한 시도였다. "클린턴은 자신이 실수를 한 적이 있다는 걸 압니다. 내가 실수를 했던 것처럼, 우리 모두가 하는 것처럼요. 노력하면 그런 일이 일어납니다."
오바마는 클린턴의 투지와 결의를 시오도어 루즈벨트와 비교했다. "힐러리 클린턴은 전장에 나선 그런 여성입니다. 클린턴은 우리를 위해 싸워 왔습니다. 우리가 늘 그 사실을 깨닫지는 못했지만 말입니다."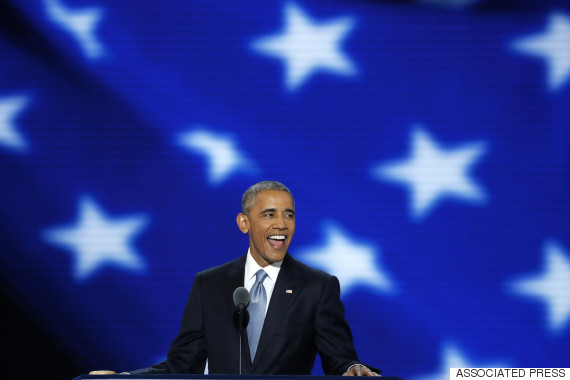 그리고 트럼프에 대해 이야기했다. 조 바이든 부통령과 부통령 후보 팀 케인 등이 이미 연설을 통해 관중들을 달궈 놓은 뒤였다. 오바마는 그들의 말을 이어받았다. 처음에는 2011년 백악관 출입기자 만찬 때 사용했던 놀리는 투로 시작했다.
"트럼프는 계획을 세우는 사람은 아닙니다. 사실 관계에 충실한 사람도 아니죠. 자신을 사업가라고 부르는데, 그건 사실이지만, 저는 온갖 소송 건, 보수를 받지 못한 노동자들, 사기 당한 기분을 느끼는 사람들을 만들지 않고도 성공한 남녀 사업가들을 많이 알고 있다는 말은 해야겠군요."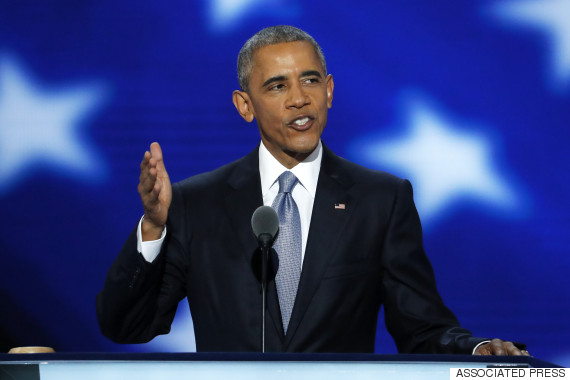 그러나 오바마는 곧 진지해져서, 그가 일반 미국인들의 경제적 이익을 보호해 줄 수 없다는 증거로 트럼프의 사업 실적을 언급했다. "70 평생 동안 노동하는 사람들에 대한 존중을 보여준 적이 없는 사람이 갑자기 당신의 편, 당신의 목소리가 될 거라고 믿는 사람이 정말로 있습니까?"
그는 트럼프가 미국인들을 외국의 위협에서 보호해 줄 능력에도 의문을 제기했다. "그는 푸틴과 친하게 지내고, 사담 후세인을 칭찬하고, 9/11 이후 우리 편에 섰던 NATO 동맹국들에게 우리의 보호를 원하면 돈을 내라고 말합니다. 미국의 약속에는 가격표가 붙어있지 않습니다. 우리는 헌신합니다."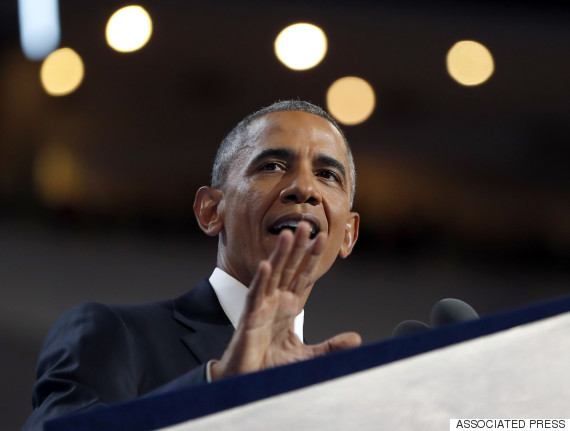 오바마는 공화당의 상징적 인물을 들어 자신의 주장을 뒷받침하기도 했다. "로널드 레이건은 미국을 '언덕 위의 빛나는 도시'라고 불렀습니다. 도널드 트럼프는 미국을 자신만이 고칠 수 있는 '분열된 범죄 현장'이라고 부릅니다. … 그가 제공하는 것은 슬로건과 공포뿐입니다. 그는 여러 사람들에게 겁을 주면 이번 선거에서 이길 수 있을 정도의 표를 얻을 수 있지 않을까 도박을 하고 있습니다."
"이번 도박은 도널드 트럼프가 패배하는 또 하나의 도박이 될 겁니다. 미국인들을 하찮게 보고 있기 때문이죠. 우리는 나약하거나 겁 많은 사람들이 아닙니다. 우리의 힘은 자신만이 질서를 회복시킬 수 있다며 구세주를 자처하는 사람으로부터 오는 게 아닙니다. 우리는 지배받기를 원하지 않습니다."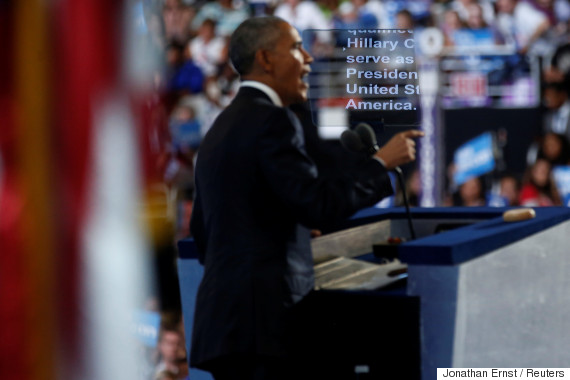 그러나 연설의 가장 강렬한 부분은 맨 마지막에 있었다. 트럼프를 미국을 믿지 않는 사람으로 묘사한 오바마는 민주주의는 작동할 수 있으며, 기회를 준다면 미국을 위한 옳은 선택을 할 거라는 자신의 믿음을 다시 강조했다.
"그게 미국입니다. 애정의 유대. 공통의 신념. 우리는 미래를 두려워하지 않습니다. 따로 떨어져 있을 때보다 함께 할 때 더 강한 우리는 하나로서 미래를 빚고 포용합니다."
오바마의 연설에 청중은 자리에서 일어섰다. 클린턴이 (예측 가능했지만) 극적인 입장을 하자 함성은 더욱 커졌다. 오바마와 클린턴은 몇 마디 주고받고 포옹한 뒤 함께 무대에 서서 박수갈채를 받았다. 민주당 전당 대회 3일째는 이렇게 끝이 났다.


* 이 글은 허핑턴포스트US의 'Obama Praises 'The America I Know,' Says Hillary Clinton Is The One To Lead It'(영어)를 번역, 편집한 것입니다.
U.S. President Barack Obama takes the stage at the Democratic National Convention in Philadelphia, Pennsylvania, U.S. July 27, 2016. REUTERS/Scott Audette

U.S. President Barack Obama takes the stage to speak on the third night of the Democratic National Convention in Philadelphia, Pennsylvania, U.S. July 27, 2016. REUTERS/Mike Segar

U.S. President Barack Obama takes the stage to speak on the third night of the Democratic National Convention in Philadelphia, Pennsylvania, U.S. July 27, 2016. REUTERS/Mike Segar

U.S. President Barack Obama takes the stage to deliver remarks on the third night of the Democratic National Convention in Philadelphia, Pennsylvania, U.S. July 27, 2016. REUTERS/Jonathan Ernst

President Barack Obama waves at the Democratic National Convention in Philadelphia, Pennsylvania, U.S. July 27, 2016. REUTERS/Rick Wilking.

U.S. President Barack Obama waves as he arrives to speak on the third night at the Democratic National Convention in Philadelphia, Pennsylvania, U.S. July 27, 2016. REUTERS/Carlos Barria

U.S. President Barack Obama takes the stage to speak on the third night of the Democratic National Convention in Philadelphia, Pennsylvania, U.S. July 27, 2016. REUTERS/Mike Segar

President Barack Obama speaks at the Democratic National Convention in Philadelphia, Pennsylvania, U.S. July 27, 2016. REUTERS/Rick Wilking

U.S. President Barack Obama speaks on the third night at the Democratic National Convention in Philadelphia, Pennsylvania, U.S. July 27, 2016. REUTERS/Carlos Barria

U.S. President Barack Obama speaks on the third night of the Democratic National Convention in Philadelphia, Pennsylvania, U.S. July 27, 2016. REUTERS/Mike Segar

President Barack Obama speaks at the Democratic National Convention in Philadelphia, Pennsylvania, U.S. July 27, 2016. REUTERS/Gary Cameron

U.S. President Barack Obama speaks on the third night of the Democratic National Convention in Philadelphia, Pennsylvania, U.S. July 27, 2016. REUTERS/Mike Segar

U.S. President Barack Obama speaks on the third night of the Democratic National Convention in Philadelphia, Pennsylvania, U.S. July 27, 2016. REUTERS/Mike Segar

U.S. President Barack Obama speaks on the third night at the Democratic National Convention in Philadelphia, Pennsylvania, U.S. July 27, 2016. REUTERS/Mike Segar

U.S. President Barack Obama speaks on the third night at the Democratic National Convention in Philadelphia, Pennsylvania, U.S. July 27, 2016. REUTERS/Mike Segar

U.S. President Barack Obama speaks on the third night at the Democratic National Convention in Philadelphia, Pennsylvania, U.S. July 27, 2016. REUTERS/Mike Segar

U.S. President Barack Obama speaks on the third night of the Democratic National Convention in Philadelphia, Pennsylvania, U.S. July 27, 2016. REUTERS/Mike Segar

U.S. President Barack Obama speaks on the third night of the Democratic National Convention in Philadelphia, Pennsylvania, U.S. July 27, 2016. REUTERS/Mike Segar

U.S. President Barack Obama speaks on the third night at the Democratic National Convention in Philadelphia, Pennsylvania, U.S. July 27, 2016. REUTERS/Carlos Barria

President Barack Obama speaks at the Democratic National Convention in Philadelphia, Pennsylvania, U.S. July 27, 2016. REUTERS/Lucy Nicholson

President Barack Obama speaks at the Democratic National Convention in Philadelphia, Pennsylvania, U.S. July 27, 2016. REUTERS/Rick Wilking

Delegates hold signs for President Barack Obama at the Democratic National Convention in Philadelphia, Pennsylvania, U.S. July 27, 2016. REUTERS/Rick Wilking.

U.S. President Barack Obama (lower, R) speaks on the third night at the Democratic National Convention in Philadelphia, Pennsylvania, U.S. July 27, 2016. REUTERS/Brian Snyder

President Barack Obama addresses delegates at the Democratic National Convention in Philadelphia, Pennsylvania, U.S. July 27, 2016. REUTERS/Scott Audette

President Barack Obama speaks at the Democratic National Convention in Philadelphia, Pennsylvania, U.S. July 27, 2016. REUTERS/Lucy Nicholson

U.S. President Barack Obama addresses the Democratic National Convention in Philadelphia, Pennsylvania. U.S. July 27, 2016. REUTERS/Charles Mostoller

U.S. President Barack Obama delivers remarks on the third night of the Democratic National Convention in Philadelphia, Pennsylvania, U.S. July 27, 2016. REUTERS/Jonathan Ernst

U.S. President Barack Obama delivers remarks on the third night of the Democratic National Convention in Philadelphia, Pennsylvania, U.S. July 27, 2016. REUTERS/Jonathan Ernst

U.S. President Barack Obama points at the crowd as he arrives to speak on the third night at the Democratic National Convention in Philadelphia, Pennsylvania, U.S. July 27, 2016. REUTERS/Mark Kauzlarich

U.S. President Barack Obama speaks on the third night of the 2016 Democratic National Convention in Philadelphia, Pennsylvania, U.S., July 27, 2016. REUTERS/Jim Young

A man holds up a peace sign amid protests outside the Wells Fargo Center on the third day of the Democratic National Convention in Philadelphia, Pennsylvania, U.S., July 27, 2016. REUTERS/Dominick Reuter

Democratic presidential nominee Hillary Clinton points at President Barack Obama as she arrives onstage at the end of his speech on the third night of the 2016 Democratic National Convention in Philadelphia, Pennsylvania U.S., July 27, 2016. REUTERS/Jim Young

Democratic presidential nominee Hillary Clinton greets U.S. President Barack Obama as she arrives onstage at the end of his speech on the third night of the 2016 Democratic National Convention in Philadelphia, Pennsylvania, U.S., July 27, 2016. REUTERS/Jim Young

Democratic presidential nominee Hillary Clinton hugs U.S. President Barack Obama as she arrives onstage at the end of his speech on the the third night of the 2016 Democratic National Convention in Philadelphia, Pennsylvania, U.S., July 27, 2016. REUTERS/Jim Young

U.S. President Barack Obama and Democratic Nominee for President Hillary Clinton hug on stage at the Democratic National Convention in Philadelphia, Pennsylvania. U.S. July 27, 2016. REUTERS/Charles Mostoller

U.S. President Barack Obama and Democratic presidential nominee Hillary Clinton hold hands after his speech on the third night at the Democratic National Convention in Philadelphia, Pennsylvania, U.S. July 27, 2016. REUTERS/Mark Kauzlarich

U.S. President Barack Obama and Democratic presidential nominee Hillary Clinton talk as they appear onstage together after Obama's speech on the third night at the Democratic National Convention in Philadelphia, Pennsylvania, U.S. July 27, 2016. REUTERS/Mark Kauzlarich

U.S. President Barack Obama and Democratic presidential nominee Hillary Clinton hug as they appear onstage together after Obama's speech on the third night at the Democratic National Convention in Philadelphia, Pennsylvania, U.S. July 27, 2016. REUTERS/Mike Segar

U.S. President Barack Obama and Democratic presidential nominee Hillary Clinton appear onstage together after Obama's speech on the third night at the Democratic National Convention in Philadelphia, Pennsylvania, U.S. July 27, 2016. REUTERS/Mark Kauzlarich

U.S. President Barack Obama and Democratic presidential nominee Hillary Clinton appear onstage together after his speech on the third night at the Democratic National Convention in Philadelphia, Pennsylvania, U.S. July 27, 2016. REUTERS/Mark Kauzlarich

U.S. President Barack Obama and Democratic presidential nominee Hillary Clinton appear onstage together after his speech on the third night at the Democratic National Convention in Philadelphia, Pennsylvania, U.S. July 27, 2016. REUTERS/Mike Segar

Democratic presidential nominee Hillary Clinton hugs U.S. President Barack Obama as she arrives onstage at the end of his speech on the third night of the 2016 Democratic National Convention in Philadelphia, Pennsylvania, U.S., July 27, 2016. REUTERS/Jim Young

U.S. President Barack Obama and Democratic nominee for president Hillary Clinton appear onstage together after President Obama addressed the third night of the 2016 Democratic National Convention in Philadelphia, Pennsylvania, U.S., July 27, 2016. REUTERS/Jim Young

U.S. President Barack Obama and Democratic Nominee for President Hillary Clinton appear onstage together after Obama addressed the third night of the 2016 Democratic National Convention in Philadelphia, Pennsylvania, U.S., July 27, 2016. REUTERS/Jim Young

U.S. President Barack Obama and Democratic Nominee for President Hillary Clinton wave at the Democratic National Convention in Philadelphia, Pennsylvania. U.S. July 27, 2016. REUTERS/Charles Mostoller

U.S. President Barack Obama and Democratic presidential nominee Hillary Clinton appear onstage together after his speech on the third night at the Democratic National Convention in Philadelphia, Pennsylvania, U.S. July 27, 2016. REUTERS/Mark Kauzlarich

U.S. President Barack Obama and Democratic Nominee for President Hillary Clinton leave the stage at the Democratic National Convention in Philadelphia, Pennsylvania, U.S. July 27, 2016. REUTERS/Scott Audette