버니 샌더스 지지자의 90%는 힐러리 클린턴에게 투표할 것이라고 밝혔다 (여론조사)
잔뜩 화가 난 버니 샌더스의 지지자들이 미국 민주당 전당대회 첫날부터 거친 시위를 벌이는 탓에 "그야말로 대혼란 그 자체"였다는, 그런 말들은 적당히 무시해도 좋을 것 같다.
샌더스의 열성 지지자 중 90%는 11월 대선에서 클린턴에게 투표하겠다고 밝혔다는 여론조사가 나왔다. 90%다.
퓨리서치센터가 25일(현지시간) 공개한 자료에 따르면, 민주당 지지자 및 민주당 성향 유권자들은 빠르게 힐러리 클린턴 지지로 단결하고 있는 것으로 나타났다.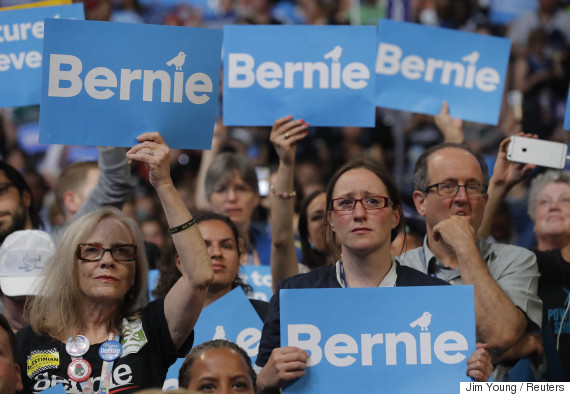 주목할 부분은 '열성' 샌더스 지지자들의 변화다. 이에 따르면, 경선 내내 한 번도 마음을 바꾸지 않고 꾸준히 샌더스를 지지해왔던 민주당 유권자 20% 중 대선에서 힐러리 클린턴을 찍겠다는 응답은 90%에 달했다. 반면 이들 중 트럼프를 지지하겠다는 비중은 8%에 불과했다.
(심지어 이 조사의 대부분은 샌더스가 클린턴에 대한 지지를 표명하기 전에 실시됐다.)
민주당 유권자들 중 최소 한 번 이상 마음을 바꾼 적이 있는 그룹 중 88%도 클린턴을 지지한다고 밝혔다. 트럼프는? 9%에 그쳤다.
경선 기간 내내 클린턴을 지지했던 이들 중 98% 역시 클린턴을 찍겠다고 응답했다.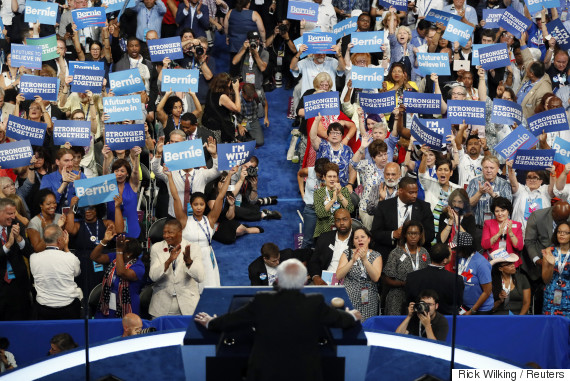 한편 통계예측 전문가 네이트 실버는 이날 개막한 민주당 전당대회를 앞두고 힐러리 클린턴에게 야유를 퍼붓는 샌더스 지지 대의원들이 '극소수'일 것이라고 지적했다.
How many people were booing mentions of Hillary? I'd guess 2-5% of the delegates, or something like that. A few loud pockets of people.

— Nate Silver (@NateSilver538) July 25, 2016
"힐러리가 언급될 대마다 야유하는 사람들은 얼마나 될까요? 저는 대의원의 2~5% 정도라고 봅니다. 극소수의 목소리 큰 사람들이죠."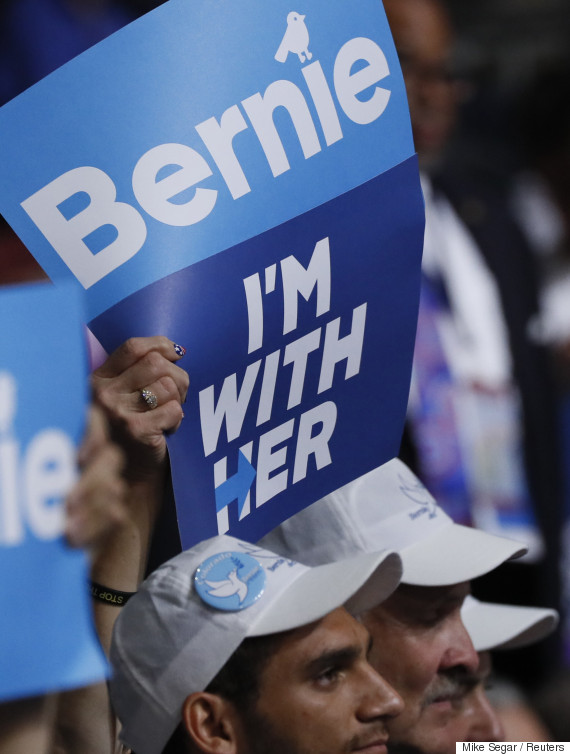 샌더스의 '선거혁명'이 끝내 좌절됐다는 사실에 많은 지지자들이 실망한 건 분명한 사실이다. 그러나 '민주당이 끝내 분열로 패배할 것'이라는 전망은 그리 정확한 게 아닐지 모른다.


Former Democratic Presidential candidate, Sen. Bernie Sanders, I-Vt., gestures as he speaks during the first day of the Democratic National Convention in Philadelphia , Monday, July 25, 2016. (AP Photo/Paul Sancya)

Former Democratic presidential candidate, Sen. Bernie Sanders, I-Vt., speaks during the first day of the Democratic National Convention in Philadelphia , Monday, July 25, 2016. (AP Photo/J. Scott Applewhite)

Former Democratic Presidential candidate, Sen. Bernie Sanders, I-Vt., speaks during the first day of the Democratic National Convention in Philadelphia , Monday, July 25, 2016. (AP Photo/John Locher)

Former Democratic presidential candidate, Sen. Bernie Sanders, I-Vt., speaks during the first day of the Democratic National Convention in Philadelphia , Monday, July 25, 2016. (AP Photo/J. Scott Applewhite)

Senator Bernie Sanders (D-VT) takes the stage during the Democratic National Convention in Philadelphia, Pennsylvania, U.S. July 25, 2016. REUTERS/Gary Cameron

Senator and former Democratic presidential candidate Bernie Sanders walks onstage to speak at the Democratic National Convention in Philadelphia, Pennsylvania, U.S. July 25, 2016. REUTERS/Mike Segar

Former Democratic presidential candidate Senator Bernie Sanders (D-VT) pauses as the audience responds to him at the Democratic National Convention in Philadelphia, Pennsylvania, U.S. July 25, 2016. REUTERS/Gary Cameron

Former Democratic U.S. presidential candidate Senator Bernie Sanders examines his remarks as he arrives onstage to speak during the first session at the Democratic National Convention in Philadelphia, Pennsylvania, U.S. July 25, 2016. REUTERS/Mark Kauzlarich

Senator and former Democratic presidential candidate Bernie Sanders waves as he arrives to speak at the Democratic National Convention in Philadelphia, Pennsylvania, U.S. July 25, 2016. REUTERS/Mike Segar

Senator and former Democratic presidential candidate Bernie Sanders speaks at the Democratic National Convention in Philadelphia, Pennsylvania, U.S. July 25, 2016. REUTERS/Mike Segar

Former Democratic U.S. presidential candidate Senator Bernie Sanders arrives onstage to speak during the first session at the Democratic National Convention in Philadelphia, Pennsylvania, U.S. July 25, 2016. REUTERS/Mark Kauzlarich

Senator and former Democratic presidential candidate Bernie Sanders speaks at the Democratic National Convention in Philadelphia, Pennsylvania, U.S. July 25, 2016. REUTERS/Mike Segar

Former Democratic U.S. presidential candidate Senator Bernie Sanders waves as he arrives onstage to speak during the first session at the Democratic National Convention in Philadelphia, Pennsylvania, U.S., July 25, 2016. REUTERS/Jim Young

Supporters of former Democratic presidential candidate Senator Bernie Sanders at the Democratic National Convention in Philadelphia, Pennsylvania, U.S. July 25, 2016. REUTERS/Rick Wilking.

Former Democratic presidential candidate Senator Bernie Sanders (D-VT) raises his fist as he takes the podium at the Democratic National Convention in Philadelphia, Pennsylvania, U.S. July 25, 2016. REUTERS/Lucy Nicholson TPX IMAGES OF THE DAY

Senator and former Democratic presidential candidate Bernie Sanders speaks at the Democratic National Convention in Philadelphia, Pennsylvania, U.S. July 25, 2016. REUTERS/Mike Segar

Former Democratic U.S. presidential candidate Senator Bernie Sanders waves as he arrives onstage to speak during the first session at the Democratic National Convention in Philadelphia, Pennsylvania, U.S., July 25, 2016. REUTERS/Jim Young

Former Democratic U.S. presidential candidate Senator Bernie Sanders smiles as he speaks during the first session at the Democratic National Convention in Philadelphia, Pennsylvania, U.S., July 25, 2016. REUTERS/Jim Young

Former Democratic U.S. presidential candidate Senator Bernie Sanders thrusts his fist in the air as he arrives onstage to speak during the first session at the Democratic National Convention in Philadelphia, Pennsylvania, U.S. July 25, 2016. REUTERS/Mark Kauzlarich

The crowd holds up Bernie signs and cheers for former Democratic U.S. presidential candidate Senator Bernie Sanders as he arrives onstage to speak during the first session at the Democratic National Convention in Philadelphia, Pennsylvania, U.S. July 25, 2016. REUTERS/Mark Kauzlarich

Former Democratic U.S. presidential candidate Senator Bernie Sanders waves as he arrives onstage to speak during the first session at the Democratic National Convention in Philadelphia, Pennsylvania, U.S. July 25, 2016. REUTERS/Mark Kauzlarich

Former Democratic presidential candidate Senator Bernie Sanders (D-VT) raises his fist as he takes the podium at the Democratic National Convention in Philadelphia, Pennsylvania, U.S. July 25, 2016. REUTERS/Lucy Nicholson

U.S. Senator Elizabeth Warren (D-MA) speaks during the first session at the Democratic National Convention in Philadelphia, Pennsylvania, U.S. July 25, 2016. REUTERS/Jim Young

U.S. Senator Elizabeth Warren (D-MA) speaks during the first session at the Democratic National Convention in Philadelphia, Pennsylvania, U.S. July 25, 2016. REUTERS/Mark Kauzlarich

U.S. first lady Michelle Obama smiles as she speaks during the first session at the Democratic National Convention in Philadelphia, Pennsylvania, U.S., July 25, 2016. REUTERS/Jim Young

U.S. first lady Michelle Obama waves as she appears onstage during the first session at the Democratic National Convention in Philadelphia, Pennsylvania, U.S., July 25, 2016. REUTERS/Jim Young

U.S. Senator Elizabeth Warren (D-MA) speaks during the first session at the Democratic National Convention in Philadelphia, Pennsylvania, U.S. July 25, 2016. REUTERS/Mark Kauzlarich

First Lady Michelle Obama speaks to delegates during the first day of the Democratic National Convention in Philadelphia , Monday, July 25, 2016. (AP Photo/John Locher)

U.S. Senator Elizabeth Warren speaks during the first session at the Democratic National Convention in Philadelphia, Pennsylvania, U.S. July 25, 2016. REUTERS/Mike Segar

First Lady Michelle Obama waves as she speaks to delegates during the first day of the Democratic National Convention in Philadelphia , Monday, July 25, 2016. (AP Photo/Matt Rourke)

Former President Bill Clinton applauds Former Democratic Presidential candidate, Sen. Bernie Sanders, I-Vt., as he speaks during the first day of the Democratic National Convention in Philadelphia , Monday, July 25, 2016. (AP Photo/Paul Sancya)

U.S. first lady Michelle Obama arrives onstage to speak during the first session at the Democratic National Convention in Philadelphia, Pennsylvania, U.S. July 25, 2016. REUTERS/Mark Kauzlarich

U.S. first lady Michelle Obama speaks at the Democratic National Convention in Philadelphia, Pennsylvania, U.S. July 25, 2016. REUTERS/Mark Kauzlarich

U.S. first lady Michelle Obama speaks at the Democratic National Convention in Philadelphia, Pennsylvania, U.S. July 25, 2016. REUTERS/Mike Segar

Former President Bill Clinton reacts to a speech by First Lady Michelle Obama as he sits with former Attorney general Eric Holder (top right) and Representative John Lewis (D-GA), (rear) at the Democratic National Convention in Philadelphia, Pennsylvania, U.S. July 25, 2016. REUTERS/Lucy Nicholson

U.S. first lady Michelle Obama speaks at the Democratic National Convention in Philadelphia, Pennsylvania, U.S. July 25, 2016. REUTERS/Mike Segar

Delegates applaud as First Lady Michelle Obama speaks at the Democratic National Convention in Philadelphia, Pennsylvania, U.S. July 25, 2016 REUTERS/Rick Wilking.

First lady Michelle Obama addresses the Democratic National Convention in Philadelphia, Pennsylvania, U.S. July 25, 2016 REUTERS/Rick Wilking.

First Lady Michelle Obama takes the stage at the Democratic National Convention in Philadelphia, Pennsylvania, U.S. July 25, 2016. REUTERS/Lucy Nicholson

Actress Susan Sarandon holds up a sign during the first day of the Democratic National Convention in Philadelphia , Monday, July 25, 2016. (AP Photo/John Locher)

A delegate holds up a sign during the first day of the Democratic National Convention in Philadelphia , Monday, July 25, 2016. (AP Photo/John Locher)

Michigan delegates wear tape covering their mouths during the first day of the Democratic National Convention in Philadelphia , Monday, July 25, 2016. (AP Photo/John Locher)

Oregon delegates cheer during the first day of the Democratic National Convention in Philadelphia , Monday, July 25, 2016. (AP Photo/Matt Rourke)

A supporter for Former Democratic Presidential candidate, Sen. Bernie Sanders, I-Vt., holds up a sign during the first day of the Democratic National Convention in Philadelphia , Monday, July 25, 2016. (AP Photo/Carolyn Kaster)