힐러리 클린턴 지지선언 이후, 버니 샌더스의 몇몇 지지자들은 배신감을 느끼고 있다
버니 샌더스의 가장 열렬한 지지자들 중 일부는 배신감을 느끼고 있다.
샌더스는 화요일에 마침내 사실상의 민주당 대선 후보인 힐러리 클린턴 지지를 밝혔다. 민주당 경선이 끝나고 몇 주나 지난 뒤였다. 뉴햄프셔에서 연단에 선 샌더스는 그다운 방식으로 클린턴 지지를 표명했다. 자신이 민주당의 공약을 발전시켰다고 이야기하고 클린턴을 칭찬했으나, 주로 정책에만 집중해 발언했다.
최근 조사에서 샌더스 지지자들이 클린턴으로 옮겨가고 있다고 밝혔지만, 그의 지지자들 전부가 그런 것은 아니다.
"샌더스 위원은 정치라는 기계를 상대해야 했고, 전당 대회에서 그 기계를 쉽게 무너뜨릴 수 있었다는 점을 고려했을 때, 여러 모로 보아 고결한 길을 택했다." H.A. 굿맨의 이메일이다. 굿맨은 많은 블로그 독자를 가지고 있는 샌더스 지지자다. 샌더스의 어쩔 수 없었던 선택에 대한 굿맨의 해석은 바이럴로 퍼졌으며 일각에서 상당한 호응을 얻었다.
"나는 늘 버니를 사랑할 것이고, 그가 세상과 민주당 안에 준 긍정적인 영향을 존경한다. 하지만 네오콘과 헨리 키신저가 클린턴의 편이고, 나는 클린턴이 환태평양경제동반자협정(TPP)과 월 스트리트 은행가들을 감옥에 넣을 거라는 것에 대해 거짓말을 하고 있다고 느낀다. 클린턴은 트럼프보다도 더 공격적이며, 이라크 전에 찬성표를 던졌고 최근에도 미군을 해외에 보내는 것을 지지했기 때문에, 사실 나는 트럼프가 클린턴보다 덜 위험하다고 본다."
굿맨은 11월 대선에서 녹색당의 질 스타인을 찍거나 그냥 샌더스의 이름을 써넣을 것이라고 말했다. "나는 클린턴이 진정 두렵다."
굿맨은 극소수에 속한다. 사람들이 분열된다고는 하지만, 샌더스 지지자들은 과거 대선의 패턴을 따르고 있다. 최근의 퓨 조사에 의하면 샌더스 지지자들은 2008년에 클린턴 지지자들이 오바마로 옮긴 것보다 더 빠른 속도로 클린턴으로 갈아타고 있다. 대선이 가까워 질수록 이 수치는 클린턴에게 점점 더 유리해질 것이다.

그러나 샌더스 지지자 일부가 느끼는 버려진 기분과 경악에 걸친 실망감은 자신의 후보가 사라진 지금 이번 대선에 가담하고 싶지 않다는 사람들의 마음을 보여준다. 한 진보 단체는 샌더스 지지자들에게 콩을 잔뜩 먹여 이번 달 민주당 전당대회에 보내 방귀를 뀌게 하겠다는 말까지 했다.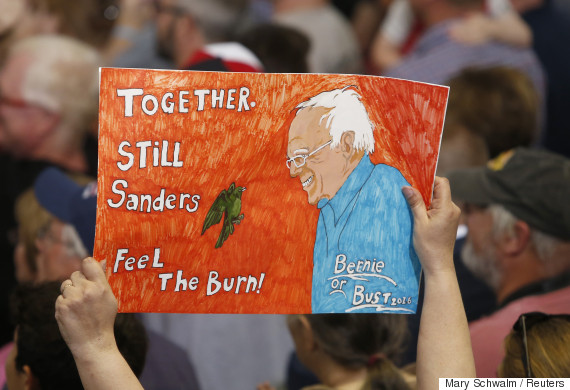 I am literally crying. #BernieOrBust #NeverHillary

— Small but Mighty (@mkpfilos) July 12, 2016
나는 말 그대로 울고 있다.
It looks like Wall Street owns @BernieSanders after all #TotalHypocrite #SellOut #NeverHillary https://t.co/TWGrv22IGU

— Dustin Lunde (@DustinLunde) July 12, 2016
결국 버니 샌더스도 월 스트리트 손 안에 있었나 보다
Love my @BernieSanders but I would rather walk a mile on hot coals than vote for her. #HillNo #BernieOrBust #JillYes #NotMeUs

— Nati Lo (@prlocalgirl) July 12, 2016
난 버니 샌더스를 사랑하지만 그녀에게 표를 주느니 뜨거운 석탄 위에서 1마일을 걷겠다.
@SenSanders sells out. I guess that means Bernie is a bust? #BernieOrBust

— Scott Smith (@ScottyinKC) July 12, 2016
샌더스도 원칙을 버렸다. 버니도 꽝인가 보네?
Bernie seems like a total sellout to me right now #BernieOrBust

— Laura (@Crazyparklady1) July 12, 2016
지금 버니는 내게 신념을 버린 사람으로 보인다
메릴랜드 주의 진보적 팟캐스트 겸 영상 호스트 팀 블랙은 화요일에 샌더스의 클린턴 지지를 받아들이기 힘들다고 말했다.
"정치 같이 느껴진다. 버니가 해야 할 말을 했던 것 같은데, 난 그걸 지지하지는 못하겠다."
블랙은 샌더스가 얻어낸 민주당의 공약 양보는 하찮은 것일 수 있으며, 클린턴이 마리화나 비범죄화 등에 대해 말을 아끼는 게 마음에 들지 않는다고 말했다. 그러나 질 스타인을 찍기로 결정하지는 못했으며, 최소한 11월이 되기 전까지 클린턴의 말을 들어보기는 할 거라고 말했다.
"클린턴은 옳은 말을 하고 있지만, 클린턴이 그런 것들을 실현시킬 거라고 믿을 수 있다는 느낌이 들어야 한다."


* 이 글은 허핑턴포스트US의 'Some Bernie Sanders Supporters Are Feeling Burned'(영어)를 번역, 편집한 것입니다.


Democratic presidential candidate Sen. Bernie Sanders, I-Vt., right, accompanied by Democratic presidential candidate Hillary Clinton, left, endorses Clinton at a rally at Portsmouth High School in Portsmouth, N.H., Tuesday, July 12, 2016. (AP Photo/Andrew Harnik)

Democratic presidential candidate Sen. Bernie Sanders, I-Vt., right, accompanied by Democratic presidential candidate Hillary Clinton, left, endorses Clinton at a rally at Portsmouth High School in Portsmouth, N.H., Tuesday, July 12, 2016. (AP Photo/Andrew Harnik)

Sen. Bernie sanders, I-Vt. claps as Democratic presidential candidate Hillary Clinton speaks during a rally in Portsmouth, N.H., Tuesday, July 12, 2016, where Sanders endorsed Clinton for president. (AP Photo/Andrew Harnik)

Democratic presidential candidate Hillary Clinton and Sen. Bernie Sanders, I-Vt. wave during a rally in Portsmouth, N.H., Tuesday, July 12, 2016, where Sanders endorsed Clinton for president. (AP Photo/Jim Cole)

Sen. Bernie Sanders, I-Vt., accompanied by Democratic presidential candidate Hillary Clinton, speaks during a rally in Portsmouth, N.H., Tuesday, July 12, 2016, where Sanders endorsed Clinton for president. (AP Photo/Andrew Harnik)

Sen. Bernie Sanders, I-Vt. listens as Democratic presidential candidate Hillary Clinton speaks during a rally in Portsmouth, N.H., Tuesday, July 12, 2016, where Sanders endorsed Clinton for president. (AP Photo/Andrew Harnik)

Democratic presidential candidate Hillary Clinton waves to supporters with Sen. Bernie Sanders, I-Vt., during a rally in Portsmouth, N.H., Tuesday, July 12, 2016, where Sanders endorsed her for president. (AP Photo/Jim Cole)

Sen. Bernie Sanders, I-Vt., listens as Democratic presidential candidate Hillary Clinton speaks during a rally in Portsmouth, N.H., Tuesday, July 12, 2016, where Sanders endorsed Clinton for president. (AP Photo/Jim Cole)

Democratic presidential candidate Hillary Clinton and Sen. Bernie Sanders, I-Vt. wave to supporters during a rally in Portsmouth, N.H., Tuesday, July 12, 2016, where Sanders endorsed Clinton for president. (AP Photo/Andrew Harnik)

Sen. Bernie Sanders, I-Vt. listens as Democratic presidential candidate Hillary Clinton speaks during a rally in Portsmouth, N.H., Tuesday, July 12, 2016, where Sanders endorsed Clinton for president. (AP Photo/Andrew Harnik)

Democratic presidential candidate Hillary Clinton and Sen. Bernie Sanders, I-Vt. greet supporters during a rally in Portsmouth, N.H., Tuesday, July 12, 2016, where Sanders endorsed Clinton for president. (AP Photo/Andrew Harnik)

Sen. Bernie Sanders, I-Vt. waves as he a Democratic presidential candidate Hillary Clinton arrive for a rally in Portsmouth, N.H., Tuesday, July 12, 2016. (AP Photo/Andrew Harnik)

Democratic U.S. presidential candidate Hillary Clinton (R) looks on as Senator Bernie Sanders endorses her during a campaign rally in Portsmouth, New Hampshire, U.S., July 12, 2016. REUTERS/Brian Snyder

Democratic presidential candidate Hillary Clinton, followed by Sen. Bernie Sanders, I-Vt. arrives for a rally in Portsmouth, N.H., Tuesday, July 12, 2016. (AP Photo/Andrew Harnik)n

Democratic U.S. presidential candidate Hillary Clinton smiles as Senator Bernie Sanders pauses while endorsing her during a campaign rally in Portsmouth, New Hampshire, U.S., July 12, 2016. REUTERS/Brian Snyder

Democratic U.S. presidential candidate Hillary Clinton addresses a campaign rally where felow Democratic candidate Sen. Bernie Sanders (L) endorsed Clinton in Portsmouth, New Hampshire, U.S., July 12, 2016. REUTERS/Brian Snyder

Democratic U.S. presidential candidate Hillary Clinton and Senator Bernie Sanders embrace during a campaign rally where Sanders endorsed Clinton in Portsmouth, New Hampshire, U.S., July 12, 2016. REUTERS/Mary Schwalm

Democratic U.S. presidential candidates Hillary Clinton and Senator Bernie Sanders (L) attend a rally in which Sanders pledged his support to Clinton in Portsmouth, New Hampshire, U.S., July 12, 2016. REUTERS/Mary Schwalm

Democratic U.S. presidential candidate Hillary Clinton looks on as Senator Bernie Sanders endorses her during a campaign rally in Portsmouth, New Hampshire, U.S., July 12, 2016. REUTERS/Brian Snyder

Democratic U.S. presidential candidate Hillary Clinton speaks as Senator Bernie Sanders wipes his forehead after he endorsed her during a campaign rally in Portsmouth, New Hampshire, U.S., July 12, 2016. REUTERS/Brian Snyder

Democratic U.S. presidential candidate Hillary Clinton applauds as Senator Bernie Sanders looks on after he endorsed her during a campaign rally in Portsmouth, New Hampshire, U.S., July 12, 2016. REUTERS/Brian Snyder

Democratic U.S. presidential candidates Hillary Clinton and Sen. Bernie Sanders stand together during a campaign rally where Sanders endorsed Clinton in Portsmouth, New Hampshire, U.S., July 12, 2016. REUTERS/Brian Snyder

Democratic U.S. presidential candidate Hillary Clinton addresses a campaign rally where felow Democratic candidate Sen. Bernie Sanders (L) endorsed Clinton in Portsmouth, New Hampshire, U.S., July 12, 2016. REUTERS/Brian Snyder

Democratic U.S. presidential candidates Hillary Clinton and Sen. Bernie Sanders embrace during a campaign rally where Sanders endorsed Clinton in Portsmouth, New Hampshire, U.S., July 12, 2016. REUTERS/Brian Snyder

Supporters of U.S. Democratic presidential candidate Senator Bernie Sanders listen as Hillary Clinton speaks at a joint campaign rally in Portsmouth, New Hampshire, U.S. July 12, 2016. REUTERS/Brian Snyder

U.S. Democratic presidential candidate Hillary Clinton speaks at a campaign rally with U.S. Senator Bernie Sanders (L) in Portsmouth, New Hampshire, U.S. July 12, 2016. REUTERS/Brian Snyder

Democratic U.S. presidential candidate Hillary Clinton speaks as Senator Bernie Sanders wipes his brow after he endorsed her during a campaign rally in Portsmouth, New Hampshire, U.S., July 12, 2016. REUTERS/Mary Schwalm

Democratic U.S. presidential candidate Hillary Clinton speaks as Senator Bernie Sanders looks on after he endorsed her during a campaign rally in Portsmouth, New Hampshire, U.S., July 12, 2016. REUTERS/Mary Schwalm

Democratic U.S. presidential candidate Hillary Clinton and Senator Bernie Sanders wave together during a campaign rally where Sanders endorsed Clinton in Portsmouth, New Hampshire, U.S., July 12, 2016. REUTERS/Mary Schwalm

Democratic U.S. presidential candidate Hillary Clinton applauds as Senator Bernie Sanders endorses her during a campaign rally in Portsmouth, New Hampshire, U.S., July 12, 2016. REUTERS/Mary Schwalm

Democratic U.S. presidential candidates Hillary Clinton and Senator Bernie Sanders enter the gymnasium for a joint event in Portsmouth, New Hampshire, U.S. July 12, 2016. REUTERS/Mary Schwalm

A supporter of U.S. Democratic presidential candidate Senator Bernie Sanders holds a sign during a rally in Portsmouth, New Hampshire, U.S. July 12, 2016. REUTERS/Mary Schwalm

Supporters of U.S. Democratic presidential candidates Hillary Clinton and Senator Bernie Sanders try to get a photo as the candidates enter the gymnasium for a rally in Portsmouth, New Hampshire, U.S. July 12, 2016. REUTERS/Mary Schwalm

Democratic U.S. presidential candidate Hillary Clinton and Senator Bernie Sanders embrace during a campaign rally where Sanders endorsed Clinton in Portsmouth, New Hampshire, U.S., July 12, 2016. REUTERS/Mary Schwalm TPX IMAGES OF THE DAY

Audience members cheer during a campaign rally with U.S. Democratic presidential candidates Hillary Clinton and Senator Bernie Sanders in Portsmouth, New Hampshire, U.S. July 12, 2016. REUTERS/Brian Snyder

Supporters holds signs for U.S. Democratic presidential candidates Hillary Clinton and Senator Bernie Sanders in Portsmouth, New Hampshire, U.S. July 12, 2016. REUTERS/Mary Schwalm

Democratic presidential candidate Hillary Clinton accompanied by Democratic presidential candidate Sen. Bernie Sanders, I-Vt., left, speaks as Sanders endorses Clinton at a rally at Portsmouth High School in Portsmouth, N.H., Tuesday, July 12, 2016. (AP Photo/Andrew Harnik)

Democratic presidential candidate Hillary Clinton accompanied by Democratic presidential candidate Sen. Bernie Sanders, I-Vt., left, speaks as Sanders endorses Clinton at a rally at Portsmouth High School in Portsmouth, N.H., Tuesday, July 12, 2016. (AP Photo/Andrew Harnik)

Democratic presidential candidate Hillary Clinton accompanied by Democratic presidential candidate Sen. Bernie Sanders, I-Vt., left, speaks as Sanders endorses Clinton at a rally at Portsmouth High School in Portsmouth, N.H., Tuesday, July 12, 2016. (AP Photo/Andrew Harnik)

Democratic presidential candidate Hillary Clinton takes a selfie with supporters after being endorsed by Democratic presidential candidate Sen. Bernie Sanders, I-Vt., at a rally at Portsmouth High School in Portsmouth, N.H., Tuesday, July 12, 2016. (AP Photo/Andrew Harnik)