미국 국무부, 힐러리 클린턴 '이메일 스캔들'은 명백한 규정위반이라고 결론 내리다
미국 민주당의 유력 대선 주자인 힐러리 클린턴이 국무장관으로 일할 때 주고받았던 이메일 기록을 전부 국무부에 제출하지 않았으며, 재임 중 사용한 사설 이메일 문제에 대한 국무부의 면담 요청도 거부했다는 미 국무부 보고서가 나왔다.
25일(현지시간) 미국 국무부 감사관실이 의회에 제출한 83쪽 분량의 보고서에는 "클린턴 전 장관은 국무부를 떠나기 전에 업무에 사용했던 이메일 기록을 모두 제출했어야 했지만 그러지 않았고, 따라서 국무부 규정을 위반했다"는 감사관실의 의견이 실렸다.
이 보고서에는 "클린턴 전 장관이 개인 (이메일) 계정으로 제작했거나 수신한 연방정부 기록물을 인쇄한 뒤 국무장관실의 관련 문서들과 함께 보존했어야 했다"고 지적한 내용도 포함됐다.

국무부 감사관실은 이 보고서 작성을 위해 존 케리 현 국무장관과 매들린 올브라이트, 콜린 파월, 콘돌리자 라이스 등 전임 국무장관 3명을 면담했지만, 클린턴 전 장관은 국무부 측의 면담을 거부했다고도 지적했다.
폴리티코와 CNN 등 미국 언론들은 이날 의회에 제출된 국무부 감사관실의 보고서 내용이 클린턴 전 장관의 주요 악재 중 하나인 '이메일 스캔들'의 영향력을 키울 수 있다고 풀이했다.
.@StateDept says Hillary Clinton's communication failures are more serious, compared to past secretaries of State https://t.co/7VDvJFFZXL

— USA TODAY (@USATODAY) 25 May 2016
All of our fact checks on Hillary Clinton's emails, confirmed by the State Department IG report today. https://t.co/k2nLf6PbYz

— Glenn Kessler (@GlennKesslerWP) 25 May 2016
When 2 staffers raised concerns about HRC emails in 2010, they were told to shut up and never raise subject again. https://t.co/5039zJfa4z

— Michael Isikoff (@Isikoff) 25 May 2016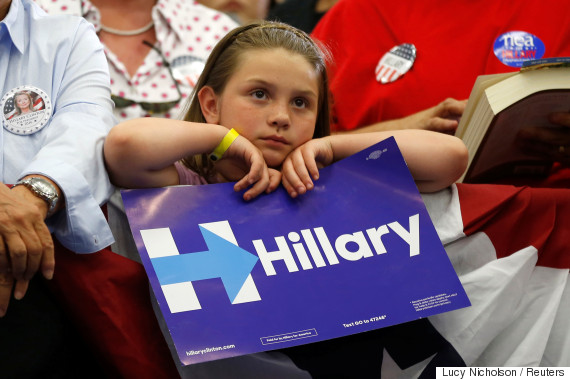 '이메일 스캔들'은 클린턴 전 장관이 국무부 업무와 관련된 문서를 사설 이메일 서버로 주고받은 일을 가리킨다.
미 국무부는 지금까지 약 3만 건의 '힐러리 사설 이메일'을 공개했지만, 그중 22건이 "1급비밀 범주에 해당하는 내용"을 포함하고 있어 공개하지 않겠다고 지난 1월 발표했다. 미 연방수사국(FBI)에서도 클린턴 전 장관이 기밀문서를 부적절하게 다뤘는지 여부를 조사하고 있다.
클린턴 전 장관의 사설 이메일로 기밀문서가 오간 점은 클린턴 전 장관의 직원들이 '사설 이메일' 중 3만 건 이상을 '개인적인 내용'이라는 점을 들어 삭제한 일과 더불어 공화당에서 클린턴 전 장관을 비판하는 대표적인 근거가 돼 왔다.
국무부 감사관실 보고서에는 2010년 국무부의 기록물 담당 관리들이 클린턴 전 장관의 사설 이메일 사용에 대해 우려하는 내용을 상관에게 전했지만, 법률적으로 문제가 없다는 답변과 함께 이 문제를 다시 제기하지 말라는 지시를 받았다는 내용도 있었다.
또 이 보고서는 콜린 파월 전 장관에 대해서도 개인 이메일 계정으로 공문서를 주고받았기 때문에 국무부 규정을 어겼다고 비판했다.
GOP will attack HRC because she is running for President, but IG report makes clear her personal email use was not unique at State Dept

— Brian Fallon (@brianefallon) 25 May 2016
이런 국무부 보고서 내용에 대해 클린턴 선거운동본부의 브라이언 팰런 대변인은 성명을 통해 "이 (국무부) 보고서는 국무부의 전자기록물 보존 체계의 문제점이 오래 전부터 이어져 왔음을 보여준다"며 클린턴 전 장관이 "다른 사람들에 비해 자신의 기록을 적절하게 보존하고 공개하기 위해 훨씬 많은 노력을 했다"고 주장했다.
팰런 대변인은 성명에서 "힐러리 클린턴의 정치적 반대자들이 분명히 이 보고서를 정파적인 목적으로 왜곡해 표현할 것"이라고도 주장했다.
마크 토너 국무부 대변인은 이번 감사관실의 보고서가 "수십 년 전에 만들어진 기록 보존 규정을 이메일 시대에 맞게" 고쳐야 한다는 점을 뒷받침한다며, 현재 국무부가 다방면으로 개선 방안을 추진하고 있다고 밝혔다.


Report says Hillary Clinton broke email rules - CNN
U.S. Democratic presidential candidate Hillary Clinton applauds after speaking during a campaign rally in Central Falls, Rhode Island, April 23, 2016. REUTERS/Mary Schwalm

Democratic U.S. presidential candidate Hillary Clinton speaks during a campaign event at Triumph Baptist Church in Philadelphia, Pennsylvania, U.S., April 24, 2016. REUTERS/Charles Mostoller

U.S. Democratic presidential candidate Hillary Clinton speaks at a campaign rally in Bridgeport, Connecticut, U.S., April 24, 2016. REUTERS/Mike Segar

U.S. Democratic presidential candidate Hillary Clinton speaks at a campaign rally in Wilmington, Delaware, U.S., April 25, 2016. REUTERS/Dominick Reuter

U.S. Democratic presidential candidate Hillary Clinton speaks at a campaign rally in Wilmington, Delaware, U.S., April 25, 2016. REUTERS/Dominick Reuter

U.S. Democratic presidential candidate Hillary Clinton speaks at a campaign rally in Wilmington, Delaware, U.S., April 25, 2016. REUTERS/Dominick Reuter

Democratic U.S. presidential candidate Hillary Clinton smiles during a campaign event in the courtyard of Philadelphia's City Hall on the eve of the Pennsylvania primary, in Philadelphia, Pennsylvania, U.S., April 25, 2016. REUTERS/Charles Mostoller

Democratic U.S. presidential candidate Hillary Clinton greets supporters during a campaign event in the courtyard of Philadelphia's City Hall on the eve of the Pennsylvania primary, in Philadelphia, Pennsylvania, U.S., April 25, 2016. REUTERS/Charles Mostoller

Democratic U.S. presidential candidate Hillary Clinton speaks during a campaign event in the courtyard of Philadelphia's City Hall on the eve of the Pennsylvania primary, in Philadelphia, Pennsylvania, U.S., April 25, 2016. REUTERS/Charles Mostoller

Supporters of Democratic U.S. presidential candidate Hillary Clinton listen to her speak during a campaign event in the courtyard of Philadelphia's City Hall on the eve of the Pennsylvania primary, in Philadelphia, Pennsylvania, U.S., April 25, 2016. REUTERS/Charles Mostoller

Democratic U.S. presidential candidate Hillary Clinton speaks during a campaign event in the courtyard of Philadelphia's City Hall on the eve of the Pennsylvania primary, in Philadelphia, Pennsylvania, U.S., April 25, 2016. REUTERS/Charles Mostoller

Democratic U.S. presidential candidate Hillary Clinton speaks during a campaign event in the courtyard of Philadelphia's City Hall on the eve of the Pennsylvania primary, in Philadelphia, Pennsylvania, U.S., April 25, 2016. REUTERS/Charles Mostoller

Democratic U.S. presidential candidate Hillary Clinton speaks during a campaign event in the courtyard of Philadelphia's City Hall on the eve of the Pennsylvania primary, in Philadelphia, Pennsylvania, U.S., April 25, 2016. REUTERS/Charles Mostoller

Democratic U.S. presidential candidate Hillary Clinton speaks during a campaign event in the courtyard of Philadelphia's City Hall on the eve of the Pennsylvania primary, in Philadelphia, Pennsylvania, U.S., April 25, 2016. REUTERS/Charles Mostoller

Democratic presidential candidate Hillary Clinton, center, arrives for a rally at Iowa State University in Ames, Iowa Saturday, Jan. 30, 2016. (AP Photo/Andrew Harnik)

Democratic presidential candidate Hillary Rodham Clinton speaks at a campaign event in New York, Monday, July 13, 2015. (AP Photo/Seth Wenig)

Democratic presidential candidate Hillary Rodham Clinton meets with local residents at the Jones St. Java House, Tuesday, April 14, 2015, in LeClaire, Iowa. (AP Photo/Charlie Neibergall)

Democratic presidential candidate Hillary Rodham Clinton, left, visits with local residents at The Tremont, Wednesday, April 15, 2015, in Marshalltown, Iowa. (AP Photo/Charlie Neibergall)

In this April 15, 2015, photo, Democratic presidential candidate Hillary Rodham Clinton, second from right, visits with local residents at The Tremont in Marshalltown, Iowa. This time around, Clinton wants to be on liberals' good side. In 2008, the then-first time presidential candidate opposed gay marriage, equivocated on granting driver's licenses to illegal immigrants, and took a beating from rival Barack Obama over her stance on campaign finance. During the first week of her second presidential campaign, Clinton ticked through those missteps one by one, carefully retooling her positions to line up with the views of progressive Democrats.(AP Photo/Charlie Neibergall)

Democratic presidential candidate Hillary Rodham Clinton, center, speaks during a small business roundtable, Wednesday, April 15, 2015, in Norwalk, Iowa. (AP Photo/Charlie Neibergall)

Democratic presidential candidate Hillary Rodham Clinton waves to employees at Kristin's Bakery during her first New Hampshire campaign stop, Monday, April 20, 2015, in Keene, N.H. (AP Photo/Jim Cole)

Democratic presidential candidate Hillary Rodham Clinton holds a round table discussion with employees at Whitney Brothers during a campaign stop, Monday, April 20, 2015, in Keene, N.H. (AP Photo/Jim Cole)

Democratic presidential candidate Hillary Rodham Clinton holds a round table discussion with employees at Whitney Brothers during a campaign stop, Monday, April 20, 2015, in Keene, N.H. (AP Photo/Jim Cole)

Democratic presidential candidate Hillary Rodham Clinton speaks to students and faculty during a campaign stop at New Hampshire Technical Institute, Tuesday, April 21, 2015, in Concord, N.H. (AP Photo/Jim Cole)

Democratic presidential candidate Hillary Rodham Clinton arrives to meet long time friend and political adviser Mary Louise Hancock, left,Tuesday, April 21, 2015, in Concord, N.H. Clinton is ending a two-day campaign swing through the nation's earliest presidential primary state. (AP Photo/Jim Cole)

Democratic presidential candidate Hillary Rodham Clinton speaks with long time friend and political adviser Mary Louise Hancock, Tuesday, April 21, 2015, in Concord, N.H. Clinton is ending a two-day campaign swing through the nation's earliest presidential primary state. (AP Photo/Jim Cole)

Democratic presidential candidate Hillary Rodham, center, smiles as she presents former UN Envoy for Afghanistan, and current UN Special Envoy for Syria Staffan de Mistura, left, with a Hillary Rodham Clinton Award for Advancing Women in Peace and Security, for his work helping women in Afghanistan, in the Riggs Library at Georgetown University in Washington, Wednesday, April 22, 2015. At right is Georgetown University President John DeGioia. (AP Photo/Jacquelyn Martin)

Democratic presidential candidate Hillary Rodham Clinton smiles as Democratic presidential candidate Hillary Rodham, center, smiles as she presents former UN Envoy for Afghanistan, and current UN Special Envoy for Syria Staffan de Mistura, speaks after being awarded a Hillary Rodham Clinton Award for Advancing Women in Peace and Security, for his work helping women in Afghanistan, in the Riggs Library at Georgetown University in Washington, Wednesday, April 22, 2015. (AP Photo/Jacquelyn Martin)

Hillary Rodham Clinton reacts to applause from the crowd before speaking during the sixth annual Women in the World Summit, Thursday, April 23, 2015, in New York. (AP Photo/Julie Jacobson)

Hillary Clinton greets members of the Manhattan Girls Chorus after speaking during the sixth annual Women in the World Summit, Thursday, April 23, 2015, in New York. (AP Photo/Julie Jacobson)

Hillary Rodham Clinton reacts to applause from the crowd before speaking during the sixth annual Women in the World Summit, Thursday, April 23, 2015, in New York. (AP Photo/Julie Jacobson)

Hillary Clinton walks onto the stage to speak during the sixth annual Women in the World Summit, Thursday, April 23, 2015, in New York. (AP Photo/Julie Jacobson)

Hillary Rodham Clinton speaks during the sixth annual Women in the World Summit, Thursday, April 23, 2015, in New York. (AP Photo/Julie Jacobson)

Democratic presidential hopeful Hillary Rodham Clinton speaks at a campaign event in New York, Monday, July 13, 2015. (AP Photo/Seth Wenig)

Democratic presidential candidate Hillary Rodham Clinton speaks at a campaign event in New York, Monday, July 13, 2015. (AP Photo/Seth Wenig)

Democratic presidential hopeful Hillary Rodham Clinton speaks at a campaign event in New York, Monday, July 13, 2015. (AP Photo/Seth Wenig)

Democratic presidential hopeful Hillary Rodham Clinton speaks at a campaign event in New York, Monday, July 13, 2015. (AP Photo/Seth Wenig)

Democratic presidential hopeful Hillary Rodham Clinton speaks at a campaign event in New York, Monday, July 13, 2015. (AP Photo/Seth Wenig)

Democratic presidential hopeful Hillary Rodham Clinton speaks at a campaign event in New York, Monday, July 13, 2015. (AP Photo/Seth Wenig)

Democratic presidential hopeful Hillary Rodham Clinton speaks at a campaign event in New York, Monday, July 13, 2015. (AP Photo/Seth Wenig)

Former President Bill Clinton speaks at a campaign stop for his wife, Democratic presidential candidate Hillary Clinton, Wednesday, Jan. 20, 2016, at the Green Street Community Center in Concord, N.H. (AP Photo/John Minchillo)

Former President Bill Clinton speaks at a campaign stop for his wife, Democratic presidential candidate Hillary Clinton, Wednesday, Jan. 20, 2016, at the Green Street Community Center in Concord, N.H. (AP Photo/John Minchillo)

Former President Bill Clinton speaks at a campaign stop for his wife, Democratic presidential candidate Hillary Clinton, Wednesday, Jan. 20, 2016, at the Green Street Community Center in Concord, N.H. (AP Photo/John Minchillo)

Democratic presidential candidate Hillary Clinton, seen through a decorative wall, speaks at a rally at Iowa State University in Ames, Iowa Saturday, Jan. 30, 2016. (AP Photo/Andrew Harnik)

Democratic presidential candidate Hillary Clinton speaks at a rally at Iowa State University in Ames, Iowa Saturday, Jan. 30, 2016. (AP Photo/Andrew Harnik)

Democratic presidential candidate Hillary Clinton speaks at a rally at Iowa State University in Ames, Iowa Saturday, Jan. 30, 2016. (AP Photo/Andrew Harnik)

Democratic presidential candidate Hillary Clinton speaks at a rally at Iowa State University in Ames, Iowa Saturday, Jan. 30, 2016(AP Photo/Andrew Harnik)

A girl in the audience holds a sign that reads "Go! Go! Go! Hillary" as Democratic presidential candidate Hillary Clinton, left, speaks at a rally at Iowa State University in Ames, Iowa Saturday, Jan. 30, 2016(AP Photo/Andrew Harnik)

Members of the audience cast shadows on a wall behind a campaign poster after Democratic presidential candidate Hillary Clinton, accompanied by her husband former President Bill Clinton, spoke at a rally at the Col Ballroom in Davenport, Iowa, Friday, Jan. 29, 2016. (AP Photo/Andrew Harnik)

Democratic presidential candidate Hillary Clinton speaks at a rally at the Col Ballroom in Davenport, Iowa, Friday, Jan. 29, 2016. (AP Photo/Andrew Harnik)

Democratic presidential candidate Hillary Clinton speaks at a rally at the Col Ballroom in Davenport, Iowa, Friday, Jan. 29, 2016. (AP Photo/Andrew Harnik)

Democratic presidential candidate Hillary Clinton speaks at a rally at the Col Ballroom in Davenport, Iowa, Friday, Jan. 29, 2016. (AP Photo/Andrew Harnik)

Democratic presidential candidate Hillary Clinton speaks at a rally at Five Flags Center in Dubuque, Iowa, Friday, Jan. 29, 2016. (AP Photo/Andrew Harnik)

Democratic presidential candidate Hillary Clinton speaks at a rally at the Col Ballroom in Davenport, Iowa, Friday, Jan. 29, 2016. (AP Photo/Andrew Harnik)

Democratic U.S. presidential candidate Hillary Clinton speaks during a campaign event in the courtyard of Philadelphia's City Hall on the eve of the Pennsylvania primary, in Philadelphia, Pennsylvania, U.S., April 25, 2016. REUTERS/Charles Mostoller

Democratic presidential candidate Hillary Clinton speaks at a rally at Grand View University in Des Moines, Iowa, Friday, Jan. 29, 2016. (AP Photo/Andrew Harnik)